The queens of
RuPaul's Drag Race All Stars 3. Photo courtesy VH1/Logo
The following post contains spoilers for last night's episode of RuPaul's Drag Race All Stars season three. Oh, to be back in the warm, safe embrace of RuPaul's rouged and plastic bosom for yet another season of RuPaul's Drag Race All Stars, where our favorite contestants from RuPaul's Drag Race come together for another round of reading, Snatch Game, and trying to convince everyone they're worth paying $5 to take a selfie with at DragCon. At the opening of last night's third season premiere, we were treated to a topical Handmaid's Tale–inspired skit that was just a bit south of funny, where the first and second season's winners reminded us exactly how they captured our hearts: Alaska with her genius wit and toe-curling vocal fry and Chad Michaels with her immovable mug. Luckily, we then cut to the now-soothing ritual that launches every season of Drag Race: seeing all the girls stampede into the workroom in a very orderly fashion. Each contestant got a little introduction with what she's been up to since the last time they were on, and it's amazing how far some of them have come. Trixie Mattel has a VICELAND show. Milk was in a Marc Jacobs campaign. Kennedy Davenport has, oh, I don't know… God bless her heart, she's trying.
---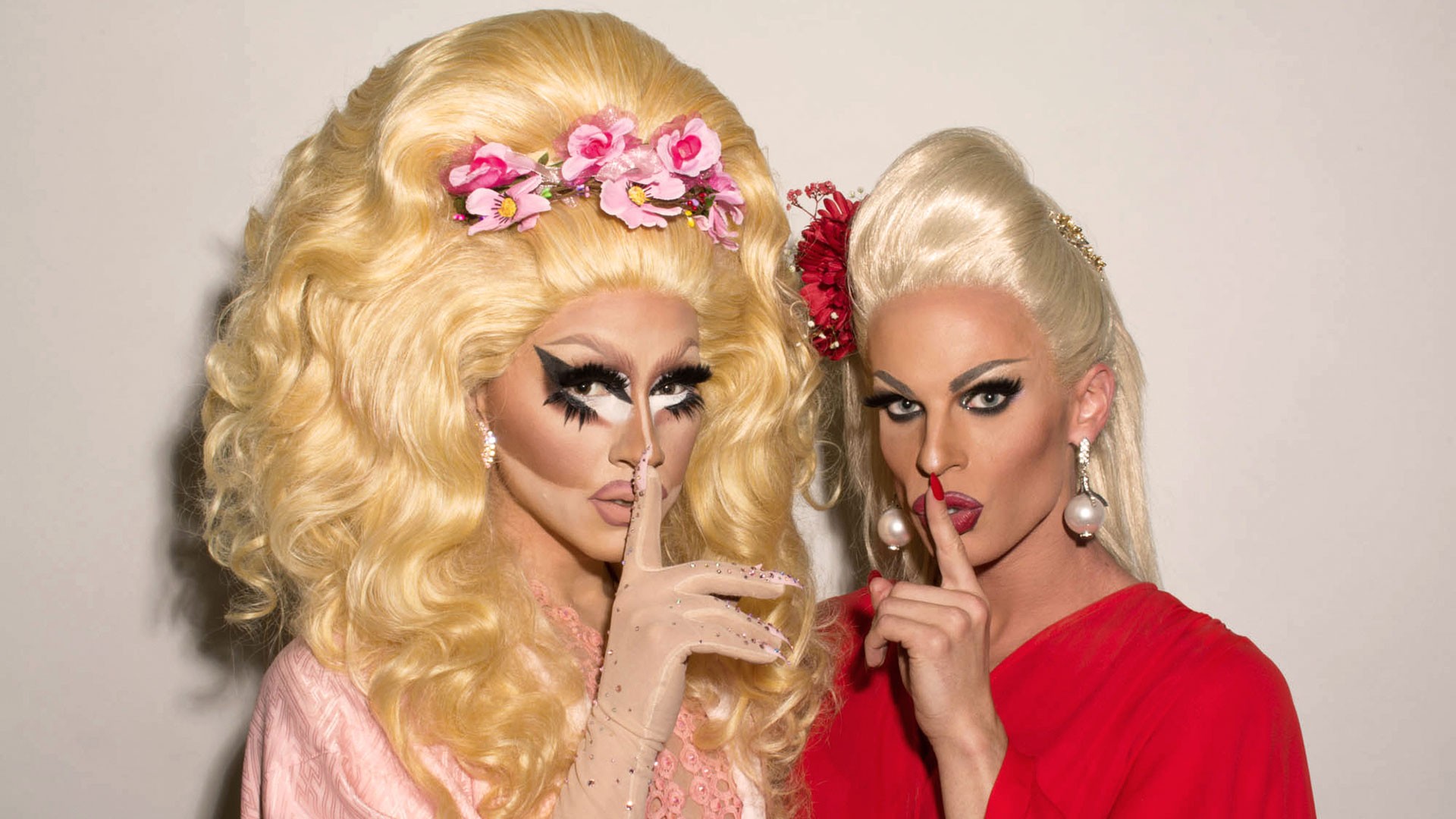 My biggest worry right off the bat was that this season is going to become the Trixie Mattel Show. She's arguably the most successful of the cast, and I feel like the producers need to make amends for her season seven loss, much like the first two seasons of All Stars were consolation prizes to Chad Michaels and Alaska after their undeserved defeats. From the moment she came barreling in looking like a Roller Derby Bratz doll, Trixie was absolutely brilliant. "I'm the only one here," she said. "It's like a Morgan McMichaels meet and greet." Zing! Yup, there would be no show without our darling Trixie.
Next up was Milk, looking like Pinocchio in a Canadian tuxedo and a Peter Berlin wig, followed by Chi Chi DeVayne looking like an extra in a Zatarain's commercial, and Thorgy Thor in a tinsel wig and some Ms. Frizzle cosplay. Then, speak of the devil, came Morgan McMichaels, who reminded us that she was the mean one way back in season two (because other than Jujubee's mom, hardly anyone remembers all the way back to season two).
I hardly remember Kennedy Davenport, either, even though she's only returning from season seven. She had an afro wig cinched up to look like a palm tree made out of hair and was doing the absolute most. She was doing more than a one-man band trying to solve world hunger, cure AIDS, and take a hit of poppers simultaneously. Her highlighter yellow dress was bad enough, but she also whipped out a disco ball purse and had mirror tiles glued to her face. "Kennedy is Chi Chi from the future telling her she's not going to win All Stars," Trixie said. Zing! Welcome to the Trixie Show.
Aja rolled in looking just like her namesake in Jem and the Holograms, and BenDeLaCreme looked exactly the same as last we saw her. Last but not least was Shangela, popping out of a box and shouting "Halleloo." Just for extra measure, she had "Halleloo" written on her skirt as well. Apparently she took an online course in marketing before returning to the series for the third time.
RuPaul showed up to introduce one final queen: BeBe Zahara Benet. I remember nothing of her except that she shouted "Camerooooooon" all the time and won the first season of the show. RuPaul pointed out that no one watched it back then, Bebe won a measly $20,000, and that she deserves a shot to reintroduce herself to the audience. It's not like this show is some sort of bastion of integrity, but I always liked All Stars' policy of not having contestants who had won Drag Race. It keeps everyone on a level playing field. Why not save BeBe for the "all winner's season" of All Stars after we decide who wins season 10?
The queens then immediately launched into the classic Reading Challenge, where the library opens and the girls trade filthy barbs, which is always fun but becomes difficult when the contestants know each other intimately and have been touring the world together for years. Some of the reads were so self-referential to the show that I'm not really sure what they were talking about. But some were as faithfully vicious as ever: "Big and Milk-y," Chi Chi said to Milk. "Just like the drink, you give me the shits." Milk, for her part, went in for Shangela: "I always thought her name was Angela," she said, "and people were telling her to shut up."
Ben was the well-deserved winner of the Reading Challenge for a performance that was both mean and sweet and made everyone feel warm inside. It's something only his character could pull off. And I appreciated Ben taking the time on this episode to discuss how devastated and depressed she was when she lost her season of Drag Race. Usually, reality show contestants only wax positive about their experiences, and nobody looks past the smile to deal with what a real bummer losing a competition like this can be. Kudos to Ben for being honest and showing us the darker side of Drag Race.
But it was Morgan McMichaels who really turned this into a reality show. Between the Reading Challenge and the talent show competition that followed, most of this first episode was filled with Morgan going around being a bitch and talking a big game. It was obvious from how much time the editors dedicated to Morgan's smack-talk that she'd either end up in the top or the bottom of this episode—and Morgan, of course, was a bottom.
Like so many other queens, her talent show entry was just some typical lip sync drag number to an original song of hers whose lyrics kept asking, "Why you mad though? Why you mad though?" She should be mad, because her wig kept getting caught on her giant feathered shoulder pads, and she looked like a shambles. Thorgy and Chi Chi also wound up on the bottom for their performances, but at least their skills were a bit varied; Thorgy sapped the room of all of its energy playing the violin while dressed as Phyllis Diller, while Chi Chi did a baton-twirling number that would have been cute if she hadn't worn your cousin Jeffrey's church shoes and an outfit she bought on sale at Zazzle.com.
Shangela and Aja did a lip-sync performance, but the high energy and flair they brought to it landed them in the top. Ben did a comedic take on a burlesque number that was by far the best of the night, not only for its originality but also because it showed off her individual character more than anyone else's. If anything, this first episode proved it might not be the Trixie Show much longer.
But of course, at the end of the day, it was Morgan McMichaels and her too-contoured nose that ended up going home. She didn't have the goods to back up all her bullshit bluster, and her "I'm not here to make friends" reality show clichés were sure to send her packing.
Her elimination made one thing clear: Drag Race is no longer a place for villains. These are cutting-edge artists, after all, expressing themselves through makeup, costumes, comedy, dance, better-than-mediocre violin playing, and whatever it is that Chi Chi does. This is a place for friendly competition, not one for backstabbing and manipulation. Sure, Ru may ask them to insult each other in the reading challenge, but the girl who wins is the one who does it with heart. Though Drag Race has ensured that everyone in America knows what "spilling the tea" means, the first girl on All Stars who starts drowning people in it won't be long for this world herself.
Follow Brian Moylan on Twitter.
Sign up for our newsletter to get the best of VICE delivered to your inbox daily.