It's a disorienting, weird time to exist in the world. Every day seems to challenge my concept of normalcy, a basic fact I'm reminded of as I digest the day's news. Case in point, here is a blog post about Nutella riots.
French chain supermarket Intermarché decided to slash prices of jars of Nutella, Ferrero's adored hazelnut paste-chocolate-palm oil schmear, by 70 percent this past week as part of a promotion. A totally harmless discount, on its face.
But capitalism makes us fickle and foolish: This plunge in price point from €4.50 (roughly $5.59) to €1.41 (roughly $1.75), the Washington Post reported on Friday, led to some gnarly melees in a number of Intermarché locations across the country. These are scenes so grisly-sounding that they make Walmart on Black Friday look considerably tame. Heck, even peaceful.
READ MORE: France Is Concerned that Nutella Is Destroying the World
"It was like an orgy," an employee who works at an Intermarché location in Forbach, a town nestled in France's northeast, told Agence France-Presse, adding that the chaos that almost made him call the police.
Another French Twitter user, @kennyLebon, happened to record a scene of utter, unbridled chaos posted to Twitter on Thursday. (He did not respond to immediate request for comment from MUNCHIES on Friday, so it's unclear where in France, exactly, this was happening.) It's a video that shows screaming customers grabbing jars from the floor, the camera pitching and yawing with such vigor that your vertigo is somehow heightened ("This is not normal," one woman observes in the background, which, yeah, no shit).
"Serious ?? !! All this for Nutella ?!" he captioned his tweet. Kenny, I know! I can't believe it either!
It's unclear what the scope and extent of these riots are, though the Post and a number of other outlets claim they're happening across the country. Intermarché did not respond to immediate request for comment from MUNCHIES on Friday regarding how many locations brawls have broken out in, or what motivated the chain to begin a promotion at all.
The French branch of Ferrero issued a stern statement on Thursday via Twitter demanding that Intermarché restore order by raising prices again. "We deplore the consequences of this operation, which create confusion and disappointment in the minds of customers," part of the statement read.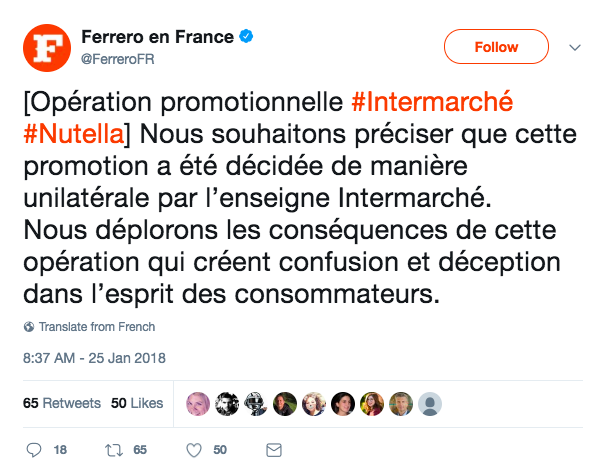 Ferrero did not respond to immediate request for comment from MUNCHIES on Friday clarifying whether it's received a response from Intermarché, who reportedly expressed "surprise" and "regret" over the disorder wrought by the discount.
Anyway, here's a reminder that you can always make Nutella yourself.