The top two most-searched "pornstars" on Pornhub in Canada last year were Kim Kardashian (right) and Mia Khalifa. Photos via Wikimedia
Pornhub insights have shown before that Canadians search for some pretty weird (and sometimes offensive) terms when trying to get off. This year, though, undoubtedly the strangest term that showed up on Canada's most-searched for terms was "overwatch"—which also happens to be a multiplayer online first-person shooter game.
While "overwatch" ranked eighth, here are some of the other top terms Canadians searched for while seeking out porn in 2017, according to Pornhub:
lesbian
step sister
milf
hentai
step mom
Canadians lasted slightly less time on average (10 minutes, 10 seconds) than Americans did last year while watching porn on the site—though our neighbours to the south beat us only by a difference of 23 seconds. Most popular porn genres in Canada (in order) were: lesbian, MILF, anal, threesome, and hentai.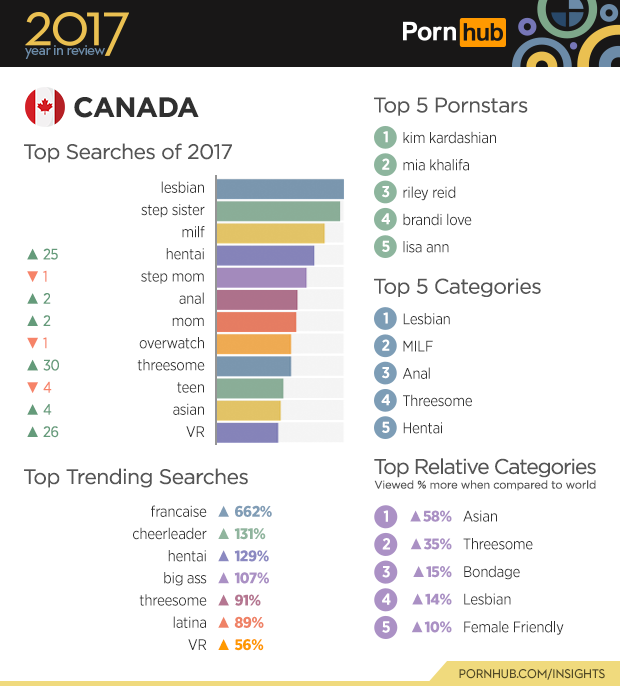 Presumably due to Canada's French-speaking population, "there was a 662 [percent] increase in searches for 'francaise' porn," according to Pornhub. The search terms "cheerleader," "hentai," and "big ass" also saw massive jumps in popularity in Canada.
The most-searched-for pornstar in Canada was Kim Kardashian (who isn't even really a pornstar), followed by Mia Khalifa.
August Ames, the Canadian porn performer who died by suicide in December following backlash to a comment she made on Twitter, ranked seventh globally for most-searched-for pornstars.
Pornhub's "female-friendly" category (recently renamed to "Popular with Women") became more popular globally this year. In Canada, which watched 10 percent more of that genre relatively compared to the rest of the world, that trend also persisted. XHamster's recently released trend report also points to an increase in women's viewership of porn globally.
Canada fell two spots on Pornhub's top countries by traffic in 2017, placing in fifth. It was beat by the US, UK, India, and Japan.