Photo courtesy of Alex Tumay
When Elton John told Noisey he loved Young Thug in 2015, producer Stelios Phili—who's most known for producing "Strive," the A$AP Ferg and Missy Elliott collaboration, on Always Strive and Prosper—was reading. In an interview with Rolling Stone published yesterday, Phili said, "I read it like, 'This is amazing,'" and went on to pitch Thug's label on the idea. A month ago when "Rocket Man," an unmixed collaboration between the two, leaked, Thug fans lost their mind. The incomplete song already felt perfect, but how much better could it get after being mixed and mastered? Alex Tumay, Thug's primary mix engineer, was tasked with polishing up the leaked track and the rest of On The Rvn, and he only had 36 hours to do it.
Tumay found out he'd be mixing the new Young Thug album at the same time the rest of the world did. Since Thug's 2013's track "Some More," the 32-year-old positioned himself as one of the rapper's trusted audio engineers. The two formed a chemistry on an elite roster of projects: the Slime Season series, Barter 6, Beautiful Thugger Girls, Slime Language, and now a new six-song EP. On the Rvn is 22-minutes of Thug at his near best, with an overwhelming presence of jail time looming over the handful of tracks. He returns to his melody-centric flow, stretching his voice on addictive songs like "Icey," an ode to his affinity for diamond grills produced by Wheezy and Keyyz. He's mesmerizing on "Climax," a feature with fellow Atlanta artist 6lack. "You said no interest, said you found a better climax / You said he's swagged out, you leave," he sings before a beatbox fades into to an acoustic guitar. The result is something only Thug could capture, and something his imitators haven't been able to replicate: effortless cadences and candor. And, oh yeah, the whole Elton John thing.
We called Tumay up shortly after the release of On the Rvn to discuss the release, that infamous meme, Thugger's insane work ethic, and influence.
Noisey: I can imagine you've had a pretty busy 24 hours. Are you excited?
Alex Tumay: Definitely. When we started working on it there was an air of, like, what the fuck is actually going to happen? Not just with the music but also with his legal situation. Obviously, you hope they let him post bond and everything goes well, but you don't know. As much as we were trying to get the music right and finish it, there was a much more pressing thing to be worried about. Knowing that, you want to make sure he's happy with the project. I had to meet the deadline to the mixes before he turned himself in. I got all the songs Sunday night and they were due Tuesday morning, because he was turning himself in Tuesday. We had like 36 hours to mix all the songs and get them all approved.
That sounds like a super high-pressure situation and I guess the reason you and Young Thug work well together is that you both work pretty fast, right?
That's part of it. I kind of understand his intention when he says things. Whenever we're in a room, there's not much conversation or back and forth. I get what he's saying when he says he wants something this way. It's usually right on the first try which keeps us moving.
He's dropped a few projects recently, but a lot of the content on On The Rvn is centered around his arrest. How long would you say you guys were working on this prior to its actual release?
I got all the music two days before he turned himself in, except for the Elton John song. I'd been working on [that] for a couple of weeks. When he tweeted it is when I found out. I called the label and I was like, "Do I need to make some time?" And they said yes. So I paused every other project I'm working on and I cleared my schedule. I called everyone and was like, "Hey I need to push everything back like two days because there's an actual, real consequence to not meeting the deadline outside of not meeting the deadline." Everybody was pretty understanding.
That's insane. Thug was obviously under a lot of duress while making this project, but what was the team's goal for On The Rvn?
The day he announced the album is the weekend he recorded all that stuff. For me, it's like, you don't know when the next project is going to come, so you want to make this time count. Obviously, Thug always comes through. Me and [producer] London [on da Track] were scrambling to get the post-production done and going back and forth on the phone about the beats and rearranging tracks so that songs could be fully fleshed out. But ultimately, we had a day and a half to get it all right.
With that in mind, even if you only have 36 hours, you don't want to put something out that sounds like you only had 36 hours. We had to go in thinking, "if it's the last thing he puts out for a while, this is what he wanted it to sound like."
Was the project's delay due to his legal problems or due to you guys fixing the album?
We turned everything in and got it all approved the day before. But because everything was so rushed, there's samples involved and a bunch of features, and a lot of clearance involved, [so] there was a lot of pushback. Aside from the clearances, everybody was also preoccupied with his legal situations. As much as everyone was trying to get this album out, everybody was trying to make sure he was OK.
Was there anything he was unhappy with once you submitted the album?
We went in and did a lot of rearrangements on "Climax" at the last minute. I got a text from him to change the fade in and the levels of the beatboxing on the a capella part. That was the last text I got from him until he was released. I set it up, changed it, and submitted it, and when he got out, I didn't have any notes after I sent him everything.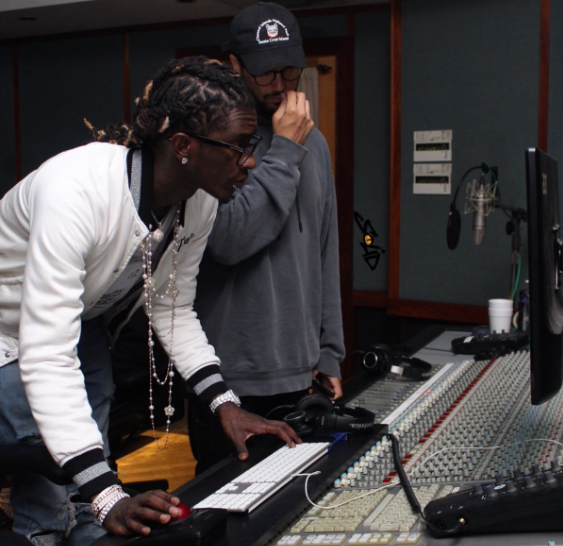 You guys have been working together since 2013. How would you say he's grown in his recording process?
I don't record him as much anymore, and I hope that changes for the next project. But, because he works with so many different engineers, and has for a long time, he kind of learned how to engineer himself. He learned how Pro-Tools works. I don't know if you've seen the memes, but he's really grown technically. His musical ability has grown and his sense of harmony. He's much more aware of what he can do vocally. The biggest thing is if he wanted to do a rough mix of a song on his own vocals, he could. I've seen him arrange effects, do vocal chopping, and editing…all that.
What would you say you've learned from him?
The more we work, the more hands-off I can be. The songs aren't made better because I put an extra effect here, or put more reverb, or made the vocal feel a certain way at a specific spot. It's best to let the music speak for itself. Through the last few projects, I've taken a more minimalist approach to the mixes. The music is alive, where the more you change it, the less it feels alive—especially if the song has existed a while before I touched it. Back in the day, the heavy effects I would do to create moments were all in the creation process. Learning the difference between the creative process and the finished product has also been something we've gone back and forth on a lot.
I read an interview where you said he knocked out a song in seven minutes.
I don't think time is a limitation for him. How long he spends on the song doesn't make it better or worst for me. If it takes him a little longer it's just because he's trying new things with it. I've seen him take as long as the song was to record a song. For him, the perfection doesn't come with the amount of time spent on the song. It comes with satisfaction. He knows he can do a perfect song—sometimes it takes seven minutes and sometimes it takes an hour.
When did you think that you established a level of trust with him?
It was definitely after Barter 6. We only had two days to finish that project as well. They booked me a studio in Atlanta at the time, and I just stayed there for two days and finished it. It was a similar situation, he was there for the mixing. Barter 6 was just like, OK, let's just do it. There's some feedback and notes at the end but it was pretty much like every first mix made the cut.
People had been in love with "Rocket Man" before this album materialized. How bummed were you when the song leaked?
Any time a song leaks, it's pretty heartbreaking. People don't understand that the financial interest goes away. That's not what decides how the song gets released or if it gets released, but it definitely has a lot of weight. The social and general impact of the song is lessened by a leak. It might help in some ways but it hurts overall pretty severely, in that there's no surprise to that songs existence when it comes out after a leak. This song is so important to everybody on the team that there was no way that was going to stop it from getting an official release.
To your knowledge, what's the background of that song?
I know him and Elton met about two years ago in Elton's apartment and they had a sit down and hung out for a day. Elton gave him permission to use "Rocket Man." Stelios, who produced it, and the A&R hit him up about doing it and he jumped on it. After that, they put it in the vault and obviously it still leaked.
How hard of a secret is that to keep?
I actually hadn't heard it until I got it for this project, which was after the leak. I don't listen to any leaks. If I see it, I block whoever posted it and move on. It's that upsetting where it's like, I'd just rather not. So when someone wants to talk about it, I just block them and go about my day. It's just easier. I would be angry all the time if that's all I saw. I saw it briefly, and people were hitting me, and I was just like, I don't know. It's one of those situations where you hope it doesn't ruin a great song and this time we didn't let that happen. When it comes to songs leaking, it's such a sore spot especially for us considering how many songs leaked in the past. I'm just happy this one made the cut. It's such a big moment for him, that I'm glad he didn't let people outside of the camp ruin it for him.
Were you only sent six songs or were there more that you guys are stashing?
There was one song that didn't make it because of clearance issues, there was a major sample that couldn't get cleared. But we changed the features because of that. You're not really missing much because we're making up for it.
There was that video he posted about what he thought his position in rap was. He said he was the "drip god" and he paved the way to make it easier for the next generation to be themselves. What do you think Thug's place in hip-hop is?
He took the brunt of the negative reaction for the more melodic style of rapping, the more eclectic way of dressing, his beat selection, and just going out there and being different. He got the most push back out of anybody for whatever reason. People don't acknowledge how true his statement was. It seemed like people were upset because obviously there were other people before him who made it easier for him. Like, obviously Lil Wayne is a huge influence for him and Lil B is a huge influence for everybody right now. But, the amount of pushback Thug got in his day and age was something to take note of because you don't see it anymore. The amount of success people after him are seeing and the amount of acceptance they're seeing is a lot due to him, especially in the mainstream. People are a lot more open minded post his popularity.
Kristin Corry is a staff writer at Noisey. Follow her on Twitter.