Image via Getty Images
Shifting towards a collaborative, hopeful spirit may be crucial in the face of mounting global crises. WeWork, the American office-sharing company that inspired over a hundred thousand people worldwide to share office spaces, has branded its culture, in part, on the notion of purpose-driven work done in a collaborative environment. Earlier this year, the co-working giant announced its global pitch competition, the Creator Awards, with prizes ranging from $18,000 to $360,000 to entrepreneurs, artists and professionals in a wide range of creative fields.
Founded in 2010 in New York, WeWork now runs 200 shared workspace locations across 64 cities worldwide. Over 175,000 members pay from $220 a month for use of the common area to $22,000 for a 50-person office to help foster upstart entrepreneurs and startup communities. But now, cofounders Adam Neumann and Miguel Mckelvey, are investing $20 million in awards back in the spirit of the community they've successfully expanded.
New York's event announced 21 winners for a collective $1.86 million for projects.
The Creator Awards, which toured six cities before wrapping in New York in November, offers members and non-members the chance to compete for project funding. There are three categories of Creator Awards, including the Incubate Award for great ideas ready for experimentation, and the Launch Award for young businesses and organizations that need a boost. The Scale Award is for established operations aiming to go bigger.
Skylight Clarkson Square, a venue in New York's Soho neighborhood, was converted this November to host the New York awards show. Hundreds showed up to watch startups, small businesses, and nonprofit finalists pitch before a live audience. New York's event announced 21 winners for a collective $1.86 million for projects ranging from food startup Eat Offbeat, that employs refugee chefs, to a fashion line, ATOMIC by Design, that celebrates women in STEM fields.
"I was impressed by how much good we still have in the world," said attendee Alexandra Bernard-Simmons author of Think Like A Boss. "The award recipients were not only creators but givers.They found problems within their communities and work diligently to find solutions to bring change. Each and every person on that stage deserved their winnings. And a huge kudos to WeWork for making that happen. As an entrepreneur that's been in the game for awhile, I was highly inspired."
---
Check out more videos from VICE: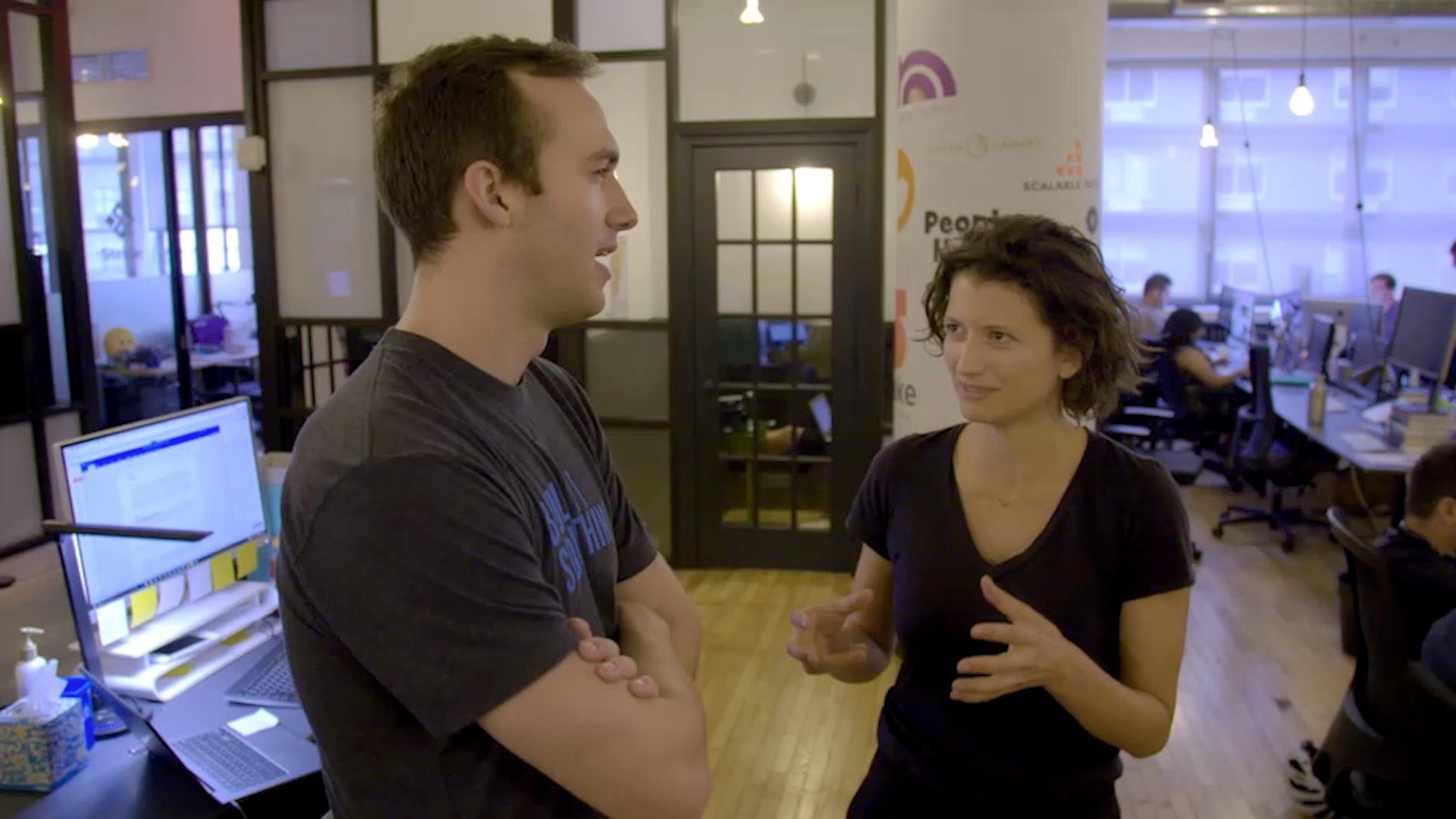 ---
Georges Clement of JustFix.nyc, raised in Manhattan, won the top $180,000 prize in the Launch category and will advance to the global finals in New York this January where the top winner will take away $1 million. JustFix.nyc offers city dwellers a simple way to file apartment complaints via a phone app when facing minor issues like mold or report negligent landlords. It's a free service accessible by website to document infractions, learn housing rights and take informed action.
The top $360,000 prize in the Scale category went to Karim Abouelnaga of New York City for his peer-to-peer summer education program, Practice Makes Perfect. In an op-ed for Huffpost , Aboulnaga said Practice Makes Perfect "pairs academically struggling elementary and middle school students with older, higher achieving mentor peers from the same inner-city neighborhoods, all under the instruction of trained college interns and supervision of certified teachers for a six-week, full-day academic experience."
"I was the first person in my family to go to college," Abouelnaga said in his 45-second pitch. "And I left a career in investment banking to make sure I wasn't the last."
Practice Makes Perfect has worked with over 3,000 students and is on the lookout for mentors.
Each of the 11 Incubate finalists walked away with $18,000 including Adisa, an online shopping platform that features products produced by small businesses in African countries. The nonprofit Blossom-Project, supports homeless women and women involved in sex trafficking with feminine sanitary products that aren't normally available in shelters.
Cave Theatre Co., a New York theatre company open to submissions from the public for offbeat and fresh plays. Dialogue Theory, a growth agency for companies needing everything from web design to user research. Discover Outdoors Foundation, a nonprofit, to put New Yorkers in touch with the outdoors through organized hikes and activities. Girls on the Run NYC, a nonprofit, is an after-school program that uses running as a way to inspire girls to be healthy and confident. Jae Jin, a musical artist with a new EP titled "Baltimore Boulevard.". Langston League, an educational initiative to increase literacy through digital lessons designed to be culturally relevant to the user. Once Upon A Laurén, an artist who hand paints vintage leather jackets and accessories, transforming them into totally unique, one-of-a-kind pieces of wearable art.
Cofounders Adam Neumann and Miguel McKelvey, are investing $20 million in awards back in the spirit of the community they've successfully expanded.
Purpose Driven Passports, a stand-out in the Incubate category, is growing a community of travelers who want to give back to communities struggling with problems like under resourced schools or a lack of menstrual hygiene products.
For example, Travelers can sign up, take a few much-needed items like books or feminine products in their suitcase, and Purpose Driven Passports will facilitate a visit the their in-network communities. Currently, they run projects in Kenya and Jamaica, both education centers for children. Founder Tracey Coleman says her vision is to support the basic needs of families worldwide with a little help from those who want to give back to areas they vacation in.
Check out the full list of winners at WeWork ahead of the global finals in January.