Screengrabs via @bristolstovecs on Instagram
This article originally appeared on VICE UK. It was shortly after midday when the engines started—a procession of motorcycles riding through the streets of Bristol in a mass-orchestrated show of defiance against bike theft in the city. The riders came from across the southwest—bikers who, over the space of 18 months, have watched vehicle theft and joyriding develop from a nuisance into an epidemic, perpetrated by at least one local gang. Estimates vary, but between 400 to 700 vehicles were involved in the theft-awareness ride.
For security reasons, the route had been kept secret, but on their way to the final destination in the city center, the motorcade passed through Southmead—an unremarkable suburb of southwest England with rough grassy banks and public housing, and importantly the turf of the suspected culprits. The harmonic growl of the engines brought people from their homes: Curtains flicked and bus-stop lines gaped as the army of bikers burned down the highway. Somewhere, from the onlooking pavement, a phone was raised and an Instagram story of the traffic recorded. It was captioned, "Benders bike ride," and decorated with a laughing emoji.
Eight months before, the now deactivated Instagram account "bristolbiketaker" had around 1,000 uploaded images. The content of each post was pretty consistent: young guys sitting on motorcycles, faces obscured by stretched emojis or occasionally balaclava face masks, all of them posing for the Gram. The bikes themselves ranged in quality and condition—from pristine black Triumphs to scratched BMWs photographed in forest clearings, and even a Domino's delivery bike was photographed. The account bio read: "They call me Mr. steal your bike… jail rider/Bristol… we take anything and everything… everything's legal around here."
The account belonged to a person—or perhaps multiple people—from a gang of young Bristolian bike thieves, which supposedly had between 15 and 17 members. It's estimated that since last summer, they have stolen in excess of $650,000 worth of vehicles in North Bristol, England. Some they've sold, others they've torched and abandoned, and almost all they've posted about online.
Since the disappearance of bristolbiketaker, much of the activity has splintered off into different accounts. "Bristolstovecs" features the most up-to-date gallery of their acquisitions, while others like "timetostealyourbike" or "biketakerr" appear to be run by rival groups. It's tough to say how organized the gangs are, and to what extent they are working in unison—but mutual follows, likes, and comments between the accounts suggest collusion or at least regular communication.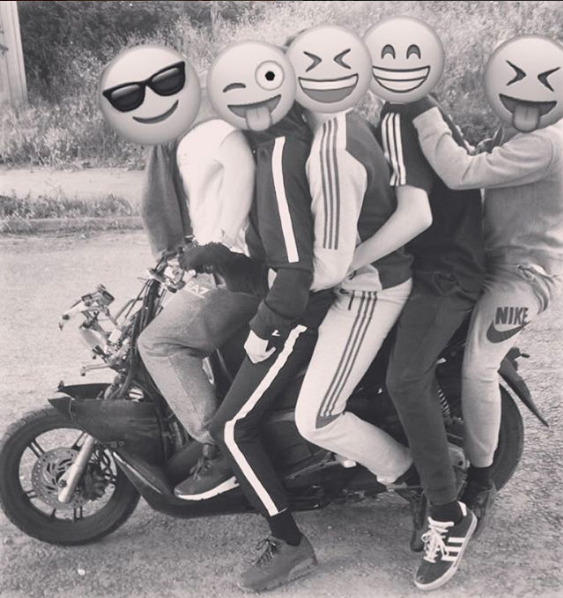 Bristol's motorcycle community first realized they were facing a real problem when the Instagram activity started picking up last year. Initially, they had taken little notice of the bragging, but when bikes began to go missing in large numbers, it was impossible to ignore.
Martin Keay runs "Four Counties Bikers UK"—a Facebook group with almost 4,000 members. They organize regular meetings, ride-outs, track days, and charity events, recently raising over $3,000 for a children's respite center in Bristol. Keay recalls a number of alarming incidents that highlighted how brazen the thefts were becoming. "One of our female members was surrounded by scooters, and they tried to steal her bike right there and then," he explains. "Four or five tried to kick her off but she managed to get away. It happened to another female member a few weeks later."
Keay's group is part of a thriving motorcycle culture in the city, which, as the third most congested place in the UK, is popular for bikers who like to weave in and out of traffic jams. Yet here, as they are all over the world, the bikes are so much more than a means of transport. Motorcycling remains one of the few subcultures that lasts well into adulthood—for riders, their bikes are an obsession and part of their identity. As Keay tells me, riding sits at the center of their lives: a "common bond" between thousands of people. A stolen bike isn't an inconvenience. It's an injury—and the bike thieves of Instagram were rubbing salt in their wounds.
Exactly why the bike thieves publicize their criminal activity so much is complicated. Some of it can be explained by reselling. The comments underneath images occasionally feature pricing requests, and some account bios make specific references to theft for sale. Users who ask about prices are often served a short response instructing them to switch to the private inbox to find out more.
Yet mostly the posts are reserved for showboating. Interspersed between the Vespas and the KTMs are photos of buds, watches, rolled-up notes, and bottles of Grey Goose. Captions and bios feature slogans like "no face no case" or "catch nothing but a cold." Pig emojis are stuck next to middle fingers, while bikes are tagged as "new toy" or "too fast too furious." They take pleasure in ridiculing screengrabs of complaints from theft-awareness groups, or headlines from news stories about their activities. Friends comment exchanging tips on stealing wheels and speculating who is hiding behind the helmets. One image of a red moped is captioned: "Chinese import #desperate time #needed to get home in time for tea #scrappah."
The users also upload videos—most are fuzzy, lit by blinking headlamps, and engines buzz and whirr around indiscriminate locations. Some document late-night motorway rides: riders burning through the darkness on stolen bikes, clocking speeds over well over 100 MPH. Others show them tearing through the looping, sinuous streets of local estates. Several show bikes on fire.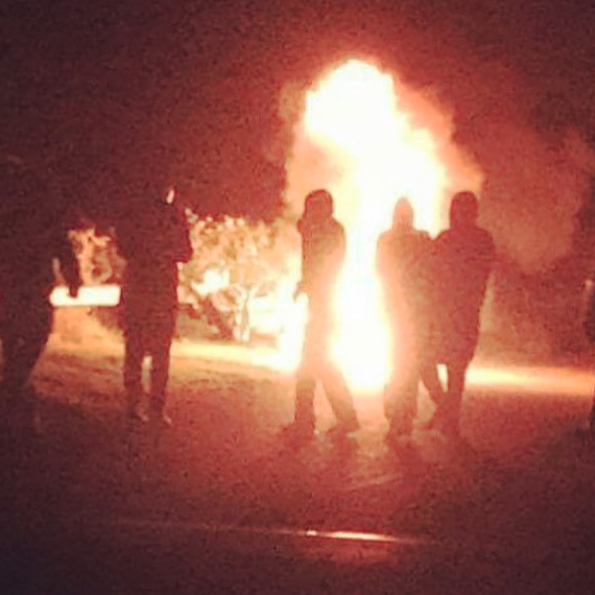 With the rise of the Instagram accounts, motorcyclists were not only dealing with the fear of losing their bikes, but the additional insult of seeing their stolen rides paraded on Instagram—little more than cheap trophies to be damaged or undersold. Many felt the local newspaper, the Bristol Post, was exacerbating things by "sensationalizing" the activity and fueling the thieves' desire for attention. Worse still, despite the online activity and what appeared to be an endless stream of photographic evidence, the police seemed unable to respond in any meaningful way. The thieves were growing in confidence, and their victims felt increasingly alone.
Inspector Rob Cheeseman heads up Operation Buell—a special investigation into the bike thieves, named after American motorcycle manufacturer Erik Buell. He tells me that police in neighboring towns had been monitoring them for some time, but it was the proliferation of Instagram activity that alerted them to how much anger was building within the motorcycle community—against the police almost as much as the thieves themselves.
"The community was very unhappy with the situation and the perceived lack of action from us," he tells me over the phone. "We were doing a lot but we weren't getting that message across."
The complication, as Inspector Cheeseman explains, is this: Just because a photo shows someone sitting on a stolen bike, that doesn't mean it is usable evidence. Even if the police know full well who the rider is, and where the bike has come from, a covered face or an obscured registration plate can render it completely redundant as part of a prosecution. "There's a real, vast difference between knowing who is in the picture and being able to prove it in a court of law, beyond all reasonable doubt."
While, for the police, prosecuting the bike thieves was proving difficult—the collected scraps of Snapchat stories and burned bike parts was going a very short way toward building a case—Bristol's bikers wanted to see action. Many felt it was time to take things into their own hands.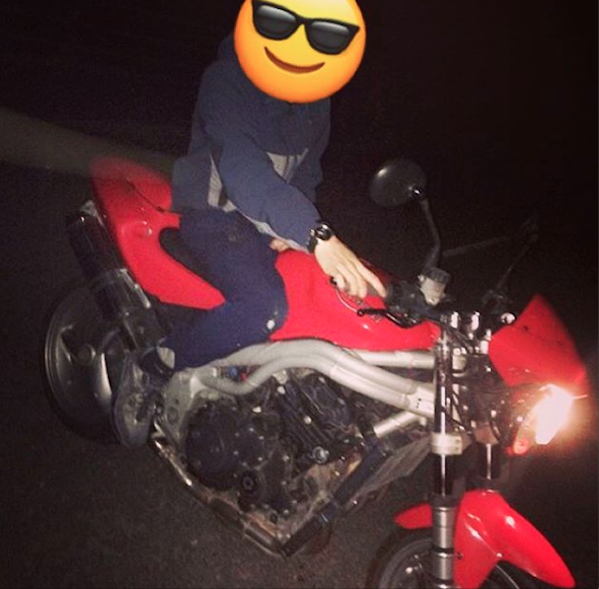 Dylan, 19, has been riding motorcycles since he turned 16. His then boss gave him his first one on the provision that if he could get it working, he could keep it. He did. The first time his bike was almost stolen was in college. He'd seen the same man loitering around his school's bike park—each time with a different group. On one occasion, Dylan approached him and told him that it was "obvious" what he was up to. "He went off," Dylan remembers. "He tried to start a fight with me." Another day, not long after, Dylan was running late for a science lesson and didn't have time to fully lock his bike. When he came back outside, it was gone.
"I knew it would be this guy, so I did tons of digging on Facebook and Instagram and asked people around the school," Dylan tells me. "Eventually, I found out who he was." He began exchanging heated messages with the alleged thief. "He pretty much told me himself—sent me pictures of my bike to ask me if I was missing it. He also sent me pictures of other bikes he'd stolen." Dylan took this information to the police, but was disappointed to learn there was nothing they could do. Eventually, the bike was recovered but ultimately cost him upward of $650 in recovery and repair costs.
The second attempted theft happened a year later, while Dylan was working around Cribbs Causeway—a stretch of road north of town, home to a retail park and not much else. After finishing work and starting the drive home, his bike slammed still and fell from under him. "The bike only turned halfway. It turns out they'd tried snapping my steering lock." When he checked his work's security camera the next day, he saw two men trying to steal the bike for as long as 40 minutes. One of them, Dylan says, was clearly the same culprit from a year ago. This time, using the footage and the messages from the year before, he was able to get $260 in damages for the snapped steering lock. He believes the thief is now in prison.
Since then, Dylan admits he has taken his frustrations out on the road. "I chase bike thieves out of pure anger now," he tells me. "Police say you shouldn't do that sort of thing, but I've retrieved a friend's bike off the guy who stole it. I didn't see him steal it, but I saw him riding the stolen bike, and then I chased him down… I kicked the guy off, and it was a done deal."
He describes another occasion when he saw a teenager riding a moped he suspected to be stolen around a park in Mangotsfield, England. After challenging him, the teen sped off, and Dylan gave chase. "From that moment, it was half an hour of him driving like a lunatic—pulling out in front of cars and driving down the wrong side of the road. I caught up with him on a dual highway, and shouted at him: 'If you don't get off that bike, I'm going to kick you off.'" In the end, Dylan says, all he managed to do was slap him in the face and nick his sunglasses.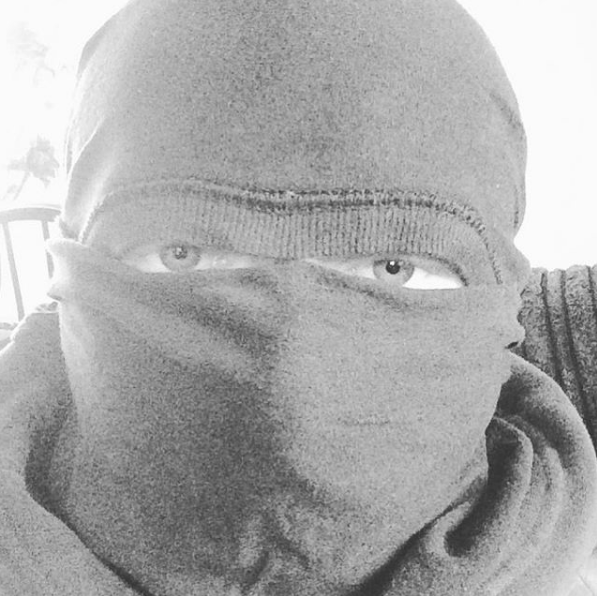 Dylan's forays into seeking justice are part of a wave of vigilantism that spread throughout the Bristol biking community earlier in the year, as the anger at perceived police inaction reached a breaking point. Confrontations took place on Instagram, where raging victims traded barbs with the thieves in comment sections, threatening violence if they ever saw them riding. In February of this year, a makeshift shrine to Adam Nolan—an 18-year-old who died when the stolen motorcycle he was riding crashed—was vandalized.
Hostilities peaked in the same month, when one anonymous biker built and shared a PDF document featuring a comprehensive list identifying the alleged bike thieves. The "dossier"—as the police reluctantly refer to it—charted the names, personal social media accounts, and home addresses of the supposed culprits. The list was complete with photos and descriptions of their personalities, indicating how likely they were to react if confronted. The introduction simply stated, "This bunch of little bitches is about to be unmasked."
Both the police and spokespeople for Bristol's biking community have strongly condemned all vigilante behavior. According to Inspector Cheeseman, the dossier was full of inaccuracies, and Police in neighboring towns have since located the person responsible and addressed it with them. One anonymous biker stressed that this behavior was far from representative of the community at large, who had responded with "maturity and passion in equal measure" to the thefts. Martin Keay also dismissed the dossier, and all other forms of lawless retribution. "Don't ride around council estates looking for random bunches of people to intimidate," he warned. "It will backfire."
However, Inspector Cheeseman also concedes that the lengths some bikers were going to in order to resolve things was a rude awakening. "It was a clear message," he tells me. "It's evidence from the local community about how much of an impact this crime type was having on them."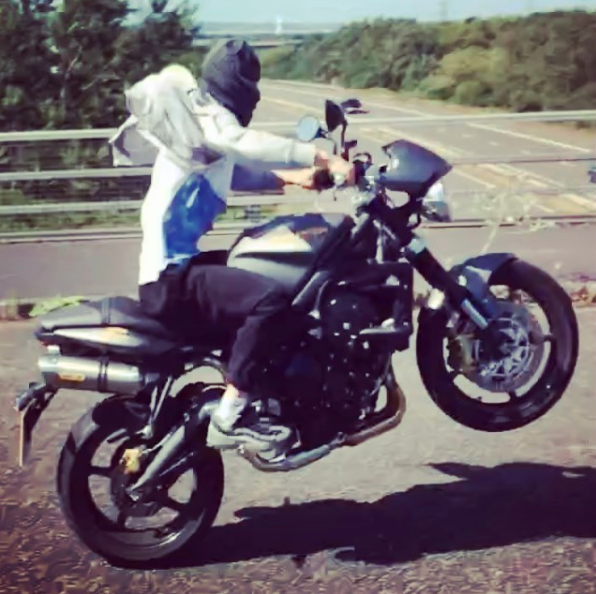 Since then, Inspector Cheeseman has made it a priority of Operation Buell to build trust between the police and the motorcycling community, in order for them to work together against the problem. He has been meeting with an independent advisory committee comprised of bike enthusiasts, which he says he is using to hold himself to account. Together, they planned the Motorcycle Theft Awareness Ride at the end of September, which in addition to raising the profile of the situation, was also an opportunity to give out advice around preventing bike theft.
One of the bikers who organized the awareness ride—who wished to remain anonymous—spoke hopefully of the change in mentality that had to start. "It [the awareness ride] showed solidarity with the police, and showed the wider community that they are not alone," they explained. "We feel this had a particularly great effect when we passed through some of the worst areas for bike theft." They promised this was the start of continued conversations with neighborhoods and councils, as well as heralding a renewed push around prevention of theft and the protection of bikes.
In perhaps one of the more significant developments, police are also reevaluating how they deal with evidence supplied by social media. Inspector Cheeseman tells me they are "reviewing all of the crimes that now come in and looking at where our opportunities lie." They have also just issued a Criminal Behavior Order (CBO) for the first time, to a 17-year-old suspected of stealing bikes in the Bristol area. The order, similar to an Anti-Social Behavior Order (ASBO), prevents him from sitting on a motorcycle or moped in Bristol for two years, and also means he is not allowed to be in the company of more than two people in a public place, unless in the company of his mother. Inspector Cheeseman heralds this as a real breakthrough, which should make prosecution much easier.
"We are trying to tackle it from a much wider viewpoint, and tackle the behaviors within it," he concludes. "I think we're making good progress."
Martin Keay tells me opinions of the police have improved significantly now that communication lines have been established—particularly since the awareness ride. "People expect instant results, but it doesn't work like that… we know that now," he tells me. "We know how much effort they are putting into it and how time-consuming it can be. There have been good results, and there are more to come. I know for a fact there are more to come." The community, as tight-knit as ever, seem proud and positive about the progress they are making.
In London, incidents of bike theft have almost doubled in the past four years, with 14,971 motorcycles or mopeds stolen in 2016 alone. It's a sharp uptake that's been accompanied by the rise in muggings by teenagers on mopeds, who swipe phones from the hands of unsuspecting victims and race off before anyone can react. The threat of vigilantism is looming in the capital as well. Back in May, a leaflet calling on bikers to "come TMAX [type of scooter] hunting was spotted in the Ace Cafe, a popular London motorcyclist hangout. Similar calls have been clocked in Liverpool, Edinburgh, and Birmingham.
The war against Bristol's Instagram bike thieves suggests the real work the police have to do is outreach—winning the trust of the motorcycling community, educating them on the law's limitations, and demonstrating what they are doing. Only then will frustrated bikers be convinced not to pursue the problem themselves. It's a model for the rest of the UK, where thefts still represent a volatile blend of boiling frustrations, social media accounts, and high-speed vehicles. Before anything can stop, the first challenge is slowing it down.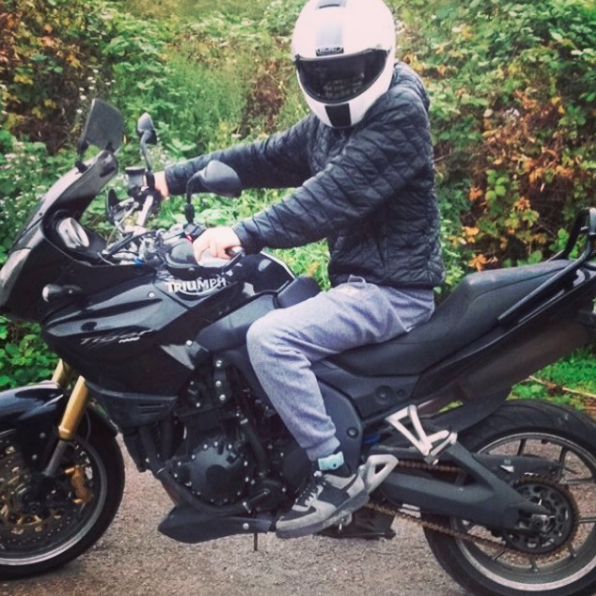 After a series of messages, the anonymous user behind "bristolstovecs" eventually agreed to answer a few questions for this piece over Instagram.
In their responses, they claimed there is more than one person behind the account, that they started stealing bikes a few years ago, and that they don't know how many they've stolen, only that it's "a lot." When I asked what a good night looks like for them, they told me: "It's just luck really… some nights we get one bike, some nights we get a few bikes and we will have our fun on them, then sell them or burn them." They claim they couldn't care less what the Bristol motorcycling community think of them, and that they saw the awareness ride but "don't really think anything of it." When I ask if they are worried about getting caught, they say "kind of," and that they will stop stealing them "someday."
Finally, I ask why they post so much on Instagram. Why they make their crimes so public? "Don't know TBH," is the response. "We do it just for the likes, I guess."
Follow Angus Harrison on Twitter.