The future is scary. The oceans are rising and the deserts are cooking, robots are taking our jobs, and the kids are jumping ship on our reality for an addictive virtual one. The technological changes facing our world can be as scary as any rundown sanitarium or demon clown—which is why I went to check out a spooky experience at VR World that combines all three.
VR World bills itself as "the largest virtual reality experience center in North America," but I'm familiar with it as a chill, futuristic refuge from the chaos of Midtown's Herald Square. For Halloween, they invited Dark Corner—a virtual reality studio that specializes in horror films—to take over their unused basement with three NC-17-rated rides created by ad man-turned VR horror director Guy Shelmerdine.
Shelmerdine has worked with some of the the industry's biggest names, creating his first VR horror film on a dare from Patrick Milling Smith, co-founder of premiere production house Here Be Dragons. Two of Shelmerdine's three experiences on display at VR World, Night Night and Catatonic, are adapted from his own nightmares. "I used that feeling of deep dread from my dream as a guide for the backbone of the nightmare sequence and some of the images," he tells VICE. Teal Greyhavens, a documentary filmmaker turned screenwriter and director, helped tighten the dreams into cohesive scripts.
When I arrive at VR World, I follow an employee through the pristine lobby and immediately feel like I'm somewhere I shouldn't be. The few functioning lights are dim and flickering; dust floats through the air, collecting around the edges of the cramped entryway. I follow my guide down a dingy staircase with pockmarked walls.
Shelmerdine later told me, "The central idea of any good horror premise in VR is facing somewhere that you are scared to go… and then going in anyway," and at this point, I've already begun to feel that tension. I know what spooky theatrical sets look and feel like, but the dank basement gives off more of a not-yet-renovated vibe.
I stumble into a room draped with industrial plastic curtains. The lighting is a dull yellow, and it takes a minute for my eyes to adjust. The first thing I see is a literal coffin lying open, as if waiting for me. When my eyes have fully adjusted, I also notice a couple of VR headsets hanging on walls smudged with black handprints.
"Those were already down here when we got here," VR World's head of content, Tommy Goodkin, says about the handprints. I'm skeptical, but he tells me about a supply room that people keep getting mysteriously locked in. "This place is definitely haunted. It's got a tin ceiling, pre–World War II, so who knows what kind of creepy shit went down here."
I bypass the coffin and go to the first film, Catatonic. An attendant named Plenty leads me through the plastic curtains to a wheelchair lit by a massive glowing cross. I put on a Galaxy Gear VR headset and am transported into a sterile, white sanitarium; as I roll toward a door, I can feel the seat rattling beneath me, thanks to the motorized Buttkicker installed in the chair.
The hospital doesn't look off-putting until a nice nurse—the only nice nurse in the whole facility—opens the lobby door and a doctor rolls me down a dark hallway. I don't see his face; I only hear his voice telling me everything will be OK. The place is trashed, and all the doors are open, letting me peer into the dreadful existence of life in a 1950s insane asylum. As neglected patients wander through my view and invade my personal space, I realize the real horror here is how humans have historically treated the mentally ill.
I later see supernatural phenomena that defy reason, leaving me to question whether the character I've become can be trusted as a narrator. Is anything I'm seeing in this virtual world real? Well, no, obviously, it's virtual—but it's creepy to wonder whether I can believe my senses when I've been transported into another person's skull.
Back in VR World's spooky basement, I make my way to the big coffin. "Would you like to be buried, or cremated?" Plenty asks casually. I choose to be buried and climb into the casket. He brings the headset over my eyes.
This film is called Mule, and it's all about the horror of facing my own mortality. Well, first it's about the horror of looking down at my body and seeing instead the hairy, nude torso of an overweight 50-something-year-old man, complete with flaccid penis. Then I die, and the real frights begin.
At various points throughout the emotional roller coaster ride, my family screams at me about how horrible I was, crying about how much they'll miss me and burying me in a claustrophobic box. The coffin is wracked by powerful vibrations every time my body is moved. During a stint in the morgue, I'm forced to watch as my entrails are ripped from by stomach. It's body horror at its finest, and because it's my body being desecrated, it's doubly cringe-inducing. When it's over, I exit the coffin, grateful to be alive and young again.
I had seen Catatonic and Mule before—though never with the full haptic experience—but the final film, Night Night, co-produced by MPC, is new to me. All I know going in is that clowns are involved, so I'm mentally preparing for IT flashbacks. Plenty crams me into a movie theater chair, turns on the headset, and suddenly I'm a small child, sitting in bed and screaming for my mom. She reads me a children's book about smiling that frames the facial expression as an infectious disease. It also heavily features a cleaver-wielding clown named Butcher Bill—my kind of bedtime story!
The room closes in on me as soon as Mom shuts the door, and I start seeing clowns everywhere. I scream for her help so many times she gets fed up and decides to dole out some tough love. "I'm not coming back in," she says sternly. It's the suburban ten-year-old's equivalent of, "Out here, no one can hear you scream."
Now the clowns are coming at me for real, dragging my bed into a funhouse of horror that seems inspired by those creepy forest clowns that have been making headlines for years. At one point, a balloon draws my soul out of my body and carries it away. I can't help but repeat, "You'll float too" over and over again to myself for the rest of the ride, like some kind of terrifying earworm.
The climax is a startling appearance from—you guessed it—Butcher Bill, who brandishes his meat cleaver in a way that says, "This isn't personal, frightening children is just my day job—but I'm very good at it." That's not the final fright, but I won't spoil the ending.
The Dark Corner app has five more films, which can be watched with Google Cardboard or any other mobile VR headset. The experience is very different without the bouncing coffin, wheelchair, and movie theater seat, but still more than scary enough to amp up any Halloween party. The company's excellent VR experiences are a treasure in a medium that can't figure out how to reach everyday people. The gold rush to find a VR product that will be as popular as Instagram, Snapchat, or even Dropbox has been fruitless. Despite three huge consumer VR headset launches this year, investment in VR companies is down by 80 percent in 2017, according to Crunchbase. TechCrunch declared in August that "this VR cycle is dead."
Many artists—Shelmerdine included—remain passionate about the medium. Rather than trying to disrupt the media landscape, they focus on stories that can be told better with a box strapped to the face than a rectangular screen. When his films are screened, crowds gather around the viewers to watch them react. "The feeling of a shared, group experience feels really exciting especially in VR, which is often seen as a solitary activity," he says. "I feel like I'm on to something."
Dark Corner is not Snapchat—and maybe that's a good thing—but it is genuinely a fun experience to get in a big vibrating chair and let yourself get spooked by scary clowns for 15 minutes.
---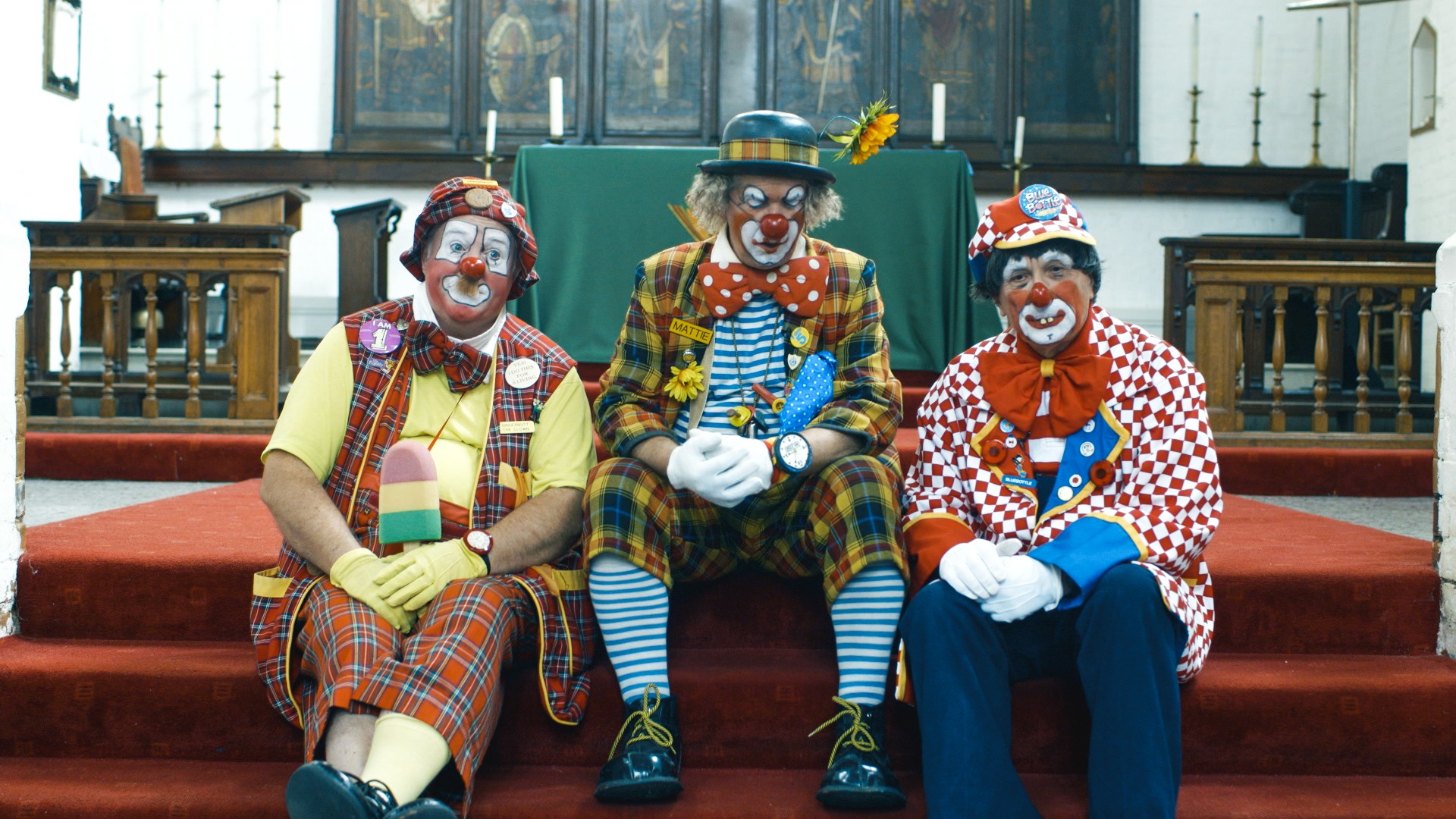 ---
Shelmerdine says he's no longer adapting his nightmares, partially because he doesn't have them anymore. "I think dreams can be a great place for inspiration, but at the end of the day, it's our own original ideas that will lay the foundation for truly memorable VR experiences," the director says. Now, instead of having bad dreams, he makes them.
Dark Corner will be on at VR World through Halloween. Download the app here.