Images courtesy of the artist.
A hip-hop super fan blessed with precision sushi-crafting skills pumped out a crew of rap icons constructed entirely from rice, seaweed, and raw fish. Chinese-Italian chef Yujia Hu, whose seafood sneakers we covered in May, rolls Kanye West, Future, Gucci Mane, and Action Bronson into delicious-looking bite-sized sculptures.
Hu studied art for a time, but dropped out to work in his family's restaurant, Sakama, in Milan. "At first I wanted to experiment with something different for the promotion of my restaurant, but then I started being passionate about what I was doing, so I kept going on with my creations," he tells Creators. "With my artistic background, I tried to create something new. And this is the result."
The rap lifestyle is Hu's biggest inspiration, particularly indulgent streetwear trending on social media. He jokes on Instagram that his rappers' Supreme hoodies are actually "Susheme," which sparked an avalanche of sushi puns on Twitter. @Trashvis dubs him a "Leonardo DaFishi" and captions his creations: Gucci Mane is "Gushi Mane," Kanye West is "808 & Chopsticks," Future is "Percocet, Sushi Percocet," Lil Uzi Vert is "Lil Sushi Vert," and Tupac is "All Rice on Me." Aside from rappers, Hu is fixated on the artwork of René Magritte and top line Game of Thrones characters.
After he's snapped his sculptures, Hu either eats them himself or serves them to a lucky customer.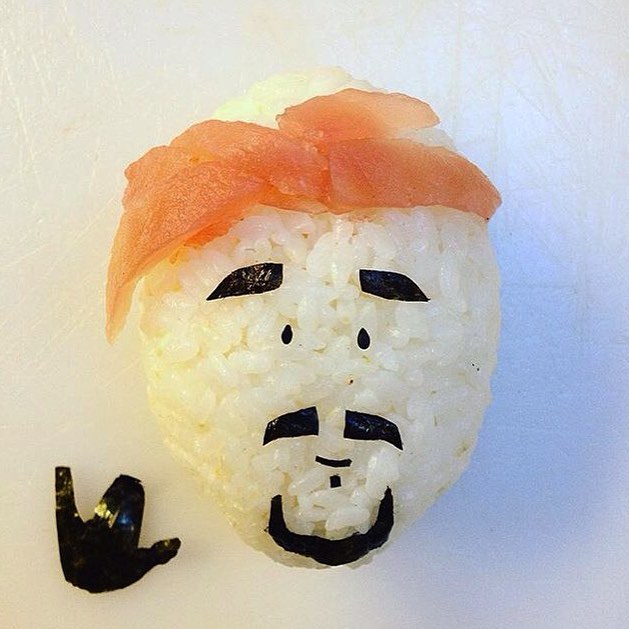 Check out more of Yujia Hu's work here. Follow Creators on Instagram to find your next favorite artist.
Related:
Hacked Sushi and Chicken Nuggets Become Instruments in This Music Video