Mirik Milan poses on the Agger Fish building in the Brookly Navy Yard. Image: Motherboard
Amsterdam is well known for its vibrant night economies, including legalized sex work and cannabis bars, but there are many of its citizens that would rather these and other aspects of night culture not exist. So a non-profit in Amsterdam created a "Night Mayor" in 2014, to represent and nurture the city's night-economy, as well as satisfy city officials and residents. A number of other cities have since created similar positions. Motherboard caught up with Amsterdam's night mayor Mirik Milan at the Smart Cities NYC 2017 Conference.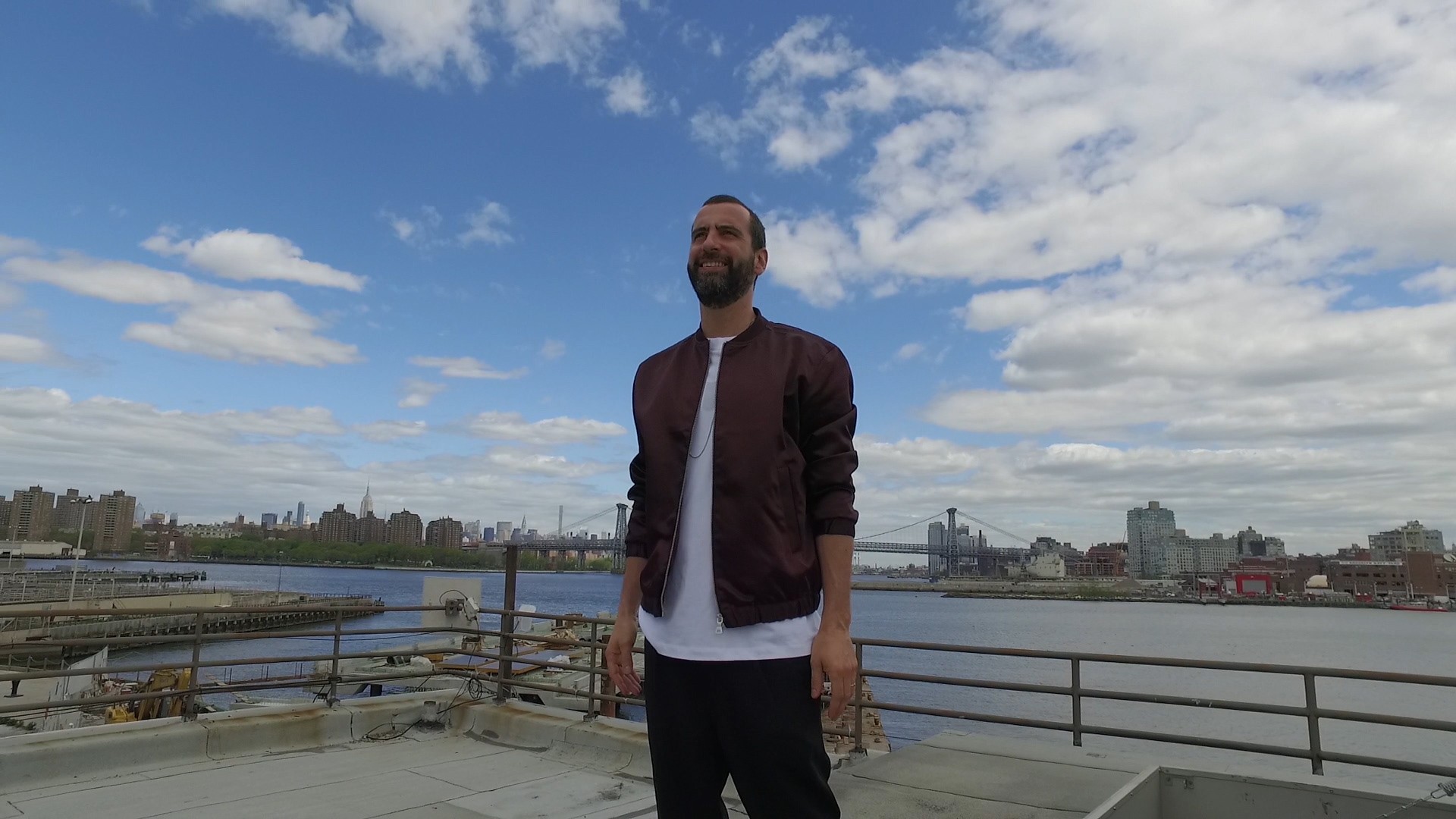 Motherboard: Can you describe what the role of Night Mayor is?
Mirik Milan: The night mayor is a not-for-profit foundation which helps to ensure that the City of Amsterdam has a dynamic and vibrant nightlife. We really want to bridge the gap between the municipality—so that's the mayor and city councillors—small business owners like nightclubs and festivals and event promoters, but also city residents. We always say that by having a dialogue, we can change the rules of the game.
I think the first one to do this was actually Andy Warhol. He brought people together and they developed their talents, in nightlife. Whether it's actors, whether it's fashion, whether it's photographers, filmmakers—everybody. And this is happening today every weekend, every Friday and Saturday night. People get together and share ideas—that's what happens in nightlife. And this attracts a lot of young creative people. And when there's a lot of young creative people living in a city, this will attract a creative industry. So for cities that are competing in creative industries, this is really important. Cities benefit from having a vibrant nightlife from a social, cultural, and an economic perspective.
Is it even possible for a city to be healthy functioning metropolis without a vibrant nightlife?
In my opinion, no. I think that the quality of life is higher when there is a huge cultural offering. But when you have only a cultural offering for middle-aged people, people from 40 and upwards, with big operas and theaters, etc.—what are all the youngsters doing? Diversifying your nightlife is really important and having a diverse cultural offering makes sure that the young people will want to keep on living there. Especially when you're a smaller city, you don't want all the young people to move straight away. And so on both a small and large scale, I think it's a really important part of a healthy city.
On that same token, how does a functioning healthy nightlife contribute to making a city smarter and more efficient?
So I'm a little bit more on the civic side of smart cities and the soft scales than the big data. A smart city, for example, is also a city where there is a lot of contact between policy makers, city residents and entrepreneurs, because these people need to work together to achieve a high quality of life. But of course the data is really important. We use data when it comes to drug policies and making entertainment areas more efficient. I think that's all intertwined.
Are you afraid at all that the pace of cities' growth right now can hurt nightlife and thus cripple the cities moving forward?
Oh absolutely. This is the big "G" word. Gentrification. It is an issue that we're dealing with everyday. And there are no real solutions, because money is really often needed. London lost 35 percent of its nightclubs—it's insane. But space is the biggest problem in this, and that's why when cities get gentrified, nightlife is really often being pushed out. So what we can do is think about: ok how can we make efficient use of space in the city? That's why we introduced 24 hour licenses for venues. Partly so these venues can stay open 24/7, but also so these buildings are also used more efficiently. So during the day, maybe it would be a rehearsal space, but at night, it's a nightclub.
I play in a band here in Brooklyn, and many of the DIY venues we play are regularly getting closed and pushed further out. What are other ways to protect nightlife from gentrification?
What I hope is that—we can get acknowledgement for our subculture in city hall and in policy making. Because if the city doesn't acknowledge it as a creative power, as something which is valuable to the city, it will never adjust its policy. And when city hall is aware of the cultural and economic value it [nightlife] creates, then maybe there could also be a form of integrity towards the people that help to develop these nightlife areas.
In zoning it could be a solution. For example, because zoning is always about "so many amounts of houses, so much amount of industry, shops, etc. etc." If you could say "we want ten, twenty, twenty-five percent of affordable working space for young creatives" then you have a good step. So what we [the nightlife community] really need to do is make sure that we are so well connected, that we can influence policy making.
So that's what the night mayor can do then. Be that liaison.
Yep, be that liaison—show the quality, show the power, show the impact that it has.
Do you think that it's important that the night mayor or night manager of a city remains just outside of the government? And not be a governmental figure?
It really depends on the DNA of the city. For us it's better to be just outside of politics because then we can work with all the parties and all the sides, otherwise it's always about who gets the credit for changing something—and this can really stagnate the process. And ok, Amsterdam really embraces bottom up initiatives, so for Amsterdam it's really good. But for example, in London, there was so much going on—so many venues closing—that there really needed to be an official person under the mayor, you know, that had the credit more or less of the mayor when speaking to the boroughs. We always say people should start with writing a manifesto that asks: What do we want our DIY scene to look like? What are the rules and the rights? How can we make it more safe, but also not over controlled? How can we keep the DNA of the DIY scene intact and still do something that is valuable for the city? There are so many directions in which you can go.
Subscribe to Science Solved It, Motherboard's new show about the greatest mysteries that were solved by science.