Cam boys always have the sort of all-American, high school quarterback names cooked up by a suburban mom who wants her son to be unique. Garret. Jaden. Caden. (The occasional Dave.) And webcamming is now becoming an all-American phenomenon, like the apple pie you could probably get a cam boy to fuck—as long as you bought enough electronic coupons.
The majority of cammers are based in countries like Romania and Colombia, but an increasing number of Americans—including men—have entered the webcam business. These cam boys (no matter how old they are, they're always called cam boys) are carving out a slice of the $1 billion industry, with little more than super-fast Wi-Fi and a bottle of baby oil in hand.
Garret Radivan, known professionally as XXXGarretXXX, started camming in his parent's garage. "I was that 'guy who cams in the garage,'" he remembers drily. After a while, his parents asked Radivan what was going on—and proved surprisingly accepting. "I did leave some details out, though."
The 24-year-old quickly learned to make the best of his parents' garage, operating lawn care equipment and the occasional chainsaw for the pleasure of his viewers. "For one show I ejaculated all over my BMW hood. It was interesting."
Read more: When I Was a 13-Year-Old Camgirl
All the cam boys I interview for this piece are evangelists for webcamming: fundamentalist acolytes born again with dick in hand. "I love being a cam model, 22-year-old Californian camboy Vallex says fervently. "It's the greatest job ever! You can set your own hours, you meet the nicest, most down-to-earth people, you travel all the time."
For Benji Bastian, camming was a way out of a pretty desperate situation. "I had just finished my first year of college and it was the summer time. I got arrested for a misdemeanor charge of marijuana. I had a crappy part time job in a warehouse, was living at my mom's house, and was in desperate need of money to pay for my new legal fees." Six years on, the 25-year-old estimates that he's made close to $100,000. Bastian is straight, but has grown close to the LGBTQ community through his work. "I never had anything against gay people before I did webcam work, but now I'm a huge supporter of gay rights."
It's helpful to imagine the webcam world a little like Radivan's parents' garage—a dark, cavernous space stuffed full of useful and unique tools. There are the webcam sites that are hurtful and exploitative, like a poor-quality drill that will give you repetitive strain injury after too much use. And then there are the gleaming top-of-the-range lawnmowers; portals to a utopian future where well-compensated performers of every race, sexual orientation, and gender identity happily masturbate to satisfied fans.
---
Watch: Girls Just Wanna Have Girls: A Weekend At The Biggest Lesbian Party in the World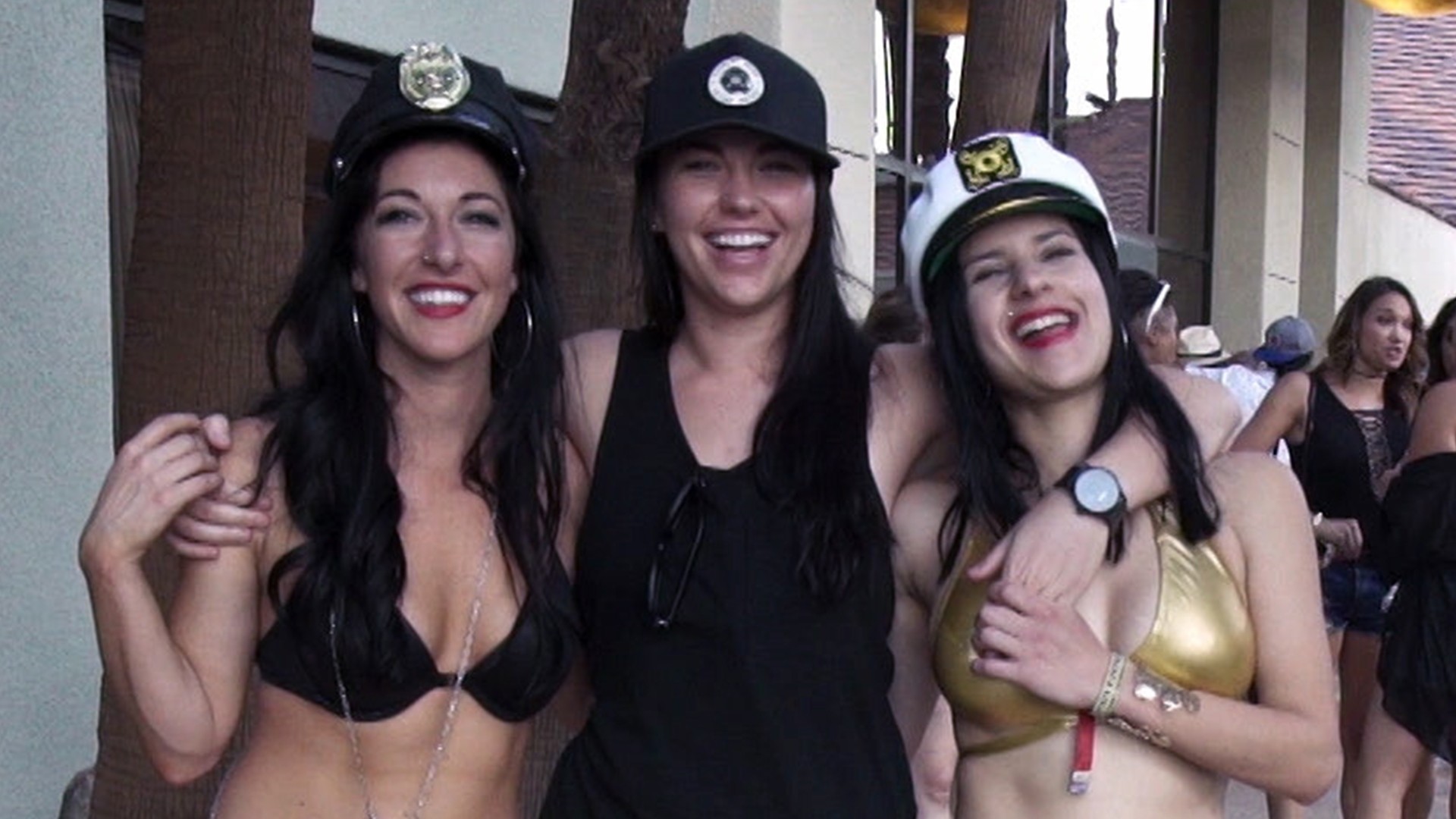 ---
At the shining glans of this new world order is Chaturbate, a popular webcam site that has five main offerings: female cams, male cams, couple cams, and cams for transgender performers. All the live streams are open-access, meaning you don't have to pay to watch them. Revenue is generated through viewers purchasing "tips"—essentially, tokens they can use to pay performers to perform certain sex acts on the stream ($10.99 will get you a hundred tokens). Chaturbate takes around 40 percent of webcammers' earnings—they get to keep the rest.
"The beauty of Chaturbate's community is that everyone is equal," says spokesperson Shirley Lara. "It doesn't matter if someone is male, female, transgender, straight, gay, even couples. Broadcasters that run their cam businesses through our site fit every fantasy, orientation, and taste."
While cam girls dominate the international webcam market, increasing numbers of men are signing up as performers as more female consumers and couples start using popular cam sites. Lara won't tell me what proportion of Chaturbate's revenue comes from male webcammers, but she says that they're seeing male broadcasters sign up to the site every month "in the thousands." She points out that it's not uncommon to see cam boys listed on the top two rows of the Chaturbate homepage, meaning they're pulling in the biggest viewership from the site's 4.1 million unique monthly visitors.
The webcam world usually favors solo girl shows or gay performers, but Lara tells me that bisexual and straight cam boys do unusually well on the site. The reason? Heterosexual women are turning on to the remote joys of webcam sites. "More women are seeking virtual intimacy with the men on Chaturbate, and it's also not uncommon for our female broadcasters to earn tokens and gift them to their favorite male broadcasters," Lara says.
Straight couples are also turning onto the pleasures of watching cam performers as an alternative to porn. "When I'm doing a couples show," Vallex says, "I'll give the same show, but I'll talk to them individually in a different tone. Or I'll work with other female cam girls or girls I'm dating at the time." He tells me that his couples' work tends to do "extremely well."
I had one guy who paid me two grand for a pair of my underwear.
Straight cam boys can also carve out lucrative niches for themselves, catering to gay audiences who prefer a straight-acting performer. "Being straight in this industry has been a huge key to my success," Bastian observes, telling me that 85 percent of his fans are gay, five percent are women, and the rest are closeted. "In my experience, many gay men enjoy the 'straight-guy' fantasy. Not all of course, but I've definitely seen my fair share."
As the market grows, technology has also evolved in response. "Our male broadcasters have embraced teledildonics, such as Lovense and OhMiBod sound activated vibrators," Lara explains.
She is more reticent to say how much money cam boys actually make, although she makes vague references to the "high-rise penthouses" that more successful cam boys live in. Similarly, most of the cam boys I interviewed for this piece refused to disclose exactly how much they earned.
"I committed to this industry and the brand I wanted to build," says Dave Slick, 25, from Arizona. "It became a very lucrative and fascinating career." Slick's answers to my questions are part marketing rhetoric; part corporate visualization exercise made life. It's about as endearing as a pop star telling you to follow your dreams—meaning it's either extremely irritating or uplifting, depending on how cynical you are. Still, he's clearly sincere.
"The exact number is one I won't share," Slick says of his earnings. "I can tell you that those first few months, I was making around $3,000 a month." Slick was happy with his earnings at the time, but now he feels like he under-valued himself. "I failed to see the real potential that existed within the industry. Now, with more effort and diversifying some of my pursuits, I'm claiming a six-figure income for 2017."
Unlike Slick, who tells me he devotes every wanking—sorry, waking—hour of his day to building his brand, Radivan has a more relaxed approach. He exclusively does gay shows, and works three days a week, around four hours at a time. For that, he's paid between $300-600 weekly, although he can triple his weekly earnings if his boyfriend joins him for a show.
There can be the odd unexpected financial windfall. "I had one guy who paid me two grand for a pair of my underwear," Vallex recalls.
For every cocksure cam boy living in a penthouse or making big bucks off literally soiled goods, there are thousands more plugging away for relatively small sums. "When you have slow days with a thousand people in your [chat] room and you can't make a single goal and you don't make even the minimum amount of tokens you usually make, and no one's talking—that's the absolute worst," Vallex says honestly.
But being a successful cam boy is about more than having the perfect dick and the ability to come on demand quicker than Jared Kushner mastering a new foreign policy brief. As a talent show judge might say, they have to be able to connect with their fans.
"Camming is not for those who don't want to interact with their fans," Lara explains. "There's a relationship that develops between a cammer and his fans that goes beyond just watching sex acts performed on a video stream. The most popular men don't simply entertain and perform, they value the connection they create with their fans and share their unique personality along with their talents."
[Camming] something I take pride in and live by and helps me to have the life I have today.
"There is the sexual aspect of it," Radivan agrees, "but I could go online right now, tell everyone I wasn't stripping down, and I'd know I'd still have a very friendly conversation with some awesome people… I've made some great friendships along the way."
Many of the cam boys I speak to have overcome personal adversity to make their way in the industry. "I'm a recovering alcoholic," Slick explains. "It's something I take pride in and live by and helps me to have the life I have today."
Vallex says camming gives him a confidence he never had as an awkward teen. "I was very shy growing up and never put myself out there or really talked to people. I was very judgmental of people in the sex industry and didn't understand it."
In essence, cam boys are DIY porn stars—striking out on their own in an industry that traditionally favors female performers. And whether or not they really are making six-figure salaries and living in penthouses, it does seem to be a kinder way to make money in a frequently exploitative industry.
"I get to enjoy the company of thousands of awesome people who only want what's best for you," Vallex argues. "What more could you want?"