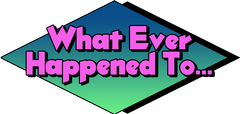 What Happened to...? is an investigation into the whereabouts of former icons.
If the 90s had a TV poster child for its shameless excess and unbridled confidence, her name would be Hilary Banks.
From 1990 to 1996, Karyn Parsons played The Fresh Prince of Bel-Air's eldest Banks sibling who, much like the shopping malls she so loved to frequent, lived squarely in a void of shallow consumerism. Hilary Banks was the Gordon Gekko of Rodeo Drive and represented an American Dream in which even a privileged, valley(-adjacent) girl with no common sense could stumble into a career as a national talk show host.
But in the years after Fresh Prince ended, Parsons' name recognition faded in a world still decades away from salivating over every morsel of 90s nostalgia.
"Not that I expected people to know who I was, but even when I'd try to tell casting directors what I'd done before, they would have no idea," she tells VICE. "I started feeling really stupid trying to get them to know what Fresh Prince was and who I was on it. It was embarrassing. I'd feel like a moron, like, 'Oh, it was this show in the 90s.'"
Now, this is a story all about how Karyn Parsons' post-sitcom life got flipped, turned upside down into one of advocacy, novels, and, yes, possibly reboots.
In Santa Monica, born and raised
There were no "Dad, I need $300" moments in Parsons' childhood. While Parsons technically grew up less than eight miles from ritzy Bel-Air, her modest 1970s and 80s upbringing was a far cry from that of the Banks children. Rather than being waited on by a live-in British butler, Parsons spent most of her youth moving to various "little apartments" around then-"hippie-ish" Santa Monica with her mom, a deputy-sheriff-turned-bra-and-swimsuit-model-turned-librarian, while her father was "mostly absent."
"We were lower middle class, borderline—we weren't poor. I never went without food or anything like that," she says. "But there was a period where my mom needed food stamps."
Parsons identifies as biracial, the product of "a bizarre, odd couple" made up of "this really quirky-looking, Woody Allen-like guy" and "this amazing Tamara Dobson, Cleopatra Jones-looking, six-foot-tall Amazon woman." And she was one of the only "mixed kids" at her public school (Lenny Kravitz was another).
"Even growing up with a white father and a Black mother, I didn't suffer a lot of feeling really uncomfortable about how different I was from others. I think that had a lot to do with the spirit of the time. It was a very Free to Be… You and Me upbringing. Not that I didn't experience racism, because of course I did—I was called the N-word—but it wasn't as overt as some other friends of mine experienced at that age."
She focused her energy on becoming an actress, a dream that could have met an early end in ninth grade when she was dramatically banned from her high school theater program after one of her friends cheated off another's paper.
"I was totally innocent! I wish I could brag and say that I was one of the troublemakers, but I was just one of the peanut gallery on the side," she says. "We were all banned from any production for the rest of our stay at the school. I look back now and I'm like, that shit would not fly with my daughter. I would be in there so fast with that theater arts teacher, like, 'Are you out of your mind?' But I don't think I told my mom. I don't think I breathed a word to her. I just kind of suffered this horrible fate and sucked it up."
Her punishment may have been a blessing in disguise. Without a creative outlet at school, Parsons threw herself full force into a serious community acting workshop, where she studied Stanislavski and Hagen and spent any extra time she had on the audition circuit.
Enter executive producer Quincy Jones and a pilot for a new fish-out-of-water sitcom centered on an affluent Black family. In 1990, with just three bit TV roles to her name—which, to be fair, was still more acting experience than Will Smith had at the time—Parsons nabbed the role of Hilary Banks.
We owe the existence of The Fresh Prince of Bel-Air to Will Smith's tax problems. Nearly bankrupt and millions in debt to the IRS after his early musical success, Smith jumped at the chance for a steady, lucrative gig. For the first three seasons, 70 percent of his TV paychecks went straight to the government.
While the NBC sitcom took time to find its ratings footing (by its third season, it was America's most popular show with an all-Black cast), its stars clicked instantly.
"I suddenly had a sister [Tatyana Ali], I had a little brother [Alfonso Ribeiro], Will was like a brother," Parsons says. "Even the crew was like family. Everyone embraced each other and cared about each other. Even if it stopped right with the pilot, it would have still been a life-changing experience for me."
Perhaps most crucially for Parsons was the arrival of a new father figure in the form of James Avery, the actor who played Uncle Phil. "He was so much like 'Dad.' He took that role very seriously on camera and off. My dad was not a typical dad, and James was," she says. "He was very affectionate and warm and always paid attention to who I was going out with, and if he saw them, he had to shake his finger in their face. He was great." (Avery died in 2013 at age 68 from complications following open heart surgery.)
But in 1996, after six seasons and 148 episodes, NBC cancelled Fresh Prince and the close-knit cast went their separate ways. "It was devastating to suddenly be stripped away from them," says Parsons. "Everybody else went home to their families when it was over, and I pretty much went home to my two dogs and that was it."
More than one night at The Roxbury
It took time for Parsons' new reality to set in. Virtually her entire adulthood had been spent cloaked in the comforting monotony of studio audience laughs and craft services lunches. Now, she found herself in a daze, and it took a run-in with her former junior-high friend Lenny Kravitz—whose mom had been a sitcom star on The Jeffersons—to shake her out of it.
"I bumped into him not that long after Fresh Prince had been off, and he was the first person who looked at me and said, 'But how are you really doing?' Whether he meant it to laser in like that, it hit me," she says. "It was the first time I really acknowledged that I wasn't doing that well. I was kind of tap dancing as fast as I could and not paying attention to the fact that it was a struggle."
Meanwhile, substantial roles for women of color in the 90s were few and far between. During seasonal breaks on Fresh Prince, Parsons had managed to book films like Major Payne and Class Act but found it difficult to find decent projects even once freed of the hectic schedule of network TV.
"There were a handful of actresses that were doing the work, and most of their names were Halle Berry," she laughs. "I was always like, 'Halle got it again!' It seemed like there were so few roles and Halle was working like crazy, deservedly so."
Parsons carved out her own opportunity in the form of a feminist sitcom called Lush Life that she co-created, produced, and starred in with pal Lori Petty. But the series premiered to dismal reviews (from mostly male critics) in September 1996, and after just four episodes aired, Fox pulled the plug.
"It was a learning experience. Man, I learned so much doing that show," Parsons says. "I've never worked so hard, but all of the new Fox comedies were taken off [when studio execs changed that year]. It didn't matter how well we had tested—because our show had tested really well—everything got yanked."
Outside of work, Parsons and Petty became regulars at Hollywood's legendary Roxbury nightclub, known for its VIP clientele and celebrity drama.
"I had a lot of fun times there, but there was also a lot of that chasing the dragon kind of thing," she says. "I remember it got to the point when Lori and I had worked out, and we'd show up at the Roxbury with our hair pulled up and no makeup in sweatpants and sneakers, and the bouncer would let us through, past everybody else, into the club. We had gotten so lazy about it. It was weird. All that shine was probably wearing off a little bit. You go expecting that same feeling, and then after a while, it's kind of like, why are we here?"
Eager for a change of scenery, Parsons moved to New York and continued acting in films like Mixing Nia and The Ladies Man, as well as Denis Leary's short-lived 2001 detective comedy The Job. Her cross-country move also led her to her now-husband, filmmaker Alexandre Rockwell, whom she met at a mutual friend's restaurant opening. They married in 2003, and welcomed a daughter named Lana that same year. Their son, Nico, followed in 2007.
"My interests were changing," she says. "It became very difficult to do everything, to memorize lines for a part and have to get someone to last-minute watch the kids—to race across town and do all that, and if you got a call back, do it again. I'd find myself dropping the ball a lot."
Parsons began focusing on writing, and in 2005 founded the non-profit organization Sweet Blackberry, aimed at educating children about little-known parts of African American history. The idea had been simmering for years, ever since her librarian mom had first brought stories like that of Henry "Box" Brown—a slave who literally mailed himself to freedom—to her attention.
"When I was pregnant with my daughter, that's when I started really thinking about what are they going to teach her in school, and what am I supposed to teach her? How do I supplement her education as a parent?" Parsons says. "As I was talking a lot about Black history and stories that you don't hear about, my husband was like, you need to do this."
Fourteen years later, Sweet Blackberry has grown from a passion project into a thriving organization with a series of animated short films available on DVD and Netflix narrated by the likes of Alfre Woodard, Chris Rock, and Queen Latifah. Parsons also added children's novelist to her extensive resume. Her first book, How High the Moon, came out this March and tells the story of a light-skinned Black girl growing up in the Jim Crow-era South. Partly based on her own mother's early life in South Carolina and Boston, Parson's debut was praised for being "as historically illuminating as Roll of Thunder, Hear My Cry."
Now hard at work on her second novel and busy turning the Sweet Blackberry films into picture books, Parsons still makes time for reunions with her Fresh Prince family—and is mulling possible future collaborations.
"Whenever the cast all gets together, inevitably Will will be like, 'We should do this all the time,'" she says. "And we all look at him like, 'It's you that's hard to nail down!' It's like we all just pick up where we left off."
Notably absent from their get-togethers: original Aunt Viv actress Janet Hubert, who was fired after season three and replaced by Daphne Maxwell Reid. In the years since, Hubert has spoken out about her strained relationship with the cast, alleging drama with Smith ultimately led to her ousting.
"I would love to have Janet at the reunions if there wasn't tension," says Parsons. "But I don't think she'd want to come anyway because she's been very upset about how things went down with her firing. That was a difficult situation, and it's not one that she's at peace with. It was odd how it all went down. I don't think it was easy for anybody to witness. I don't think it was expected—It wasn't expected by me, that's for sure."
While in the past Parsons has said she's "not interested" in any sort of Fresh Prince 2.0 following Avery's death, she clarifies now that the only thing off-limits to her is a "straight-up reboot."
"I love these folks, and I loved working with them," she says. "If they did a different incarnation of the show—if we were suddenly animated or if it was a spinoff kind of thing, then I can see the potential."
Imagine: Hilary coping with her VSCO Girl daughters! Uncle Carlton forced to move in with them after getting caught up in a college admissions scandal to get Baby Nicky into ULA! Will Smith stopping by for a producer credit and occasional headline-making cameo! Netflix, snap this up.
And although Parsons, who turns 50 this month, has yet to hear any formal discussion of a revamped series, it's clear Smith is eager to keep the show on fans' minds: This week, he announced a new sportswear collection, Bel-Air Athletics, based on his immortal looks from the series and coinciding with a recently launched verified @freshprince Instagram account.
"Maybe Will has something up his sleeve," she says. "If folks are interested in me being involved in a reboot, of course, I wouldn't hesitate."