US Customs and Border Patrol agents seized iPhone screens purchased by a prominent repair professional who is active in the right to repair community, according to a CBP letter obtained by Motherboard via Jessa Jones, the repair professional.
Jones purchased the screens from a "grey market" supplier in China who sells screens that are a mix of original, refurbished, and aftermarket parts. Apple and CBP believe the screens are "counterfeit," but legal experts say that Jones likely has a strong legal case if she wants to challenge the seizure.
"My understanding is that they suspect these are counterfeit parts, according to Apple," Jones, the owner of a shop called iPad Rehab in Mendon, New York, told me. She's also a prominent member of the right-to-repair movement and a popular YouTuber. Jones also recently served as an expert witness in a class action lawsuit against Apple. CBP officials told Motherboard that Apple had no role in initially detaining the screens.
The CBP letter (embedded below) says that "24 Apple iPhone LCD's / 4 LCD screens" worth $262.57 were seized. Jones says more parts than that were taken, and an order invoice viewed by Motherboard shows that a total of 38 iPhone 6, 6S, and 6+ screens, as well as additional components (an iPad mini digitizer and some logic board chips) were seized; Jones paid $1,727 for the parts. The items were seized at a DHL facility in Rochester.
"Customs and Border Protection Regulations provide that any article imported into the United States bearing a counterfeit trademark shall be seized and, in the absence of the written consent of the trademark owner, forfeited for violation of the Customs laws," the letter states.
"The purpose of this letter is to advise you of the options available to you concerning this seizure," it adds. "In addition to the seizure and forfeiture liability, you may be liable for a civil penalty in this matter."
The letter says Jones may appeal the case, try to reach a "compromise," formally "abandon" the screens, take court action, pay a fee to get the screens back (if the screens are ultimately not deemed to be counterfeit), or do nothing and forfeit the screens.
"Well, I'm definitely not going to do nothing about it," Jones told me, adding that she hadn't yet decided whether she would appeal or take legal action. Beyond the seizure, no legal action has been taken against her, and no civil penalties have been assessed so far.
But even the seizure can impact her business and sends a signal to other independent repair professionals that their businesses could be at risk.
Jones is the latest third-party repair shop owner—and by far the highest profile—to have their "grey market" iPhone parts seized by customs officials internationally, which highlights the ongoing struggle for independent and third party repair professionals to purchase high-quality parts for their shops. Earlier this year, a Norwegian repair shop owner defeated an Apple lawsuit against him for importing refurbished iPhone screens that had Apple logos on a cable inside the screen.
This is typical of the parts used by the Apple repair community, because Apple does not sell repair parts to independent repair companies unless they are an "Apple Authorized Service Provider," which costs money to join and limits the types of repairs that a shop is allowed to do. Jones's parts are similar to the ones in the Norwegian case; the "flex cable" that connects the screen to the battery and logic board are originally made by Apple (and have Apple logos on them), but the rest of the screen is a "chimera" of refurbished, aftermarket, and original parts.
*
"In order for me to be able to do a repair, I need to be able to get the parts for that," Jones said at a press conference last week advocating for a right-to-repair law in New York. "I would love to be able to go down to the Apple Store and get parts that are OEM-certified, I can't do that. It's very frustrating for me already that to get the parts in order for me to do my job, I have to order them from domestic parts suppliers or overseas in China and just hope that what I get is good enough."
This is the crux of the issue. Apple doesn't sell replacement parts to independent repair professionals, so they turn to China's "grey market." Suppliers there sell parts of varying quality and authenticity. Cheap knockoffs often break quickly or don't work at all; some screens were broken by consumers in the US, shipped back to China, refurbished, and resold; others are hybrid parts, in which authentic Apple parts are combined with aftermarket parts to create a high-quality part that is neither aftermarket nor "genuine."
"This strikes me as an abuse of trademark law by Apple," an intellectual property law expert said.
The screens that Jones ordered are hybrids—they have tiny Apple logos on the flex cable, which is what connects the screen to the interior of the phone. The logos are not visible to the consumer. She said that she buys screens that are mixes of original, refurbished, and aftermarket parts because she believes that the original flex cable is of higher quality than aftermarket ones.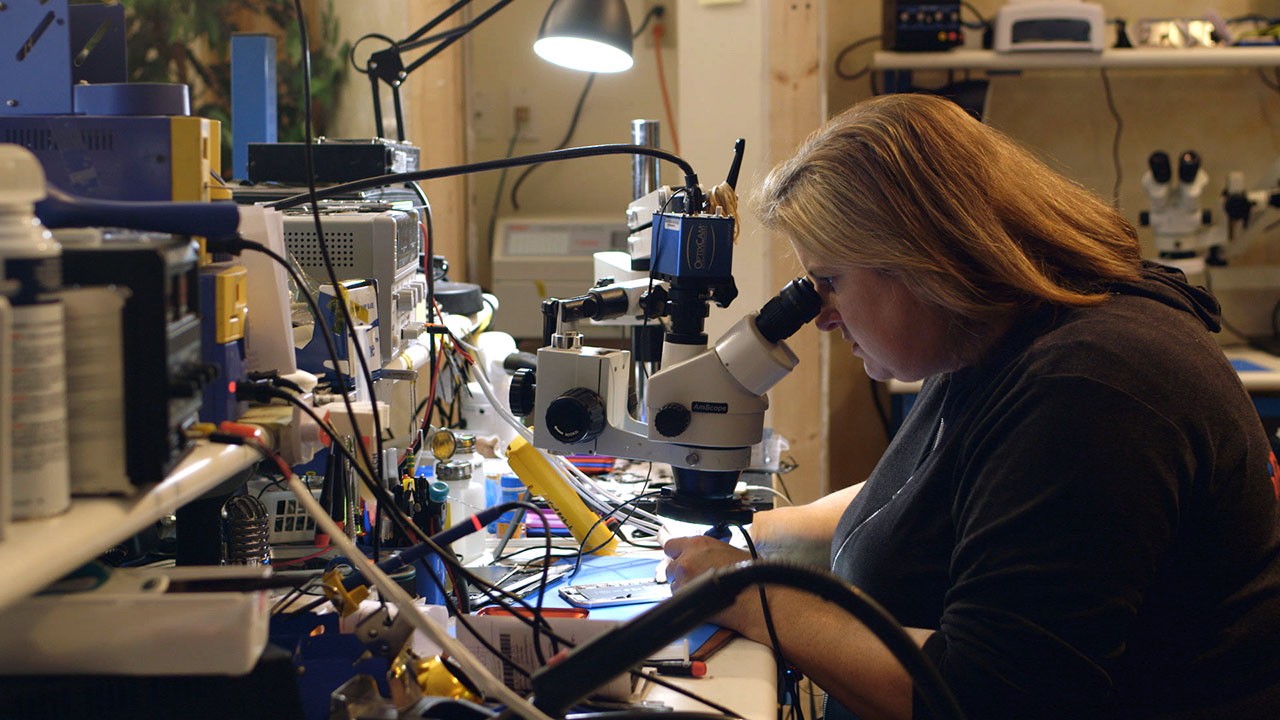 "The parts I buy have an original flex on it because that's what's best for my consumers," she said. "It's difficult and pointless to erase the existing Apple logo that's printed on a tiny piece of flex. There's no customer-facing Apple logo, no logo anywhere on the glass. It's smaller than a grain of rice. We have never said online, in person, or anywhere else that these are Apple-certified screens."
There is no clear definition of what makes an Apple part "counterfeit," which is the question at issue here. With regard to iPhones, this question has only been answered in Norway—earlier this year, Apple sued a repair shop owner there, and a judge ruled that because the company logos are on internal parts and because he had not advertised them as genuine parts, they were not "counterfeit."
The US Department of Justice, for its part, has said that gray market goods are legal to import as long as they are not substantially different from the original product; this is called "parallel importation."
"Congress did not intend the criminal provisions to apply to [company logos] on so called 'parallel imports' or 'gray market' goods, in which both the goods and the marks are genuine, but which are sold outside of the trademarks owners authorized distribution channels," the DOJ's criminal resources manual states. Similarly, the "first sale doctrine" protects the ability of people to resell goods that have trademarked logos on them; even if the parts are refurbished or repaired, the trademark holder has still gotten money from the "first sale" of that good.
Aaron Perzanowski, a trademark, copyright, and intellectual property law professor at Case Western Reserve University's School of Law, told me that Jones's parts likely can't be considered "counterfeit."
"Assuming that: (1) the cable bearing the Apple mark is a genuine Apple product, (2) the cable used on these screens is the same as the one Apple uses in the U.S., and (3) the importer/seller clearly communicates that the screens are a non-Apple aftermarket product, then Apple's case for treating these as 'counterfeit' goods is very weak," Perzanowski said in an email. "Refurbished or repaired products are generally permissible under trademark law's first sale doctrine, so long as they are clearly labeled as such."
"This strikes me as an abuse of trademark law by Apple," he added, "one clearly designed to maintain its stranglehold over the repair market and, ultimately, to force customers to buy new hardware."
Louis Rossman, a fellow microsolderer who has spoken about Apple's repair policies in many viral YouTube videos, told me in a Facebook message that he believes the difference between counterfeiting and refurbishing "is going to be the next big battle."
"I understand why Apple does not want people thinking that a poor quality screen vendor that puts together garbage (and there are many of them) are parts made by Apple. I get why they would not want their logo showing up on those products, and fair enough," he said. "At the same time, you can't tell someone they can't have a BMW car because someone refurbished it by taking the windshield from a Ford and putting it on the BMW."
"There has to be a line where putting your logo somewhere no longer means 'this can be confiscated at the border'—I think on the LCD flex cable is far past that line," he added. "Your logo is for brand recognition. Using it as a weapon is misuse of the law."
*
Jones spends much of her time staring at the inside of iPhones through a microscope.
The former molecular biologist and current microsoldering expert is widely considered to be one of the most talented iPhone and iPad repair professionals in the world because she's able to diagnose and repair problems on the logic boards of iPhones and iPads, which even Apple itself doesn't fix.
She and a select few others were instrumental in identifying the cause of "touch disease," a defect in the iPhone 6 that caused them to lose touch functionality. In 2015, Jones discovered that a broken solder connection on the iPhone 6 and 6+ logic boards was to blame for the problem; she has spent much of the last two years repairing thousands of phones with that issue and teaching classes at her shop about how to fix problems that can be repaired with a deft hand and a microscope.
Other iPhone repair shop owners have had iPhone shipments seized—and, in some cases, their shops raided—but Jones is the highest-profile independent repair shop owner to run into trouble with DHS. She's often quoted by the media (including Motherboard), and last week she appeared on Good Morning America to talk about the dangers of counterfeit Lightning charging cables, which can damage iPhones if they're of low quality.
She's also been tapped by lawyers to serve as an expert witness in cases involving iPhone repair and design. In January, Jones gave a deposition to Apple attorneys as a witness regarding touch disease in a class action lawsuit filed against the company that seeks damages for what Jones and lawyers in the case say is a design defect with the iPhone 6 and 6+. Jones also submitted a 26-page report about touch disease to the court in which she stated "the prevalence of phones manifesting iPhone 6/6+ touch faults due to the underlying Defect is epidemic." Apple's lawyers cast her testimony as unreliable.
"Jones is not qualified to offer opinions about the cause of the alleged touchscreen issue. Dr. Jones is a molecular geneticist, not an engineer," Apple's lawyers argued in a court filing. "Jones is an independent repair technician and purportedly based her opinions on her personal observations of phones that are brought into her repair shop … court should therefore exclude Dr. Jones's opinions as unreliable."
The judge in that case decided not to certify the class earlier this week.
Jones is an outspoken member of the "right to repair" movement, which seeks to pass state laws that would require manufacturers to sell repair parts and tools and to make diagnostic information and devices available to third parties. Basically, they want people to be able to repair their own stuff. Last week, Jones and others in the movement held a press conference and lobbying day at the New York state capitol in Albany pushing for a right to repair law in the state. Jones has also spoken out about Apple's repair policies on her YouTube channel, which has 65,000 subscribers.
"The idea that the $1,700 I spent on those [seized] screens could have been a Christmas bonus for people on my team or a discount for the people who walk in the door is infuriating"
Jones told me that she believes that she may have been targeted by Apple because of her participation in the class action case, though Aaron Bowker, a CBP public affairs officer at the agency's Buffalo branch told me Apple was not involved in the initial decision to detain the screens.
"The shipment was examined and determined to have LCD screens with Apple design," Bowker said. "They were generic screens but they had the Apple design," but added that "the person who is being seized from has right to petition."
Bowker added that DHS often checks with manufacturers (including Apple) after items are initially detained to seek advice on whether to formally seize them, but was not sure if that happened in this case.
Another DHS spokesperson said that CBP seizes, on average, $3.3 million worth of products every day, and added that "trade in counterfeit and pirated goods threatens America's innovation economy, the competitiveness of our businesses, the livelihoods of U.S. workers, and, in some cases, national security and the health and safety of consumers."
"Trade in these illegitimate goods is associated with smuggling and other criminal activities, and often funds criminal enterprises," the agency continued. "CBP targets and seizes imports of counterfeit and pirated goods, and enforces exclusion orders on patent-infringing and other IPR violative goods."
Though Apple is rarely involved in any specific seizure, according to Bowker, many large companies—including Apple—tell CBP what types of products should be seized.
"We have close working relationships with trademark holders, especially large companies like Apple, who tell us what to be on the lookout for," Bowker said.
Apple declined to comment on the record for this article.
*
The ever-present threat of having parts seized by DHS is an ongoing worry in the independent phone repair community and sourcing reliable parts that won't be seized by customs is a regular topic of discussion among repair shop owners. Shop owners say that once one shipment is seized, future ones are more likely to be seized, too.
"Uncertainties around parts availability are a major problem for repair shops," Kyle Wiens, CEO of iFixit, told me. "Customs seizures are yet another tool that companies like Apple deploy to monopolize the repair market, strangling small shops that need dependable sources for spare parts."
Last year, I went to Jones's repair shop, iPad Rehab, to sit in on one of her microsoldering classes. People from around the world had flown into the small town of Mendon (population: 9,000) to learn how to fix touch disease and other common problems that afflict iPad and iPhone logic boards. During my short visit, iPad Rehab appeared to be one of the only bustling businesses in town.
"If I look around, there's a whole lot of for-rent signs," Jones told me at the time "It's hard to have a business in a tiny little quaint town. We are in the space of a drug store that was here for 150 years and went out of business, at the corner of a tiny town with one stoplight. No other business has been able to occupy this corner."
Throughout the day, locals came in to get their batteries replaced and screens fixed. Tougher repairs are mailed in from all around the world—Jones specializes in data recovery, meaning she's often trying to make a badly damaged or waterlogged phone work long enough so that she can download the owner's precious photos and messages from it. Jones often says that she was a stay-at-home mom who founded a business that employs six former stay-at-home moms and one dad; the closest Apple Store is 60 miles away in Buffalo.
"The idea that the $1,700 I spent on those [seized] screens could have been a Christmas bonus for people on my team or a discount for the people who walk in the door is infuriating and unfair," she said. "The town loves us and wants to thrive. We can't do that if we can't reliably get the parts to do our jobs."
Update: This article has been updated with comment from Louis Rossman.