Eric Madore was relieved. The 28-year-old Collingwood, Ontario resident had finally landed a job that was manageable given his many health issues, including severe liver disease. But he'd only been working a day as a school bus driver when he said he was fired over his choice of medication.
Madore is a medical cannabis user—licensed under Health Canada. He suffers from an autoimmune disorder that has resulted in primary sclerosing cholangitis, a chronic liver disease for which he's had two liver transplants. He has had his colon removed. Madore uses cannabis to help with pain and stomach issues as well as anxiety and depression.
"For my mental issues, it calms me down, it relaxes me," Madore told VICE.
His prescription, which VICE has viewed, is for three grams of cannabis a day—though he said he normally uses less than that. A note from the Ministry of Transportation about Madore's cannabis prescription provided to VICE says "his present physical and mental health will have no effects on his ability to operate a bus."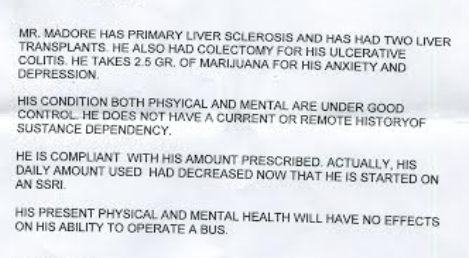 Prior to his last liver transplant 10 months ago, Madore was working at a recycling plant that was hard on his joints. After the surgery, he was out of work and then went looking for a job that would be easier on his body. So he applied to be a school bus driver under Sinton Landmark Bus Lines. He said was upfront with the company about his medical cannabis use and stresses he would never medicate before a shift.
"They had no problem with it," he said. He had to wait for about a month and a half for all his medical paperwork to come through, and then was able to obtain his commercial vehicle license from the province. His first day, just after the May long weekend, went off without a hitch. But when he got up the next morning, he said he received a call from Sinton Landmark saying a parent had complained about the smell of marijuana. He said they did not provide any further information about the complaint.
Madore said he had never come into contact with any parents during his shift. When he checked the bus, which had been carrying high school students, he found some crumbs of weed on one the seats toward the back. But he said it ultimately didn't matter.
"They told me they had to let me go because of liability issues." There was no investigation, he said.
Madore told VICE he was crushed.
"I need this job," he said. "After a month and half of back and forth and putting my effort and time into this company… they let me go just because of my choice in medication."
VICE repeatedly reached out to Sinton Landmark over the last week for comment but has not yet heard back.
Madore's story raises important questions about how employers will treat both medical and recreational cannabis users as the government implements a legal rec regime. Companies in safety sensitive industries, including oil and gas and transportation already have systems in place for drug testing, but these tests can't detect THC impairment. Nonetheless, workers who fail them can and often do lose their jobs. Experts who spoke to VICE said the issue will get "ugly," as workers and unions are likely to launch legal challenges against employers who dismiss them for cannabis use.
The Toronto Transit Commission and its union are currently locked in a battle over drug testing, with the union alleging the TTC is subjecting workers to tests that contain animal byproducts, violating their rights. The TTC told VICE as of June, the oral fluid testing devices no longer contained animal byproducts. The TTC's fitness for duty policy, which includes drug tests after a serious crash or a near miss, or an accident in the shop, has been in place since 2011, but it's been tied up in arbitration for the last seven years. A random drug testing component was added to that policy in 2014 in response to a spike in on-the-job impairment, but wasn't implemented until last May, after an Ontario Superior Court judge rejected the TTC union's bid to shut it down. Since then, 2,643 workers have submitted to random drug tests, with 44 tests coming back positive. Of those 44 positive tests, 21 were for cannabis.
"Whether it's legal or illegal really makes no difference," TTC spokesman Brad Ross told VICE. "What we do care about is when you come you work you are fit for duty, you are not impaired… You can't have a drink at lunch. You can't go to a bar in your uniform. And you can't smoke a joint and come to work."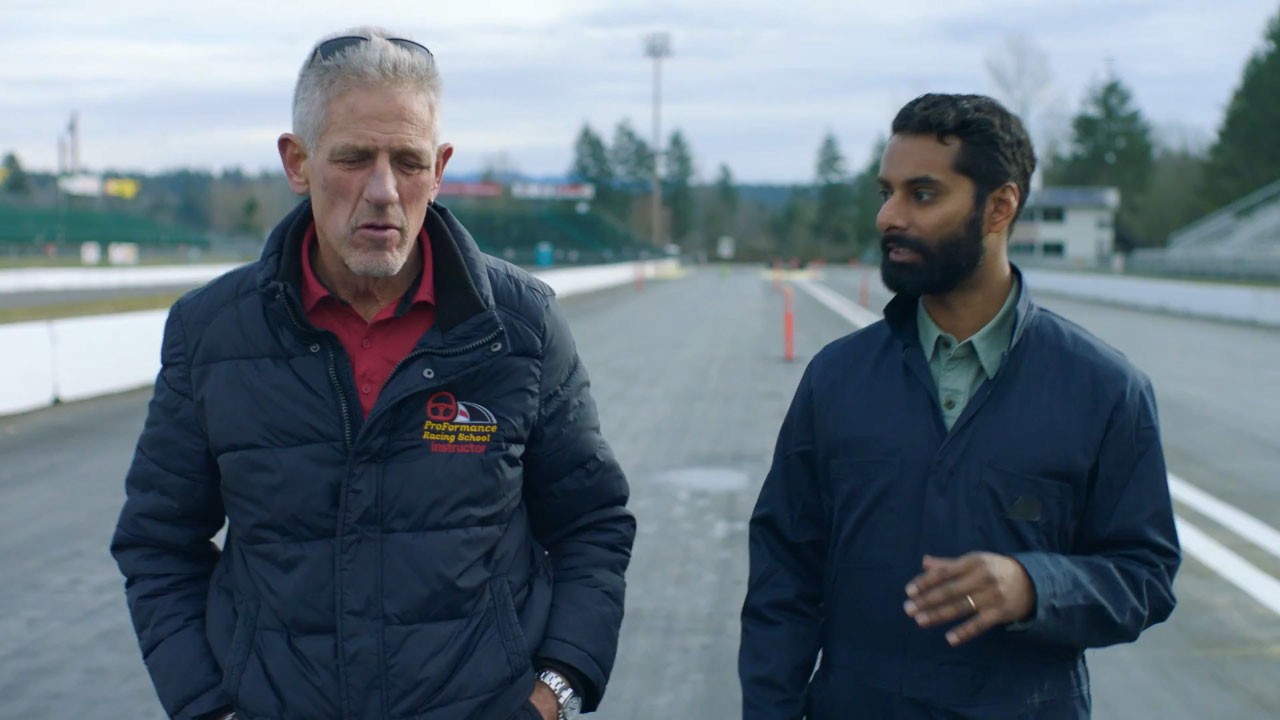 Sign up for the VICE Canada Newsletter to get the best of VICE Canada delivered to your inbox.
Ross said of the 14,000 TTC employees, 10,000 are designated in "safety sensitive positions" are therefore eligible for random drug tests. That includes maintenance staff, track workers, drivers, even management. "Virtually everybody is designated on safety sensitive because our focus is so safety oriented."
For drugs, the TTC hires a company called DriverCheck to do oral fluid tests. Ross told VICE unless you're a "chronic user" smoking a joint the night before a shift wouldn't cause you to go over the cutoff level. If you fail, in most cases, you're fired.
DriverCheck told VICE it uses urine and oral fluid tests for weed. The former only detects the byproduct the body produces after THC consumption (called the metabolite) while the latter detects actual THC. But it can't detect impairment.
"There is no established impairment level," Connor Page, business development manager for DriverCheck told VICE via email. He said you can detect recency of use, "and therefore likelihood of impairment."
Page said DriverCheck's tests can pick up if someone consumed cannabis up to 12 hours earlier. Ostensibly, that means someone who smokes a joint at 9 PM at night and is tested at 9 AM the next morning, could come back with a positive test.
Page said factors like the amount of weed consumed, its potency, and how it was consumed can determine how long THC would be detected with an oral fluid test.
"What we do know is that the impairment associated with the use would also be longer when higher percentage of THC are being used so it is a really good test for employers who are concerned with likely impairment," he said.
But Fiona Clement, an associate professor at the University of Calgary's Cumming School of Medicine, told VICE that body size, tolerance, and metabolism are all factors that impact impairment, and they won't be accounted for in a blood or urine test.
"You can store THC in your body for quite long periods of time," she said, noting the cannabinoid is stored in the body's fat cells. It's even possible to have it in your system if you're around someone else who is smoking weed and there isn't proper ventilation, she said.
"This kind of issue is going to play out in the courts," she said. "We're going to have people fired on the spot."
She also predicted the stigma against cannabis—many doctors believe it has no therapeutic benefits—as well biases based on a person's skin colour or clothing may lead some people to be discriminated against more than others, both in workplaces and with drivers on the road.
Some US companies in states where weed is legal have already dropped weed testing as a means of retaining staff. Tim Salter, executive director of the Drug and Alcohol Testing Association of Canada told VICE the Canadian government should be clearer about how they want companies to treat this issue in a legal weed regime.
"You're legalizing a drug much like alcohol where people can get addicted to it, but providing us with no framework." (Cannabis addiction is a contentious concept in the medical world, but there is a general consensus that it is nowhere near as addictive as alcohol, nicotine, or other drugs.)
"What we need is government oversight to say 'if you want to work in these safety sensitive job functions, we need to submit you to some sort of drug testing program'," Salter said.
Madore said he's still looking at legal options on how to deal with his firing from Sinton Landmark. In the meantime, he's been hired at Walmart and is looking for a delivery job.
"As long as we pass the tests and certifications, we should be allowed to work any job like everyone else," he said. "We just want to do our part in society."
Follow Manisha Krishnan on Twitter.