Photo of Alia Shawkat by Rich Fury/Getty Images.
When Alia Shawkat walked into the now-notorious "Arrested Development" cast interview with the New York Times in late May, she expected to talk about her role as Maeby Fünke in the new season of the show on Netflix—not to be blindsided by a fiercely-opinionated group conversation dominated by some of her male colleagues around inappropriate behavior on set.
The interview, which included her cast members Jeffrey Tambor, Tony Hale, Jessica Walter, Will Arnett, Jason Bateman, and David Cross, went off course when the topic shifted toward the allegations of sexual harassment and inappropriate behavior on the "Transparent" set made against Tambor in 2017 by actress Trace Lysette and Tambor's former assistant Van Barnes, which resulted in Tambor's departure from the show this year.
Prompted by reporter Sopan Deb's question about the "elephant in the room," referring to the allegations, Bateman said he wouldn't do another "Arrested Development" season if Tambor wasn't involved. The conversation segued into statements made by Tambor in a recent interview with The Hollywood Reporter, in which Tambor acknowledged that he'd once had an onset "blowup" with Walter. Again, Bateman was quick to show his support for Tambor, saying, "Which we've all done, by the way."
Though Walter said, "You've never yelled at me like that," Bateman continued to defend Tambor, stating that "in the entertainment industry it is incredibly common to have people who are, in quotes, 'difficult'… it's a very amorphous process, this sort of bullshit that we do, you know, making up fake life. It's a weird thing, and it is a breeding ground for atypical behavior and certain people have certain processes."
Through tears, Walter forgave Tambor for his actions. "In like almost 60 years of working, I've never had anybody yell at me like that on a set. And it's hard to deal with, but I'm over it now," she said.
Hale added "to Jason's point" that "we've all had moments" and Bateman continued, adding, "What we do for a living is not normal, and therefore the process is not normal sometimes." Cross agreed with his co-stars, saying that "this kind of behavior that's being described, it didn't just come out of the blue. It wasn't zero to 60. There is a cumulative effect sometimes."
Online backlash to the interview was swift, and Bateman, Cross, and Hale all issued public apologies for their comments. Until now, Shawkat, who was silent for much of the interview, has remained quiet following the backlash, but she says she's speaking out now to clarify her position.
According to Shawkat, the cast members had spent much of the day doing press for the show, and, as with previous interviews, she took a "backseat" to most of the conversation with the Times. When Deb brought up "the elephant in the room," it seemed to Shawkat that moment might pass by briefly, as it had in other interviews—with Tambor giving a standard response about his sadness in departing "Transparent" but his enthusiasm and support for his continued work on "Arrested Development."
But this time was different: "Once Jeffrey answered [with] his rote response, the other men in the room started to be a lot more verbal than they had before," Shawkat said. "They started going on about how they support Jeffrey, and they love him, and he's a great actor—all these things that I agree with; I care about Jeffrey and I think he's a great actor. But what continued to go on was, in my opinion, too much."
That shift in the conversation was palpable to Shawkat, and she immediately felt uncomfortable. "It just kept going and I, all of a sudden, started to feel hot inside," she said. "Because I was like, okay, if they say all this, then I now have to say, 'But, this is a bigger issue.'" She explained that she continued to wait for an opportunity to jump in, biding her time as her colleagues spoke over each other "on the record about an issue that's much bigger than Jeffrey, than us, than the show."
Shawkat said the cast had not collectively discussed how they would engage in an open dialogue about Tambor's situation prior to the interview. "Looking back, I really wish we had," she said.
"I looked at Jessica and I could see how it was sitting with her, and it wasn't good," Shawkat said. "She comes in and she tries to speak for a little while, and again they keep going."
By the time Bateman began talking about how inappropriate behavior can be part of an actor's "process" and that acting is "a breeding ground for atypical behavior and certain people have certain processes," Shawkat says she was shaking.
That's when she jumped in to say: "But that doesn't mean it's acceptable. And the point is that things are changing, and people need to respect each other differently."
"I finally got a word in edgewise, and [that's when] Jessica got very emotional and started crying. Once that happened, I realized we were having a public and private conversation at the same time, which is very unnatural. All of a sudden, we're having this intense moment as a group of people who've known each other for 15 years—and it's being recorded," she said. "They were almost trying to cover themselves up while simultaneously talking, instead of actually listening to each other—which is the biggest theme that I learned from this whole experience, this 20-minute interview that made so much noise. The minute Jessica started crying, my instinct was just to go up to her and hug her and be like, 'This interview's over.'"
"Women's voices need to be heard, and, ironically enough—I wasn't able to be heard. I was really scared that the interviewer didn't even hear me."
After the interview, feeling upset and overwhelmed, Shawkat herself cried. "I felt like I didn't say enough to defend her. I felt like I didn't say enough to explain that the movement is so important—and that Jeffrey's story is a piece of this movement, and we can't silence it," she said. "Women's voices need to be heard, and, ironically enough—I wasn't able to be heard. I was really scared that the interviewer didn't even hear me."
When the allegations against Tambor first came out, Shawkat says she spoke with him privately, letting Tambor know what her perspective was. She felt good about the conversation they had. "That was between him and I. And then publicly, when I was asked about it, I said, 'It's a very tricky situation. You know, Jeffrey's on the show with us and I'm supporting the show and I care about Jeffrey, but I also support the voices of the victims and it's not my decision whether he was off the show or not,' and I kind of left it at that," she said. "There has to be a certain separation for someone who's accused to answer for themselves."
But now she was in an unexpected position, listening to a group of men she has known since she was a child seemingly excuse Tambor's behavior toward their friend and colleague, Walter, all the while appearing to be oblivious to how their conversation relates to the greater discourse happening today around men's toxic behavior in Hollywood and beyond.
"Afterwards I was scared that I didn't say enough and was kind of upset with myself that I wasn't able to stand my ground more," Shawkat said. "But once Jessica was upset, that was my main concern. I didn't even want to necessarily talk about the issues any more. I just wanted to make sure she was ok."
"What's most important to me is that these men—whether they've been accused of anything or not—need to start looking at this movement and realizing it has a lot to do with them."
Shawkat believes that, as difficult as that particular interview was, it's important to have these discussions while not excusing behavior. "We have to talk about things that are uncomfortable," Shawkat said. "There are obviously flaws and blind spots that these men were unaware of. I don't think they're bad people. I think that there needs to be much deeper education, especially for men."
In the context of #MeToo and Time's Up, Shawkat has been thinking about the past—how people just "let things go by"—and questions how to deal with inappropriate behavior today. "How are we going to act differently on sets?" she asked. "How are we going to be more verbal and express things that make us feel uncomfortable?"
"It's been a very consistent conversation that has affected the way I look at my work, the people I work with, the art I want to make. Everything. So what surprised me—but maybe also didn't—was that there's a lot of men who've not been accused of anything that haven't taken the time to think about this. What's most important to me is that these men—whether they've been accused of anything or not—need to start looking at this movement and realizing it has a lot to do with them."
---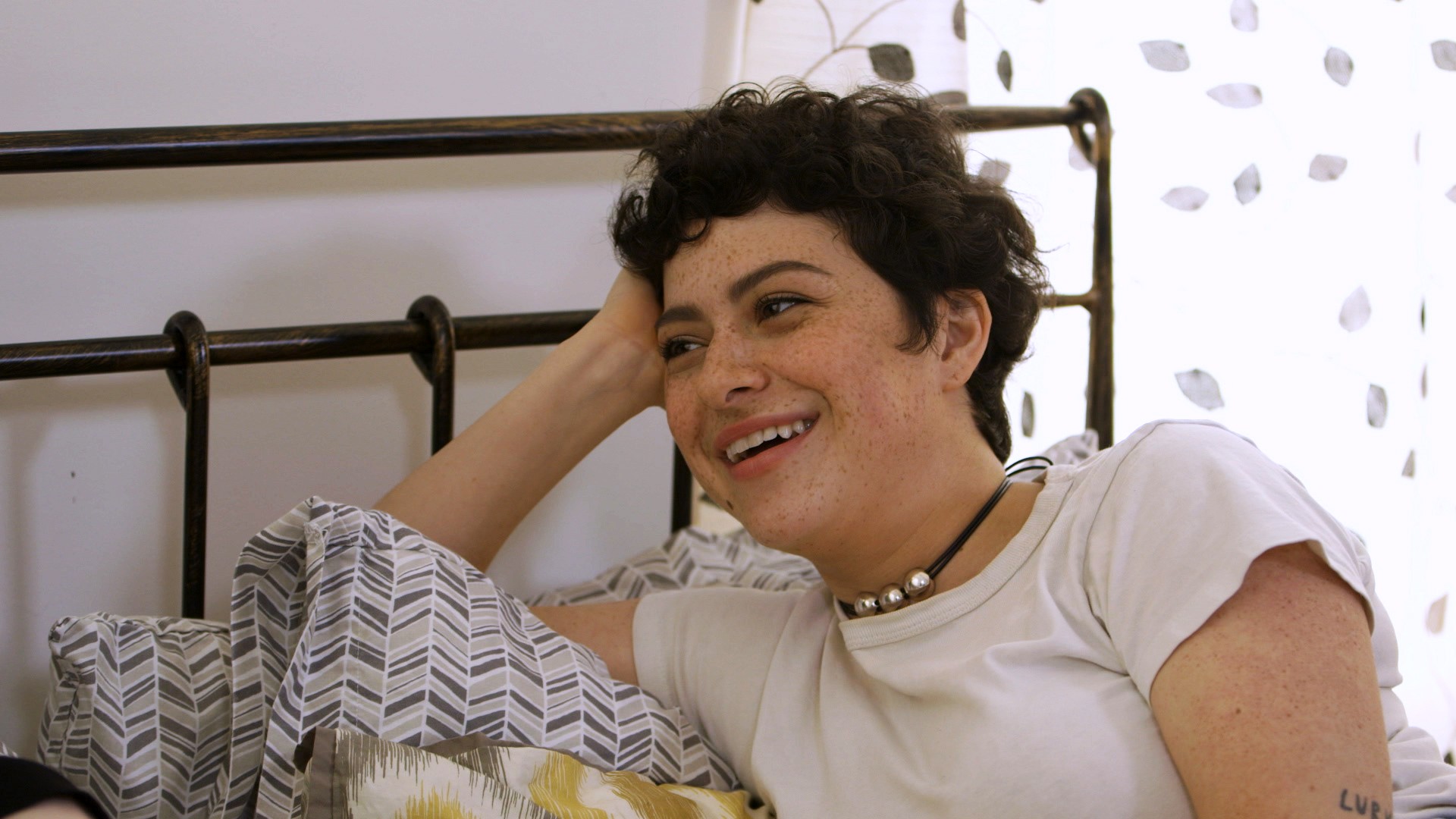 ---
After the interview, Shawkat said she checked in with Walter and the rest of the cast members. "I tried to explain to them that, in defending Jeffrey, we covered up something that was more important in the conversation—which was Jessica's feelings in the moment, and also any voice that I felt I had," she said, explaining that they all apologized to her after she spoke with them.
"I've known these people for 15 years; I was a child when I met them," she said. "For the most part, they still have seen me as a little girl."
"For the first time as a woman, through this awkward scenario, I finally had their ears to say, 'This is how I felt, and this is what I want, and this is what I believe in.' I think they were hurt to realize they had not been aware of that. They were all very sincerely apologetic, as well as surprised."
Shawkat believes that the fact they know her so well on a personal level helped make it "sink in to them, to be like, 'We never realized that it was this bad.' It felt very healing, too. We needed each other in a different way."
She sees the subsequent public apologies of her male colleagues as a silver-lining; the experience put them in a position to confront the issues that many women are forced to confront every day. "I hope that the guys on the show and now all these men of all different ages start to communicate with the women in their lives, the women they work with, and just ask openly with no shame, 'What can I do to be better?'"
Still, she hopes that, moving forward, people can do the work on their own, to think critically before doing or saying something that causes more harm. She also believes that that women often understand this issue better by the virtue of the fact that they've dealt with sexist behavior, to some degree, for their entire lives, but men need to be involved in the discussion as well. "It's time to confront it—all of us, together," Shawkat said.
In the wake of the interview's publication, as social media outrage soared and apologies were published, Shawkat says she was bombarded with press inquiries. Similarly, in April, when she was doing press for her new film Duck Butter, Shawkat was regularly asked for comment on Tambor's harassment allegations from "Transparent."
She's chosen to speak out now because she wants her voice to be heard in this conversation, as well as to make it clear that her life and her work are not to be defined forever in relation to a man she has worked with. "I don't want to feel like I'm doing press for other movies, and trying to get stories about women and queer people and Arab-Americans—things that mean a lot to me that I could talk about forever—and yet I'm still being asked about this."
"It makes me angry," Shawkat said. "[Men implicated in #MeToo] need to be responsible for their own actions. Not me."
Shawkat recognizes that the uncertainty and unease that's emerged along with the rise of the #MeToo movement is necessary. "This is the beginning stages of it," Shawkat said. "It's not gonna click in overnight. There has to be a patience with it, and we have to accept people who are willing to learn and who are changing." As far as guidance to men who don't know how to handle tough conversations or situations, she says to "defer to the women in the room." "I don't agree that men should just 'sit down and shut up,' but they do need to listen, and hopefully grow from that."
Over the course of our interview, Shawkat spoke about the discourse that's surfaced around women today, from instigating the #MeToo movement to continuing to hold powerful men accountable for their actions: women are strong, women are powerful, women are fighting back. But taking action can be difficult, and she is also still working to be honest in tough situations, to speak up and not "let things slide."
"In that room, when I look back on it, I wish I was able to gather myself, to not be afraid to speak out more and realize that I wouldn't be hurting anybody—but actually helping," she said. "I know I said a little, but what I wish I had said was, 'Stop talking. Stop. Jessica, go on."