Screengrab: YouTube. Composition: Author
Most tech conferences bore me out of my mind. But in cryptocurrency, where big personalities tend to clash, things can get intense quickly. This is especially the case whenever Craig Wright—the Australian businessman who is currently chief scientist of nChain, and who once (unsuccessfully) claimed to be pseudonymous Bitcoin inventor Satoshi Nakamoto—is in the mix.
Wright has been on the speaking circuit lately, with mixed results. While he was speaking at the Deconomy conference in Seoul in April, Ethereum co-founder Vitalik Buterin took the mic to call Wright a "fraud" in front of the large crowd. An engagement in Rwanda in early May was criticized after Wright said, "I have more money than your country, [so] I'm not going to ask for anything." At a conference in Taiwan over the weekend, Wright walked off of a panel while flanked by his security staff.
Now-viral (for cryptocurrency) video clips from the panel show that someone in the room asked a question about the identity of Satoshi Nakamoto—while Wright has backed off of his 2016 claims, he's never said that he's not Nakamoto—which elicited an answer in the vein of, "It doesn't matter who Satoshi Nakamoto is or isn't." At that point, LightningASIC CEO and Bitcoin Gold founder Jack Liao jumped in and began answering the question in Chinese, which seemed to rub Wright the wrong way.
Wright interrupted Liao, and Liao fired back, "Shut up!" Wright responded, "No, you shut up!" and the two squared up, playground style. Wright's personal security then came to the front of the panel to break the two up, video shows, and Wright asked the room, "Which one do you want to have answer? One of us goes, which do you choose?" Without much of an answer from the crowd, Wright then walked out of the room flanked by security. Liao taunted, "Goodbye, Faketoshi!"
When reached for comment over Twitter, Wright told me that the scene was less intense than it seemed in the short video clips floating around the web. "[The journalists in the room] left Jack… They followed me," he wrote me in a direct message. "I said it is impolite to talk about me behind my back in Chinese," he told me, adding, "I do not like Ponzi con men. That simple." When I asked what he would tell onlookers wondering what to make of the seemingly tense standoff, he wrote, "Think. I tell people to think." On his use of personal security, he wrote, "They keep scum away from me."
Wright then sent me a photo of a cramped but nice-looking bathroom with wood and marble accents. "That is the plane I am in… As [Liao] flies back economy… trust me… I am laughing ;)"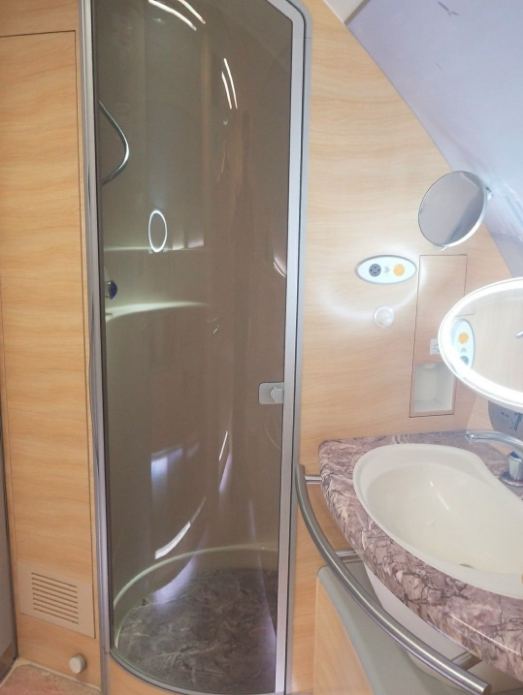 Spokespeople for LightningASIC, Liao's Bitcoin mining company, couldn't be reached in time for publication.
Wright is currently embroiled in a potentially multi-billion dollar lawsuit in Florida, which was brought against him in February by Ira Kleiman, brother of deceased computer scientist Dave Kleiman and executor of his estate. Ira Kleiman claims that his brother and Wright mined bitcoins together in the technology's early days and that Wright has since "perpetrated a scheme" to keep all one million bitcoins (currently worth more than $7 billion USD) to himself—roughly the same amount that Satoshi Nakamoto is believed to have owned before they disappeared. The lawsuit claims that Wright flaunts his wealth on social media, and a trial date is set for 2019.
Get six of our favorite Motherboard stories every day by signing up for our newsletter .