Kennedy Yanko in her studio. All images courtesy the artist.
For seven years, Kennedy Yanko hustled to make ends meet, like so many young artists do when they move to New York. She lived in a basement with 12 actors and performed at the the now-shuttered Living Theatre in the Lower East Side, where Al Pacino and Yoko Ono paid the rent. She taught yoga and worked as a personal trainer, competing as a bodybuilder on the side. And through it all, she built a name for herself as an artist, first as a painter and then as a sculptor who bends and torches sheet metal into raw and imposing works.
VICE visited 29-year-old Yanko in her Bushwick studio as she used a high-powered drill to put the finishing touches on a piece chosen by artist Mickalene Thomas and collector Racquel Chevremont for The Aesthetics of Matter, their exhibition at the VOLTA NY contemporary art fair. Strewn throughout the studio were bits of glass, marble, wood, paint, and discarded metal from old cars. "I first find the objects I'm going to work with, which is its own project," said Yanko, who scours New York's derelict buildings and junkyards for materials.
Yanko, who grew up in suburban St. Louis, spent part of her childhood visiting construction sites. "My dad, Thomas, was an architect," she said. "I would watch him work on blueprints, and after dinner we would go on what he called, 'Tommy tours,'" where they would drive around and survey houses under construction that he had designed. "This is partially why I am so comfortable with construction guys," she added. "Like, I grew up wearing a hard hat."
Her piece Separate Thoughts is a suspended sculpture made from scrap metal Yanko sourced from a demolition pile in Brooklyn and layered with what she calls "paint skins," or membranes of dried auto body paint. Her art toes the line between hard and soft, masculine and feminine. It's meant to start a new dialogue about the shifting nature of beauty and identity. "I want to immediately disrupt the conversation around metal as being something that's industrial," Yanko said. "It's actually from nature. It's made from manganese and calcium. It's no different than a flower when you look at its atoms."
As a female metalworker experimenting with traditionally masculine ways of making art, Yanko seems to thrive when she's defying expectations. VICE sat down with her in the studio to talk about the innovative way she combines paint and metal, how construction dudes taught her how to weld, and why being a bodybuilder helped her become a better artist.
How did your time as a performer and a bodybuilder inform your art?
Discipline, endurance, and language. Working with The Living Theatre gave me a language and philosophy that's not at the forefront of conversation in the art world; there was a different emphasis on physicality and movement.
While I was acting, I became a personal trainer in New York to make money. It led me to try bodybuilding. The competitions were so mentally and physically exhausting. I see bodybuilding as performance, too, because you are always being looked at. I am always questioning that in my art. I am also thinking about the idea of physical and identity manipulation, and how much you can change things. I'm exploring these ideas in my pieces.
How did you get into welding?
I live in industrial Bushwick, and last January, I went next door to these Romanian guys' big iron and steel factory, because I was ready to go to the next place in my work. I wanted to bring in a new material, and in Bushwick, metal is abundant and obvious. So I went next door and I said, "Hey listen, can I do an apprenticeship with you? I really want to learn how to weld." It was a really important experience for me, because it took me out of the studio. And for me, as a painter, to become a part of a different world, it changed the way I looked at everything.
Construction guys know way more about art than any artist I've been around, because they know these materials, linear aesthetics, and how to make something clean and sharp. They are building the homes we live in. They think like architects. I talk to my construction guys more about art than I do any other artist.
---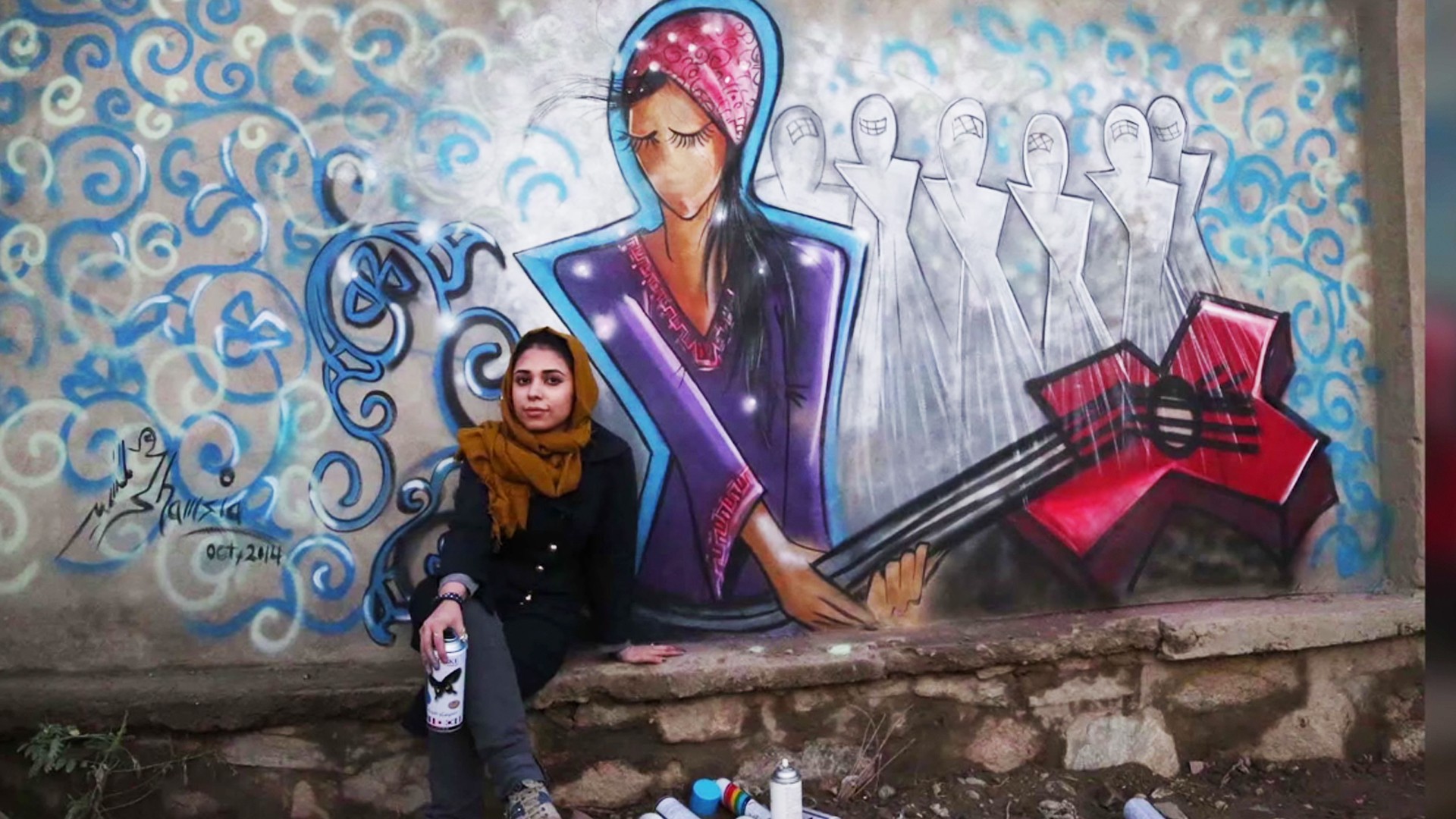 ---
Materials like metal have been traditionally associated with male artists like John Chamberlain, Leonardo Drew, and more recently Hugo McCloud. Has being a woman working in a space defined by men informed your experience as an artist?
Whenever I go look for metal, it's just me and a bunch of construction dudes. The experience has changed the way that I look at dudes, especially as a woman who gets catcalled on the street all the time.
The other day, I was over at the metal yard and this guy was like, "Hey girl, I got something for you," and I just ignored him, and focused on what I was doing, and didn't pay it any attention. But then I was walking around, and he had this cute little reindeer set up for me, and it was funny and very sweet. Working with a lot of men has opened me up a lot more to people in general, and my humor has really reached a new level because we really just fuck around.
How has making sculptures evolved your idea of painting?
Sculpting and painting are not interchangeable for me, but they share certain aspects and qualities. When I'm creating a piece, I'm arranging color and material to reach a particular end, like a [painter] would over a canvas. I like that "painting" describes both the act and the end result of the action. I've always used it as one part of the process—as a means to get to the next step, be it shaping my skins or pairing them with other elements. I'm allowing painting to inform the physical movement of what I'm doing. When I installed 33 for PULSE at Art Basel in Miami this past December, I considered arranging its metal components to be a form of painting. I don't think painting can be so narrowly defined as a brush-to-canvas discipline anymore.
How are you exploring identity in the work you are showing in The Aesthetics of Matter?
There are masculine and feminine systems at play when I'm working with metal. In the way that my work chooses how it wants to be seen, is also indicative of what I perceive identity to be: identity is an ephemeral thing. It's a choice, it's changeable, and it's something that we have to keep questioning.
In the Volta show, I created pedestals that match the walls of the booth. It's about presentation, which relates to growing up and being close to the black side of my family, where presentation was everything. I'm also exploring this in the malleability of the metal and paint skin which allows me to continually construct and deconstruct, making dramatic shifts in perspectives.
The sculptures you recently showed at Long Gallery Harlem, Dis-integrate and Underscore are really beautiful. How do you think about beauty when you're working with such rough materials?
Conceptually, the work is about how the manipulation of materials relates to the malleability of perception and identity. I think that beauty is life; beauty is a necessary facet in our appreciation of existence. But with the work, I am saying beauty, like identity, is subjective. I think about each piece as an experiment, and I am totally okay with fucking it up to try to explore some of the ideas I am thinking about, in terms of manipulating the identities of the materials I use.
The sculptures seem to be about creating your own language with paint by re-imagining the possibilities of wood, metal, and marble.
The language I'm developing is about perception and object relationships: what are natural elements, and how can we understand ourselves better by better understanding them? Each of us, and everything, is comprised of the same vibrating energy and material. The way we show up translates into how we interact and whom we interact with. We are all reflections of each other, sharing experiences and exchanging matter. Which ultimately relates back to my understanding of identity as something that's necessarily in flux, shifting, and adjusting—responding to and shaping its environment. Materials have that power, and people have that power.
Sign up for our newsletter to get the best of VICE delivered to your inbox daily.
Follow Antwaun Sargent on Instagram.