Eva Blue, VICE News
A former political staffer says that, after a night of drinking in the winter following the 2011 election, a senior member of the federal New Democrats forcibly kissed her, and it took her 25 minutes to get away. She feared for her job and believed party loyalty would quash her complaint, so she didn't report the man, who still occupies a prominent post in the NDP.
A few years later, in 2016, a different former staffer working for a Liberal MP in a small office said her male coworker psychologically harassed her. She tried to report to HR, but the MP fired her shortly after.
Another woman, employed by an advocacy organization, found herself pursued for more than a year by a Conservative MP, starting in 2014. There was no anti-harassment policy on Parliament Hill that covered her, which is still true today.
Also in late 2011 or early 2012, an incident involving Drew Anderson, then director of communications for party leader Jack Layton, left another former NDP staffer shaken. She alleges Anderson made sexual comments to her and pressed his genitals against her outside a bar.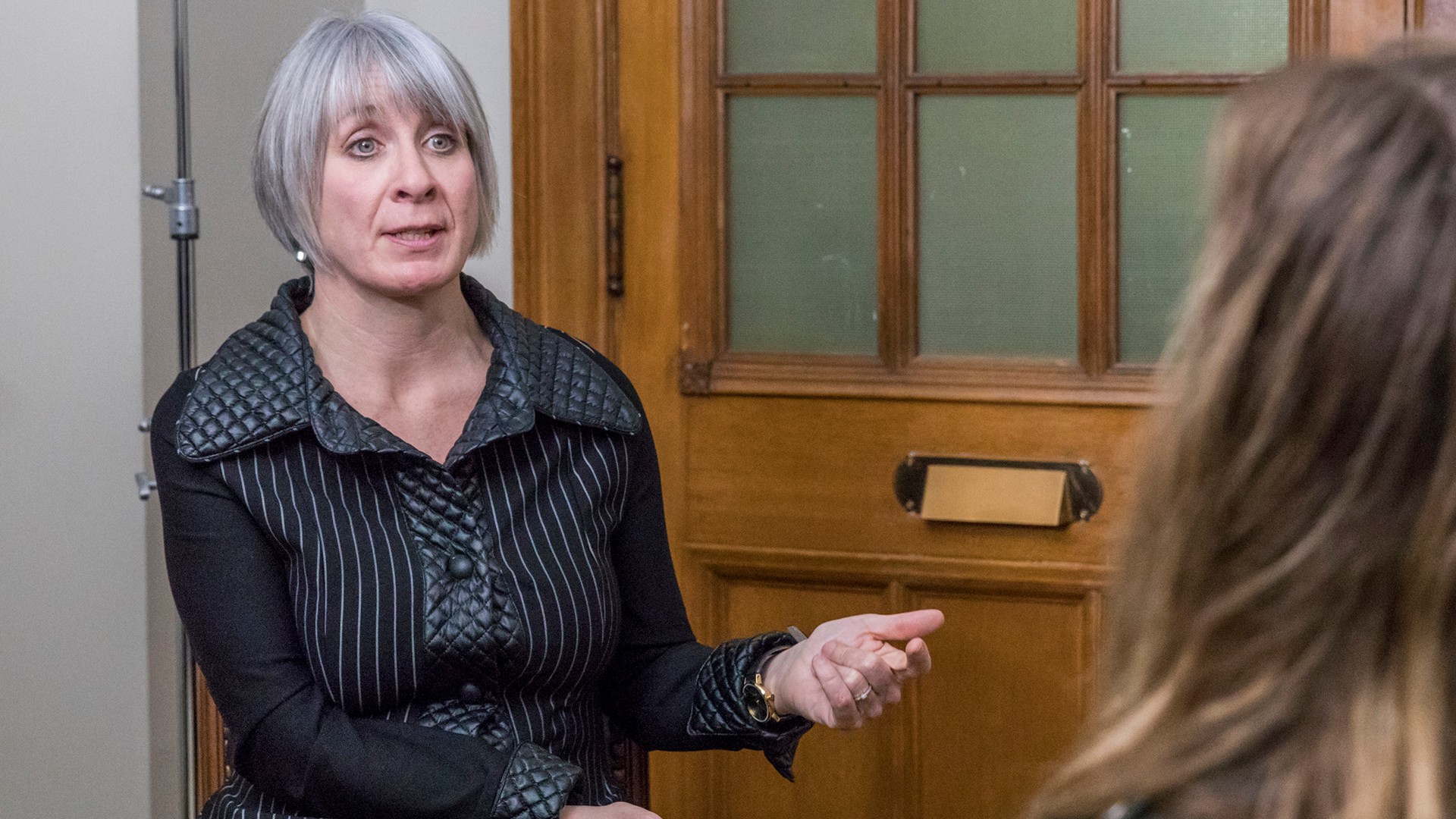 This would later give rise to a secret movement of female staffers within the party who risked their jobs to block Anderson from Parliament Hill — a precursor to #MeToo that played out behind closed doors, revealed for the first time by VICE News.
In an emailed statement in response to these allegations, Anderson said he "apologized unreservedly" for unspecified actions.
"The work to make amends will continue for the rest of my life," he wrote. "I wholeheartedly support those working to bring much needed change to today's political culture."
Parliament Hill in Ottawa is Canada's centre of political power. Women here often enter politics as young campaign volunteers, and are later hired as employees when their candidate is elected. They work long hours and suffer burnout, hoping to learn the ropes and perhaps someday become MPs themselves. But while in the parliamentary workplace, staffers tell VICE News they are subjected to sexism, harassment, and sexual violence.
"Because it's so normalized, it's basically part of the job description for a lot of young women in politics," former intern Arezoo Najibzadeh said.
Over the last three months, VICE News has interviewed more than 40 women across all three major parties who have worked on Parliament Hill, and reviewed that workplace's current anti-harassment policies, copies of written complaints, and Bill C-65, the Liberal government's answer to harassment in federally regulated workplaces, including Canada's Parliament. With cross-party support, Bill C-65 is being fast-tracked and is now being examined by committee.
The VICE News investigation has found that weak anti-harassment policies alongside a baked-in hyperpartisan and male-dominated culture are failing women, particularly female staffers. And while Bill C-65 will bring Hill employees under Canada's Labour Code for the first time, giving them another route to report, it will not replace the Hill's feeble anti-harassment policies. Nor will it erase cultural reasons that prevent women from reporting abuse, including party loyalty, small office environments, and the imbalance of power between employees and superiors.
Women in the #MeToo movement have shared allegations against celebrities, politicians, and journalists, prompting a string of apologies, resignations, and firings. VICE employees themselves have faced allegations — with The Daily Beast and The New York Times penning investigations in late 2017 calling out the company's culture of sexual harassment.
As #MeToo emboldened complainants in Canada early this year, several politicians now face accusations of sexual harassment. They include sports minister Kent Hehr, who resigned from cabinet following allegations of inappropriate remarks to a female staffer; former MP Peter Stoffer, who apologized after he was accused of forcibly kissing a female staffer; and NDP MP Erin Weir, who has had no specific allegations levied against him publicly, but has been suspended from his duties pending an independent investigation ordered by his party.
While lawmakers in the United States have responded to the #MeToo movement and its toppled politicians by banning relationships between members of Congress and their staff, in Canada, Bill C-65 would cover not only Parliament Hill but all federally regulated employees. The bill would require all offices in Parliament to have clear anti-harassment policies, a third party to receive complaints, and for employers to investigate, report, and record all known incidents of harassment and violence.
But employees' stories raise questions about how effective Bill C-65 will be on the Hill, once it becomes law. Although enforcers of current anti-harassment policies and MPs across all parties vow that inappropriate behaviour will be taken seriously, staffers say they have learned that winning seats in the next election will always come first.
Centre Block, Canada's iconic Parliament building, is starting to show its age, with cracked mortar and ancient pipes.
Portraits of old white men, and some white women, hang in the hallways and meeting rooms of the maze-like building, which unbeknownst to many, sits on unceded Algonquin land.
This building will soon undergo a decade-long renovation, but for now, the walls remain lined with asbestos, a toxic building material that causes cancer.
The parallels are not lost on the people who work here.
Women describe Parliament Hill as a "toxic" and "male-dominated" workplace. The term "old boys' club" came up in numerous interviews.
"It's like Mad Men," said one current female staffer.
Brielle Beardy-Linklater, an Indigenous trans woman who worked as a staffer here, felt she was an "outsider" — there were few people who looked like her. Fae Johnstone, also a trans woman who volunteered and later lobbied on the Hill, said male politicians displayed "arrogance" and "a sense of entitlement that they deserved to be in this place." There are no elected transgender MPs, she pointed out.
"It starts with you being called exotic because of your eyes and because of your name," said Najibzadeh, the former intern. "And then it grows into things like groping and unwelcome touches."
One former Liberal staffer said her superior repeatedly asked her out, and once commented on a bruise high up on the back of her thigh. She said he fired her after she tried to report him.
She likened her experience to being harassed by a stranger on the street, but being unable to walk away. "Imagine you have to stay there and tolerate it, or else you lose your job," she said.
After a female volunteer on a provincial campaign reported sexual assault by the NDP candidate to the party, police, and media, she believes she was overlooked for a job opportunity with the federal NDP.
Members of Parliament are the most visible figures on the Hill, but they're supported by legions of staffers, interns, and volunteers, who have emerged as vulnerable groups in the highest corridors of power. They are not protected by Canada's Labour Code, operating under a pernicious power dynamic that has left them feeling unsafe coming forward.
Every election cycle, staff jobs become precarious. If an MP doesn't win back his or her seat, the staff disappear with him or her. They are lucky to be hired back in another MP's office.
Employees occupy a lower position in the hierarchy. It is understood that staff "serve at the pleasure of" the Member of Parliament, one current female staffer said.
"It's constantly beaten into you that you're different," she told VICE News. "There are all these little rules that put staffers below MPs."
Staff can't walk in certain spaces. The exit directly outside the House of Commons is designated for MPs, and staff can only walk through if an MP holds the door for them.
Committee meetings are catered and the food is only for MPs. Staff often will wait until the meeting is over and then will eat the leftovers, a former staffer said.
If a staffer breaks these rules, they are subject to discipline by MPs, their employers.
Some MPs reinforce this power differential, snapping their fingers at staff to fetch them coffee, a staffer said.
Reporting mechanisms have improved over the years as more women have entered federal politics and demanded better policies to deal with unwanted comments, groping, and sexual assault by colleagues. As such, there is a framework for staff to report harassment. But employees say they risk their already precarious jobs to report within their own party, even more so if they are accusing someone in a position of power.
As one current staffer explained, if someone is experiencing harassment and they think there could be blowback from complaining, the best strategy is to quietly find a job in another office as a way to get out of the situation without reporting it.
Not all current staff are aware of how to lodge a complaint. Two current staffers from different parties told VICE News they had "no idea" how to report harassment if they were experiencing it.
Asked if she would report harassment, another current staffer alluded to her precarious job status: "No, I probably wouldn't. I like working here."
'A flaw in the system'
In fall 2016, a young female staffer began working for a Liberal MP in a small office. During her first few months on the job, a male coworker, her equal, subjected her to what she calls "psychological harassment." He ordered her and her female colleagues around, and made comments that "highlighted the inferiority of our gender, undermined our qualifications and were hurtful," she would later write in a letter, which was shared with VICE News.
On advice from a friend, she began recording her coworker's behaviour. She detailed five separate incidents over a period of eight days.
She tried confronting him directly, but it didn't help. So she says she went to House of Commons HR. She didn't know it, but she was covered by an anti-harassment policy that came into effect in December 2014 covering employers and their employees. Prime Minister Justin Trudeau takes credit for this policy, saying it was his call for clear guidelines in the wake of alleged harassment by two Liberal MPs that led to its creation.
HR told her she could not file a complaint with them because the current policy states that an initial complaint will "ideally" be lodged with the MP, who is the employer, and is responsible for maintaining a harassment-free workplace. In other words, the staffer would have to complain directly to her boss, a male Liberal MP, while she was still on probation.
"There was nothing I could do," she told VICE News. "I didn't want to make a big scandal. I didn't want to go to the news."
She wrote a letter to the MP, but never sent it. She was "too intimidated." She was scared to lose her job.
Her harasser often referred to their workplace as a "boys' club." It was a small office, so she was easily identifiable if she complained. And she would have been reporting to a man about male behaviour.
"There was nothing I could do," she told VICE News. "I didn't want to make a big scandal. I didn't want to go to the news."
Soon after she went to HR, her MP let her go.
She believes her boss found out about her attempted complaint from a coworker she confided in, but she doesn't know for sure.
"He gave me no reason at all," she said. "I don't think I'll ever know [why I was let go]."
Policy loopholes
Staff can be excused for not understanding the patchwork of policies that exist on the Hill. All are relatively new, and are still being updated with improved training on the way. But they haven't been well communicated to those who need them most, as evidenced by the current staffers who said they do not know how to report abuse.
There are numerous policies covering different groups of employees; for instance, NDP employees can report harassment through their union, while staff from other parties can lodge complaints under the December 2014 House of Commons policy, as the Liberal staffer above tried to do.
But VICE News has identified problems with these policies.
First, each one has a different definition of harassment, meaning there is no consistent understanding across the Hill of what that word means.
Then there are gaps between them.
If, for example, an NDP employee wanted to complain about harassment by a Conservative employee, the two are covered by separate policies, meaning the participation of the alleged harasser would be entirely voluntary.
VICE News asked the House of Commons if there is any way to compel the alleged harasser to participate in a complaint under a policy that does not cover them.
"Not specifically, but past experience indicates that they would," House of Commons communications director Heather Bradley wrote in an email.
Following repeated questions about this loophole from VICE News on January 31 and again on February 20, NDP union president Nasha Brownridge said she was working closely with the House of Commons to have this changed "as soon as possible" so NDP staff can have access to the House of Commons procedure. On March 1, the House of Commons' governing body, the Board of Internal Economy, agreed to amend the policy so it would also apply to the NDP.
The House of Commons said it is currently reviewing the December 2014 policy.
In late February, Chief Human Resources Officer for the House of Commons, Pierre Parent, vented about existing policies during committee hearings on Bill C-65. Timelines of investigations are lengthy: "I'm dreaming of an investigation being conducted within a two-week period, but that never happens," he said.
And while resolving complaints in House of Commons administration is relatively easy (with 1,800 positions, it's possible to shuffle employees to reduce conflict), in MPs' offices, he said it's like resolving issues with 338 separate small businesses. He nodded to an issue raised by the Liberal staffer above: "In your environment, your offices are small," Parent told MPs at committee. "You have your Ottawa office, and your constituency office. If something is unworkable, it makes it very difficult."
If passed, Bill C-65 would not replace existing anti-harassment policies on the Hill. However, employers in Parliament will need to adjust the current policies to make sure they meet the new law's requirements and regulations.
Asked about the above incident with the Liberal staffer, employment minister Patty Hajdu said the new legislation will make it safer for employees to come forward.
"The legislation says that each employer needs to set up a third person that can receive the report," she told VICE News. "If the person doesn't feel comfortable, or if the MP is the harasser, then there is an alternative person that they can speak to."
She said new "robust" training for employees and employers would ensure that, in the future, complainants would be informed of their options.
If at any time the staffer feels the situation is not being handled appropriately, they can go to the Ministry of Employment, Workforce Development and Labour, which would investigate, she said.
While this may be true, the bill's current iteration is lacking.
It doesn't have a definition of harassment, and it's not clear yet whether one will be added — something MPs have said at committee is a "big issue" of debate. The Canadian Union of Public Employees, Canada's largest union, has criticized the bill for proposing changes to the Labour Code so that incidents of violence will no longer be investigated by health and safety committees.
"Unfortunately, the regulations are not drafted, so it's difficult to see the final effect of Bill C-65."
Then there's the problem of parliamentary privilege, which is the legal immunity that MPs can invoke to protect themselves. It would be up to an MP to decide whether to invoke this privilege if they are accused of harassment, Clerk of the House of Commons Charles Robert told committee.
Questioned by Liberal MP Pam Damoff about whether Bill C-65 will make it easier for staff to report abuse in MPs' offices, Parent was not optimistic.
"It's a difficult question to answer," he said. "Unfortunately, the regulations are not drafted, so it's difficult to see the final effect of Bill C-65. Fear of retribution depends on the structure, and that is why I go back to the structure of members' offices." In a larger, corporate environment, he said, "you feel a bit more secure."
Damoff then turned to Robert: If a complaint is "shoved under the rug," what recourse would the employee have under Bill C-65?
"It's actually too difficult to answer at this stage," Robert answered.
Left out of Bill C-65
While Bill C-65 would give staff more routes to report, there are other groups on the Hill who won't benefit from the legislation.
In 2014, a woman working for a non-profit visited the Hill to engage MPs in the group's advocacy work. Instead, she says she found herself pursued for more than a year by a male Conservative MP in a manner she found "inappropriate."
On one occasion that was confirmed by a male colleague, the group invited the MP for drinks, and he spent the evening sitting uncomfortably close to the woman and talking to her about his recent separation from his wife.
After that, he added her on Facebook, Instagram, and Twitter, commented on her photos, and sent her direct messages.
When her coworkers returned to the Hill without her, they said the MP would ask about her. "It was the first thing he would ask," one colleague said.
Later, in 2016, she was excited to attend a conference in Europe, and posted a photo of a famous landmark. The MP commented "see you there in a few days," making her stomach sink. He later sent her a direct message asking if she was there, but she didn't respond.
She tweeted that she would be at a certain event, and sure enough, she spotted him there.
She backed into the corner to avoid him. "I'm a pretty tough, independent, career-oriented woman, so the fact that I'm cowering in a corner is already so annoying to me," she said.
Someone thanked her over the mic, prompting the MP to walk across the room toward her. "It's good to see you," he said, touching her upper back. She made an excuse to leave.
"Would I call that abuse on its own?" she wondered. "Definitely not. Would I call it harassment? Probably. To me, he operated in this mode of strategically just skirting the line."
She did not report the MP's behaviour because she was not aware of any mechanism to file a complaint as a member of an advocacy group. But she also didn't seek out a complaint process. She had mixed views about his behaviour; she knew it was inappropriate, but wasn't sure it was enough to warrant a formal complaint.
Lobbyists and advocates fall under their own employers' anti-harassment policies, House of Commons communications director Heather Bradley said. In other words, they are not covered by any parliamentary anti-harassment policies, so their organization would have to work with employers, such as the Conservative MP, to resolve issues of alleged harassment.
Bill C-65 will do nothing to improve the situation on the ground for lobbyists, who often engage with MPs at events involving alcohol.
And it will not improve policies for MPs facing harassment, either.
Currently, they can lodge harassment complaints through a House of Commons policy passed in June 2015 that covers MP-to-MP harassment. But it only applies to sexual harassment, which is defined narrowly as: "unwanted conduct of a sexual nature that detrimentally affects the work environment." Parent noted at committee this is a "very short definition" of sexual harassment, compared to those found in other policies.
"People will make decisions based on protecting their party, and people get caught in that big bulldozer."
Another issue with the June 2015 MP-to-MP policy is that, unlike the December 2014 policy, there is no requirement to report annually on the number of complaints, making it difficult to assess its effectiveness.
A sub-committee is now reviewing the policy, the House of Commons said.
MPs face a high hurdle to report harassment, they told VICE News. "Everything is so tainted by partisanship that it makes it almost impossible [to report]," said one former NDP MP. "People will make decisions based on protecting their party, and people get caught in that big bulldozer."
Guerilla tactics
Some women, fed up with abuse on the Hill and underserved by policy, have taken matters into their own hands.
VICE News has learned of a movement of female staffers within the NDP who, in a show of solidarity, risked their jobs to expel a senior staffer for alleged inappropriate behaviour.
Back in early 2011 or late 2012, Jessica Mitchell was a new staffer on the Hill, working for the NDP.
One evening she was at Brixton's Pub, the NDP's unofficial bar near Parliament Hill. Long hours on the Hill spill over to the dive bar, where alcohol fuels interactions.
"Brixton's is the office, not the bar," Mitchell said.
When she went outside to smoke, Drew Anderson, then director of communications for NDP leader Jack Layton, followed her out. There, he made "explicit sexual remarks" to her, she told VICE News. She can't recall his exact words, but says it wasn't the first time he made sexual comments that left her feeling uncomfortable.
Then Mitchell says Anderson pulled her close and pressed his groin against her. He had an erection. A friend and former coworker of Mitchell's confirmed she told him about details of the alleged incident shortly after it occurred.
She pulled back, but not abruptly. There were other male coworkers there, and she wanted to be seen as "one of the guys."
"I remember feeling like this discredited me professionally because they had seen it and I hadn't known exactly how to react when it happened."
She avoided Anderson after that, even though her job required her to communicate with him on issues including party messaging.
"You're afraid that if you contact this person that they're either going to want something from you or treat you like a pariah."
She did not report it at the time because, she said, "I knew it wouldn't be taken seriously."
"And I didn't take it seriously."
Anderson apologized for unspecified actions in a statement emailed to VICE News.
'People were in tears'
It was only after sexual assault allegations first broke against radio host Jian Ghomeshi, in the fall of 2014, that Mitchell reconsidered Anderson's actions. Ghomeshi was later acquitted on four counts of sexual assault and one count of overcoming resistance by choking.
In December 2014, she and other women brought concerns to the party about Anderson's alleged inappropriate behaviour.
"It was more than grassroots. It felt guerilla," she says of the movement.
Anderson had left the Hill, but was being brought back ahead of the 2015 election alongside party leader Tom Mulcair.
By this time, the party was aware of his alleged behaviour — the NDP's national director and deputy national director had apologized to a woman in a letter after she said Anderson hit on her at the party's 2012 national convention, according to the National Post. At the time of the incident, Anderson was working at the University of Ottawa.
When they heard he was coming back, female staffers rallied.
They contacted the chair of the NDP women's caucus, who told VICE News she later spoke to Anne McGrath, who was then National Director of the NDP. The staffers also invited the women's committee of the union to an emergency meeting, seeking the authority and protection the committee could give them. As the 2015 election approached, they were risking their jobs and going against party loyalty.
An email confirms the meeting was held around December 16, 2014. Mitchell and other sources say the meeting concerned Anderson's return and his behaviour. About 20 to 30 women attended the meeting, with more on a conference call, sources said.
"People were in tears, they were very upset at the turn of events," said one woman who called into the meeting.
As a result, the women's committee agreed to draft a letter outlining their concerns. The chair of the women's committee, Jenn Prosser, would send the letter to McGrath.
There were several drafts of the letter. One version, obtained by VICE News, lists the NDP's pro-women commitments, including ordering an inquiry into missing and murdered Indigenous women, and states that the rehiring of Anderson, through a subcontractor, "goes against everything our party stands for."
"What credibility do we have as New Democrats if the party's executive ignores these principles?" the draft version of the letter asks. "Knowing exactly whom they were hiring, and doing it covertly to boot, the party has chosen to endanger women's health and safety by forcing them to work with Mr. Anderson."
Following allegations arising from the 2012 convention, the party promised to draft new protocols for fundraising events to prevent harassment. "We are still waiting to see these protocols," the 2014 letter states.
"We will never agree to shut up for the good of the party,"
"You have a moral and social responsibility … to reassure us that you do in fact consider such behaviour unacceptable."
"Someone who has the audacity to commit such behaviour and who takes advantage of his position of power is not welcome among us, and never will be. Out of respect for the women of this party, we therefore request that you seek out expertise elsewhere."
"We will never agree to shut up for the good of the party," the letter states. "…We expect you to respond within 15 days otherwise further action will be taken."
Prosser told VICE News she does not have a copy of the final letter, saying any hard copies would likely have been destroyed, but confirmed she sent it to McGrath. She said she believed the language would have been more carefully worded in the final version, and that they would have given a shorter timeline, and directly asked for Anderson to not be hired back. VICE News was unable to verify what the final version of the letter said.
Before they sent the letter, it was printed out so that staff could read it without risk of it being leaked.
Two sources said the women's committee chair dragged her feet in sending the letter. They checked in with her more than a week later, but she hadn't sent it. They had to "insist upon it."
"The resistance we encountered was really a cultural thing," one source said. "There was a culture that wanted to protect the reputation of the party."
After they pressed her, the chair assured them she had sent the letter.
"In this case we were able to overcome this particular part of the culture," the source said.
Prosser remembers it differently. She says she sent the letter to McGrath after having a conversation with her. Prosser says that "maybe my process would have taken longer than some folks would have liked." She says she was new in her role with the union, there was no clear process to follow, and she and others were concerned about the letter leaking. She said that a leak would have violated the privacy of members, and the reputation of the party — "because that is drilled into you."
McGrath declined to comment to VICE News on the record.
Shortly after the letter was sent, the staffers heard Anderson would not return.
Asked by VICE News about the movement of women who prevented his return to the Hill, Anderson did not address specific allegations, but noted that he was last on staff in politics six years ago. "At that time in my life I did not always treat people in an appropriate or respectful manner and alcohol was a negative factor in my life…" he said.
"I am grateful for my friends and colleagues who intervened years ago," Anderson said. "They provided me the impetus to change, and since then I have proactively focused on examining my own attitudes, on living alcohol free and on being a better model to my family and those around me. The work to make amends will continue for the rest of my life.
"I wholeheartedly support those working to bring much needed change to today's political culture."
'Brick by brick'
In the halls of Centre Block on Parliament Hill, a staffer discussed its upcoming renovation. "This whole place is going to have to be taken apart brick by brick," she said.
The fix needed here is not cosmetic, it is structural. When it comes to reporting harassment, improved training is a necessary step, as are efforts to bring parliamentary employees under the Canadian Labour Code. But this still won't address fundamental problems, including party loyalty, small offices, or the small number of women in positions of power.
With such a high bar to report abuse, the Hill exists in a catch-22 scenario. Because existing policy cannot account for cultural issues, women know it is not safe to speak up. And because they don't speak up, the culture of harassment continues.
This is why survivors coming out through the #MeToo movement, and its precursor within the NDP, are the best hope for change in Canadian politics.
Contact the reporter: hilary.beaumont@vice.com
Jessica Mitchell appears in the video that accompanies this piece with her face blurred and voice altered. These steps were taken to initially protect her anonymity because, at the time the video was edited, she had not yet decided whether to speak on the record.