Photo via Facebook
For the first time, the world's largest and most impactful youth leadership summit has been held in Latin America. Nearly 1,500 delegates from 196 countries, all aged 18 to 30, converged in Bogota for the 2017 One Young World Summit to network and collaborate in pursuit of a unified goal: peace.
Launched in 2010, One Young World gathers young leaders and innovators creating solutions for climate change, the refugee crisis, genocide, sexual violence, terrorism, global poverty -- all the pressing issues. Its high-profile counsellors spanned Nobel Peace Prize winners, CEOs, politicians, and celebrity-activists like Cher.
One Young World arrived in Bogota just one year after President Juan Manuel Santos sealed a historic ceasefire with FARC, the country's largest rebel faction. It's not lost on anyone that Colombia's youngest generation will be basically the first in living memory to grow up in country not at war. Its youth will be the ones cultivating the emergence of peace as a mentality and not just a bit of legislation; a signature doesn't erase five decades of hate. Now, Colombians begin the actual work of folding 7,000 ex-guerrilla soldiers into a society that not only has no memory of not hating them but is also being asked to swallow the concessions it took to get them to sign -- commuted sentences; political access.
A One Young World survey found that nearly 60 percent of young people believe perpetrators of violence should face retribution, even after peace is achieved. Santos estimated the adjustment would take about a generation. One big reason Colombia was chosen for One Young World 2017 was the earnestness Santos and accompanying city leaders conveyed in their pitch, which the co-founders said was unmatched not just by other candidates but by anyone from the previous years -- Santos believes One Young World is powerful enough to provide some of the inspiration, innovation, and resources Colombia needs to rebuild.
"We could tell that the people bidding wanted to show that Bogota and Colombia really do believe in young leaders," co-founder Kate Robertson told VICE Impact. "Their dedication to rebuilding and advancing [their country] … it was very clear."
The other main reason was the strength of the Colombian peacekeeping delegates from previous years. This year, they're former FARC soldiers, victims-turned-activists, peacemakers, and entrepreneurs. Their peers from the other 195 countries are former refugees, social media influencers, tech entrepreneurs, conservationists -- you get the idea. After all, it's not just issues like violent extremism that drive conflict. Most crises do; poverty, inequality, corruption, climate change. One Young World operates on the understanding that conflict will continue to spread until we achieve equality and sustainability.
---
Check out more videos from VICE Impact: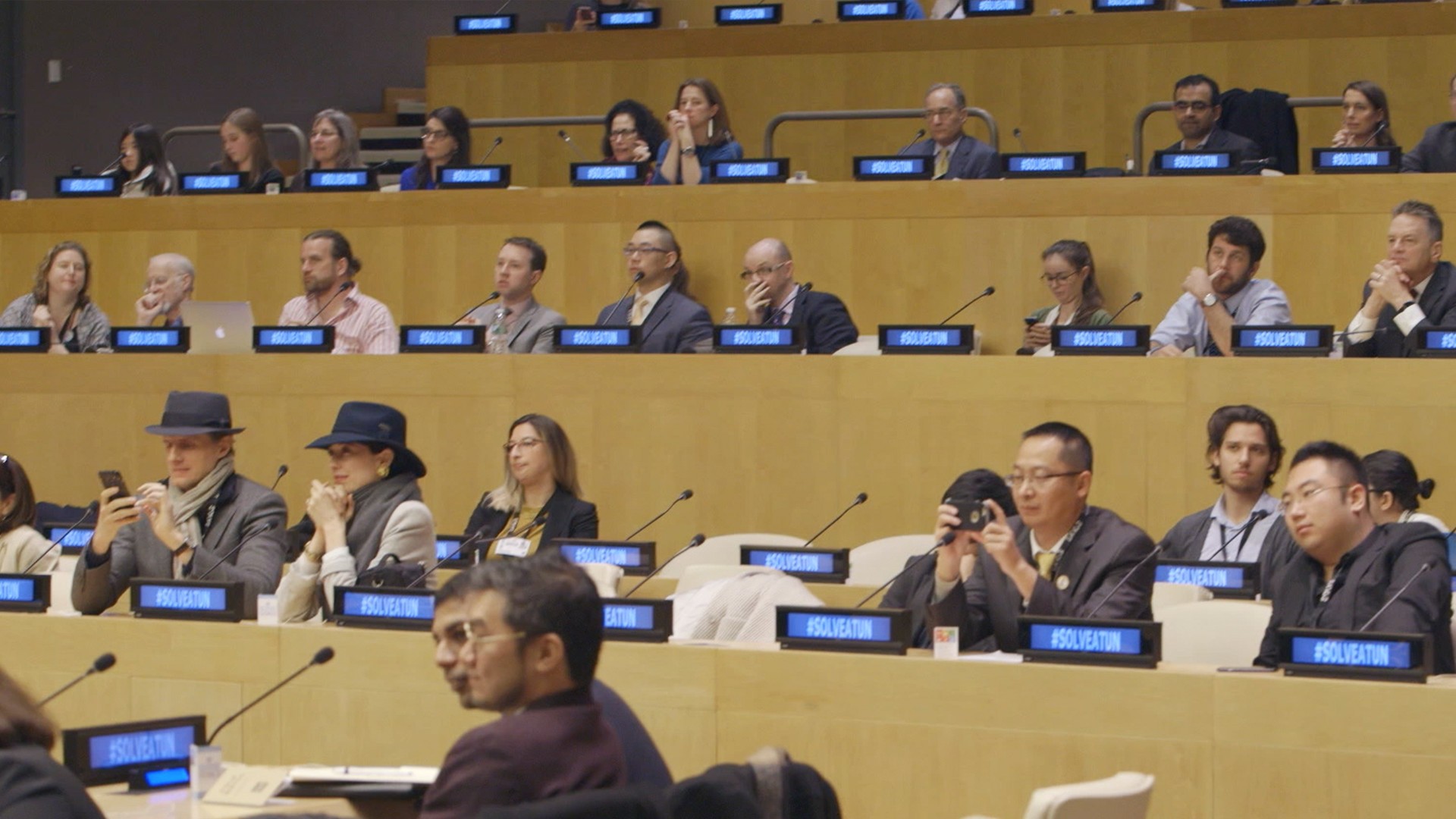 ---
"Sadly, One Young World is more necessary today than when we created it," co-founder David Jones told VICE Impact. "It would be nice if we could go, 'Oh, we don't need this thing anymore, it's all sorted.' But each year the level at which the delegates are delivering just gets more and more impressive."
People have taken to referring to the summit as the World Economic Forum for the younger set, but this year's actually bore a strong resemblances to the World Summit of Nobel Peace Laureates -- the summit on social and environmental justice that Colombia hosted earlier this year, again becoming the first Latin American nation to do so. Upon its conclusion, Bogota was dubbed the City of Peace.
"I have a vision for my country, for future generations, to lead specifically a country of peace, a country of social justice, and a country of education," Santos told reporters in a press conference at the Presidential Palace in advance of the opening ceremony.
Robertson and Jones said One Young World has positively impacted 14.6 million people, a figure arrived at through a process too exhaustive to get into here but that does check out. The delegates come from corporations and universities sending their rising stars, from scholarship hunts that focus on developing countries, and from those who apply on their own behalf. Once a summit concludes, they become ambassadors. Robertson hopes to see a number of them go into politics.
"With all that the country has achieved, holding a discussion on peace and reconciliation here in Bogota has a particular resonance," former secretary general and One Young World Counsellor Kofi Annan said on the final day. "Allow me to applaud One Young World for holding this session on such a critical subject."
If you want to learn about the Colombian delegates from this year's summit, we've created an index of a few standouts below. You can check out the
complete roster of delegates
past and present (you can search by specific issues, countries, etc.). You can also help
fund a delegate
trying to get to next year's conference. If you want to become a delegate yourself, check out details about the
application process
and the
scholarship program
.
Daniel Duque – Activist
A law student and leader in the youth movement lobbying for a peace agreement, Duque was a member of the anti-corruption petition that became the largest citizen-driven petition in Colombia's history with 4.3 million signatures.
Laura Ulloa – Activist and conflict survivor
As a child, Ulloa was kidnapped by FARC rebels twice. The second time, at age 11, she was held in captivity for more than seven months. She now speaks about her experiences to push for the reintegration of former rebels.
Isabelita Mercado – Delegate for High Commission for Peace
Mercado is human rights lawyer and a member of the Transitional Justice Team. She works with the High Commissioner for Peace to visit communities around the country to aid in reconciliation.
Daniel Buriticá – Social entrepreneur
The co-founder of REALHERO, a tech platform that allows you to track your social footprint, and the founder of RECOJO, Colombia's first youth network of social entrepreneurs – RECOJO. RECOJO creates volunteer opportunities that include a camp for conflict victims and former rebels to meet. It's now in 17 countries.
Daniela Villegas – Founder of It Gets Better Colombia
It Gets Better is an NGO that works to empower LGBTQ+ youth. Villegas works toward building a more inclusive business environment, beginning within ABInbev, where she's a brand manager.
Karen Carvajalino – Founder of The Biz Nation
Carvajalino started her first business, Chococar, with $15 at the age of 8. It's now in multiple cities across the country. She gave her first university lecture at 10 and published her first book at 14. She leads the non-profit Fundacion Yo Emprendo, which works with former guerrillas, low-income families, and teenage mothers.