Robert Mayer-USA TODAY Sports
The third star: Tuukka Rask – I'm not 100 percent sure why this GIF makes me laugh, but here we are.
Congratulations to Rask on the first moment in his NHL career when he wasn't the most out-of-control person on the ice.
The second star: Mark Scheifele – The NHL waded back into the "how to button a shirt debate" this week, and the results were reasonably fun. But the real punchline comes at the end, when we find out the Scheifele is a freaking psychopath.
Between this and Patrik Laine's beard I'm genuinely concerned that eight months without sunlight is making all the Jets players insane.
The first star: Predators fans – If we have to deal with lengthy, annoying, ineffective video replay reviews, at least we should have some fun with them.
Of course, if the review doesn't end the way you'd like, you'll have to find a different way to express yourself.
This week's debate: As the season comes down to its final weekend, the race for the Hart Trophy still seems too close to call. Connor McDavid may be the league's best player, but with his team well out of the playoff hunt, should the MVP honors go to someone like Taylor Hall or Nathan MacKinnon instead?
In favor: Yes, absolutely. There's a reason the Hart Trophy description mentions the player who is "most valuable to his team," and not just the "best player." There's clearly an implied suggestion to factor team results into the voting. McDavid's great, but his team is terrible.
Opposed: That's one way to read the award's wording, sure. But it doesn't really fit with the history. The Hart Trophy has almost always gone to the player who had the best season. And with all due respect to Hall and MacKinnon, this year that's McDavid.
In favor: Well, hold on. A player hasn't won the Hart Trophy on a team that missed the playoffs since Mario Lemieux in 1988, and his team only missed by one point.
Opposed: Sure, but that was back when 16 teams out of 21 made it in. In an era in which half the league doesn't make it, ruling out any player who just misses seems silly.
In favor: But this year's Oilers aren't going to just miss. They're terrible. What value could McDavid have a really represented?
Opposed: The value of being the league's best and most productive player!
In favor: Right, but it's not like he lapped the field. He wasn't that far ahead of Hall or MacKinnon.
Flyers fan: Or Claude Giroux.
In favor: Right, or… wait, who are you?
Flyers fan: I'm the guy who shows up in all these debates to mention Claude Giroux.
Opposed: You think Claude Giroux should win this year's Hart Trophy?
Flyers fan: Not necessarily win it, no. But he definitely deserves to be in the conversation.
In favor: OK, fair enough. But right now we're talking about who should win, so maybe you could…
Kings fan: Anze Kopitar deserves some love too.
In favor: Guys, please, we're trying to keep this manageable so if you could…
Penguins fan: Also Evgeni Malkin.
Lightning fan: Nikita Kucherov has to be in there somewhere too.
Opposed: Yeah, sure, those guys are all very good, but none of them are going to win. So maybe we can just focus on…
Jets fan: Blake Wheeler deserves some votes too, you guys.
In favor: You think Blake Wheeler was the league's most valuable player?
Jets fan: No, of course not.
In favor: OK, good, because that would be completely…
Jets fan: He just needs to be somewhere on your ballot.
Opposed: I'm not sure he does.
Bruins fan: So does Brad Marchand.
In favor: Look, I hate to break it to you but…
Panthers fan: Hello, I'm here to talk to you about Aleksander Barkov.
Opposed: On what possible planet is Aleksander Barkov going to win the Hart Trophy?
Panthers fan: I'm not saying he should win, but you could have him in your top five.
In favor: Look, everyone shut up. This is getting ridiculous. This year's Hart Trophy winner is going to be Connor McDavid, Taylor Hall or Nathan MacKinnon. And I don't know if you've noticed, but the hockey world is basically this close to all-out civil war over just those three guys. We get that you like your favorite player and want to see him recognized, but this is not the time. We are all a little on edge right now, and we'd just like to get through the last few days without having to hear your sales pitch for every fringe candidate in the league that even you don't think should actually win.
Opposed: You OK man?
In favor: Yeah, I'm good. This has all been kind of stressful and I had to get that off my chest. I'm fine now.
Blue Jackets fan: Hey, sorry I'm late, but I would like to talk about why Sergei Bobrovsky deserves your fifth-place vote…
In favor: I WILL STAB YOU IN THE EYE WITH MY VOTING PENCIL.
The final verdict: Seriously, if you all keep nagging us to try to get your guy to finish seventh instead of eighth we're all just going to vote for Auston Matthews out of spite.
---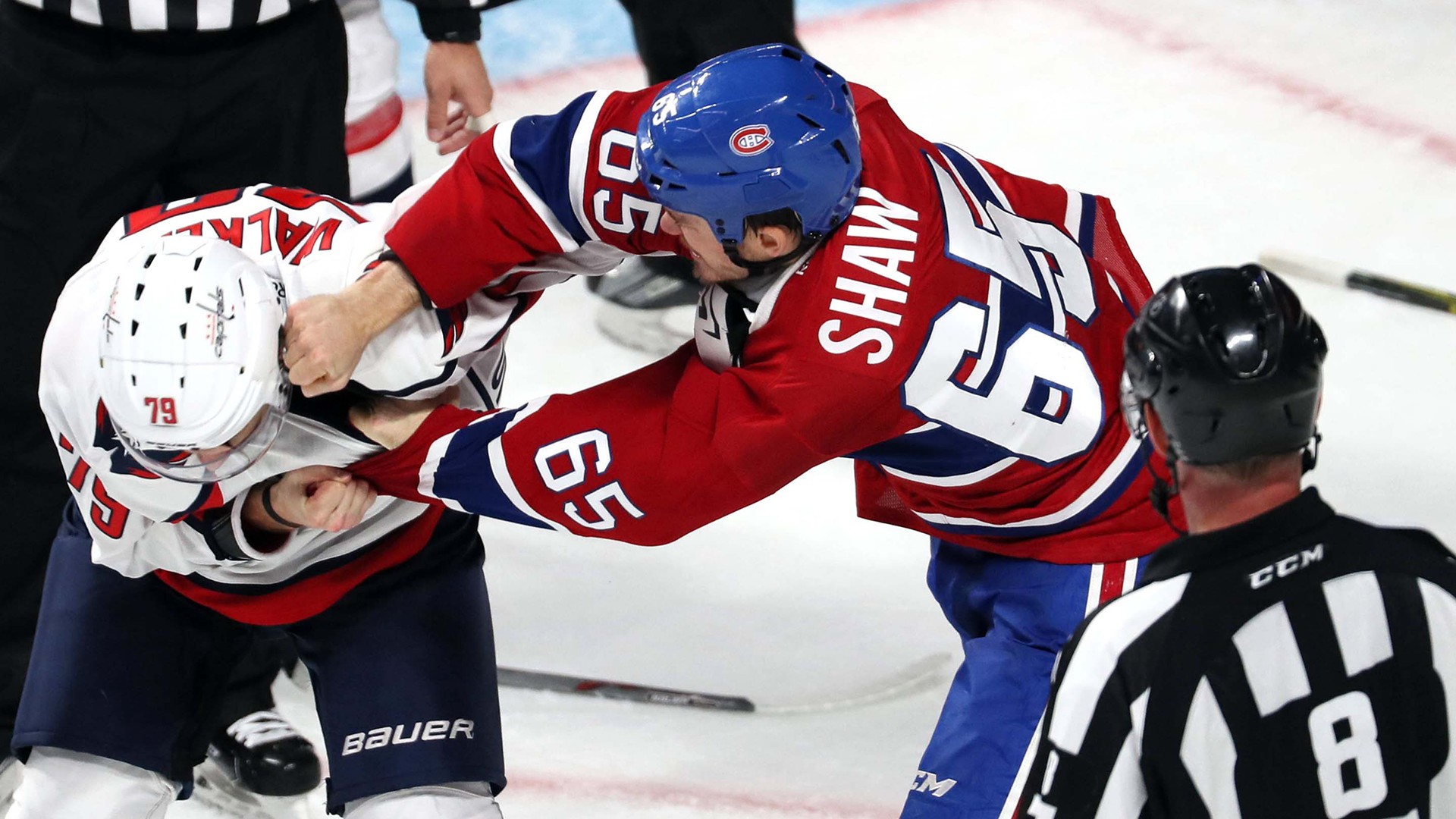 ---
Obscure Former Player of the Week
The Devils are headed back to the playoffs for the first time in six years, clinching a spot thanks to last night's win in Toronto. That's a surprise given where they finished last year. But it's not as big a shock to see the Devils in the postseason as it was 30 years ago, when the 1987-88 Devils made a frantic late run to qualify for the first time in franchise history.
That was a fun team that's shown up periodically in this column, including Doug Brown's soap opera romance. The roster also featured a rookie Brendan Shanahan, current Golden Knights' GM George McPhee, and 13 games of Sean Burke that were enough to earn him a Hart Trophy vote. So today, let's bestow obscure player honors on another member of the 1987-88 Devils squad: Jim Korn.
Korn was a tough-nosed defenseman who was picked in the fifth round of the 1977 draft by the Red Wings, one pick after future Olympic hero Jim Craig went to Atlanta. He debuted in Detroit in 1979 and was traded to Toronto in 1982 for two draft picks. That ended up being one of the toughest trades of all time, as the two picks ended up being used on Craig Coxe and Joey Kocur.
Korn spent three full years in Toronto, highlighted by a controversial incident in 1984 when he hammered former Leafs star Darryl Sittler, breaking his cheekbone. Korn missed the entire 1985-86 season to injury, was traded to the Sabres, and was dealt to New Jersey in time for that magical 1987-88 season, spending most of his Devils career as a winger (and often rooming with Shanahan) before finishing his career with nine games in Calgary. In all, he played 597 NHL games, scoring 66 goals and racking up 1,801 PIM.
Here he is as a Devil in 1990, living out every player's dream: Getting his hands on a lippy Maple Leafs fan.
The NHL Actually Got Something Right
There was yet another goaltending interference controversy this week, this one involving the Predators and Panthers (and by extension, the Devils and Flyers). People were mad. And not just regular people the league can ignore, but famous ones too.
Should they have been? Maybe, although it was nowhere as clear cut as many are pretending. We covered this on this week's podcast; I think there was fairly obvious interference on the play, although you could make a case that it didn't rise to the level of overturning the call on the ice. In the bigger picture, there's no way to stop this from happening, no matter how much we all wail about consistency. Interference should never have been subject to review, and the only way to fix it now is to get rid of it entirely.
None of this is new, and the whole topic has been beaten into the ground over the last few months. But this week, something subtle did change, and it's worth a quick mention.
Did you catch it? The NHL didn't just cut-and-paste their standard non-explanation about how the play was reviewed and the officials determined that interference occurred. Instead, they gave us a little bit of detail.
It was only a little, and nowhere near enough—we need video explanations of these calls, just like we get for suspensions. But even a few extra words helped steer the conversation, and at least let us know what it was that the league war room saw. And just in case you thought that might be a one-off, it turns out the league has been doing it all week.
Again, fans deserve more than this, and there's still no excuse for not having the referees on the ice briefly walk through the reasoning on game-altering calls. But fair's fair. We've been asking for more detailed explanation on replay review for over a year; now we're seeing some baby steps in that direction. That's worth something.
Classic YouTube Clip Breakdown
Henrik and Daniel Sedin announced their retirements this week. They said an emotional farewell to Vancouver last night, and will play their final game tomorrow night in Edmonton. That will spell the end of two remarkable careers—identical twin brothers who were drafted together and played virtually their entire careers side-by-side, with each winning a scoring title.
So today, as we prepare for the end, let's look back at the beginning, with a trip back to the 1999 entry draft.
It's June 26, 1999, and the draft is coming to you from Boston. Our host, appropriately enough, is Jim Hughson, who's about to join the Canucks broadcast team and will go on to become the voice of Hockey Night in Canada in a few years. He's going to mention these Sedin kids once or twice more over the course of his career, I'm guessing.
But that's getting ahead of ourselves. As our clip begins, there's still at least a little mystery hanging over the proceedings. Brian Burke and the Canucks have been hard at work trying to put together a series of trades to get both twins, but nothing is official yet. Well, it probably is, but we don't know that because this is before Twitter ruined our ability to ever be surprised by anything.
Burke has taken plenty of heat over the years, much of it deserved, but man that guy could work a trade. I'm honestly not sure there's been a better GM at pulling off deals since Sam Pollock. Check out the beginning of this clip, where we see some brief footage of Burke swinging the deals on the draft floor. He's just standing there with multiple other NHL GMs and telling them what they're going to do and who they're going to pick. It's half negotiation, half hostage situation, and I love every second of it. Someone please make Burke a GM again somewhere.
Gary Bettman takes the stage to only light booing because Boston isn't a real hockey town. He drops a "We have three trades to announce" on the crowd, which gets their attention, and then lays out all the deals. He stumbles through the details, but recovers nicely and concludes with a "What that all means" summary. Bottom line: Atlanta moves up to No. 1, the Canucks get the next two picks, and Tampa picks fourth.
And with that, the Thrashers take the stage to announce the first overall pick. What could go wrong?
Oh right, they take Patrik Stefan. We don't actually get to see the pick in this clip, presumably because it would violate YouTube's guidelines for obscene content. But it's fair to say Stefan was quite possibly the biggest bust of any first overall pick ever. Some of that was injury-related, but when you go first overall and the only thing anyone remembers about you is this, that's not good.
A reminder: that Stefan blooper ended up costing the Oilers Patrick Kane. That franchise might literally be cursed.
How great would it have been if the Thrashers had double-crossed Burke right here and used the first overall pick on a Sedin? What would have happened? I mean, we can all agree that Burke would have immediately rushed the stage and fought everyone in the Atlanta front office until the national guard arrived to pull him off the bodies, but what about after that? This has to be a top-ten "what if?" moment in modern NHL history and I feel like we don't talk about it enough.
We skip ahead to the Canucks picks. I love the "Team Needs" screen, which informs us that Vancouver needs offense, defense and goaltending. Other than that, they're all set.
Burke heads to the stage and picks both twins at the same time. He doesn't even pause, he just takes them as one unit. But he says Daniel's name first, which is why he went into the history books as the second overall pick and Henrik was third. You know Burke toyed with just saying "The Sedin twins" just to annoy the pedants.
This is the only known instance of anyone in Boston applauding the Sedins for anything that didn't end with them looking around for a referee while a Bruin repeatedly uppercut them in the throat.
You get a bit of a sense of it as the commentators discuss the picks, but back then there really was a sense that only Daniel was going to be a star, while Henrik was a tier below. I'd offer that as a reminder that draft experts don't know anything, but we just saw Patrik Stefan go first overall so I'm guessing the point has been made.
We get a few words from the Sedins and a few more from Burke, who does his patented "credit the GM I just blatantly ripped off for driving a hard bargain" routine. Brian Burke was the best. Are we sure he can't be the GM of the new Seattle team?
With that, we skip ahead to all the other good picks in the first round, which is to say our clip ends. Good lord that was a terrible draft. Seriously, the only decent non-Sedin in the entire first round was Martin Havlat. The fourth overall pick was another huge bust, Pavel Brendl. The sixth overall pick was a goalie who never won a game. By the 15th overall pick we'd reached the guys who never made the NHL at all. Three of the draft's top five players in terms of NHL games played were picked in the seventh round. What a mess.
And that's it. Roughly 19 years and 2,600 regular seasons games later, the Sedins will wrap things up tomorrow. They'll go into the history books ranked fifth and sixth among players who spent their entire career in one city, trailing only Nicklas Lidstrom, Alex Delvecchio, Steve Yzerman and Stan Mikita. Three years from now, they'll join those four guys in the Hall of Fame.
Patrik Stefan will probably not.
Have a question, suggestion, old YouTube clip, or anything else you'd like to see included in this column? Email Sean at nhlgrabbag@gmail.com .