Two days after the U.S. launched missile strikes on Syria, President Trump's U.N. Ambassador, Nikki Haley, made the rounds of Sunday political talk shows promising more economic sanctions for Russia over its continued support for the Syrian regime.
But Haley's tough talk apparently surprised Trump, who watched her on television with rage, according to The New York Times. He hadn't yet decided new sanctions were coming.
By Wednesday, Russia's Foreign Ministry said that the White House had assured the Kremlin that new measures weren't on the way.
Trump's decision to hit the pause button might've angered, even undermined, one of his own top foreign policy officials. But it fit with his long-stated desire to improve U.S. relations with Russia. And it's not just Trump who's looking to cool things off: Inside the Kremlin, Putin has let it be known that he's decided to give Trump another chance to mend U.S.-Russian ties, Bloomberg reported, citing four unnamed sources.
Attempts by Trump and Putin to smooth things over follow weeks of white-knuckle tension between Washington and Moscow that sparked talk of outright military conflict in Syria and hammered Russian financial markets. Analysts said Putin's motives could be more easily explained as an attempt to limit the damage from the dispute, while Trump's White House seems to be sputtering in confusion without any coherent policy toward Russia.
"Right now you're seeing Russia trying to walk this back," said Olga Oliker, director of the Russia and Eurasia Program at the Center for Strategic and International Studies. "There is a recognition in the Kremlin that Russia doesn't want further escalation. They'd like to find a way out of this."
Relations were rocky even before Trump's inauguration, as investigations into Russia's alleged meddling in the 2016 U.S. election dominated headlines. Then in March, the U.K. accused Russia of being behind the poisoning of a former Russian intelligence officer in the sleepy English town of Salisbury. The U.S., UK and many other EU countries expelled a combined 342 diplomats from world capitals in an extraordinary game of tit-for-tat expulsions.
Things got even heavier in April, when the U.S. targeted high-profile Russian oligarchs close to the Kremlin in a fresh round of damaging economic sanctions. That sent Russian national currency, the ruble, into a tailspin. The Treasury Department called the move punishment for Russia's aggressive foreign policy, including attempts to subvert foreign democracies and Russia's military intervention in Syria.
"It's clear that there are sharp divisions in the Trump administration on how to deal with Russia."
Then, last week, Trump fired missiles at a Syrian chemical weapons facilities. The launches came in response to alleged chemical weapons attacks on rebel-held areas by the forces of Syrian President Bashar Assad.
Read: Nikki Haley really isn't "confused" about Russia sanctions
Russia, which has intervened heavily in the Syrian civil war since 2015 to keep Assad in power, threatened to shoot those U.S. missiles out of the sky. That prompted Trump to warn Russia, via Twitter, to "get ready" for "smart!" American missiles.
In the end, Russia didn't try intercepting any U.S. missiles — although that didn't stop the Russian Ministry of Defense from trying to claim victory anyway. The Ministry announced that Syria's Soviet-made missile defense systems shot down 71 of the 105 cruise missiles fired last Friday by the U.S., UK and France. The Pentagon said all the missiles hit their targets, and that Syrian defense rockets had fired into the air wildly.
But the situation remains tense, with U.S. and U.K. officials accusing Syria and Russia of obstructing international investigations into the use of chemical weapons — and no clear answer from the Trump administration over what might trigger another strike.
Putin's political calculus
Two unnamed people told Bloomberg that Putin's decision to give Trump another chance explains why Russian legislators abandoned a draft law this week that would have slapped wide-ranging counter-sanctions on American companies.
Putin has used rising tensions with the U.S. and Europe for his own domestic political gain, presenting himself as Russia's defender against an aggressive and decadent West, Oliker said. But he seems to have decided the risks — in the form of sanctions and even potential military conflict — are starting to outweigh the rewards.
READ: Putin still has the upper hand in Syria, and Trump's team probably know that
"The continued crisis and escalation has some domestic politics benefits, but overall, the costs are higher," Oliker said. "That's really what's behind this."
Back in America, Trump's muddled approach to Moscow suggests there's still a tug of war inside the administration over how to deal with Russia, said Anna Borshchevskaya of the Washington Institute for Near East Policy.
"It's clear that there are sharp divisions in the Trump administration on how to deal with Russia," said Borshchevskaya. "What we're seeing now is the latest iteration of that."
"I think there was a sense that the economic costs escalated faster than anyone had expected."
Still, the attempted cool-down won't undo the most recent sanctions Trump's team approved in April, which are causing serious pain in Moscow, said David Szakonyi, an expert on Russian affairs at George Washington University.
This grim reality may be hitting Putin now.
"I think there was a sense that the economic costs escalated faster than anyone had expected," Szakonyi. "The damage from two weeks ago is ongoing, and those companies are struggling to meet their debts."
After U.N. Ambassador Haley announced even more sanctions that Trump didn't actually plan to order, the White House struggled to explain away the communication breakdown. Larry Kudlow, Trump's new national economics advisor, told reporters during a briefing in Florida that Haley might have experienced some "momentary confusion."
But Haley fired back: With all due respect, I don't get confused," she said in an interview with Fox News.
Kudlow quickly corrected himself. "The policy was changed, and she wasn't told about it, so she was in a box," he said.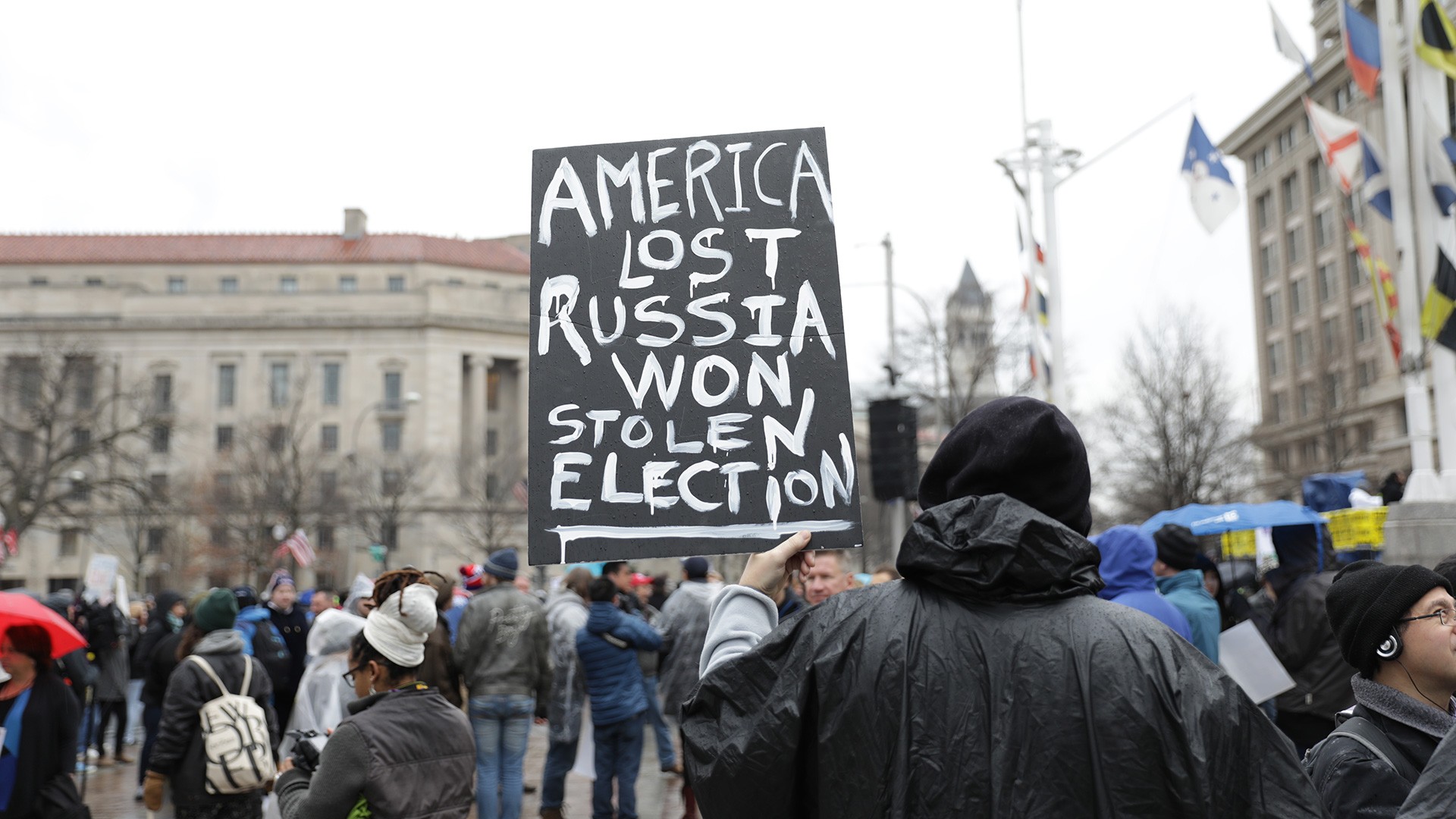 Cover image: In this Nov. 11, 2017, file photo, President Donald Trump, right, and Russia President Vladimir Putin talk during the family photo session at the APEC Summit in Danang.(Mikhail Klimentyev, Sputnik, Kremlin Pool Photo via AP)