For decades, women's place in skateboarding was questioned and downplayed. Despite the fact that the legendary Zephyr team counted Peggy Oki among its ranks, that figures like Cara-Beth Burnside and Jaime Reyes were underground heroes throughout the 90s, and that the generation who grew up with Tony Hawk's Pro Skater saw Elissa Steamer as a member of skateboarding's elite, women were still relegated to a minor role, given little press and few sponsorship opportunities. In this vacuum, female-focused brands like Meow and Hoopla were established. Recently, though, a variety of factors have combined to push interest in women's skateboarding to an all-time high. Female skaters have moved from the margins into the spotlight, and big-name sponsors are noticing. But now that the movement is on the verge of mainstream acceptance, will the brands created to give women a place in skateboarding be made obsolete?
Meow and Hoopla were both born out of a dearth of support for female skaters. "At the time [I founded Meow], I didn't want to do a company just to do a company, but I've been to some major events and some of the top girls in the world didn't have board sponsors, or not marketed or seen anywhere," Lisa Whitaker, who founded Meow in 2012, told me about the company's roots. Prior to launching the brand, she skated for Rookie Skateboards in the late 90s and ran the Girls Skate Network for 15 years. Mimi Knoop shares a similar story: After running the contest circuit, she and Cara-Beth Burnside started Hoopla in 2008. Neither company drops big advertising dollars for monthly spreads in magazines or video game product placements, relying instead on the power of word-of-mouth. Both brands state their end goal as a world where women are accepted and celebrated as skateboarders. Indeed, on Meow's website, Whitaker goes as far as to claim that "hopefully one day, there won't be a need for a brand like this anymore."
That day could be drawing near. Recently top Hoopla team riders like Nora Vasconcellos and Samarria Brevard left after receiving offers from bigger brands that management knew they couldn't, and shouldn't, refuse. As such, Knoop recently announced via Instagram that the brand would be shuttering its doors in the near future. Though there are few sadder moments in skateboarding than when a beloved brand calls it quits, she assured me the decision was entirely her own, "a determination [made] after months of careful consideration.
"The original mission of Hoopla was to create a support system for female pros where none existed prior," she said. "To put it simply, that system now exists! It's actually really amazing to see unfold, even though it was ultimately the demise of Hoopla."
The uptick in women who skate is in no small part due to the advent of social media and increased access to skateparks throughout the United States. According to Meow's Whitaker, "more skateparks all over the place make it easier for girls to get involved," and increased access to the internet means that "girls can find each other, share their footage, push one another, and build a community" in no time at all. As such, mainstream support for women's skateboarding popped up "seemingly overnight," according to Knoop, spreading throughout the industry in the form of more high-level sponsorships for women and fostering a surge in women's skateboarding of all levels. As of 2018, more women have pro boards than ever before, on a selection of brands as diverse as Welcome, Plan B, and enjoi. And several shoe companies, including Nike, New Balance Numeric, and adidas, not only sponsor women, but actively highlight their achievements. Even Thrasher, skateboarding's self-proclaimed bible, is starting to shine a brighter spotlight on women: In August 2017, Birdhouse rookie Lizzie Armanto became the third woman featured on the cover (after Cara Beth Burnside in 1988 and Jamie Reyes in 1994), and 14 pages of the April 2018 edition are devoted to the skating and exploits of an all-girls tour through Arizona, featuring skaters like Armanto, Nora Vasconcellos, Lacey Baker, and Samarria Brevard.
Though there's still a long way to go, according to athlete manager Yulin Olliver, who's worked with prominent skaters like Vanessa Torres and Lacey Baker, there are far more opportunities for women now than there were even three years ago, including "contests, commercial work, and… paying opportunities from their sponsors which didn't used to exist." Olliver spent over a decade in action sports management before splintering off and forming her own agency in 2014, specializing in only female athletes as a way to spur interest in women's oft-overlooked talents. When asked about the increased demand for her clientele, she had no shortage of examples.
"We went from no pro women's street skate contests except X Games, to Street League adding it [in 2015]… A few female skaters are now pro, and joined teams, not as a token girl as it might have occurred to the public in the past, but as a legit part of the team, regardless of gender (or so I'm told). So by these measures, there has been a growth in demand over the past several years. The female skaters would probably say there have been more paying gigs this year than any previous year."
Nowhere is this more evident than the contest circuit, which, in addition to the annual Street League and Dew Tour events, now includes the 2020 Tokyo Olympic Games. Though the Games are over two years away, the effects of skateboarding's newfound inclusion on the Olympic program are already starting to make ripples throughout the industry. With these new opportunities comes not only the chance for exposure on a huge, possibly worldwide scale, but also the danger that the more marketing-savvy mainstream brands might make offers to some riders on all-female teams, in an effort to guarantee appeal and sales to a different demographic.
"I think the Olympic prospect has already pushed some companies to invest more in women than they otherwise would have," Alexis Sablone, WKND and New Balance pro, told me. "In the past, it's been easy to get away with the standard 'oh well nobody watches the women' or 'there's no market' or 'they're not good enough.' Now, it's harder to deny. If it's good enough for the Olympics, it's good enough for the world to see."
Sablone's career path predates Meow and Hoopla, and exemplifies some of the challenges faced by women in a mostly male sport. She first gained notice alongside PJ Ladd, Ryan Gallant, and Jereme Rogers in Coliseum's underground hit PJ Ladd's Wonderful Horrible Life [2002], and had a brief appearance in The Firm's Can't Stop before dedicating herself full-time to Columbia University's undergrad program, earning a major in architecture before jumping back into the skateboard industry in 2008. Though she never had an issue getting product from companies, the relationship rarely grew to the next level of contracts or a pro board. She assured me this was due, in part, to her dual focus on skating and academics, but gender also played a role. Eventually, she saved up enough contest winnings to pay for grad school at MIT, from which she graduated in 2016, before jumping back into the fray as both a designer and a pro skater for WKND. Musing on the differences between the industry in 2003 and 2018, she tells me "there are more opportunities and also more money" nowadays, but "there's still a substantial gap in both the amount paid and number of opportunities available to women when compared to men." Sablone is optimistic about the potential the Olympics brings women beyond a payday, however.
"What I'm most hopeful for, post-Olympics, is the number of girls it will bring to skateboarding," she told me. "Skateboarding's about style, finesse, creativity—it's not all power and strength and 'hey, how many stairs can you jump down?' so I think the more girls that start skating, the clearer their value to skateboarding—and not just contests—will become."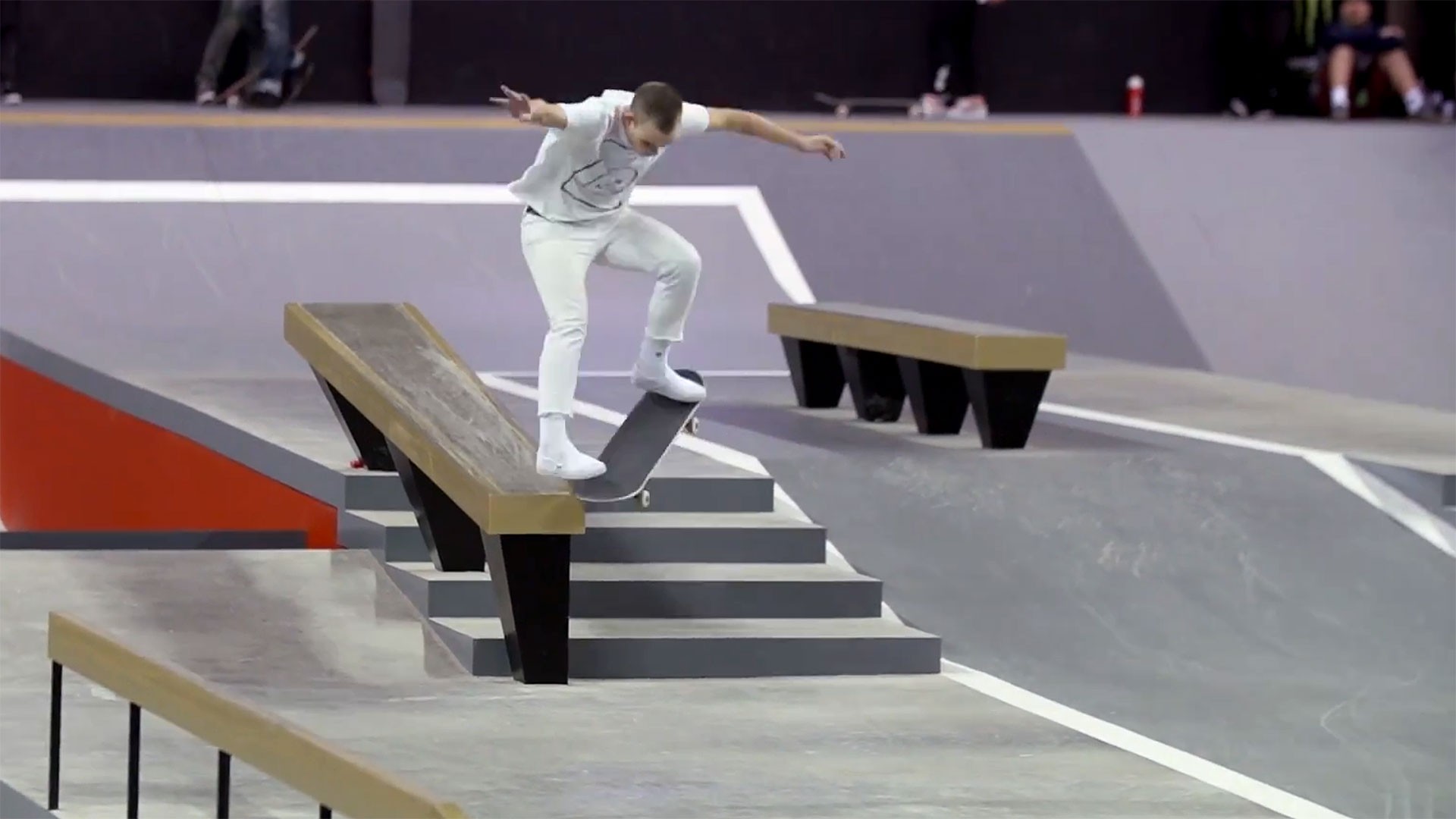 That's not to say female professionals are only a commodity now because of the Olympics. Lacey Baker, who rides for Meow, is one of the most in-demand pros of her generation, regardless of gender. Unlike most of her peers, she experienced what the big brands had to offer female skateboarders firsthand when she rode for Element toward the beginning of the decade, but the brand "decided to go in a different direction marketing-wise, and the relationship no longer continued as a result," Baker said. Her accomplishments are as varied as they are celebrated. Her life and career has been documented in detail in Rolling Stone. She was handpicked by Thrasher as a mystery guest for the 2017 season of VICELAND's King of the Road. She's earned a coveted spot on the Nike SB roster, and she was the first woman to win the Berrics' Populist award, in 2017. Despite her status in the industry and offers from bigger brands, she's sticking with Meow, praising the brand's intentions and the creative outlets it provides her.
"Meow's rad because it's inclusive and for girls who skate," Baker asserted. "That, in itself, makes it really special. Also, being able to do my own graphics and a lot of the other graphics has been really fun, because I'm also a graphic designer."
Being able to design one's own pro graphics is a luxury that many larger brands deny their riders, a practice that allows smaller brands and creative thinkers like Meow and Baker to stand out. This might be a double-edged sword, as it's no secret the odds are stacked against smaller board brands, in large part due to the low return on hard goods and an oversaturated market, but Baker is confident about Meow's place in skateboarding.
"Meow is growing on its own," she maintained. "I think what Lisa's doing is really rad, and there's been a lot of growth in the company… Board companies are small, they're for family vibes, you know?"
Meow's growth has continued relatively unabated over the past few years. And while Hoopla has had a rockier journey, for the time being, women "are on the crest of one of those high points in terms of popularity, new opportunities, and increased value," Knoop says, and it's high time they reaped the benefits. However, she emphasized the continued need for female-centric brands and initiatives in skateboarding, and she plans on staying in the industry by way of the Women's Skate Alliance, which will ideally "create new opportunities for women in skateboarding where none currently exist."
Every indication seems to suggest a bright future for women's skateboarding. Hoopla's untimely demise was at the hands of a growing demand for female faces in a male-dominated industry, and both Whitaker and Knoop's work seems poised to continue fostering female-friendly spaces in skateboarding unfettered.
"There has always been a need for companies run by women in skateboarding for women in skateboarding, and for people like Lisa Whitaker and Mimi Knoop—people who were genuinely invested in women's skateboarding from the start," Sablone said, in praise of the two. "These are the individuals who were dedicated to building a community, and showing that there was a female market before other companies were even willing to acknowledge its existence, let alone put money into it."
Baker echoed these sentiments. "Brands like Meow and Hoopla give space to girls where there wasn't space before. It creates a community, a support system. It's not fucking huge, but there's visibility because of it… showing girls that other girls skate."
Follow Andrew Murrell on Twitter.