Illustration by Lia Kantrowitz
I haven't used Craigslist personals in years. If I want to get laid, I, like most queer men, am more likely to jump on one of the many apps like Scruff, Grindr, or Hornet.
But now they're gone. Craigslist axed their entire personals section last week in response to the Fight Online Sex Trafficking Act passing Congress. The bill will make websites more liable for the content users post on their platforms. It's designed to fight sex trafficking, though experts say it will actually increase the risk for many sex workers.
The personals section were a big part of my sex and love life for many years, and I've found myself mourning its loss.
About ten years ago, after a pretty rough breakup, I found myself cruising the Craigslist personals. I met some pretty amazing guys on there. Some were just fucks, some became friends, and one of them, Tony, became my boyfriend. When I met Tony he was 22 and I was 39. I responded to an ad he'd placed on Craigslist. He was living in Torrance, California, in a two bedroom house with his mother, three sisters, and their four kids. Tony had grown up sheltered in his family, removed from the more mainstream gay LA. After a few days of trading pictures and emails, Tony took the bus to my house in Silver Lake. When he arrived, I was blown away. He was way sexier in real life. Short and muscular, dark hair and eyes, a huge smile. We sat on the couch and made out, then spent the afternoon fucking and talking. He free-formed poetry for me and I read him short stories I'd written. We bought a bottle of wine and spent the whole night getting drunk and telling each other everything, only stopping to fuck and make out. Tony used Craigslist to break away from his home life, from his family, from a world where he couldn't be out, where he couldn't be who he was. He told me stories of all the guys he'd met, including a couple in West Hollywood who'd taken him to Palm Springs for the weekend. "They treated me real good," he said to me, excited and proud. "Those guys were really amazing guys. They made me feel special. Like it was okay to be gay. That there was nothing wrong with me." Tony moved in with me a few months later, and we lived together for four years. He is still one of my best friends. Before Tony and I started dating, I met all kinds of amazing men on the site. There was Christian, who lived in a large modern house in the Los Feliz hills. He would spend hours sucking my dick, edging me, while I looked out at the expanse of Los Angeles shimmering in the darkness like a field of endless fireflies. After I would cum he would massage me and tell me stories of growing up in Belgium, and moving to California with his father after his mother had died. He told me about the films he worked on, affairs he'd had with closeted actors, and secret Hollywood sex parties. Christian was HIV positive. He was proud of himself because he'd done the AIDS ride from San Francisco to LA three years in a row. A few years ago Christian got sick. I was able to visit him in the hospital before he died. We told each other stories, and laughed about all the hours we'd spent together in that house of glass floating above the city. A couple of days ago, I was talking to my best friend, special effects artist Alex Rondon, about Craigslist. "I fucking loved Craigslist," he said. Alex grew up in Huntington Beach, California. While he was open to all his friends and family, he still found it hard to meet other gay guys. Feeling lonely, he found himself cruising Craigslist personals. He found another queer high school senior who lived nearby, and they made plans to meet at a coffee shop in nearby Long Beach. "We fucked around in his car, parked in some residential neighborhood. I remember fucking him in the back seat, and there wasn't any real room, but it felt so amazing. Like we were breaking all the goddamn rules, and we didn't care. That guy and I hooked up for years. Always in one of our cars, always on some quiet, suburban street. It made those years less lonely. He told me about another guy, a makeup artist for horror movies, who he found through the personals section. "I thought that was the coolest thing ever," he said. "I had always wanted to be a makeup artist ever since I saw Evil Dead II. This guy, we didn't even have sex, we just went for walks and talked. He made me feel like I could actually do this for a living. I ended up going to film school in Vancouver, and got my first real gig on Sharknado." Another friend, the musician Big Dipper, gave me his thoughts on the shutdown. "I kind of came into a new confidence of being a sexual person using Craigslist," he said. "There was a freedom in reading posts and posting ads for exactly what you wanted to experience… A Craigslist ad is the perfect place to list exactly what you are looking for. I want to walk into your house and find you naked on your couch with Metallica playing on your stereo. You blow me while you eat a meatball sub."
---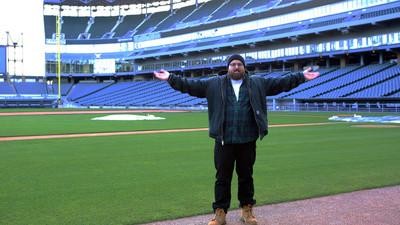 Big Dipper's job takes him all over the country. Craigslist became a way for him to find out who the local gay guys were, where the cruise spots were, and to find whatever fantasies he was looking for. "It kind of became a sexy secret to know that someone in my same hotel was looking for loads in their ass, or a business man up the street wanted to jerk off with someone in the bathroom at Jimmy John's on his lunch break. It made me look at people and the world around me as this sexual playground with tons of fun rendezvous happening around every corner."
"It's also a place for people who are closeted or on the down low and looking to explore their sexuality," he added.
One of the advantages for many people using Craigslist—and one of high importance for guys who are closeted—was that you didn't have to enter a bunch of personal information or download any apps that might be found on your phone. Craigslist personals were truly anonymous. All you needed was an email account. I hooked up with so many "straight" or "curious" guys who didn't feel comfortable out in the world, but wanted that experience behind closed doors.
For most of our history as a community gay men have lived in the shadows, too scared to be open, discriminated against, forced to live lives that were lies. Sometimes, those of us who live in big cities can forget that many in our community are still struggling with these things. Craigslist offered a judgement-free zone. Craigslist personals weren't just about getting laid. They were about meeting other people who felt and loved and desired the same things you did. The personals section offered segments of our community who are still struggling with what it means to be queer a place to go to discover who they were, to feel connected to something larger.
Meeting guys and getting fucked has always been easy, whether it's through cruising or dating apps, bars or sex clubs, but there was something magical about the true anonymity and privacy that came with a hooking up on Craigslist. You got to be whoever you wanted to be. Top or bottom, boy or daddy, dirty piss hungry slut or rough fisting top. You weren't constrained by the limits of your real life, you got to live out the fantasy, and, to be honest, I'm going to miss that. A lot.
Sign up for our newsletter to get the best of VICE delivered to your inbox daily.
Follow Jeff Leavell on Instagram.