A sketch by Daniel Marin Medina. Photo courtesy the artist
On a recent Saturday night in Bushwick, New York, Daniel Marin Medina opened up Grindr on his phone and began feverishly sending messages.
He'd end up spending the evening with four naked strangers within a few miles of where he was, but he wouldn't touch any of them. Instead, he'd draw them with ballpoint pen and paper in states of melancholy, relaxation, or fiery lust as they sprawled out in their homes and revealed intimate details of their lives.
Medina, a 24-year-old queer Colombian artist, has spent the last two years mining Grindr for subjects for a series of portraits exploring sexuality, identity, and the body in the social media era. He's traversed New York City, from skyscrapers in the Financial District to modest apartments in the Bronx, drawing more than 400 gay men and chronicling their stories
"You're going into someone else's home and that's always scary, but there's also this weird power dynamic that happens when I'm the one drawing you, looking at your body," said Medina.
Grindr pickings can drastically vary depending on which block you're on in New York, Medina noted. "[The app] is a visible representation of gentrification," he said. "You can literally see the topography of where certain bodies lie in the city."
The project began as a part of his undergraduate thesis, called "Looking?," at Parsons School of Design.
When Medina first moved to New York from Chicago for college in 2011, he was what he called a "budding homosexual." He had "grand visions of coming to New York" and palling around with a group of artsy, queer best friends in Greenwich Village. Instead, he found that the Village's golden era had passed decades ago with little to show for it but the historic Stonewall Inn, now more of a monument to the gay liberation movement than a happening nightspot. Grindr, he was told, is how gay men meet now.
Medina said that if you open the app in the Manhattan neighborhood of Hell's Kitchen, you'll see "a bunch of guys who are muscular, hairy, and potentially have tribal tattoos." In Williamsburg, Brooklyn, you'll find "cool little bowl cuts, some neck tattoos, and wide-rimmed glasses." In the Bronx, where Medina lives, he said "there are no white people, none" on the app, whereas "there are no brown people" on Park Avenue in Midtown. "It's weird, but it's a real thing," he said.
When Medina first joined Grindr upon moving to New York, he was just looking to make friends. But he quickly learned he was a "type," being young, muscular, and Colombian with tattoos. And on gay dating apps, men are often explicit to a tee about what they want—and what they don't. Language like "no femmes," "no blacks" and "no fats" is troublingly common.
As a way of pushing back against this exclusion, Medina seeks to draw every body type he can find. When he gets to a new neighborhood, he turns on Grindr and sends out a mass message: "Hey there! My name is Daniel Marin Medina. I'm a Colombian illustrator and I'd love to draw you…" Then, he waits.
He gets replies that range from humbled ("Best message I've gotten in ages… I'd be happy to discuss this further") to crude ("How 'bout you draw us fucking? Or sucking?"). Medina doesn't hook up with his subjects, and he never requires them to undress. He said, however, that men who check out his previous work generally expect they'll get naked when they pose.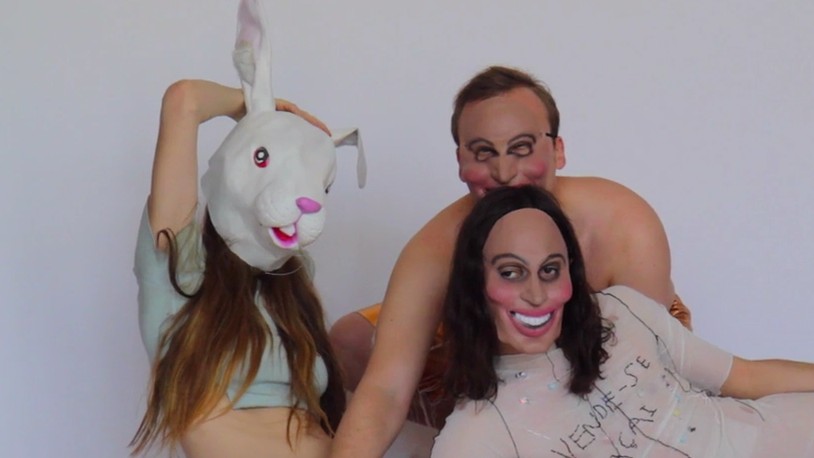 That was the case for Andrew Seng, a 32-year-old restaurant manager who posed for Medina in his apartment in Harlem last year. He'd never done anything like it before, but he was familiar with Medina's portraits at the time Medina reached out and was thrilled to participate.
"I knew just from seeing his other work that he was very professional about what he was doing and that he wasn't going to get into my apartment and just drop his pants or something," said Seng. "He cracked jokes. He told stories. It was very comforting."
Other encounters have been much less straightforward.
That Saturday evening in Bushwick, Medina left an apartment around 2 AM where he'd drawn two naked men. As he was walking home, he got a message from a nearby man who wanted to be drawn with his girlfriend. Medina was excited, as he rarely had the opportunity to draw women, but when he showed up the man was there with another man. It was an expansive, beautifully decorated studio apartment. The new Azealia Banks album was blasting, and there was "a mountain of cocaine" in the middle of the coffee table.
Then, there was the time Medina told one of his subjects he could pose however he was most comfortable. The man, who Medina now refers to as "Banjo Man," took off his clothes, grabbed his banjo, and started to play. While he strummed, he talked about how he uses coconut oil to masturbate. When the drawing was done, Medina recalls, "he read my tarot card, saged the crap out of me, and made me drink [a cup of] cinnamon bark tea."
Medina has also had numerous moments with subjects that he describes as akin to "therapy sessions." Unlike most portrait artists or photographers, he asks questions while he draws. What's your favorite body part? What are you afraid of? What are you passionate about?
"He has a really good way of getting to the core of someone really quickly," said Tommy Hart, a 23-year-old actor who has posed for Medina multiple times.
Medina originally drew Hart and his partner in an experience Hart describes as "beautiful" and "romantic." The three of them became "immediate friends," going on runs by the East River and partying in New York.
Mitch Mathias, a fundraiser for the LGBTQ nonprofit organization Athlete Ally, said there's something uniquely intimate about posing for Medina. Mathias, who connected with Medina on Instagram, has posed nude for more than 100 artists, and said they typically just want him to sit still and be silent. Medina, by contrast, seeks to get to know his subjects. The personal connection results in art that tells a vivid story through the positioning of bodies and raw facial expressions.
Grindr might be known primarily as a hookup app, Medina said, but he's learned that many more people don't use it that way. And he's found that even those with derogatory profiles on the app have turned out to be good people with a desire for meaningful connection.
At the end of the summer, Medina will head to Berlin to continue his Grindr portraits. His aim is to dig deeper into the shared LGBTQ experience and also to gain clarity on how it differs between cities and countries. He'll investigate Berlin's topography of body types as well as the "different kind of coded language" people use in the gay community there.
"It took me a couple years, but I've never been as confident as I am today," Medina said. "This is what I'm here to do."
Follow Shelby Hartman on Twitter.