Photo via Getty Images
Ann Dowd calls me "honey" a lot. If you know anything about Ann Dowd the person, this isn't all that surprising. She uses that word on many people: reporters, Moonies, even herself. But if you know anything about Ann Dowd the actress, you'll understand why I feel just a little funny about her calling me "honey" during our interview.
Dowd excels at playing formidable, even frightening, women. You might have seen her on The Handmaid's Tale as Aunt Lydia, an authoritarian who zaps her pupils with a cattle prod without batting an eye. (She removes those, too.) Or you might know her as Patti Levin, the ruthless leader of The Guilty Remnant, on The Leftovers. Dowd famously based that performance on New England Patriots coach Bill Belichick.
Read more: Elisabeth Moss Talks Dinner with Margaret Atwood and That Peggy Olsen Meme
She's earned endless praise and, this year, twin Emmy nominations for those two roles, but the actress has long been a critical favorite. She drew notice on the theater scene for her turns in The Normal Heart and Doubt while appearing briefly in movies ranging from 1993's Philadelphia to Garden State. Her "breakout" moment arrived in 2012, when she played a fast-food restaurant manager manipulated into committing horrific acts in Compliance. The National Board of Review named her the best supporting actress of that year, and Dowd was briefly considered an Oscar contender. Parts on True Detective, Masters of Sex, and Olive Kitteridge soon followed. Her roles on The Leftovers and The Handmaid's Tale have been a long time coming.
If the skyrocketing sales are any indication, many people are just getting around to reading The Handmaid's Tale. (You can thank Donald Trump for that.) But Dowd was an early fan of the 1985 Margaret Atwood novel.
"I read it when I was in college, or when I was in acting school. Close to when it came out," Dowd says. "I remember thinking, 'Thank God this isn't true.' But it had that element of truth to it, where you thought, Hm, wonder if it could be. It was a very powerful first read, and of course I read it again when I was preparing for the role. It was equally powerful and twice as scary, because of what was happening. Trump actually being considered a realistic candidate and that just escalating. It all had such resonance."
---
Watch: Margaret Atwood on Abortion, Twitter, and Predicting Everything We're Doing Wrong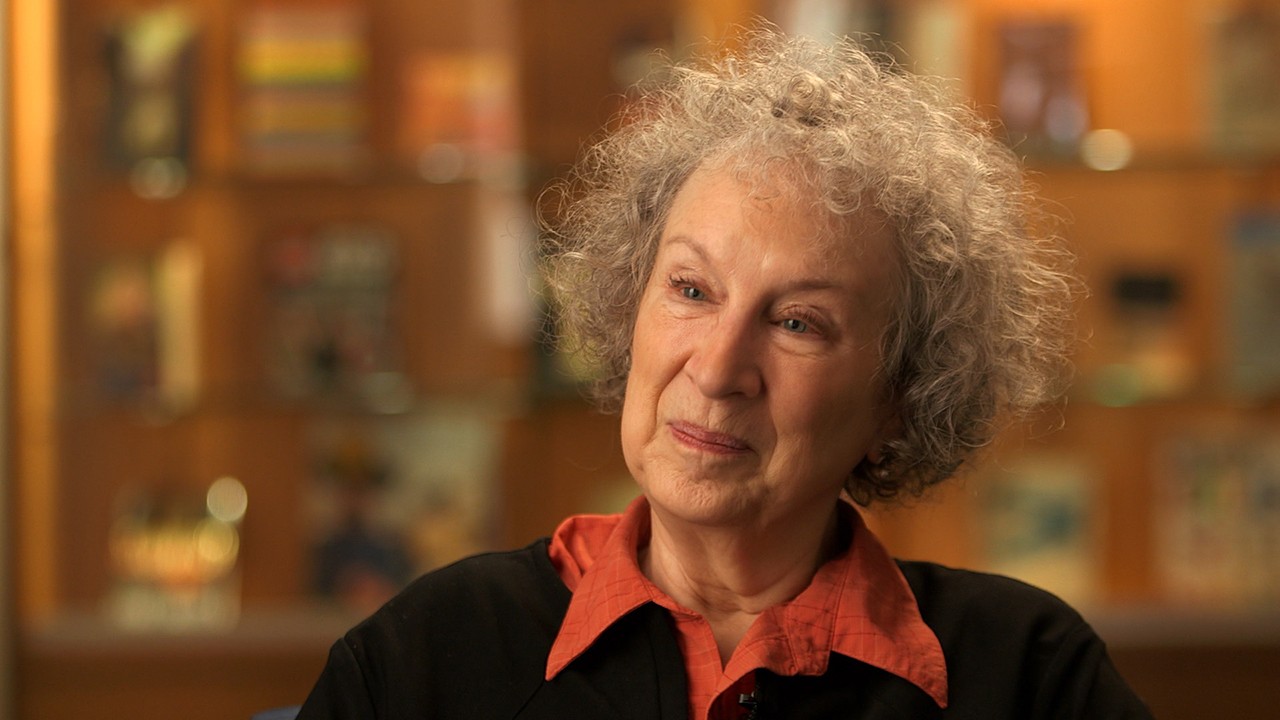 ---
On the show, Aunt Lydia is one of several "aunts" who serve as instructors and disciplinarians for the "handmaids," women who are forced to birth children for elite, infertile couples. These roles are created and assigned by the Sons of Jacob, an ultra-conservative Christian group that stages a terrorist attack in an attempt to suspend the US Constitution, overtake the government, and create a new society named Gilead. They succeed, on all counts.
Dowd says she and Handmaid's Tale showrunner Bruce Miller imagined Aunt Lydia as a former teacher, a woman of faith who watched "the demise of the younger population—the promiscuity and the drugs and the sex before marriage and the abortion" and believed that it was time to turn back the clock. "She knew how to pull a classroom together, she had very strong religious beliefs, she believed in the Bible to its core," Dowd says. "She's the person you want to hire."
But in the season-one finale of The Handmaid's Tale, something remarkable happens: Aunt Lydia's handmaids stop listening to her. One by one, they refuse to obey her command to stone one of their own. Each murmurs, "I'm sorry, Aunt Lydia," before dropping her rock to the ground. It's a cliff-hanger that suggests the resistance is starting to work in Gilead, and it's one that takes the handmaids' fearsome aunt by surprise.
"I think what goes down in the finale was so shocking to her," Dowd says. "How could she go wrong? How did she misread things to such a degree that she's lost control of the girls? I'm sure she does worry, now what? For the whole world of Gilead. I'm sure she has many concerns, not the least of which is herself."
"Oh my gosh, I think I would go straight to grief," Dowd says of the end of the world. "I'd hope I would not be the one who goes to the damn mall."
Dowd has repeatedly cited a strict principal from her Catholic high school as an inspiration for Aunt Lydia, and nuns were kind of the norm for Dowd's childhood. She was raised in a large Irish-Catholic family in Holyoke, Massachusetts, with two aunts in the Ursuline Sisters order and several more nuns as teachers. "There were certain values that were extremely important," Dowd says of her upbringing. "That is to say, treating people with kindness and respect. Doing the best you can in whatever role you have. A work ethic, definitely." But Dowd has also invoked Catholicism when discussing the trapped women of The Handmaid's Tale—namely Serena Joy, a devout evangelical who helps build Gilead only to see her power stripped away. "[Women] are not given their place," Dowd says of both the Catholic Church and the world of The Handmaid's Tale. "Religious women have every right to be up on the altar, serving the mass, but I don't know that that will ever budge. I certainly hope so, because I think a lot of these rules about what should happen are man-made. I think we're way beyond gender deciding who has the [power], especially in the church. I think we should be at that place by now and we are not."
Faith is also elemental to Dowd's Leftovers character, Patti Levin. In that show, after the "Departure," in which 2 percent of the world's population suddenly disappears, she becomes the leader of the Guilty Remnant, a cult-like group that wears all white, never speaks, and is absolutely certain the end is coming. (It's why they all chain-smoke more than Joe Camel.)
"Here's a woman without agency for most of her life, living most likely in an abusive upbringing and certainly in an abusive marriage, who was never given any credit for anything especially," Dowd says of Patti. "Then she has these very strong premonitions about something that's going to happen. No one believes her. But then it proves to be true, and that's when she steps into her power and her beliefs. And I think she had been waiting for this chance all of her life. This was the beginning for her."
The Leftovers was frequently branded "unbingeable" during its three-season run—just too intense, too traumatic, too heavy to watch in one sitting. In its exploration of individuals facing the possible end of the world, it captured some exquisite moments of human fragility—and forced viewers to question how they would react in the same situation.
"Oh my gosh, I think I would go straight to grief," Dowd says of the end of the world. "I would not be a Guilty Remnant person. I'd hope I would not be the one who goes to the damn mall. I don't know what I would do, but I would be in despair for a great period of time, I assure you."
Dowd bid farewell to Patti and the show this past June, when HBO aired the final episode. She watched the series finale with costar and "dear friend for life" Justin Theroux. (Their adorable friendship is all over Instagram.) But she'll be revisiting the show very soon for the 2017 Emmys, where she's nominated in the supporting actress in a drama and guest actress in a drama categories.
The characters who earned her those nods, Aunt Lydia and Patti Levin, are cruel and complicated women. Aunt Lydia abuses other women in the service of a patriarchy that sanctions mass rape; Patti torments parents of "departed" children to prove a point. They both rob people of their voices, families, and sanity. But Dowd isn't interested in entering any of her characters—even the more forgivably flawed ones—into the never-ending discourse on "unlikable" women on television.
"I don't invest in that commentary, because I just have a different perspective," she says. "I love them deeply, and that's my job. To love them and not judge them. To get to the core of who they are, to the best of my ability. So I find them tremendously beautiful creatures. Strong and tormented and survivors, against significant odds."