Rhyan Grant barely remembers scoring the 69th minute equaliser that got Sydney FC back in the grand final.
"I can't really remember what happened," he says, between meeting, greeting and partying with fans at a post-Grand Final function.
"The ball just popped out perfectly for me a couple of yards out so it was harder to miss than it was to score."
What began with a stinging right-foot strike from "super sub", David Carney, forcing Melbourne Victory keeper, Lawrence Thomas, to parry before the ball hit the upright, came back, and glanced off the head of a valiant Besart Berisha attempting to clear his line, only for Grant to race in and poke the ball into the net.
The goal itself might have been a blur but what happened next wasn't.
"When I scored the atmosphere went to another level, the fans went ballistic. It was crazy how loud they were and how they went about it. It was unreal," he says.
It was a fitting climax to a breakthrough season for the long-serving Sydney FC defender and midfielder. Grant was among the best in a team that will go down as the greatest in the short history of the A-League.
His potent mix of high-energy defence, and daring attacking raids when the opportunity presented itself, was key to Sydney's 19-game undefeated streak; an all-time record in the A-League.
"Over the years I've played in a number of positions, I was chopping and changing around, which, at the time I was more than happy to do, but I think this year concentrating on being the right back and securing that spot has done me wonders," he says.
"Arnie [Sydney FC coach Graham Arnold] this year has given me the green light to go forward as long as I can get back, so if I'm going forward I know in the back of my head I have to get back because Arnie won't be pleased.
"It's just about timing when you want to go forward and get involved and if you've got the fitness level you can do it as much as you want.
"Luckily enough for me I'm pretty naturally fit and then obviously [strength and condition trainer] Clarkey has got us in pretty good nick so it doesn't make it too difficult."
Born and raised in Canowindra, a tiny farming village of 2381 in the central-west of NSW, Grant was taught to play football by his sisters though spent most of his childhood following rugby league.
"Being from the bush it's more of a rugby league sort of culture so I was more into that growing up," he says, adding of his beloved village, "it's only a little town Canowindra, not a lot of people there, but there's a lot of great people."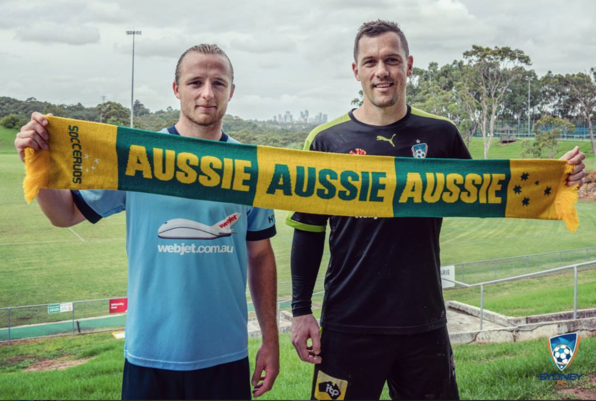 Aged 12, the family moved to nearby Bathurst giving him the chance to prove his wares against Sydney teams. He was selected into the New South Wales Institute of Sport shortly after before making his senior debut for Sydney FC in 2008. He was part of the squad that won the grand final in 2009/10 though missed the latter part of the season through injury.
Today, aged just 26, with nine years and 143 appearances for the club, he is on track to become one of Sydney FC's longest serving and most winningest players. Though it wasn't until this year that his form caught the eye of national selectors, earning him a call-up to the extended Socceroos squad for the World Cup qualifiers against Iraq and UAE.
At club level, his form has been nothing short of spectacular. For a quiet kid from Canowindra, the experience of lining up in the tunnel on Grand Final day will live long.
"Yeah, it was pretty special, aye - it was pretty freakish," he says. "Obviously, a packed house with 98 percent Sydney FC fans all going mental was pretty special and something you don't forget."
Down 1-0 at halftime courtesy of a sublime solo effort from Berisha, Sydney FC had it all do to in the second stanza. With the weight of a near-perfect regular season on their shoulders, they could have been forgiven for letting the yips set in.
"It was a pretty devo moment when they went ahead but we knew every time we've played them this year they've gone ahead and we've been able to get back in the game," Grant says.
"It didn't phase us really. We came in at half time, re-grouped and knew in the second half we'd run over the top of them. It's just the belief we have in each other, the trust."
It was a sometimes spiteful encounter with tensions boiling over on several occasions. Grant says the tactics employed by Melbourne were to offset Sydney's pure footballing dominance.
"We knew there was going to be a fight in the first half," he says. "They wanted to play it that way, which we expected.
"By the second half when that all died out and it was more about playing football we dominated and we were probably unlucky not to win it in normal time."
Come the penalty shootout, Sydney faced being embarrassingly exposed by coach Graham Arnold's decision not to train the team in a shootout scenario during the lead-up.
"We just thought we'd do it in normal time or if not, extra time. So it wasn't the case but it worked out in the end," he says.
Even after a groggy Alex Wilkinson missed his penalty for Sydney, Grant's belief in the team and divine justice never wavered.
"I was quietly confident, I just thought it was meant to be with the season we had," Grant continues.
"When Wilko unfortunately missed I knew that Vooka [goalkeeper Danny Vukovich] was there and his presence in goal will definitely get a save or force him to miss, which is what happened. Then the man of the moment Ninko [Johnny Warren Medallist, Milos Ninkovic] stepped up and slotted it home and I thought it was just perfect the way for it to end up."