Composite by VICE Staff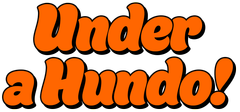 All the best stuff for under $100.
Welcome to Under a Hundo, where your faithful VICE editors find the best versions of anything and everything you're desperately seeking—all for under $100. Whether it's fancy knives, instant-vacation-vibes patio furniture, or suspiciously underpriced ghost-hunting equipment, we've got your thrifty needs covered.
---
As we unthaw our spring personas, we're ISO a change of scenery for our outdoor spaces. Meaning, everything from that one part of the fire escape that gets good afternoon light, to the corner of your (or your quar bud's) patio, backyard, or roof that could use a bit of zhuzh. 
Unfortunately, the 1968 French indoor-outdoor futurist habitat that's currently popping off on 1stDibs is going to have to wait, as our stimmys can only be stretched so far beyond, well, paying rent (let alone 100k). But that doesn't mean we have to settle for a stale ambiance or sense of optimism as we redecorate our outdoor spaces for spring. Yes, it's certainly an exercise in positive thinking, but dreams of COVID-safe BBQs and epic dinner parties bring us hope as more and more folks line-up for their slurp of the Pfizer juice box. We may only have our (and our roomie's) tuchuses to plop in the following chairs at the moment, but that's a great place to start. So we've given ourselves the challenge of finding the best patio decor online for under $100. 
Perhaps you're in need of new planters (or just plants? Thisaway, PLS), or a stain-tolerant outdoor rug that brings a wavy optic energy to your solo hacky sack seshes. Maybe you want something minimalist and bright for your porch, or perhaps you'd like your backyard to have all the cursed horniness of a 1990s Olive Garden smoking patio. You bring the White Claw, and we'll bring the string lights. 
---
We're picturing this beaut' on a bunch of flagstone tiles in a minimalist villa, beside an olive tree, under the Tuscan (or Atascadero!) sun. It's doing the most without doing much, which we love. It's technicallyyyy four dollars over our limit, but it's mad on sale and every graphic stripe is worth it. 
Minimalist Black And White Pattern Sling Chair, $149 $104 at Society6
Cover up that crusty fence! This is very much the kitsch backyard patio, tiki bar-adjacent, mini-golf faux greenery fantasy we have been looking for. It's a classic. Just think about how nice these plastique vines will look under the light of your camera's flash, FR. 
Faux Artificial Ivy Fencing, $56.99 at Wayfair
A chic flying saucer for your pothos, cacti, and whatever else isn't dead in the fourth quarter of quar (congrats, grad), we especially dig this as way to fill your area with more green (or candles, or Bratz Dolls, do you) without taking up more foot space.
Ecopots Hanging Saucer, $30 at Bloomscape
The stain-tolerant everywhere rug
Intended for indoor or outdoor use, this rug is by some company named Lubbers which makes us like it 20 percent more than the pre-existing one-hundred. What's not to dig about a marbled floor situation? Spill all you want over this bad boy. 
Lubbers Abstract Flatweave Red Indoor/Outdoor Area Rug, $87.99 at Wayfair
This is your beer commercial now
If a yard doesn't have string lights, does it even exist? According to one of our writers who owns these, this weatherproof set can withstand a hurricane.
2 Pack 48 FT Outdoor String Lights w/ Edison Vintage Bulbs, $69.99 at Amazon
We will die on this lawn chair
Happily. There is nothing that says, "I am chafing my thighs and throwing back Nathan's without a care in the world" like these lawn chairs, which your family has made you drag into the car from a day at the lake/beach/sidewalk for years, and which you will now force you quar pod/vaxxed circle to drag in as well.  
USA Folding Aluminum Webbing Chair, $74.99 at Walmart
You dabble in CBD products
Same. And as we return from a creek stroll with our bunny, Ms. Zsa Zsa, and the effects of our fave CBD hiking drink have begun to fade, we'll be happy to kick off our clogs on this mountainous mat before waking up and crying ourselves to sleep again. 
Everyspace Recycled Waterhog Doormat, Mountain Scene, $39.95 at L.L. Bean
You have rich East Coast grandparents
But you're personally a Bernie Bro. This doormat is not only made out of recycled lobstah rope, and handwoven (or rather, claw-spun) in Maine by the lobsters as well. 
Recycled Lobster Rope Doormat, $49.95 at Etsy
There's nothing more S T R E S S  than having an outdoor space with plenty of chairs, but no surfaces. It's borderline culty, which we're kind of into on the one hand, but at the end of the ten-thousand hour day we favor a charming wicker coffee table that can weather the seasons, and hold our coffee (and other gorgeous coffee accouterments). If you can swing a little more space and want something higher, go for this Eucalyptus Catania folding table. 
All-Weather Wicker And Acacia Kandis Outdoor Coffee Table, $99.99 at Cost Plus World Market
Evolve thine terracotta tastes
While we love the classic Mr. McGregor terracotta pot, our eyes have been staring at the exact. Same. Ones. For many months now. This planter is of the same ilk, but a tad of swirlyness and a little bit more an "apple bottom jeans, boots with the fur" silhouette. 
Red Clay Sienna Outdoor Planter, $69.99 at Cost Plus World Market
Because your biopic needs a floor-makeover scene
The image of a Jovial Low-Key Hot Person tossing back their hair, and throwing down new tile is pivotal to the development of every home makeover movie, including yours. These wood slats will cover up the stain in the spot of the accident that happened that no one in your friend group is allowed to talk about. 
Acacia Wood 6-Slat Interlocking Deck Tiles, 10-Count, $84.99 at Cost Plus World Market
Bring this to Fashion Week too
Looking a little too swanky for its own good is this metallic drink cooler, which could be equally at home on your cousin-uncle-Bill's boat and the FROW of Vetements, a show for which "18 cans or 12 bottles" of liquid would be...gr8. 
Metallic Retro Drink Cooler, $79.99 at Cost Plus World Market
Do your decorative research
Because Nancy Meyers did not just pop out of a box one day, and know how to perfectly vibe out a garden for a mid-life crisis Meryl Streep dramedy. (It's Complicated is solid; Fight me.) The cover of this book is so beautiful, that even post-read it will make for a great addition to a patio or coffee table. There's also something sincerely tender and sensual about using candlelight as the building blocks for your space. 
Vintage Decorating with Candles All Year Round Coffee Table Book, $35 at 1stDibs
No bananas in this hammock
Hammocks are back, baby—and doesn't this one just shout "rather be napping?" The pros: It's lightweight and comes fully assembled. The cons: You may end up neglecting all of your other indoor and outdoor furniture. 
Crowell Chair Hammock, $62.99 $53.99 at Wayfair
Give into your deck's desires
… And get an Adirondack chair. You know you want to. This one isn't made of skis, unfortunately, but we promise that beer will taste better in one of these bad boys after a long day of W-ing from H. 
Highland Dunes Folding Adirondack Chair, $104.99 at Wayfair
---
The Rec Room staff independently selected all of the stuff featured in this story. VICE may receive a small commission if you buy through the links on our site.