Alex Wong / Staff via Getty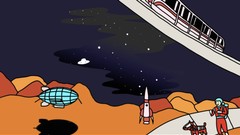 Moveable explores the future of transportation, infrastructure, energy, and cities.
In a massive upset, the longtime president of the Brotherhood of Locomotive Engineers and Trainmen (BLET), a major freight rail union that represents some 33,000 workers, lost his re-election bid to a real estate investor and current vice local chairman with no national-level experience. The shock result is being widely perceived as a protest vote against the status quo of deteriorating working conditions on the railroad and the way the issue has been handled by the union.
The narrow victory by Edward Hall, a vice local chairman of BLET Division 28 out of Tucson, Arizona, came shortly after Congress and Joe Biden forced 12 railroad unions, including the BLET, to accept a labor contract that had received at best lukewarm support among members. The BLET narrowly voted to ratify the agreement, but had previously voted nearly unanimously to authorize a strike. Hall ran on a platform that essentially sought to recognize the gap between those two votes, that many more union members wanted to take drastic action to fight for a better contract rather than work the channels of power to broker a deal with marginal if any improvements.
Hall received 4,331 votes (53 percent) while the incumbent Dennis Pierce received 3,822, according to a statement by Pierce, for a margin of victory of 509 votes out of 8,153 cast.
In that statement, Pierce also said that a union Election Protest Committee found that there had been unspecified violations involved in the campaign and ordered the election to be rerun. But Pierce is declining to stand for re-election, making Hall the only candidate for president and automatic winner.
The outcome reminds many in the union of another recent national vote, Donald Trump's victory over Hillary Clinton in the 2016 election. "It's a lot of Trump type shit. [People think] 'Put him in and he can't do any worse," one BLET member told Motherboard. Multiple BLET members and officers spoke to Motherboard for this story on the condition of anonymity because they had been told not to discuss the matter externally. "The general consensus is basically this is a spite vote, that's the only way I can describe it."
In his campaign material, Hall wrote, "It is clear to me that the national membership is dissatisfied with our leadership and the decisions made by them when it comes to a National Agreement…Our membership was clear, yet our leadership chose to take the easy way out. Leadership will be quick to tell you that an illegal strike would never happen under their leadership. However, once all provisions under the Railway Labor Act were exhausted and a legal strike was warranted, our leaders chose to bury their heads in the sand." Hall did not respond to a Motherboard interview request.
Another BLET local official, who also spoke to Motherboard on the condition of anonymity, said the result came as a surprise, but sees it as tied to the lack of any real action during contract negotiations. "People want to see something happen, whether it be getting back at the railroads for three years of beating us to death or showing the union that they're not infallible," he said. Other workers at his depot have expressed frustration to him that the national office didn't do more to publicly challenge the narrative the railroads were pushing in the national media about how a strike would decimate the economy and ruin Christmas. They felt like it was up to them as the rank-and-file to do so instead.
Two structural reasons may have also contributed to the upset. First, BLET used to elect national office positions with delegates representing local divisions voting at a national conference. In 2010, the union held its first "one man one vote" election where all union members got to cast a ballot. Pierce won that election and has run unopposed since. Second, turnout was low with just 8,153 of 30,614 ballots returned (26.6 percent) compared to "nearly 40 percent" in the 2010 election, according to the union's newsletter.
Asked why turnout was so low, BLET members could only speculate, but one suggested national leadership had lost the rank-and-file's trust by urging them to vote for Joe Biden during the 2020 election, only to have Biden turn on them. "We're all told to vote Democrat, which, I am a Democrat, and a lot of the union guys are, but a lot of the members aren't, they love Trump. And we get this whole 'Joe Biden is going to be the most pro-union president' and he fucked us. He totally fucked us."
Overall, several union members feel it was less a matter of Hall winning than Pierce losing. "You could have put John Doe there and they would have voted for him," one said.
It's not clear what Hall's victory means for the BLET or the freight rail industry as a whole. Hall will now have to run a large union with a slate of national officers who he essentially campaigned against and with two years remaining on a five-year contract. He will need to get up to speed on the national office structure and utilize it to fulfill his campaign promises. And he will have to do it using a system that has been in place for decades, even though it is also the system he has vowed to disrupt.
"The implications could be, in my opinion, disastrous for the Organization," one BLET local chairman said. "Ed Hall has only served as a Vice Local Chairman and lacks the experience required to lead an Organization this size."
Another official sounded a more sanguine note. "He talked a lot about changing this and that, but functionally the union as a whole has its way of operating through decades of principles and methods of communication…And yes, there can be more [communication], which I'd welcome, but I don't think it will be such a drastic change that he envisioned."