Image by Alex Cook
From costly foreclosures to high-interest payday loans, it's expensive to be poor in modern America. But nearly two years after the feds decried a system of preying on the desperate to fund the local government in Ferguson, Missouri, being poor can still get you locked up in the state—or so says a new lawsuit filed in federal court Tuesday. The plaintiffs allege the St. Louis County city of Maplewood uses jail time to squeeze poor people for money, and that in a more extreme move, the local government effectively denies people access to court if they're in debt.
Cecelia Webb, 26, black, and a mother to a six-year old girl, recounted getting caught up in Maplewood's snare on her way to a night shift at Walmart this June. After parking her car, blue vest and name tag in place, Webb said, she discovered the path to work was blocked by a city police officer. Webb was arrested after a brief dispute, and sprung from jail only after her husband and pastor managed to find $550 to pay Maplewood for one outstanding arrest warrant, and $300 to pay the nearby city of Webster Groves for another, according to the suit.
"It was never really clear why I was arrested," Webb told VICE. "They never told me. They just said, 'Hey, you have to pay this amount of money."
The same officer that arrested Webb that night had stopped her on her way to work in April, she claimed, slapping her with low-level traffic citations. Webb said she pleaded guilty and set up a payment plan with Maplewood, but the cop in question wanted more.
"He was just not really paying attention to me," Webb recalled of the second encounter. "And I tried to let him know, 'Hey, I need to get into work. I have a point system, and I have to be there on time.'"
It is unclear why Webb was stopped that second time, but she said that it was only after informing the officer, "I know my rights," that she was handcuffed, charged with disorderly conduct and failure to comply, among other offenses. (The Maplewood Police Department did not respond to a request for comment.)
Perhaps even more alarming than how local cops carry out arrests is what the plaintiffs say comes next. The class-action suit filed in the US District Court for the Eastern District of Missouri on behalf of Webb and five others from the area accuses Maplewood of erecting a "pay wall" before the justice system—an "unlawful pay-to-play" arrangement motivated by "a desire to profit off of individuals subject to arrest solely for failing to pay minor municipal fines or failing to appear in its municipal court."
"This is only a problem for people who can't afford that payment," Blake Strode, an attorney at Arch City Defenders, the group that filed the suit, told me of the local system. "The only people who have warrants outstanding for months, sometimes years," or have been arrested and sat in jail because they didn't pay, "are people who can't afford to pay."
At the time of her second encounter with police, Webb said, she was unaware of the warrant stemming from the first one. Arrest warrants for failure to appear or to pay are, the lawsuit contends, automatically generated by a computer program without ever being reviewed by a judge.
What's peculiar about Maplewood's "extortionate scheme," the lawsuit alleges, is that the poor people accused of failing to appear in court are forced to pay a fee of between $300 and 500, or serve jail time, to have their warrant recalled or even just to access the court system. People facing such "warrant bond fees" are allegedly denied basic information about their case or an opportunity to appear before a judge until they have paid up or spent 48 hours in jail.
The Maplewood city manager did not respond to a request to comment for this story.
Metropolitan St. Louis is profoundly segregated, a divide that is enforced by the county's jurisdictional crazy quilt of 90 municipalities that keeps white and black, rich and poor—and the city of St. Louis—apart. Maplewood, mostly white, lies just west of the city and his home to big-box stores, chain restaurants, and roads used by many to commute from one town to another.
The region has been in the spotlight since August 2014, when an officer in nearby Ferguson shot and killed Michael Brown, setting off widespread protests against police brutality that continue to reverberate across the country. Brown's death focused unprecedented attention on the harsh inequalities and broad sweep of the region's criminal justice system. The summer that he was killed, there were roughly 750,000 outstanding warrants in the city and county.
"Policing just becomes, which of these people with a warrant am I going to stop?" Thomas Harvey, Arch City Defenders' executive director, told me.
The system allegedly maintained by Maplewood is extreme, but the basic set-up is far from unique, according to the Defenders, who say they've filed lawsuits against 17 St. Louis County municipalities.
"Despite being under intense scrutiny since Michael Brown was killed, the police and courts in the St. Louis region are still trying to squeeze money out of the very residents who are least able to pay," Karin Martin, a professor of public management at John Jay College of Criminal Justice, said via email.
Though the Supreme Court has ruled that it is unconstitutional to jail someone for a debt he or she cannot pay, doing so remains commonplace in America, experts say.
"The practices in Maplewood are not an anomaly," Alexes Harris, a sociologist at the University of Washington, said in an email. "Courts across the nation are using warrants to bring non-paying indigent defendants into courts and either forcing them to pay what little money they have or are jailing them. These practices lead to a two-tiered system of justice where the poor experience a very different and long term type of punishment compared to people with wealth."
After her release, Webb said, she had to pay more than $200 to recover her towed car, and was informed that she no longer had a job because she had missed her shift the night she was in jail. Webb is now working part-time for $8 per hour and unable to afford health insurance.
"I knew how much it was going to help my family and how much I needed it and how hard I worked to get it," Webb, beginning to choke up over the phone, told me. "I was treated so badly. And when he put his hands on me, I was scared for my life."
Sometimes, the charges handed out to poor people in places like Maplewood are unjust. Other times, poor people, like everyone else, make mistakes. But because poor people operate with an incredibly small margin for error, what would be a forgettable lapse for a middle-class person can tip them into an economic "vortex they can't get out of," as Martin put it.
---
Check out our documentary about debtors' prisons in America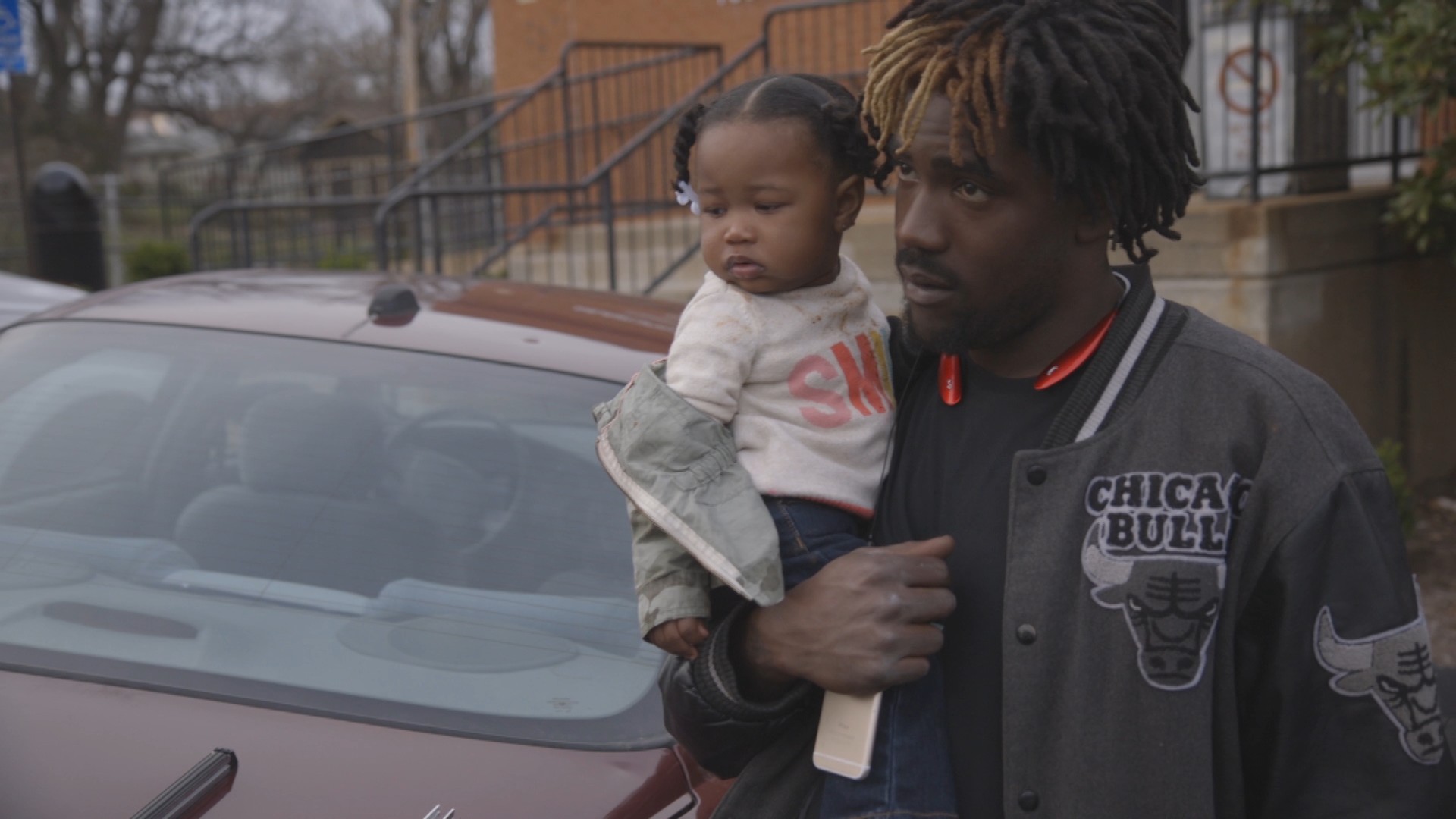 ---
Darron Yates, a 48-year old black man unemployed save for the occasional odd job, recalled a court-ordered shakedown that began one evening this past January. He'd borrowed his neighbor's car, which ran out of gas, so he walked to a nearby station to fill up a gallon can. Driving away, he was pulled over by police he had noticed tailing him on his walk, he said. The cops, who apparently believed he may have been stealing from vehicles, allegedly searched his car and cited him for driving with a suspended license and lacking proof of insurance.
"It was just a great deal of harassment," Yates, a named plaintiff in the lawsuit, told me. He added that police asked him what he was doing in the town. "I felt like I was targeted."
Yates said that he wasn't sure when he was supposed to appear in court. It was a "clear misprint on the ticket. I couldn't make out the court date," he said. When he called the courthouse, he said they told him it was too late and that a warrant had been issued for his arrest. He was told he could either pay $500 to get the warrant recalled or turn himself in and go to jail, according to the complaint. He did not have the money and feared arrest if he came in to explain himself.
A few months later, Yates was collecting bulk items on the street in University City, the St. Louis County city where he lives, when he was stopped by police and accused of stealing and trespassing, he recalled.
After Yates was jailed and charged with trespassing, cops discovered the warrant from Maplewood and said he could not be released until he paid the city $500. Eventually, he said, a judge visited the jail and lowered the fee to $200, which Yates's mother gave him out of funds she had saved for utilities and groceries.
"He gave me a down South type grilling," said Yates, citing questions like, "What were you doing riding in my city?"
Yates is now afraid of visiting Maplewood or even leaving his home.
"I don't want to be a Michael Brown. I don't want to be a Trayvon Martin," he told me. "I just don't want that grief."
Maplewood has taken advantage of its location to shake down poor black people passing through on their commute and thus putting them "a constant state of terror," according to Harvey of Arch City Defenders. Black people stopped in Maplewood during 2015 were more than twice as likely to be searched, and nearly three times more likely to be arrested as whites, according to the lawsuit, which cited data reported to the state attorney general.
"I feel almost like I don't belong over there, or afraid to go, because I'm a minority," Webb said. The arrest and resulting economic crisis, she added, "made me feel very depressed that I can't get ahead in life. I'm just trying to go to work."
Follow Daniel Denvir on Twitter.