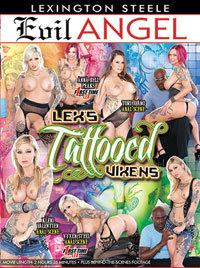 Dir: Lexington Steele
Rating: 9
EvilAngel.com/LexingtonSteele.com
This article appears in the September Issue of VICE
Spoiler alert: If you're new to this column you should know I rarely ever speak about the porno I'm reviewing. Over the past 15 years this has made Skinema somewhat popular with readers who have no interest in a scene-by-scene breakdown of a sex video, while also making me a bit of an annoyance to many porn companies that spend good money sending me screeners. The only reason I instated a rating system a few years ago was because a porn publicist emailed me saying, "I like what you're doing. I don't get it, but I like it. But would you at least mind putting a rating on the videos?" Every movie since has gotten a copy-and-paste rating of nine (on a scale of… ?). I think I might have changed it once when a video was beyond godawful, but other than that, it's the nine-club for everyone.
Last month I wrote a "review" of Burning Angel's Hot Tub Whore Machine in which I detailed my plans to go back in time with the help of busty, blond Canadian porn star Vyxen Steel. I tweeted the link to the review, and surprisingly, she didn't writer-shame or block me like so many other girls have. She actually claimed to enjoy it, and we began a line of private DM communication about a great many things, but mostly sexual preferences. Seeing as Ms. Steel also stars in this film, Lex's Tattooed Vixens, in which she takes Lexington Steele's 14-inch penis to the hilt in her butthole, I thought some of you might be interested in the type of sex some 22-year-olds from conservative Canadian families enjoy in their free time.
She started with this unsolicited disclaimer: "Please don't think it's your typical 'daddy issues' is why I got into porn or that I got touched as a child. I think it's because my mom smoked during her whole pregnancy is why I'm into weird sex. I'll get turned on by a girl getting gang-banged by 200 guys or fists and whipped cream in buttholes."
Although all those topics could have splintered off, it was the whipped cream that I was most curious about. Lately, I've been seeing a lot of food and whipped cream being used in sex scenes, and it always nauseates me. I've been wanting to ask a girl if the cream curdles in her butthole. Riddle solved. "Yes, but I think it's hot," she explained. "It's like doing a milk enema, and you can shoot it all over another girl's chest or face."
The logical next question was, has Ms. Steel ever been on the receiving end of a curdled-whipped-cream poo milkshake? Of course she has. "But I kind of Martix'd in slo-mo and turned my face slightly while it was coming out so I didn't get poo sprayed on my face. But that's really nothing." She went on to say, "The things I've gotten into lately have completely gotten worse and worse. I like to watch rape porn, videos of getting fucked by someone at gunpoint…"
Make no mistake: Ms. Steel has boundaries, and there's a clear distinction for her between reality and whimsy. "There are things that I watch that I would never do. It's just the fantasy of it. I am down to do double vag and anal at the same time. But not double anal. My boyfriend fisted me once until five in the morning, and then I bled for two weeks, but it was awesome. He also fisted my ass, but I didn't bleed. So maybe I already have a problem there…"
It's rare that I'm speechless, but I had so many questions to ask about almost every part of her response that I was stifled, unable to respond. Luckily, I didn't have to. Before I could even question her affinity toward rape porn, she asked a question of her own: What are my wife and I into? Knowing that nothing I said would shock or interest her, I decided to offer two extreme scenarios. I told her I like to wrap my head in Saran Wrap, lube it all up, and attempt reverse childbirths. And we also find holding hands extremely intimate and dirty.
"Oh, I'll have to try that," she responded, although she didn't specify which of the two deviant acts piqued her interest most. But I think it's a safe bet she found the handholding the most foreign and intriguing.
More stupid can be found at Chrisnieratko.com or on Twitter.