Alle fotos er fra auktionshuset Julien's, undtagen billedet af Patrick Swayze, som er taget af Flickr-burgeren Alan Light
On Friday, April 28, Dirty Dancing megafans far and wide will get their chance to bid on some of Patrick Swayze's earthly possessions in a Los Angeles auction, LA Weekly reports.
Julien's Auctions—the same auction house that sold off Truman Capote's ashes—is including some of Swayze's stuff in its "Hollywood Legends" collection. According to the Weekly, Swayze's widow, Lisa Niemi, has decided that it's finally "time to let go" of roughly 640 items, including much of his movie memorabilia, like the leather jacket he wore in Dirty Dancing, a silk shirt he wore in Ghost, and the custom surfboard he used in Point Break.
But nestled alongside many of the items Swayze made famous on film are some pretty personal belongings. For example, fans can bid tobuySwayze's "adult tooth," accompanied by "approximately 25 X-rays" taken from 1976 to 1997, starting at just $500.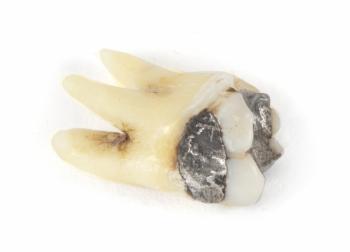 As confusing as it is to peruse the bizarre list of Swayze's possessions, it's also enlightening. How else would one learn that in 1997, while shooting an obscure indie film called Letters from a Killer, Swayze was bucked from a horse and slammed into a tree, breaking his right leg?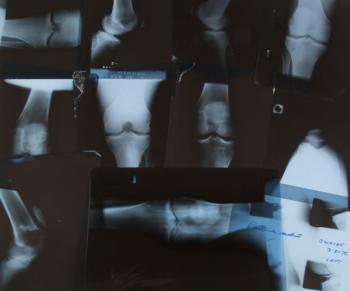 Scrolling through all the entries, it becomes easier to create a broader image of the actor's life. The horse incident, for example, was just one that occurred amid Swayze's apparent love for equestrian activities. Also up for auction are Swayze's four saddles, eight cowboy boots, seven rifles, two pistols, and dozens of knives.
But on film, Swayze was truly a renaissance man, as evidenced from the diverse roles in which he was cast throughout his life. Not only can you purchase his Point Break surfboard, but the G-string he sported in Keeping Mum (2005) is up for grabs, alongside the sword he used as Nomad in Steel Dawn.
But the most compelling items Julien's is offering—by and large—are the ones left unexplained. Why, for instance, did Swayze maintain a collection of minerals and fossils? And what was Swayze's fascination with "new age spiritual items" like tarot cards, crystal wands, and something called a "scrying sphere"?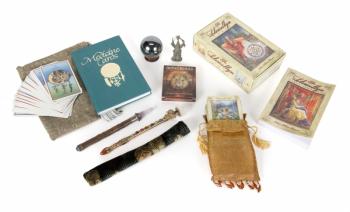 What may be the most heart-wrenching item a Swayze superfan could purchase is likely his teddy bear and "infant items," listed for a starting bid of just $100. The purchase even includes a two-page essay penned by the actor, detailing his deep bond with Teddy, the aforementioned (and aptly-named) bear.
"For many years Teddy was my only friend, he was the only person I could trust with my secrets," Swayze wrote. "He never laughed at my dreams, what I accomplished or aspired towards."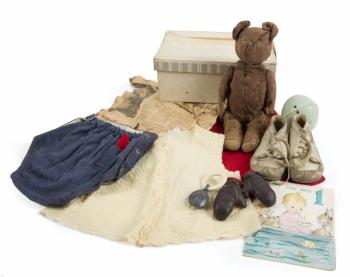 RIP, Patrick Swayze. You will live on forever in our hearts, our thoughts, and in the many peculiar emblems you've left behind.
Follow Drew Schwartz on Twitter.