One Friday evening in late December, 2015, Jonny Walker, a professional musician and busker, was yet to play a note when he was approached by a police officer in Romford town centre. Walker had arrived in the area at around 8PM and had been setting up his equipment ready to perform for the last-minute Christmas shoppers. Police constable Jim Allen had other ideas.
Allen warned Walker that, in the absence of a busking licence, he would have to leave the area. Walker protested. He knew the law and was aware that a busking licence wasn't required. At this point, he began filming the encounter. The video, which was recently posted to YouTube, shows Allen asking Walker for his ID and explaining that he'll be issued with a section 35 notice, otherwise known as a dispersal order, banning him from the town centre for 48 hours. "I know you haven't caused any anti-social behaviour," says Allen. "But the likelihood is you're going to be playing loud music."
From behind the camera, Walker can be heard remonstrating with the officer, pointing out that he hasn't committed any crime. "You haven't got to commit a crime," Allen replies. "This is a preventative measure. Now, I've got the law to support me, so if you fail to leave, I'll arrest you."
Tackling anti-social behaviour has become a widely accepted function of the police and public authorities in Britain. The now defunct anti-social behaviour orders, better known as ASBOs, captured both headlines and the public imagination. But ASBOs were just one of a number of far-reaching powers which took a preventative approach to policing. And while ASBOs may now have been retired, dispersal orders, civil injunctions and public space protection orders (PSPOs) are now widely deployed in an ongoing war on low-level crime and perceived nuisance. Their use has become so widespread, it's easy to forget that the very notion of anti-social behaviour – at least as a legal concept – has only been around for the last 20 years.
"You haven't got to commit a crime. This is a preventative measure. I've got the law to support me, so, if you fail to leave, I'll arrest you."
It was 1993 when Tony Blair, as shadow home secretary, famously declared that the Labour party was "tough on crime and tough on the causes of crime". When Blair became leader the following year, heralding the dawn of New Labour, this declaration sat right at the heart of the party's policy platform.
New Labour's "tough on crime" philosophy took a broad view of criminal behaviour. In 1995, the party published a paper promising action against nightmare neighbours. "Across Britain there are thousands of people whose lives are made miserable by the people next door," it read. The idea of a nation plagued by anti-social behaviour soon began to take hold. The academic Elizabeth Burney has observed that between 1993 and 2003, use of the term "anti-social" by The Times newspaper increased almost four-fold.
Youth crime was another major New Labour focus. In the run-up to Labour's landslide victory in the 1997 general election, the party issued a pledge card listing five key policies. Among the familiar promises to cut class sizes and NHS waiting lists was a pledge to "fast-track punishment for persistent young offenders by halving the time from arrest to sentencing".
Dr Stuart Waiton, a lecturer at Abertay University, has studied the way in which crime and the concept of anti-social behaviour developed in the UK. "New Labour, in particular Tony Blair, developed this idea of the vulnerable public," he told me. "And it's then the role of Labour and the police to protect us from noisy neighbours and uncouth youth. So that was the framework." In a 2006 speech, Blair offered his own insight into the logic behind his policies. "The real point is not about statistics, it is about how people feel," he said. "Because the fear of crime is as important in some respects as crime itself."
ASBOs were the flagship policy at the heart of New Labour's crime crackdown. Introduced in 1998, they allowed councils to apply to the courts to prevent individuals from engaging in all kinds of non-criminal behaviours, such as shouting, spitting, or even entering certain areas, as long as it was likely to cause "harassment, alarm or distress". Crucially, while Asbos were a civil order, breaching them was a criminal offence, punishable by a fine and/or imprisonment of up to five years.
For the first few years, local authorities were reluctant to use these new powers. Soon enough, however, they were being used all over the country. Between June of 2000 and December of 2010, there were 20,231 ASBOs issued in England and Wales.
Breaches were common – more than 56 percent of ASBOs were breached on at least one occasion. More than half of these breaches were punished with a prison sentence, a penalty often far greater than would have been available for magistrates to impose as punishment for the same crime.
In 2004, a report by the National Association of Probation Officers (NAPO) raised serious concerns that ASBO powers were being abused. "In many incidents, individuals are receiving a custodial sentence where the original offence was not itself imprisonable," it said. "ASBOs are being used against young people whose behaviour may be anti-social but not necessarily threatening. It is being used to deal with nuisance which could be dealt with in other ways."
"A 13-year-old girl was barred from using the word 'grass' anywhere in England and Wales."
It was not hard to find examples of the overreaching nature of ASBOs. Liberty, the human rights campaign group, has pointed to cases such as the Loch Ness man who appeared in court for breaching an ASBO banning him from laughing, staring or slow-clapping. A 13-year-old girl was barred from using the word "grass" anywhere in England and Wales. Tabloids ran stories about a young woman banned from having noisy sex and teenagers prohibited from wearing hoodies.
At times, the laughable nature of some ASBOs risked obscuring their serious consequences. NAPO cited examples including a female sex worker who was banned from carrying condoms within an area which included her drug clinic – where she was issued free condoms. She was later charged with breaching the order. Another case involved an 18-year-old banned from congregating with three or more other youths. He was subsequently arrested for entering a youth club – to attend a session on how to deal with anti-social behaviour.
From the outset, anti-social behaviour was associated with youth. The image of feral teenagers running amok around the council estates of Britain was repeatedly invoked by New Labour while the party sought to reinforce its "tough on crime" credentials. In November of 1997, the party published a white paper, titled No More Excuses, asserting that "a small hardcore of persistent offenders is responsible for a disproportionate amount of crime" and argued that "to respond effectively to youth crime, we must stop making excuses for children who offend".
Accordingly, ASBOs were used disproportionately against the young. Between April of 1999 and December of 2010, 38 percent of all ASBOs in England and Wales were issued to children aged between 10 and 17. In total, almost 1,400 children were imprisoned for breaching ASBOs in a decade, receiving an average sentence of more than six months.
The wide range of activities prohibited under ASBOs, and the high number of breaches, pointed to an inherent problem with Labour's war on anti-social behaviour: who was to decide what kind of behaviour anti-social? "The ASBO legislation was very much a new foray in criminal law in the sense that it criminalised something that wouldn't have been seen as criminal in the past," Josie Appleton, founder of the Manifesto Club, a civil liberties group, told me recently. "Anti-social behaviour is almost like this category that's a complete melange of criminal offences and things that are completely innocuous."
By design, ASBOs could be used to target any kind of behaviour whatsoever. In her book On Liberty, Shami Chakrabarti cites a television interview with former Labour frontbencher Hazel Blears who, when asked to define "behaviour likely to cause alarm, harassment or distress", replied: "It means whatever the victim says it means."
Despite the far-reaching potential of the original ASBO legislation, the war on anti-social behaviour continued to be ramped up in the following years. In 2003, the Anti-Social Behaviour Act introduced a series of radical new measures aimed at curbing problematic behaviour. Most notable was the dispersal order, which gave the police powers to move on groups of two or more people if their behaviour "has resulted, or is likely to result, in any members of the public being intimidated, harassed, alarmed or distressed".
"38 percent of all Asbos were issued to children under 17. 1,400 children were imprisoned for breaching Asbos in the first decade they were used, receiving an average sentence of more than six months."
Even then, there were occasions when neither criminal law nor the new array of civil orders were seen to be enough to tackle problematic behaviour. Gang injunctions were announced in 2009 and came into force two years later, after Birmingham council's attempts to tackle gang activity using ASBOs were struck down by the courts. While ASBOs required anti-social behaviour to be proven "beyond reasonable doubt", gang injunctions required only that gang-related activity be proven on the "balance of probabilities".
In 2011, Southwark Council secured the first gang injunction, against an 18-year-old rapper, banning him from entering a large area of Peckham, mixing with more than two other people anywhere in the borough, associating with known gang members and from producing, promoting or appearing in music videos which could promote violence. Speaking under anonymity to the BBC at the time, the young musician pointed out that his lyrics simply described life on a London estate. He denied ever being in a gang. "They want to assume we're gangs because we're a group of black boys," he said.
Anthony Gunter, a lecturer at the University of East London and author of the book Race, Gangs and Youth Violence, described to me the way in which outsiders' perceptions of youth culture can differ wildly from reality. "Street fashion has always been confused with gang fashion," he said. "If you're dressing in a certain way – tracksuits, man bags, hoods and trainers – and there's more than two of you, you're [perceived to be] in a gang." Youths, and especially black youths, could find themselves targeted by the police simply for wearing the latest fashion. Gunter said: "It's a way of criminalising people who use public space because they don't have anywhere else to go."
When the Tory-Lib Dem coalition took power in 2010, it promised to roll back the proliferation of anti-social behaviour powers. A few months after the election, Home Secretary Theresa May pledged to "bring some sanity to the alphabet soup of police powers Labour invented". The following February, the government announced ASBOs would be scrapped. Overall, 19 anti-social behaviour policies would be replaced by six new powers for councils and the police.
By the time these powers came into effect in 2014, it had begun to seem that what had been sold as a rollback was in fact a rebrand. In an article written for the London School of Economics last year, Dr Craig Johnstone, an academic at Brighton University who researches surveillance and social control, observed that the government "presented its intervention in this sphere as primarily an exercise in tidying up and fixing problems with existing legislation", but behind the scenes were offering authorities "much greater discretion than before over the definition of behaviour that will not be tolerated in their jurisdictions".
ASBOs were replaced by two new orders which retained many of the same characteristics under different names. Dispersal orders were kept and made applicable to individuals as well as groups. And councils were given a new tool, more wide ranging than anything seen before. Public Space Protection Orders allowed blanket bans on activities within specified areas, with breaches leading to possible criminal convictions. For more than a decade, action to tackle anti-social behaviour had focused on individuals. Now, a new front had been opened up, giving councils the power to control the use of public space.
There had already been warnings about the possible unintended consequences of this radical step. In October of 2013, children's charities wrote to the Observer to warn that "draconian new anti-social behaviour laws going through parliament will punish children over the age of 10 simply for being children", adding that the bill "promotes intolerance of youth, is a blow for civil liberties and will damage children's relationship with the police".
Unlike ASBOs, local authorities were enthusiastic about PSPOs from the start. In the first 16 months of their existence, more than a third of all councils introduced at least one PSPO. The legislation included no requirement to consult on proposed orders, leading to cases where they were introduced with little, if any, public scrutiny. Data obtained by VICE under Freedom of Information laws last year revealed that councils were using PSPOs to ban all kinds of everyday activities including shouting, swearing, gathering in groups, ball games, busking, feeding birds or carrying golf clubs in the wrong part of town.
Just like ASBOs, PSPOs have tended to affect young people disproportionately. According to data collected by the Manifesto Club, at least 11 local authorities have banned cycling and skateboarding. Last September, Harlow Council banned parkour after receiving complaints from local businesses about kids clambering around on roofs. Local free runner David Witchell told me the ban was based on a fundamental misunderstanding of what's involved in parkour. "It puts our sport in such a negative light and makes it look like something we shouldn't be doing," he said. "It scares off parents, who will be more resistant to it. That's tragic."
Other councils have been even more explicit in their targeting of young people. Burnley introduced a curfew banning under-16s from being outside between 11PM and 5AM. Kettering did the same for under-18s. Blaby, in Leicestershire, has banned 10 to 17-year olds from gathering in groups of four or more. In Bassetlaw, Nottinghamshire groups of three or more under-16s are prohibited.
Most of these authorities declined to comment for this article. However, Julie Leigh, cabinet member for neighbourhoods at Bassetlaw District Council, said civil liberties were given "full consideration" before the PSPO was introduced. "However, we must also take into account the civil liberties of the people who are being affected by the types of behaviour the PSPO seeks to address," she said. "Groups of under-16s still visit this area, but as long as they do not cause 'annoyance, harassment, alarm or distress' – conditions that are set out in the PSPO – they are free to be there and will not be moved on."
---
WATCH: The UK's Young Reoffenders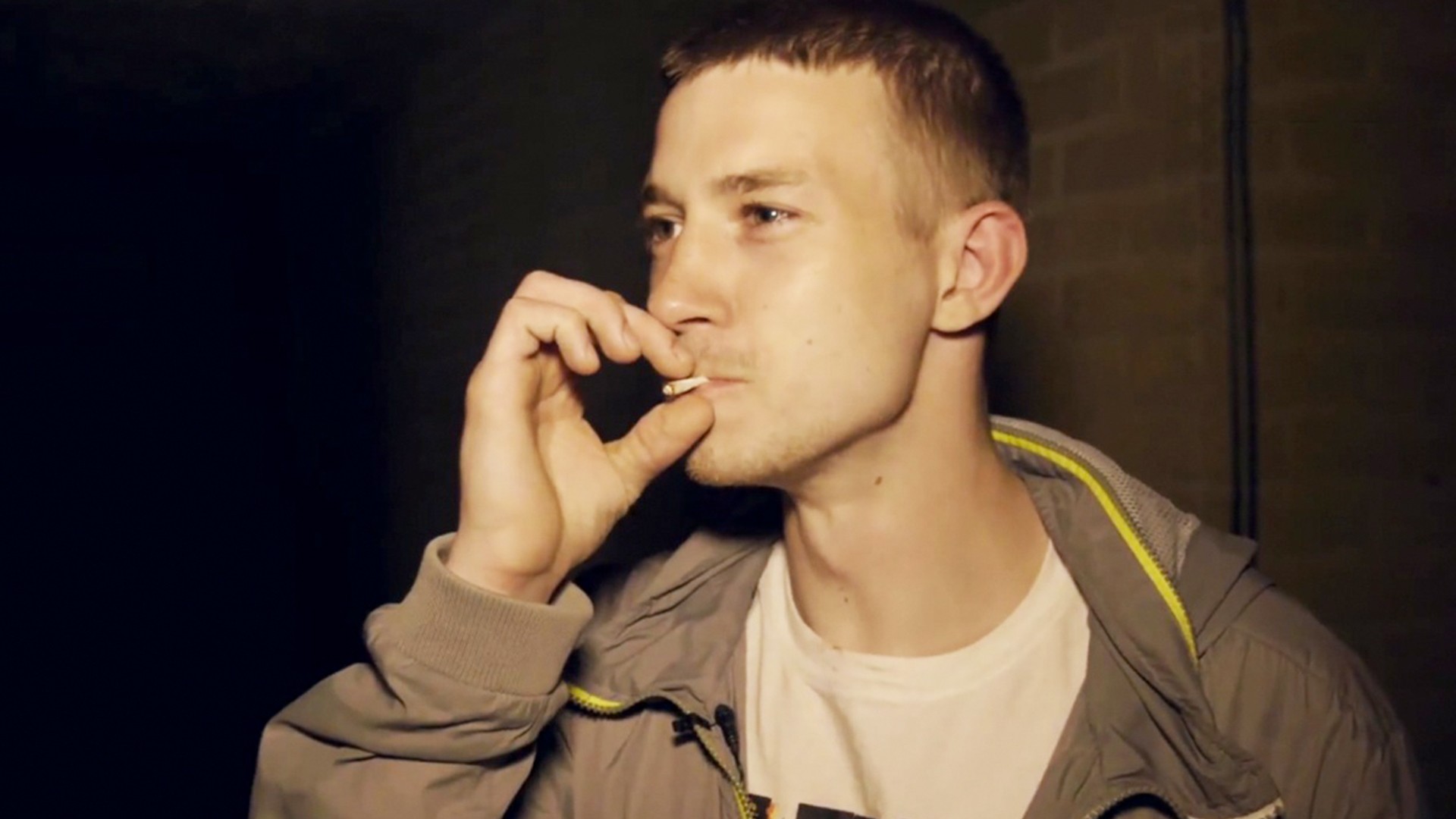 ---
Councils have also targeted other vulnerable and alienated groups, most notably the homeless. Hackney Council sparked a public outcry and was forced into a U-turn over its PSPO banning rough sleeping when it was introduced without consultation in 2015. This proved to be an exceptional case. Around 10 percent of all councils in England and Wales have introduced PSPOs banning behaviour linked to homelessness, such as rough sleeping, loitering and begging. When asked about the likely impact of these policies, Helen Mathie, head of policy at Homeless Link, told me: "It's not what we see as an effective tool to try to target homeless people at all."
Sam Hawke, advocacy officer at Liberty, told me: "One of the biggest problems with PSPOs is it allows councils to adopt a really arbitrary view about what's permissible in public space. It's the ban on swearing, dogs, annoyance, whatever that means, all the way through to begging, skateboarding, to leafleting and, really concerningly, to things like protests. It's a really pernicious trend and exactly the kind of thing that people said Asbos were really bad for. At worst, it's socially cleansing areas of individuals who are deemed undesirable."
While some police forces have actively sought PSPOs, others in law enforcement have urged caution. In 2013, Jacqui Cheer was chief constable of Cleveland Police and the Association of Chief Police Officers' lead on children and young people. "I think we are too ready as a society to label what looks like … growing up to me as antisocial behaviour," she said. "When you're walking down a street and might be having a bit of a laugh and a joke, is that antisocial?"
In Wrexham, the council introduced a PSPO banning "causing a nuisance, rough sleeping, consuming alcohol or taking drugs". Chief constable Mark Polin has questioned the effectiveness of such an approach. In July of 2017 he said: "The town centre-wide behaviour order was not our idea, but it is there and we are supporting the fact that it's there. What it gives rise to is a danger you are going to try to 'police' your way out of an issue, which I don't think is what is required here – in fact I am sure of it."
In an article for the journal Safer Communities last year, Brendan O'Brien, a former police inspector who now runs Bluelight Consultancy, an advice service for aspiring police officers, noted that councils were "bypassing the legislative process … which has for centuries safeguarded individuals and communities from excessive and unreasonable legislation". O'Brien pointed to several examples of poorly drafted and vague PSPOs, observing that "a breach of a PSPO can lead to a criminal conviction and, as such, any vague descriptions of an offence should be unacceptable".
None of these criticisms seem to have dampened councils' enthusiasm for their new powers. Close to half of all local authorities in England and Wales have now introduced at least one PSPO, creating an unpredictable and chaotic assortment of laws, introduced with the barest level of scrutiny, and enforced not just by police officers but by council officials. The number of orders continues to rise. In recent weeks, councils have banned street fundraising, horse riding and walking dogs without carrying plastic bags. The potential array of banned activities is, by the nature of PSPO legislation, limitless.
On a drizzly afternoon in late September, Jonny Walker, the busker who found himself banned from Romford town centre, set up his equipment in Doncaster and began to play. Walker had travelled to the town to try and raise awareness of proposals that "would allow police officers and council officials to unilaterally ban people from the town centre just because they might be likely to cause annoyance to somebody". Between songs, he informed passers-by about a far-reaching PSPO that was set to ban activities including rough sleeping, begging, gathering in groups and, bizarrely, touching parking equipment.
"The real principle here is, is your behaviour causing harm to anybody?" he asked. "Is it something that's really genuinely anti-social or is it something that's just a manifestation of poverty, of a lack of opportunity, of hopelessness of your current situation?" Walker called on the council to think again: "Let's not use this legislation as a hammer to beat down on some of the most vulnerable people in our towns and cities."