For the last three years, every couple of weeks or months, a group of LGBT people have gathered in a room in east London and discussed the future of their favourite gay bar. When the meetings first started, in late 2014, the group was sitting in that bar itself, The Joiners Arms, on Hackney Road in Shoreditch – a bar that had played home to thousands of debauched nights, and seen the likes of Alexander McQueen and Wolfgang Tillmans pass through its doors. There were about 50 of them at the meetings, punters who'd heard the bar was going to close and wanted to do something about it. They called themselves the Friends of the Joiners Arms.
"It's hard to put into words what it was about the place. It had a very queer feel. It wasn't clinical in any way, and you didn't know what you were going to get when you walked in," says Amy Roberts, one of the people who set up those first meetings. A lesbian who moved to London from the valleys in South Wales, she describes the strange paradox of The Joiners: a place that was thrilling and exciting, but also a second home. "You'd talk to different people in the smoking area – it was friendly," she remembers of the poky outdoors space. "I always felt comfortable as a woman there, when sometimes in gay male spaces you don't."
A lot of LGBT spaces have closed in London over the last ten years – 58 percent of existing gay venues closed between 2006 and 2016 – and, as with many of these, The Joiners succumbed to the forces of gentrification, doomed to close when landlord David Pollard was informed that his lease would not be renewed. The property had changed hands from a brewer to a property developer, Regal Homes, which had also bought up buildings adjacent to the bar site with a plan to renovate the small strip into luxury private housing. Almost identical circumstances forced the closure of drag pub The Black Cap in Camden around the same time, and the near-closure of iconic LGBT venue the Royal Vauxhall Tavern.
Developers who took over these spaces presumably doubted that, in the age of same-sex marriage and gay dating apps, queer people still cared enough about gay bars to protest their closure. But the campaigns that sprung up to battle them were proof otherwise. In the cases of The Black Cap, Royal Vauxhall Tavern and The Joiners, punters organised coalitions against the announced closures almost immediately, some with street level protests. "We wanted to show developers that we won't take things lying down, that we can play them at their own game using legal mechanisms to resist them," Kate, a Friend of The Joiners told me.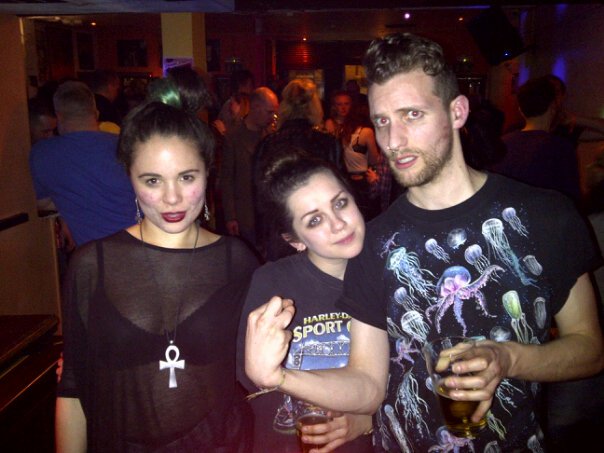 When The Joiners shut its doors for the last time in early 2015, the group's meetings had to find a new home in living rooms and local community centres. The conversation also shifted – from past tense to future; now that the pub was no more, how could they bring it back, and, more importantly, how could they rebuild it into their ideal vision of what a gay bar could be? Taking their cues from The Ivy House, a pub in Nunhead that was bought and eventually run by the community, the Friends got The Joiners property listed as an Asset of Community Value (ACV), which is when a property is deemed by the council to be of special importance to a community group, gaining it extra protection against redevelopment.
Unsurprisingly, Regal Homes were not happy, and when they tried to fight the ACV, local organisations swept to the defence of The Joiners, explaining why it was so vital. Positive East, a local HIV charity which had run HIV testing out of the pub by day, wrote in a letter: "The Joiners Arms has been a trailblazer and a shining example to other venues, of which there are far too few. We need more places like The Joiners Arms, not fewer." Local anti-hate crime organisation No Place for Hate wrote: "Whilst overall there is now greater understanding and acceptance of LGBT people, that discrimination, abuse and violence continues, sadly, not least in our own Borough [of Tower Hamlets]."
The war with the developers waged on and some activists started to lose hope, but a significantly diminished group of Friends of The Joiners battled on, enduring almost two years of meetings in grey council buildings, arguing to Tower Hamlets Council why this LGBT space was necessary. Tower Hamlets Council in turn prevented the developers moving forwards until they made a reasonable offer to the community. Then, in August of this year, something unexpected happened: the developers started to play ball, offering the proviso of an LGBT-run space on the premises of their development. It was the first time in British history that the sexuality of people using a space had been included in a condition for planning approval.
The dilemma the group was faced with was how to proceed with the offer. As Kate put it to me before an August meeting: "Now they've put into plans that they'll include an LGBT space, if we keep rejecting it we're not going to get very far. There was a point when we were like 'fuck developers', but there's only so long we can go on saying that." It was becoming clear that the group wasn't going to get the pub back as it was. This was the best middle ground, even if cooperating with the developers seemed like an un-queer prospect – partnering up with the gentrifier to create a watered down version of the bar.
It turned out this was exactly what the developers had in mind. As Amy explained in the meeting, the new bar would be on the same site, even slightly bigger, and the developers would offer a 12-year lease to an LGBT proprietor with the first year of rent free. But it wouldn't have a late license (the old Joiners stayed open until 4AM) because of possible noise complaints from residents of the flats being built on site. It also wouldn't have a smoking area, and it would be offered up as an empty shell, without toilets or a bar or storage, throwing into question whether a community-led LGBT group would be able to afford to set it up. The group decided to reject the plans as unviable, labelling the offer "a Trojan horse draped in a rainbow flag".
Last night, after another two months of back and forth between the campaigners, council planners and Regal Homes, a decision was finally reached: Regal Homes would agree to grant a 25-year lease to an LGBT establishment, £130,000 to fit out the venue and the same operating hours as The Joiners had before it closed in 2014: 4AM weekends, 3AM Thursday and Sunday, and 2AM Monday to Wednesday. At a time when most nightclubs in Hackney are struggling to get a licence to stay open past 1AM, it's an incredible win for a tiny team of queers. They have successfully done what they set out to do: saved the pub (or, at least, a version of it) and sent a strong message to developers that community organising can speak louder than cash.
When I asked Amy if she's worried about whether, if they won the new space, people would actually come to it, it seemed like it was a question she'd already considered. "I think people will come, both old and new. A lot of people say that since The Joiners closed they don't go out that much – but maybe that's because it wasn't there. It was rammed till the day it closed."
She also pointed to a report on the loss of LGBT spaces that came out last year, from UCL Urban Lab, which found community-run spaces were increasingly favoured over commercial LGBT venues like G-A-Y. This was the plan for The Joiners, she said: to reimagine it as even more inclusive than it was before, serving the community day and night.
Peter Cragg, another Friend of The Joiners, explained how they hoped this would work practically. "We're hoping to turn the campaign group into something like a social enterprise now, to fundraise and form a community benefit society, which is what the Royal Vauxhall Tavern campaign are doing. You basically say to anybody who wants to buy a share that they get one vote, and then elect a steering committee and managers for the space. Governance would be community-led." And on the commercial side? "We'd raise startup costs for stocks, bills, staffing, reserves, and then run the space not-for-profit or private gain, but as a community society."
Before any of this can happen, the group must get themselves into a financial position to launch a successful bid on the lease of the venue when it goes out to tender. As it stands, the new Joiners Arms could technically go to any LGBT-run organisation, meaning that all their hard work might result in a different group with more commercial aims taking hold of the space. If that happens, says Peter, they will have at least safeguarded one new LGBT venue for the next quarter of a century, and demonstrated that even the council recognises "the community needs a space to express ourselves, to drink, dance, love and learn".
Could they have made a serious statement about the future of gentrification in London, too? "Together with sister campaigns like We Are the Black Cap and RVT Future, it does feel like we are turning the tide of LGBTQ+ closures across the capital," says Amy. "I hope it's going to have long-lasting effects, in that developers will be aware that if they try to bulldoze a space used by a minority group they might have a PR disaster on their hands, or it's going to cost them a lot more time and money to get things approved."
In the end, she said, the campaign turned out to be about more than her favourite gay bar closing; it was about standing up for LGBT rights in a city that seems indifferent to anything except capital.