I tēnei tau, ka haere au ki te whenua o Waitangi ki te tirotiro ai i tēnei ra. He whēuaua haere i tēnei wā o te tau, ehara he rā whakatā ā-ture ki au.
Ko 2003 te tau anake i haere ahau ki Waitangi. Nā, nō te tūruawē pō, ka taraiwahia taku māmā i a māua. I te ata pō i tae mai māua. I maumahara ahau i ngā waka taua e rere ana mā runga i te moana kānapanapa. Kī puru ngā mōtēra katoa, puta noa ngā tāngata ataahua! Ka moe ahau ki roto i te wāhi mo te kai, me kore e mahara au ki te mauria kākahu.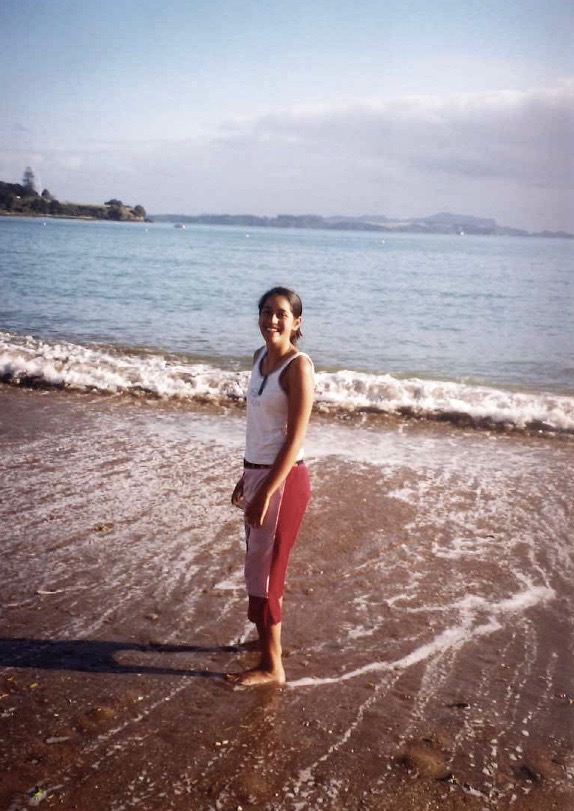 He tamaiti tāone au, he Pākehā taku māmā. Kīhai taku papa i ako i ngā Tikanga Māori na te mea ehara ia e noho ki te kāinga. He mea nui taku haerenga ki Waitangi i tērā wa.
I ako au i Te Reo kei roto i te Kōhanga Reo, me te Rumaki Reo i te kura. I tēra wā e noho au ki waenganui i ngā Ao e rua. Kōrero Māori i te kura, kōrero Pākeha ki te kāinga. I tēnei wā, he kaha rawa ngā āhuatanga Pākehā ki roto i tāku koiora. He arahanga ahau kei waenganui i ēnei ao e rua.
I tēnei rā o Waitangi kia manatu a mātou i ngā rārangi motumotu i takahanga te Kāwanatanga o Aotearoa me te Kuīnitanga o Inarangi. Kua whawhai tonu mātou ki te whakaohoohotia ngā tāngata o Aotearoa. Ā ka whakahore ana ētahi i te kaitiakitanga o Te Reo ma runga it te kawepūrongo (Hobsons Pledge, Mike Hosking etc) . Me pehea mātou kia mau i Te Reo Rangatira kei waenganui i tēnei hamuti kaikiri?
I te wā ka hainatia Te Tiriti o Waitangi, e pīrangi ngā Rangatira (i hainatia) kia rangimārie ngā Iwi o Aotearoa. E hiahia ā mātou tūpuna ki te mau i ā rātau rangatiratanga kia noho motuhake.
Engari, kore rawa te putanga.
He uaua ana ki te tauwhawhai i ngā tāngata kaikiri e āraia ki roto i ngā paetara tuawhā. Heoi anō, he ngākau whakaute māu mo ngā tāngata kei roto i te hunga pāpāhoi e mahi whakaritea. Nō muri noa mai nei i te hainatanga o Te Tiriti he whatiwhati tonu te maha o te iwi.
Te "CPTPP", he pepa anō.
Kia matakana tonu ā mātou ia Pirimia Jacinda Ardern me te Rōpū Reipa. Ki tōku nei whakaaro, kua whakaarorangitia noa ake te Kāwanatanga o Aotearoa ki te hūtoto maroke ia mātou rawa taiao. Ko tera te take i pōtitia ahau ia James Shaw me te Rōpū Kākāriki. I mōhio au e kore e tautoko ā rātou i tenei whakatureture takakino.
Me kore rawa a Winston Peters e timata ahau.
He kaitirotiro ahau i tēnei rā o Waitangi. I Whaiwhakaaro mai ki ngā mahi ā mua, ngā hohenga i nāianei, me ngā putanga ā tōna wā. Ko te rā o Waitangi he wero mō te porihanga ki te tūtohungia i ā mātou takohanga ki te ako i tēnei hītori. He kōrero hauora tēnei kia whakamahungia te tauware kūare kei roto i ā mātou whenua.
This year, I will be going to Waitangi to observe this day. This time of the year is quite difficult as this is not just a public holiday to me.
2003 was the only time I went to Waitangi. In the middle of the night my mother drove both of us. We arrived just before dawn. I remember, waka taua flew across the glistening ocean. Every motel was full, beautiful people everywhere! I slept in an eating area, and I forgot to bring a change clothes.
I'm a city kid, my mother is Pākehā. My father did not teach me Tikanga Māori because he didn't live with us. This trip to Waitangi was a big deal to me at that time.
I learned Te Reo at school from Kohanga Reo to Rumaki Reo. At that time I lived in two worlds. Māori at school and Pākeha at home. At this moment there are a lot of Pākehā aspects to my life. I have become a bridge in the middle of these two worlds.
On Waitangi day, let us remember the broken lines that were abused by the New Zealand Government and the British Crown. We're still fighting to awaken the people of Aotearoa. Some take it upon themselves to deny everyone's guardianship of Te Reo on the News (Hobsons Pledge, Mike Hosking etc.). How are we meant to keep the language alive in the middle of this racist shit?
At the time the Treaty of Waitangi was signed, the intentions of the Rangatira (that signed) was to bring peace to the Iwi nations of Aotearoa. They wanted to keep their sovereignty and remain independent.
But that was not the outcome.
It's hard to contest racist people when they are protected by the barriers of the fourth wall. In saying that, I appreciate all the people in the media who are working hard to make it right. The signing of The Treaty was so long ago and yet a lot of our people are still broken.
The CPTPP, another piece of paper.
Let us be wary of Prime Minister Jacinda Ardern and The Labour Party. In my opinion, the New Zealand Government seem intent on bleeding dry our natural resources. This is part of the reason why I voted for James Shaw and The Green Party. I knew they would contest such a destructive agreement.
Don't get me started on Winston Peters.
As an observer of this day I am a witness of what has happened, what is taking place and what is to come. I believe that Waitangi day is a challenge for our society to acknowledge our responsibility to remember, to learn from this history. Healthy discussion around this day promotes understanding, something that can heal the ignorant rift that plagues our country.