Former resident of Vancouver Island Woodwynn Farm, Kylie | All images courtesy of author.
There wasn't one defining moment where Kylie knew she needed to get clean and sober. It was a culmination of things: a childhood filled with trauma, subsequent drug and alcohol addiction through her late teens and twenties, multiple stints in prison. Then, finally, the heartbreaking ordeal of having her child taken away from her.
By the fall of 2016 Kylie decided enough was enough. After packing up all her belongings into a grey Toyota Tercel—minus a valid license or insurance, but boasting a large, yellow "ANTI HERO" bumper sticker—she drove to a 193-acre farm on Vancouver Island. It's here she met Richard Leblanc, founder and executive director of Woodwynn Farms, and the person she says helped turn her life around.
"Richard is one of the most amazing people I've ever met in my entire life. He's absolutely like no one else; if I could compare him to anyone it would be my grandfather. He [Richard] is the most patient, kind person I've ever met," Kylie told VICE. "He's selfless [and] truly believes in this program."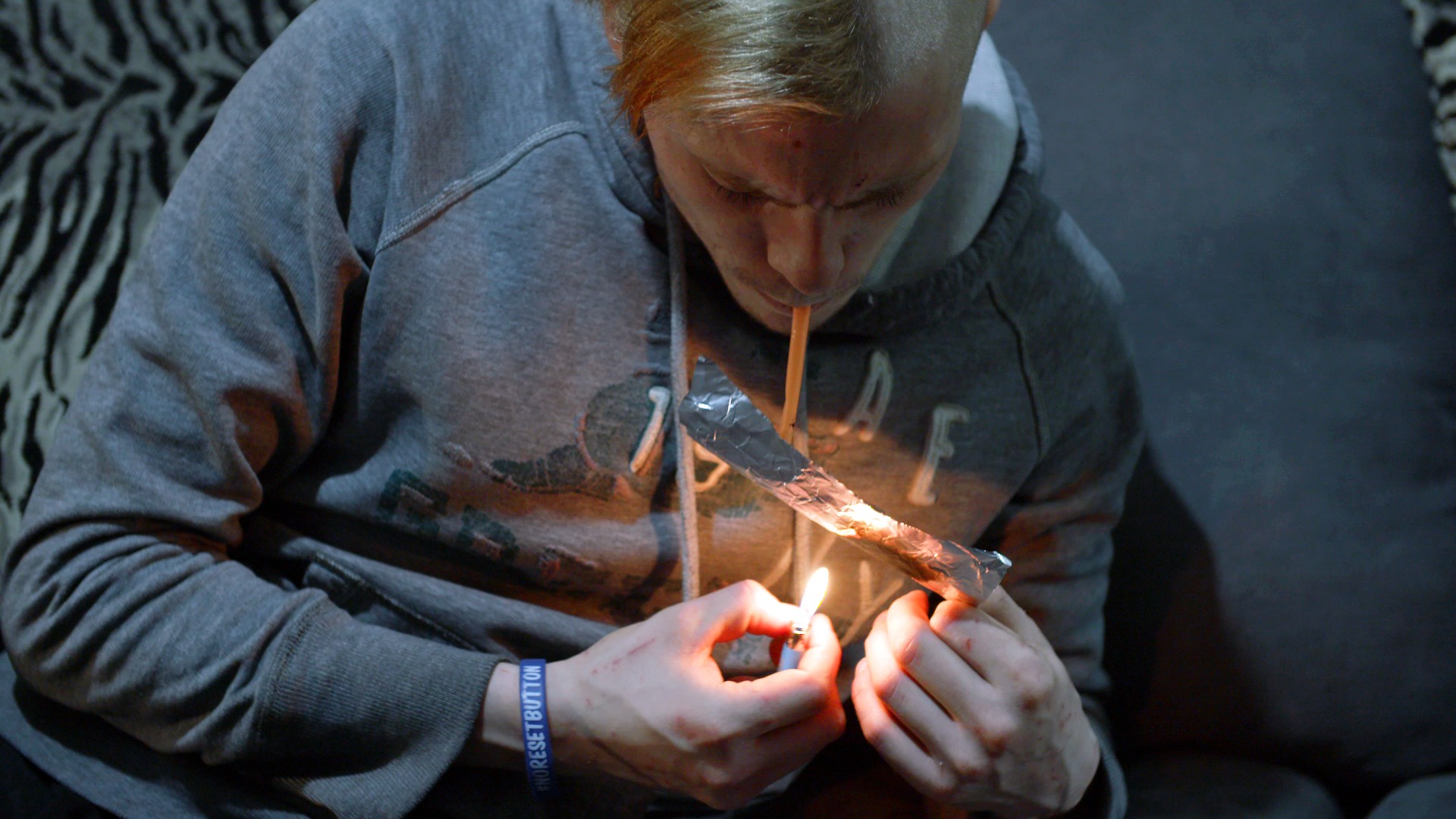 The farm, which is located in the small neighbourhood of Brentwood Bay in Central Saanich, was purchased for $4.65-million in 2009. Woodwynn is privately funded by philanthropic investors, but Leblanc is primarily responsible for running the farm's therapeutic program. Leblanc modelled the therapeutic community program after a place in Italy called San Patrignano, Italy, an international rehabilitation community. Leblanc told VICE that a lot of people who come to Woodwynn have lost their self-worth; Woodwynn's philosophy is designed to try and help re-discover feelings of self-worth.
Although it has struggled to become fully operational, Leblanc says Woodwynn has helped more than 60 people turn their lives around. But now, after almost nine years of operation, the farm might have to close their doors for good. If that happens, Kylie—and three other farm residents in addiction recovery—will be homeless.
"I don't want to leave, not yet, in time I would plan to leave, but I don't feel like right now I want to leave, but I'm forced to leave, and I don't know what that looks like… I am definitely worried about it," Kylie said.
This all comes at a time when the BC Coroners Service announced that in 2017 they were more than 1,400 illicit drug overdoses in BC—54 percent more than in 2016, and 21 months since the province declared a "public health emergency" due the staggering number of drug overdoses.
The first sign of trouble came on November 9, 2017 when the provincial Agricultural Land Commission refused an application from Leblanc for non-farm use. Leblanc wanted to use less than hectare of land (the farm is almost 78 hectares) to house approximately 40 more homeless people and let them work on the farm. But the ALC denied the application, citing that the ALC "is of the opinion that farm worker accommodation should be commensurate with the level of agriculture on the property. Based on the current and proposed agricultural activity identified in the Application, the Executive Committee finds that the level of agricultural production, both current and proposed, is insufficient to justify the placement of 40 farm worker accommodations."
Then—twelve days before Christmas—the local municipality slapped "no-occupancy orders" on some of the farm's trailers and structures, citing safety issues (there had been a trailer that caught fire at the farm a few weeks previously that prompted an investigation; no one was injured in the fire) and lack of permits as reasons for the eviction notices. However, Leblanc fought back and defied the orders, and all the members staying at Woodwynn refused to transfer to a shelter in Victoria (Kylie told VICE that one of the last times she stayed at a shelter she relapsed back to crystal meth).
Today, Kylie, 35, is 15-months clean and sober and fills her days wading through "pig shit," pitchfork in hand, with half a smile on her face. Six days a week she's awake at 4 AM, attends a mandatory yoga class and then has breakfast with everyone staying at the farm (no one is allowed to eat alone at Woodwynn). Next there's a mandatory morning meeting, then it's off to feed the chickens and pigs and work on the farm, take a break for lunch, work some more, devour dinner, and head to bed. It keeps her mind busy, her body active, and most importantly, it keeps her connected to a tight knit, sober community.
"The forgiveness and understanding that you can make mistakes and then just keep going and these people are still loving you, still caring about you, forgiving you… letting you learn from them and helping you grow; I think that's something I never had," Kylie told VICE.
In addition to its therapeutic program, geographically Woodwynn is a near perfect place to try to get sober. It's more than a 30-minute drive from downtown Victoria, which keeps Kylie away from the drug filled corridor of Pandora Street. Every day is structured so everyone is constantly engaging in healthy activities. There's pigs, chickens, cows, a "Peace Garden," two greenhouses, and acres of green pasture to walk on. There's a market open to the public where people from the community stop in to buy local eggs, herbal teas, products that people like Kylie have helped create by working on the farm. There's also a woodworking shop, a games room, and a farm house built in 1901 that serves as the dining hall. There's no padded rooms, no institutional like walls or fences—without the occupation of Kylie and three other residents in recovery, it would appear to be just another picturesque Vancouver Island farm.
Over the nine years of its existence, Woodwynn has not been without controversy. Neighbours have complained about the farm, primarily citing safety concerns. More recently, some neighbours have written opinion pieces supporting the ALC and municipalities' decision to deny Woodwynn a chance at accommodating more people working through addiction and housing challenges.
The municipal government of Central Saanich also has been at odds with Woodwynn. In addition to the eviction notices put on buildings on the farm in December, in 2013 the municipality slapped a no-occupancy order on a barn, and in 2014 they filed a civil claim to try and shut the farm down. Mayor of Central Saanich, Ryan Windsor, did not respond to multiple requests for comment from VICE (it should be mentioned in December the Central Saanich council had a question and answer period regarding Woodwynn. Mayor Windsor "recused" himself just prior to the meeting after it was revealed the he had a friend staying in a van, on his property, which, ironically, is within the ALR).
Leblanc told VICE that when BC Premier John Horgan was recently elected he had the opportunity to meet him at a celebration at the Victoria Legislature. Leblanc claims that Horgan told him "finally I am in a position where I can help you." However, Leblanc said that since then he's reached out to the Premier several times for assistance but claims he has never heard from him.
VICE did reach out to the Premier's office and received the following email response from Jen Holmwood, deputy communications director: "Mr. Leblanc and his colleagues have put a lot of passion and care into Woodwynn Farms and the Creating Homefulness Society, and the Premier and our government have been appreciative of their work over the years. In fact, the Minister of Mental Health and Addictions Judy Darcy, and staff from the Ministries of Housing and Agriculture met with the Creating Homefulness Society in January to discuss the issue. However, decisions by the Agricultural Land Commission and the District of Saanich are made independently, and we are unable to interfere with that process… The government will be working with BC Housing and Island Health to ensure that Woodwynn residents impacted by any changes are connected to appropriate housing and supports." (Holmwood incorrectly referred to the District of Saanich. Woodwynn Farms is located in Central Saanich).*
Leblanc says the police have only been called to the property a handful of times because of the people staying on the farm, but that they've also been called on unruly neighbours who need to be escorted off the property. Despite those run-ins, it appears a good portion of the community of Central Saanich supports the farm. In the farm's market guests constantly ask staff how they can help support the farm and the farm's guest book is filled with positive and reassuring comments: "I think it's wonderful what you're doing here," and "So sorry we didn't come sooner, we hope this place survives!"
Currently Leblanc hasn't found a solution on what to do. In order to keep the farm operational, Leblanc has to find a way to pay, or raise, the $5-million dollars in debt owed to the farm's investors. He's contemplated putting together some sort of crowdfunding campaign, but mostly he spends part of his days at the local library educating himself on commercial mortgages and foreclosures. What he really needs is an investor, or some organization, to swoop in and help pay back the debt. Leblanc says he'd had some people approach about purchasing the farm for their own use, including those in involved in the budding medicinal marijuana industry. But for now, Leblanc refuses to give up.
Part of Leblanc's refusal to quit comes from public support including emails, letters, and conversations from people who have lost friends and family to drug overdoses. One of the more shocking letters Leblanc has received was from a mother whose son died of an overdose. Included in the letter was a photo; a photo of her standing in front of her son's open casket.
"You receive that kind of email and those kinds of messages from the public and the people who are affected, how can I not continue?," he says. "It's a crisis that needs to be treated like a crisis."
Leblanc says that if the public wants to help they can write letters to their local council and to Premier John Horgan in support of Woodwynn Farms. He added that if you're in the area stop by for a visit and sign a petition in support of the farm and the therapeutic rehabilitation program, or simply visit the Woodwynn Facebook page.
As for the fate of the three people, including Kylie, who are still staying at Woodwynn, the future looks uncertain.
"They find it very unsettling, they feel abandoned, they feel frightened…life outside looks a bit like Russian roulette to them," Leblanc said. He added that if the three remaining residents of the farm are forced into a downtown shelter they know they're going to be exposed to drugs and drug users. They'll have to look for safe housing and, eventually, a job. Leblanc said that he's confident they can eventually get a job, but he's not so sure they're at a point where they can keep employment, "The point is to get them to the point where they're so solid within themselves that they can go through life's inevitable setbacks and not go back to their addiction and they're just not ready…"
For Kylie, she's just not ready to leave Woodwynn, "My little girl is in Alberta, I just don't want to go back their quite yet, I feel like I need to make new memories, I don't have any negative things for Vancouver Island… I have a couple of positive friends, for me it's like a new beginning."
Follow Tyler Hooper on Twitter.
*Story updated February 14, 2017 at 4:30 PM PST.