Image: Mark Noack
Two weeks ago Aaron Grossman was surveying the Stevens Creek Trail in Mountain View, California—home of the Google headquarters—when he saw clusters of bicycles abandoned in the creek about 15 feet below him. They were colorful Google bikes—the kind the company provides free to its employees to get across the sprawling campus.
The creek is mostly dry this season, so Grossman used an access trail to make his way down to where the water would normally course through. He then started the arduous task of pulling mangled Google bicycles to higher ground, away from the creek, and contacted Google to pick them up. A few days later, he saw that some of the same bikes had been thrown back down.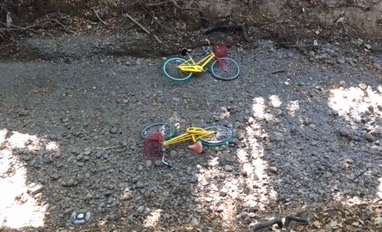 "I think someone has a mental issue, or a mental problem with Google or bicycles or both," said Grossman, the executive director of Friends of the Stevens Creek Trail, a volunteer organization that protects the creek and its surrounding environment, over the phone. "Or maybe he doesn't even like the creek."
Google's approximately 1000 bikes in Mountain View are one of its most visible perks, and the company has publicized its efforts to make Silicon Valley as bike friendly as Copenhagen. But earlier this week, local newspaper The Mountain View Voice reported that there was a "graveyard" of Google bicycles in the creek (Grossman says there were actually about 12 to 15).
And while the bikes in Stevens Creek might be the product of vandalism, this isn't the first time the bikes have been abandoned in this part of Silicon Valley. A year ago an r/mountainview subreddit user action_potato asked: "I'm curious about the sheer number of unattended/unsecured Google bikes everywhere (I've mostly seen them on Castro or near the caltrain station). Are people just taking them for a ride and leaving them wherever? Am I allowed to ride them? :O"
The comments of that post confirmed that the bikes are often left stranded across the city. Some users said bikes were stashed behind apartments in Mountain View. Others called them "litter" and threatened to kick them to the curb for blocking the street.
In the comment section of the Mountain View Voice articles, local people also complained about their own responsibility in keeping the bikes on Google's campus. "Google bikes litter the streets of my neighbor [sic] each and every day. There is absolutely NO EXCUSE for this. It is not up to Mountain View, Sunnyvale, Palo Alto or any city experiencing the influx of Google bikes to round them up and return them to Google," wrote a commenter called RoxieK.
I also found several photos of abandoned Google bikes on Instagram. One account is simply called Abandoned Google Bikes and features a handful of photos of bikes lying on their sides in bushes or on sidewalks. The Instagram hashtags #googlebike and #foundgooglebikes are filled with more posts of lost bikes, some that look like they're just wasting away in the woods, others in front of houses.
It's not hard to take a Google bike off campus right now. The bikes aren't docked, and are generally not tracked, though a Google spokesperson told me the company is currently piloting a GPS program on some of them. A team with a truck is responsible for patrolling the campus and the city to pick up and redistribute the bikes throughout the day, but some still do go missing.
While the incident at the creek might seem malicious, I was told Google isn't too concerned about this particular case, and that it sees an uptick in missing bikes every summer because of nearby concerts. The company is, however, going to step up its staffing around bikes.
Meanwhile, Grossman said he was heartened that he wasn't the only person cleaning up the bikes in the creek. He noticed that someone else had started moving the bikes away from the waterway when he was gone, which could help protect the creek from blockages and debris.
"It's nice to know there are constructive people along with destructive people," he said.
Get six of our favorite Motherboard stories every day by signing up for our newsletter.