Photos by Ron Chenoy-USA TODAY Sports and Jerome Miron-USA TODAY Sports
The women's MMA game, or WMMA for the aficionado, is still in a raw state. The UFC has been around for 20 years but only began incorporating women in 2013. Money governs how fighters can train and how athletic talents look at the sport when considering their career options, and until very recently WMMA was a no-money game.
Nowhere is this more obvious than in the UFC women's featherweight division—which exists purely to put a belt on Cris Cyborg while the UFC fails to find opponents for her. We are only two years removed from Ronda Rousey knocking out Bethe Correia and people pretending she was ready to go professional as a boxer. Hell, the other victim of Rousey's right straight and a one-time UFC title challenger, Alexis Davis, was recently put into a fight with Cindy Dandois and had a rough go of it on the feet while Dandois was striking like this.
That paints a bleak picture for WMMA, but these things take time. Women's combat sports have always been less lucrative than men's but with the UFC, Bellator, and now a whole heap of other companies promoting women on an even footing with men, suddenly world-class female fighters are coming over from boxing and kickboxing to ply their trade in MMA. From boxing, Holly Holm came to MMA and won the women's bantamweight title. From kickboxing, the UFC has been gifted the talents of Valentina Shevchenko, Germaine de Randamie, and the woman who stands as perhaps the greatest all-around female technician to ever enter the cage, Joanna Jedrzejczyk. This weekend, Jedrzejczyk defends her UFC straw-weight title against one of WMMA's better home-grown strikers, Rose Namajunas.
---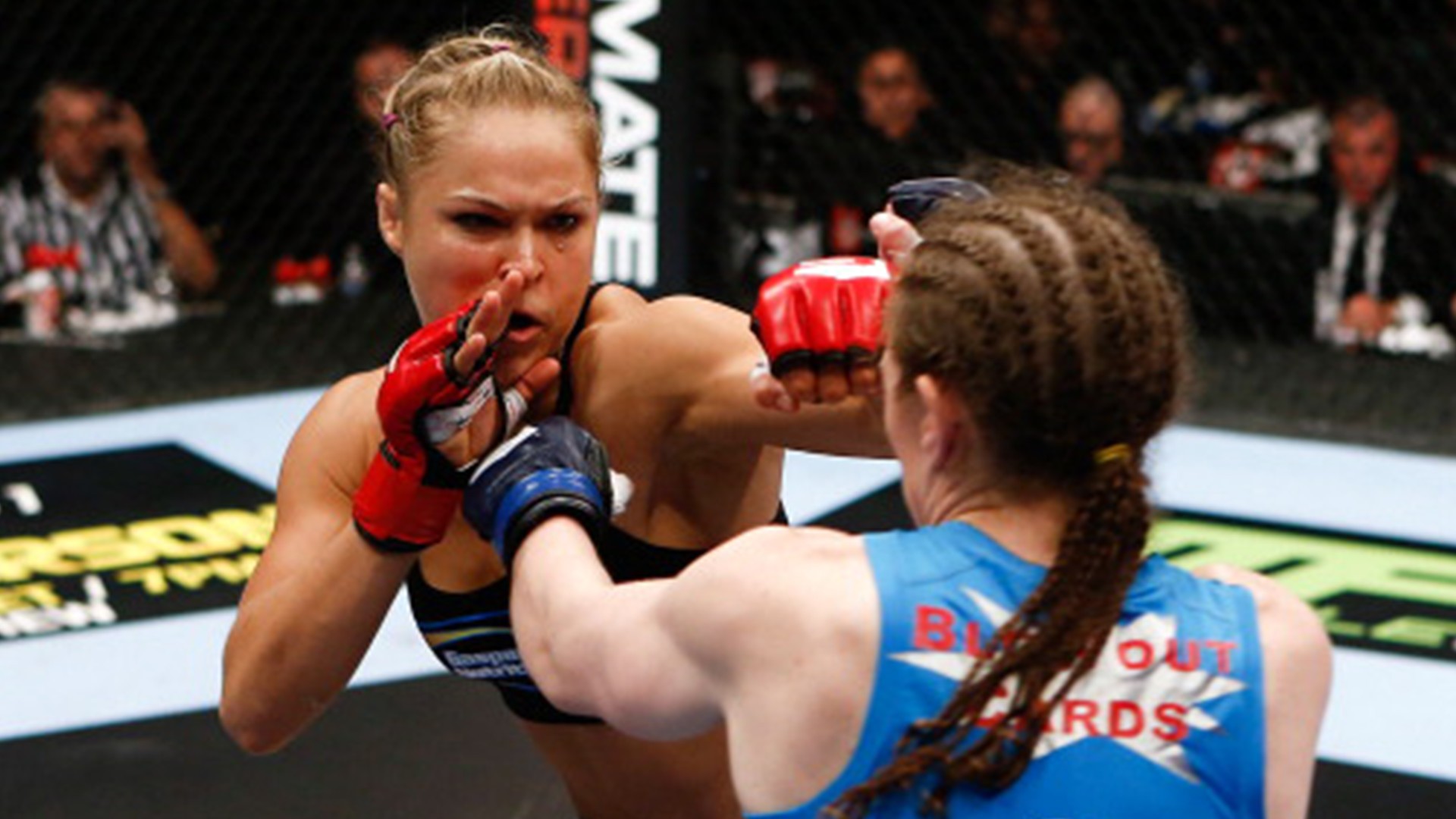 ---
Jedrzejczyk's striking chops are no hype job. This isn't Ronda Rousey pumping one-twos and getting by on the level of her opponents. You could crop the opponent out of any of Jedrzejczyk's fights—what she is doing before and after her engagements is great. She takes evasive action immediately after firing, she breaks the line of attack and pivots away from her opponent perfectly, and her combinations are crisp and well-practiced. She throws lesser strikes to set up more significant strikes, she feints to draw reactions and capitalizes on them, and she does a dozen other things that separate the savvy veteran from the average MMA striker. Honestly, some of her opponents have looked fairly underwhelming on the feet, but Jedrzejczyk still kept it clean and clinical.
It has always been understood that Jedrzejczyk's strong suit is striking. Even though her takedown defense has proven excellent, fans have wanted to see her put in the rough spots. They wanted to see how she'd cope with being flattened out on the ground or beaten up against the fence. Claudia Gadelha and Jessica Andrade seemed the pair to test that. Gadelha gassed out in her attempts to hold Jedrzejczyk down, and Andrade was masterfully undone on the outside.
For a lesson in circling out, Jedrzejczyk versus Andrade is a must. When Andrade surged in, Jedrzejczyk would step back and then off at an angle to the right. She didn't even leave the black interior octagon drawn on the mat of the UFC cage for most of the fight, and when she did get caught with her back foot along the fence, she would switch-step into a sidestep and cut a tighter angle in the space she still had.
Jedrzejczyk's jab is the sharpest in any of the women's divisions and it is an educated one, laying the foundation for more damaging blows. If her opponent starts parrying, she'll fling in the long left hook. If they start slipping or ducking, the champ will throw up the left high kick. And if they get caught standing still for too long, she'll shoot out the right straight and do some damage. If you rush her, she will angle off and deflect until you lose the will or the wind, and if you slow it down she will pick at the stitching with her jab until it all begins to unravel.
We have sung the praises of the straw-weight champion many times over the past few years, but this weekend's challenger is a little different. When Andrade and Gadelha met Jedrzejczyk, it was assumed that they would want to trap her and rough her up. The same was true of the hard-nosed Karolina Kowalkiewicz. For Rose Namajunas, that might not be the case.
Namajunas started her professional career with all eyes on her. She won her second professional fight by flying armbar in just 12 seconds, leaping upside down as soon as she entered the clinch. On The Ultimate Fighter she ran through three opponents, submitting each, and it was hinted that she would be the next Ronda Rousey.
Namajunas's in-your-face aggression seemed to be her best asset until she met Carla Esparza for the new UFC straw-weight title, where that aggression immediately proved her undoing. Namajunas gave up her enormous reach advantage by leaping at Esparza every time she had distance to strike, and Esparza took her down and roughed her up, getting the submission in the third.
Namajunas went back and rebuilt. Trevor Wittman can often be heard in her corner, calling for "fundamentals," and her heeding his pleas has started to pay dividends. Namajunas fell short in an informal title eliminator against Karolina Kowalkiewicz, but it was a close fight. In the early going she was drawing Kowalkiewicz out, fading away from her strikes, and countering with good right hands. The longer they spent at range, the better Namajunas looked.
The problems came when Kowalkiewicz got to the clinch and hammered in knees to the midsection, which quickly took the wind out of Namajunas and slowed her feet.
Against Michelle Waterson, Namajunas walked the line between applying forward pressure and waiting to counter. Waterson lashed out with side kicks while Namajunas looked for dominant foot positioning against the southpaw. On two separate occasions, Waterson let Namajunas get to a dominant position as she stood completely side on. The first time, Namajunas lined up her right hand.
The second time, Namajunas followed with a high kick and sent Waterson to the canvas. Namajunas followed and soon tapped Waterson out with MMA's most common finish, a rear naked choke. It was enough to earn her the shot at Joanna Jedrzejczyk in a division rapidly running out of top names who have not already had a crack at the champ.
We will assume that Namajunas's game plan does not revolve around overwhelming Jedrzejczyk. This writer cannot recall a fighter attempting to draw Jedrzejczyk out and fight elusively. The champion puts together marvelous combinations against cornered opponents who have tired or had their wills broken, but we haven't seen her in with a good distance fighter in MMA. The problem Namajunas faces is that she just hasn't demonstrated that she has any pop in her blows. Kowalkiewicz ate plenty of perfectly timed counter right hands and barely flinched.
It would be in Namajunas's interest to stay out in the open and to limit the exchanges. Allow the champion to lead whenever possible, simply evade most attempts, and score a good counter when it presents itself. The great thing about using footwork as your first line of defense is that it deters the combination work that so many fighters have presented to Jedrzejczyk by constantly walking forward.
Namajunas will often hang her lead hand out, showing the jab, but very rarely connects with it. The advice for fighting a great left hooker is "never hook with a hooker," but against a great jabber it is often a good idea to try and time the jabs. Muhammad Ali was given hell through three matches with Ken Norton because Norton timed him each time he stepped in to jab.
The remedy is simple—catch the opponent's jab in your right palm—but many great jabbers get out of the habit and begin slamming in jabs with their free hand down by their chest. Hell, Claudia Gadelha did it seemingly by accident and dropped Jedrzejczyk. Dipping counter jabs to the chest and face might well prevent the champ from building longer combinations and limit the pace of the fight to sharp shooting. A good counter jab can also raise the opponent's head and stand them still for the right hand.
If Namajunas showed any aptitude for body hitting it would be good to see her use long right straights and jabs to the body to more easily sneak in the right straight on the lead in the later going. Where it would be good to see Namajunas take more care is with her kicking game. A well-placed head kick from a good angle is a fight finisher even if you lack hitting power, but Namajunas is often too keen to kick while crowded or throw up weird hook kicks from way too far out—both of which have seen her lose her balance and wind up on her back or rushed into an awkward exchange.
For Jedrzejczyk, her opponent's legs might be a good target in this bout. Namajunas's long, side-on stance presents her lead leg to be punted, but she will often bounce back out of range and then return with the counter. At the same time, Namajunas's game relies on a lot of straight retreat. While that was perfect against Kowalkiewicz's painfully telegraphed walking flurries, Jedrzejczyk is far more likely to show feints and have Namajunas running around the octagon for little effort. Feints and double jabs into low kicks seem like they would work a treat against the challenger.
Jedrzejczyk does great work in the clinch, but unless Namajunas initiates it or she is coming out worse on the feet there's little reason to go there. Kowalkiewicz did show how badly winded Namajunas can be by a few good body blows, though, and how, as a footwork-based fighter, these can basically ruin her entire game plan. Namajunas might do well to try and get the top of her head below Jedrzejczyk's face after attempted right hands, just to stifle the clinch attempts and give her space to stiff arm off. And, of course, a cheeky "nodder" can open a cut if you're lucky.
If there's one weapon this writer wishes Jedrzejczyk would use more readily it's her left hook. It is solid and crisp, but she seems to let it fall by the wayside in her more jab-centric performances. As a counter punch in exchanging range, however, the left hook could be a killer against Namajunas. After her right hand counters, Namajunas will often duck her head and swing a left almost overarm as if swimming front crawl. Peculiarly, she gets away untouched more often if she doesn't try to follow her right hand with a good left hook or jab to reset. By readying the counter left hook for when Namajunas's right inevitably comes and throwing it immediately afterwards, Jedrzejczyk might be able to score with a real telling blow or two.
Rose Namajunas is being somewhat overlooked in this match, but she represents a change in pace for Joanna Jedrzejczyk. At her best, Namajunas is game and gutsy but also measured and patient. It might make for a boring fight if she tries to limit the action and sharpshoot counters, but it could well tell us something new about Jedrzejczyk and test her in different ways.
Pick up Jack's book,
Notorious: The Life and Fights of Conor McGregor
and follow him on Twitter @JackSlackMMA.