Holloway Prison in London was once the largest women's detention center in western Europe. But the historic eight-acre site and its buildings—which housed everyone from hunger-striking suffragettes to notorious serial killers—has gone empty since the closure of the jail in 2016.
Until Sisters Uncut stepped in, that is. On Saturday, the feminist direct action group occupied the visitor center of Holloway Prison, which once hosted family visits for inmates.
Activists managed to gain access through a window during a protest, but say that they were quickly surrounded by officers from six police vans.
"We are constantly told that there aren't enough police [in the streets], yet they had 50 police to surround a peaceful protest when we're trying to do something that is positive for the community," says one member of the group, who preferred to stay anonymous.
The standoff lasted ten hours, during which people couldn't leave to go eat or use the bathrooms as this would have meant losing the space. Some sisters had pizza delivered over the police cordon and played music to kill time.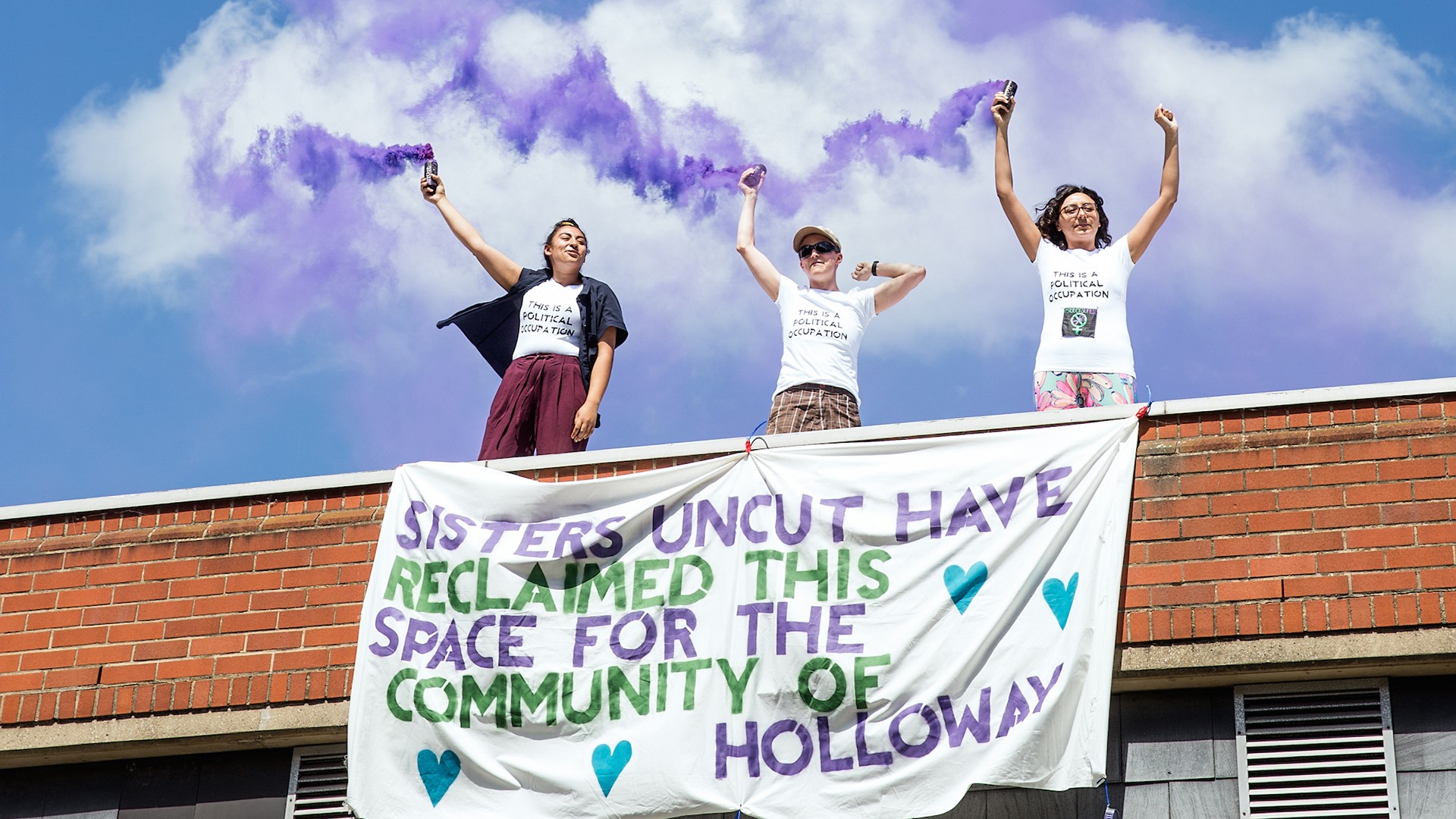 "Just before it got dark, they started to try and scare us by knocking on the windows and sleazily smiling at us, and it was so clear that they were just bored," she adds. When the police realized that this was a legal occupation and not a crime scene, they left at about 11 PM.
---
Watch: The Riding Club Helping Disadvantaged Teens Aim Higher
---
Now that they're inside, Sisters Uncut are asking the UK government to turn the visitor centre into a women's building for ex-inmates and domestic violence survivors.
To show that their demand isn't impossible, they're hosting a community festival at the occupation for a week. The events range from quilt-making workshops to yoga classes, as well as presentations by different local political groups.
The redbrick prison building is now a bustling women-only centre accessible to any self-identifying women—there's even a crèche, so local moms have been dropping by with their kids.
When I come to check the space out, the atmosphere is at odds with the building's bleak history. As recently as January 2016, this was where women like Sarah Reed—a victim of past police brutality who suffered from long-term mental health issues—died in custody.
Now the vibe is halfway between feminist haven and summer camp common area, with makeshift banners, colorful bunting, and a counter filled with free food and sanitary products. It feels warm and welcoming, and apart from posters stating the space's rules, it'd be easy to forget that this site in one of political occupation.
An NHS campaign group called Docs Not Cops are running a workshop in front of dozens of women. They're discussing the insidious collaboration of the NHS and the Home Office to clamp down on undocumented migrants.
I seat down with members of Sisters Uncut to find out more about why they chose a prison to defend vulnerable women's rights. Their response is to focus on the circumstances that led to these crimes—46 percent of women in prison, they explain, have experienced domestic violence themselves.
"Most women in prison are carers. A lot of the inmates went in for crimes supporting other people, stealing for their children," says 22-year-old Niamh. "Society looks at prisoners as monsters. This comes from this flawed Victorian idea of prisoners, and Sisters Uncut reject that narrative."
Aisha, 25, says that most of Holloway's prisoners were serving short-term sentences. Now that they have been moved to two overcrowded prisons in Surrey, two hours away from their local community, their prospects for rehabilitation are slimmer. In the UK, 81 percent of women are in prison for nonviolent crimes.
Besides the women's building, Sisters Uncut want affordable public housing to be built on the eight-acre land. The Ministry of Justice currently owns the land and have contracted GVA, a property agent to manage the sale. Considering GVA's track record, Sisters believe the land will be sold on the private market to build luxury apartments.
I play the devil's advocate: What's not to like about a condo? It's social cleansing, they reply. "GVA have a pretty horrible history of gentrification projects, and were responsible for the homeless spikes in Manchester," explains Aisha. "It's not looking good if they have a say over the sale." Both GVA and the Ministry of Justice were unable to comment on the Holloway occupation.
Three days ago, the Conservatives unveiled plans to crack down on domestic violence, including the appointment of a national commissioner tasked with supporting victims. Last year, Theresa May also announced an extra £20 million for refuges and charities. Sisters Uncut say that this isn't enough.
"Some of the bigger service providers say they are happy with that figure. It feels very tokenistic," says Niamh. "There's no mention of how this money will be distributed."
"Especially if it's a centralized fund," adds Aisha, "there's no mention of what will happen to small specialized services for BME [black and minority ethnic] and LGBT women."
It's hard to believe the Tories' revamp as champions of domestic violence survivors, considering they've overseen a 38 percent cut to domestic violence services in London since 2010, forcing 17 percent of refuges to close down.
While a late evening debrief meeting takes place, I ask another activist about the amount of DIY work that goes into making the space look so homely. Turning a prison extension into a place you want to hang out in is pretty impressive, especially considering none of them get paid to do it.
"The reason people put so much of effort into everything is because we are all incredibly good friends," says Jasmine. "Although it's knackering, it does still seem worth it. I'm working three zero-hour contracts on the side and have just finished university, so that's hell."
It feels like Sisters Uncut are part of the recent push to politically engage young people in ways that don't feel dry or inaccessible. "What we do is political, but it's also fun. This action is based on such a simple idea, it doesn't even feel radical," Jasmine adds. Of all the campaigns I have been a part of, it's the most realistic. We know our goal, and we can definitely get it."
"Safe refuge" and "public good" can often seem like empty words, but for victims, they're a matter of life and death. The thought of anyone being forced to stay in an unsafe situation at the detriment of their sanity and future is intolerable—and that's the very injustice Sisters Uncut are standing up against.
I leave the space thinking about what becomes possible when women organize, collaborate, and state their demands loudly and clearly. Instead of waiting for politicians to act, these women are showing them how they want politics to be done. One week away from the UK election, their strand of no-bullshit, issues-based activism seems more needed than ever.