Roz Chast and the cover of "Going into Town: A Love Letter to New York." Photo of Chast by Bill Hayes, book cover courtesy of Chast.
In her most recent New Yorker cover, Roz Chast riffs on the advent calendar and offers one for January, titled "Cruellest Month." The New York skyline in the background and a woman waiting for a bus in the foreground, visibly freezing, the little windows say things like "Sunset at 11 AM," "Quarterly taxes due," "Arctic blast," and "Ugh." In the accompanying caption the magazine published online, she said she didn't grow up with advent calendars: "There are none for Hanukkah. What would that show, even? … A tube of toothpaste?"
This is perhaps a perfect example of the unmistakable voice of this legendary New Yorker cartoonist—mixing pathos with humor with what author and fellow New Yorker staffer Adam Gopnik described as a "discriminating eye for the truth" and a "matchless sense of the wacky." Chast's first cartoon appeared in the magazine in 1978, when she was 23, and Chast has published over a thousand since.
Chast is a master of capturing the annoyances of daily life, unmasking any pretension of anyone who acts like they have their shit together; but as much as her work is famous for her anxiety-ridden New Yorkers, it can be as moving as it can be scathing. Readers of her bestselling 2014 graphic memoir, Can't We Talk About Something More Pleasant?, about her parents and the end of their lives, will be especially acquainted with this.
We talk on the phone from her Upper West Side apartment. She tells me that, when she walked into the New Yorker office for the first time at 23, one of few women and people under 35 in the space, her work was so different to every other cartoonist that she thought, This is probably a mistake. I'll sell like one cartoon and then I won't sell anything else. "I was sure that they would see it was a mistake and correct it," she says. "And I still have that same mindset, unfortunately." She assures me she is still waiting for the editors to realize ("oh, wait a minute!") that they got it wrong. "I have a feeling that most cartoonists aren't the most secure people in the universe."
---
Watch: British Comedy's Rising Star Michaela Coel on Swapping God for Filthy Jokes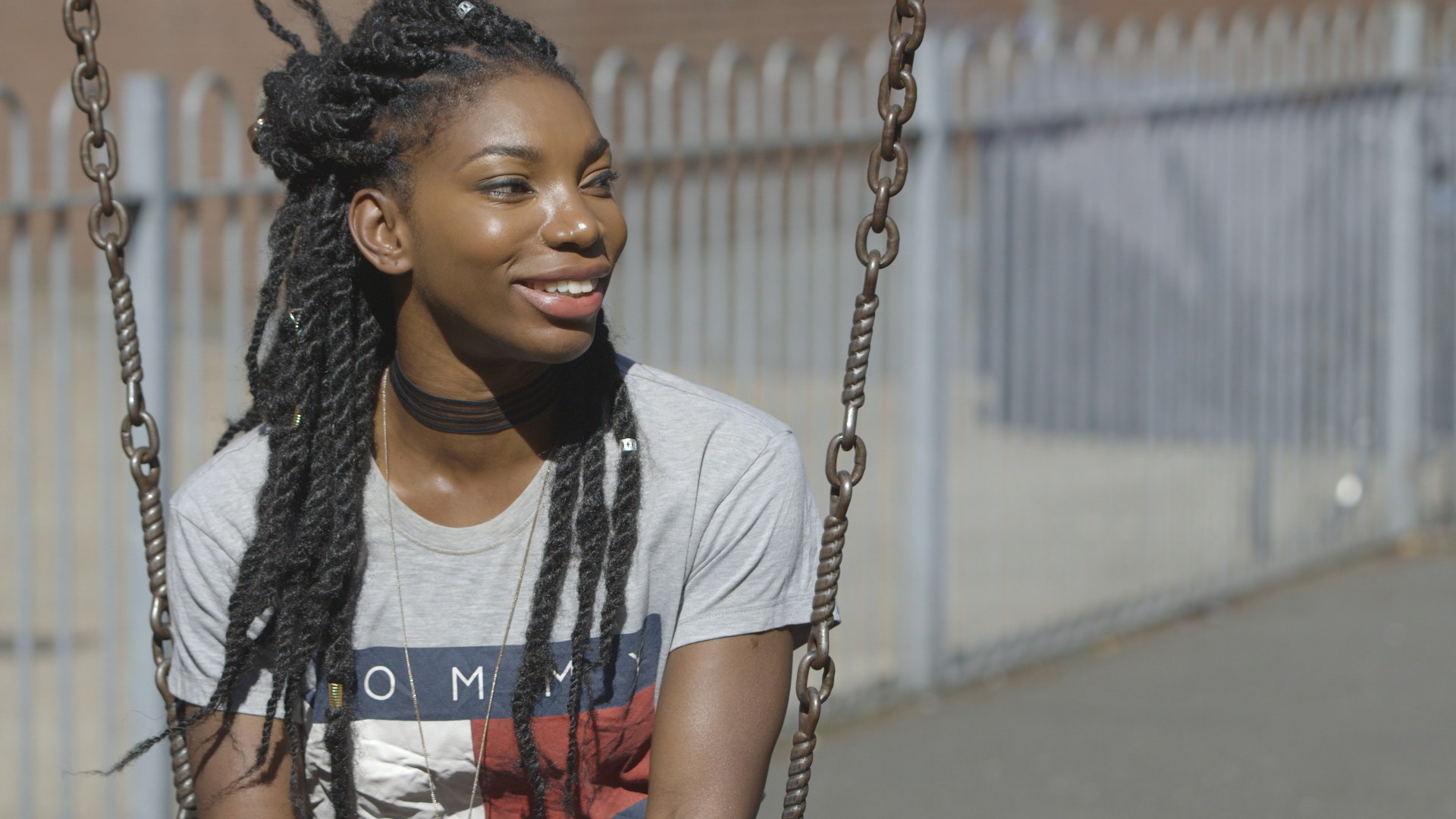 ---
Her new graphic memoir, Going into Town: A Love Letter to New York , came out of a guide she made for her daughter when the daughter was off to college in the city (her kids didn't grow up in New York because the family had moved to the suburbs in the early 90s, a change which she explains hilariously in the book). It's an ode, a thank-you note, and a guide to Manhattan, and it includes all the cherishable titbits that only someone you love would tell you. She explains the layout of the city, how the subway works, food, and how to find an apartment, but the best sections are about the wonders of walking around—from crazy storekeepers that shout at you about salad to mysterious stores that are always empty, Chast perfectly captures the saturated information brought up on any random walk in Manhattan.
It's as if she were eavesdropping on the entire city, and you and me and everyone, at all times. Her oeuvre encapsulates Manhattan with an amazed, yet not romanticizing voice perhaps only comparable to that of EB White's Here's New York.
Though Going into Town does briefly touch on the gentrification of Manhattan, it is not its focus. Chast wants to share, she writes, her love for the city so that others get to maybe feel it too—much like she would with a book or TV show she enjoyed. "I'm not afraid of it getting ruined," she writes. Change is inevitable, and the city and her have seen many of those. Hers is the perhaps somewhat old-school, wisecracking New York vibe—so often explored in the 70s and 80s—that feels like the antithesis to the self-actualization and self-improvement preached in California.
But talking about the city with Chast is refreshing, especially as one knows that she's the last person to gratuitously idealize New York. (On the chapter about "flora and fauna," she encounters a water bug the size of a dog.) She tells me that Manhattan "was the first place I'd ever been where I felt that my life was not going to be a disaster," that she loved the first apartment to which she moved in on her own, at 23, so much "there are not even words for it." (Rent on that Upper West Side apartment was $250).
She didn't have "a particularly happy growing-up," with parents who, having survived the war, had a rather fatalistic and cautious outlook on life. "Even when I went to college, I think I was bringing so much baggage with me that I wasn't really able to find out too much about who I was." When she moved to Manhattan, she was "not expecting anything good to happen, at all. I just wanted to survive." But she was starting to have some success as a cartoonist, "much to my absolute shock. I thought my cartoons were just too personal and too weird to make any money from them." But she did, and she made friends, and things just clicked.
It's not like she had grown up in a different continent—Chast was raised in Brooklyn but, at the time, the boroughs were worlds apart, and what she calls the "Brooklyn brand" was yet to come. Growing up in "deep Brooklyn," specifically in Flatbush, "if you had any dreams at all, you wanted to get out as fast as you could. It was like… That's where dreams go to die." In the book, she says: "I saw Brooklyn differently from people who came there from Wisconsin or wherever. Behind every cute organic food store, I saw the ghost of the sad, dark, odiferous grocerette of my childhood. There was nothing there for me." Her next book will, in fact, be about Brooklyn.
After 40 years, Chast has learned that "having your own voice is really important." That's her advice for people starting out now, in a completely changed magazine industry. "If it's really, really what you want to do, just keep doing it. There are always going to be people out there who are going to say negative things to you, who won't like your work. And it's going feel horrible. But stick to what you think as much as you can." Oh, and budding cartoonists who still draw on paper: rubber cement is your enemy. "I learned that the hard way."
Going into Town: A Love Letter to New York is out now.