Art by Lia Kantrowitz/Photo via ImageStock/Getty Images Plus
Yirtuamlak Fentaw was awake and clear-eyed at 5 AM on Saturday. The event offering a chance to clear his criminal record didn't start until ten, but he was too anxious and excited to go back to sleep.
A Compton resident by way of St. Louis, Fentaw hit a rough patch about a decade ago after being arrested for the sale and transportation of marijuana, he recalled. Although he had a few previous felonies on his record, none were as serious as the weed charge, he said, which fell just below the threshold of trafficking in terms of severity.
In and out of prison until 2011, Fentaw has finally put some distance between himself and incarceration. But his prior convictions have continued to define his life. Once a guy who landed acting gigs while building a career in entertainment, Fentaw's now confined largely to manual labor jobs—an increasingly difficult feat for the 32-year-old.
"All I can get is warehouse work…minimum wage jobs," he told me. "There's only so much $375 a week can do."
---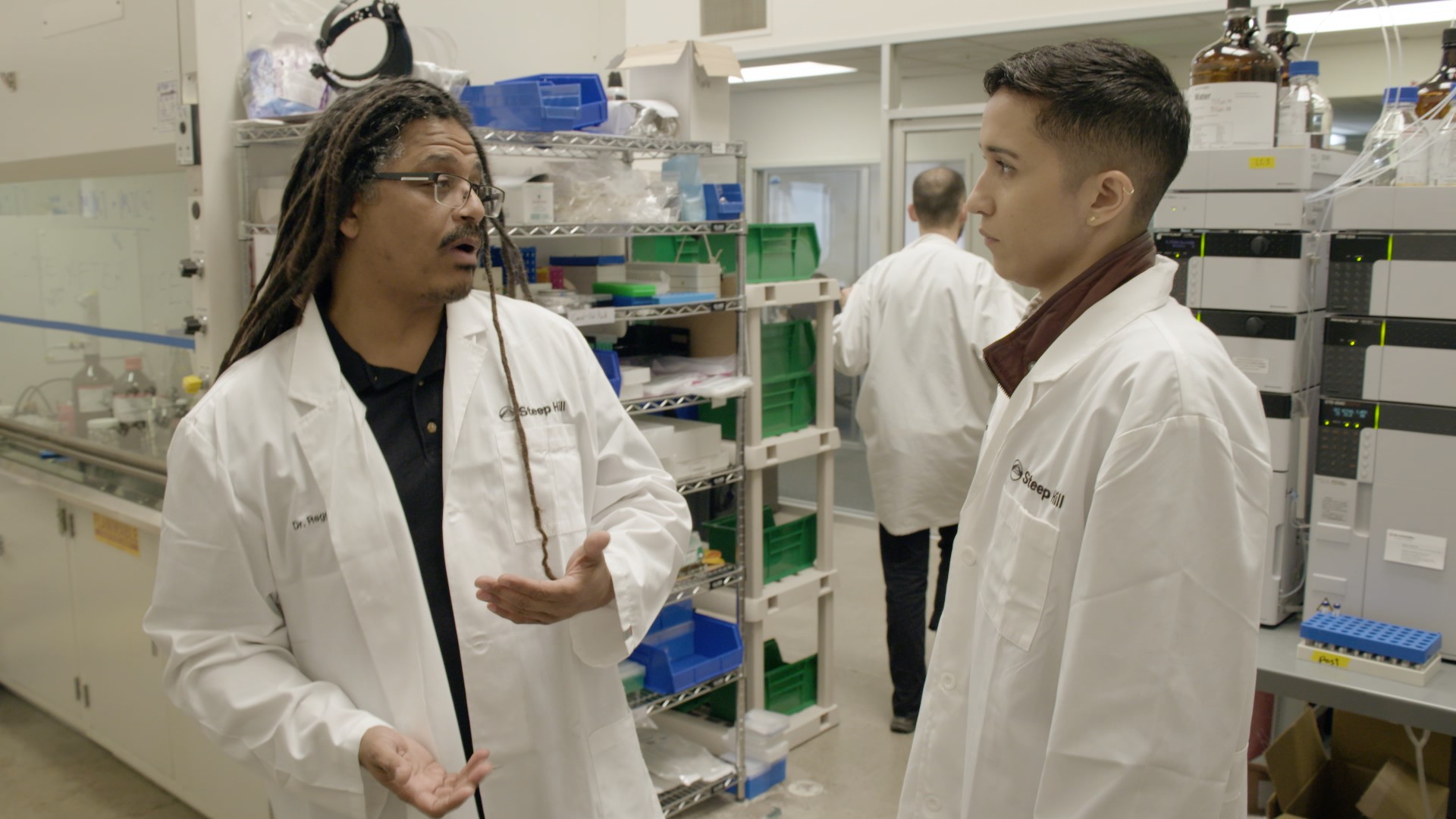 ---
Fentaw is just one of what the Drug Policy Alliance (DPA) estimates to be as many as a million people in the State of California who may qualify to have their marijuana convictions reduced or dismissed under Proposition 64, the voter-approved initiative that legalized marijuana in the state. Passed more than a year ago, the proposition promised to make it legal for those 21 and over to buy weed, and the first recreational dispensaries opened on New Year's Day.
But the less heralded feature of the bill is the change it brings to the criminal justice system—a testament to the legacy of pot criminalization at a time when, despite some old-school holdouts in the federal government, mainstream social acceptance seems within reach.
"In November 2016 when Prop 64 passed, immediately, as of the next day, individuals that had charges that would have been either misdemeanors under Prop. 64 or completely legal under Prop 64 had the right to go back to court to petition to have their records to be changed," said attorney Eric Shevin, of the Los Angeles-based Shevin Law Group. "Many people were unaware of it… [and are] still unaware of it."
In addition to reclassifying many marijuana-related felonies as misdemeanors and legalizing crimes like personal possession or cultivation, Prop 64 goes one step further to apply these laws retroactively. California's legalization initiative was unique in including this provision—although a smattering of other states, including Colorado, have (whether via legislation or court-order) adopted similar policies in the era of recreational weed.
California's effort is intended in large part to address the decades of law enforcement that has disproportionately impacted minority communities. In Los Angeles alone, black residents make up just 9 percent of the city's population, but accounted for accounted for 40 percent of cannabis-related arrests between 2000 and 2017, according to LAPD data.
"All the marijuana convictions in California was basically like a guinea-pig drill for them to see… how much money they can make," Fentaw said of the now-legal industry. "I feel like we owed."
While individuals can submit the paperwork for reclassification and expungement themselves, it can be a complicated and time-consuming process. Shevin's firm is currently handling about a dozen of these cases, and some take up to a few months to complete. Meanwhile, there's a huge swath of California residents, who—because of these prior convictions—are prevented from landing well-paying jobs, safe homes, student grants and a litany of other necessities.
"We know within the last ten years there have been at least 500,000 marijuana arrests in the state of California, even when we had legal medical marijuana," said Eunisses Hernandez, policy coordinator with the Los Angeles office of the DPA. "Going back ten more years, we're sure the numbers are even double that."
But as of January 1, the state had received fewer than 5,000 court petitions for re-sentencing or reclassification under Proposition 64. (Hernandez suspected the number might be higher, as some jurisdictions may not have fully reported applications yet.) The relatively middling turnout may be due to an overall lack of investment in outreach: Government officials and industry members have spent much of their energy developing commercial regulations for cannabis, something Hernandez hopes will change now that the landmark January 1 date has passed and recreational weed is legal.
"Marijuana cases are trickling in but its not at the rate we know is out there," she told me.
When reached via email, Alex Traverso, chief of communications for California's Bureau of Cannabis Control, agreed that official efforts thus far have been focused on recreational marijuana regulations and licensing. "Education and outreach for [expunging records] wasn't really given to any one agency, so it seems that more is being done at the local level to highlight this option for people who choose to clear their record," he told me. (On Tuesday, State Assemblyman Rob Bonta of Oakland proposed a law that would make the pot-conviction expungement process automatic, putting responsibility directly on the court system rather than individuals, as the LA Times reported.)
The DPA—along with partners the Legal Aid Foundation of Los Angeles, the Los Angeles County Public Defender's Office, and others—have been trying to turn a trickle of applications into a stream via social media, work with community partners, and expungement fairs. At these events, attorneys and paralegals help people with criminal histories navigate the complex web of paperwork. The process is free, a big deal in itself as attorneys can charge up to $3,000 for the same service, according to Pamela Johnson, a public information officer at the LA County Public Defender's Office, which has been participating in about eight expungement clinics a month. On a single day, they see anywhere from about 75 to 300 people—many facing multiple charges, she said. (The event I attended in LA brought out about 75 people.)
People like Anthony Turner, a 36-year-old black man who drove product from Northern California's famed weed epicenter, the Emerald Triangle, to Southern California, while attending college at Sacramento State. After two years in the game, Turner was arrested and charged with multiple counts including possession, transportation and distribution of marijuana, he said. After attending an expungement fair last year, Turner said he got his flagrant felony charge dropped to misdemeanor possession.
"I would never have done 12 years in prison… if this law was in place," he told me.
Turner is in the minority at these events, with most attendees tackling other charges like weapons convictions and property crimes. That's because when the DPA started these clinics three years ago, they were intended to assist Californians impacted by Proposition 47—another initiative reducing some drug felonies to misdemeanors and reduces sentencing for some other nonviolent crimes.
Now, organizers hope an increasing number of people will take advantage of the era of legal weed and clear their names. "I just think it expands more opportunity for more people to get their lives back together," said Miriam Singer, a paralegal and volunteer at the event.
All this progress doesn't come without a bit of blowback though.
Just last week—a mere three days after California legalized the sale of creational marijuana for adults—Attorney General Jeff Sessions rescinded the Obama-era Cole memo, which was widely credited with allowing the marijuana industry to flourish under a hands-off approach from the federal government. In its place, Sessions redirected enforcement to US attorneys operating within individual states, which means the fate of marijuana businesses will depend largely on their location.
While this is unlikely to dramatically impact the core of California's cannabis industry, the ancillary businesses—such as banks and investors, who were just beginning to warm up to weed —may be a bit spooked, according to Sean O'Connor, a law professor and founder of the Cannabis Law and Policy Project at the University of Washington. Even if the feds decide to start targeting commercial cannabis activity, it likely wouldn't impede California's independent ability to decriminalize the drug and expunge past marijuana convictions on the state level, he noted.
Shevin, the attorney, took the sentiment a step further, describing Sessions's move as "idiotic" and emphasizing that if the feds wanted to go after weed in California, they could have already done so.
"We have to remember that cannabis reform has happened on the heels of civil disobedience," he told me. "Knowing that it's illegal in the eyes of the feds is nothing new."
This article has been updated to include news of a California state lawmaker's proposed tweak to the expungement process.
Follow Hayley Fox on Twitter.