I first heard of Heck—a family-run sausage company from Yorkshire—a few years back. Watching television one Tuesday evening, I happened upon a BBC reality television show called The Fixer. The premise was: a business consultant swoops in and helps small businesses to grow, teaching the owners how to reduce costs and increase margins. In episode three, it was Heck's turn, or indeed, the Keeble family—straight-speaking owners Debbie and Andrew Keeble, and their surprisingly obliging kids. The couple were upfront about their business' financial problems and seemed to give a shit about their product, which was premium pork sausages. In the end, Heck managed to turn things around and got their sausages onto the shelves of major supermarkets.
And then I stopped eating meat, and I forgot about Heck. Which, in many ways, is the curse facing all meat companies at a time when there are an estimated 3.5 million vegans in the UK and rising. I didn't care about sausages reared from Yorkshire pigs, because like millions of other Brits, I had eschewed meat for Linda McCartney burgers and veggie lasagna made with Quorn mince. The option to consume a diet free from animal products had never been so easy.
Which isn't great news for a company that makes meat products.
"We are a family of farmers, and my parents used to run a pig farm here," Jamie Keeble, son of Debbie and Andrew Keeble, tells me in the family's large home in Yorkshire, when I ask about Heck's origins. "One day, my mum saw an aeroplane flying in the sky and she thought, 'I need to make more money to take my family on holiday.' So she decided to make sausages because it was a bit more profitable than rearing pigs."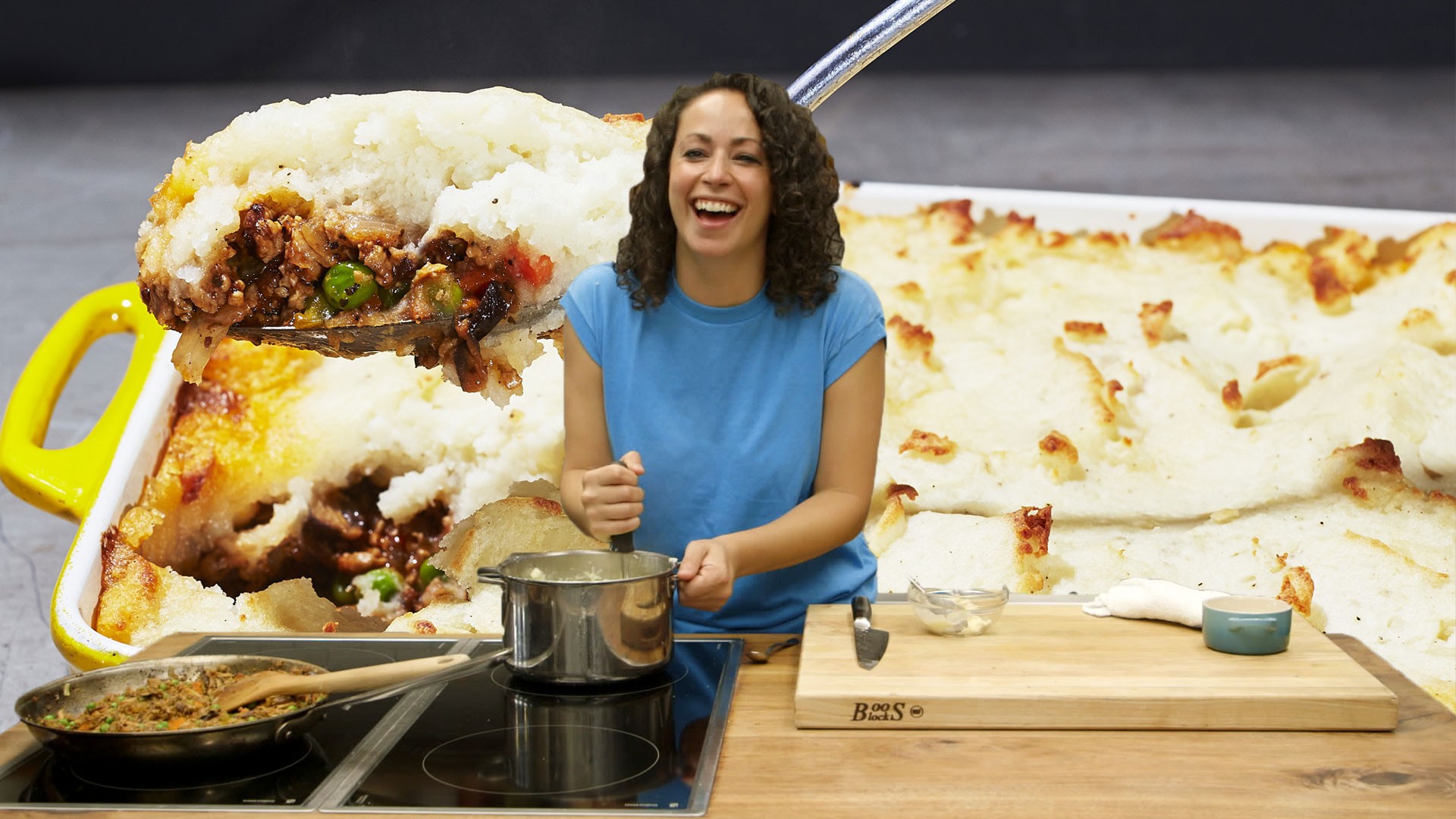 After this revelation, the Keebles decided to start their own sausage brand. Debbie & Andrew's launched in 1999 and went on to become a leading high-end sausage brand. The family part-sold the company to a larger food manufacturer in 2005, and after some "slight corporate nonsense" (as Jamie puts it) with the new owners, they decided to break away and start a new venture: Heck.
Heck's beginnings in 2012 were entirely meat-focused. The company launched into supermarkets including ASDA and Waitrose with a gluten-free range of pork and chicken sausages. The idea was to focus on flavour, with innovative combinations like pork and marmalade, zesty chicken, and smoky paprika chicken chipolatas, while also capitalising on the gluten-free trend.
"We started to do something a little bit different with the products," says Jamie. "We looked at the market already, and the thing to do at the time was to launch a gluten-free range."
However, a few years into the business, Debbie, who would continually research new food trends, began to notice a change. Gluten-free was doing fine, yes, but now, people were starting to avoid meat. A rather damning realisation for a, er, meat company.
So, Heck began working on a vegan sausage, despite some scepticism from Andrew ("He's a traditional meat eater, you know," says Jamie). Three years of recipe development and flavour-testing, and the company has just launched a range of meat-free sausages and veggie balls.
"The market's changing," Jamie explains, when I ask him about Heck's new focus on vegan products. "People are eating less meat. It's crazy how much people's mindsets are changing. It's happened so quickly. Vegetarian and vegan is now the next thing."
Heck still makes its traditional meat sausages, but these are now joined by four vegan products: beetroot and horseradish sausages, "Super Greens" quinoa balls, Indian-style "Bollywood Bangers," and a sweet potato and rice ball. The family has built a separate factory to manufacture the vegan products, and spent three years perfecting the flavour and ensuring that they don't fall apart on barbecues (crucial, tbh).
"It's taken a long time to get the flavours right and the texture right," says Jamie. "Honestly, [we've] been going back to the drawing board many times to get the product right."
Joining Jamie and I at the kitchen table is Isabel Spurway, who "doesn't have a job title" but is involved in Heck's recipe-testing and the development of new products, including the vegan range.
"In terms of coming up with flavours, they came pretty quickly," she explains. "From there, it was about making the leap from a good flavour to something that worked as a sausage."
This was the real challenge. Eggs and breadcrumbs—two ingredients Heck weren't able to use in their vegan sausages—are often the best binders for food.
"It's different to the meat sausages in terms of the process as making a pork or chicken sausage is a much simpler technical process," explains Spurway. "Whereas for a vegetarian, you need to get it to blend and mix and stay stable."
Curiosity piqued, I'm desperate to see the vegan sausage-making in action. After our chat (and the petting of numerous Keeble family sausage dogs!!!), we head to the factory.
I'm shown around by Calum Smith, who heads up the factory, and follow him through the steps to create Heck's beetroot and horseradish sausage. The key, he tells me, is to use plant fibres—a relatively new ingredient—that bind the fresh and frozen ingredients when activated.
First, Smith adds the fibres to a large industrial mixer with oil, along with frozen ingredients that help activate the binding. Next, he throws in the beetroot and chopped vegetables, which help to bind the sausages further. Finally, Smith pours the dry ingredients, including sunflower seeds and seasoning, into the mixer and the sausage mix is combined until it has a slightly chunky texture.
The finished sausage mush (official term) is then poured into individual sausage skins made from seaweed-based gel, rather than the traditional pigs' intestines. The sausages are crimped into shape and sent off to be weighed, packaged, and transported to the supermarket.
Satisfied at having seen how the vegan sausage gets made, I take a detour back to the house to ask Jamie a few last questions. Namely, does he see a future in which Heck goes completely vegan or vegetarian?
"The first day of production for veggie stuff I said to my dad, 'Do you reckon in 20 years time we'll be saying to ourselves, 'we used to make meat sausages?''" laughs Jamie. "It would be great to swap factories and [to have] the small one becomes the meat factory and the big one becomes a veggie factory."
"I think it's here to stay and it's growing," he adds.
Long live the veggie banger.