To passersby, the Mekong Vietnamese restaurant in downtown Richmond, Virginia isn't notable. It sits in a strip mall on Broad Street, not far from Interstate 64 and just up the street from an AmeriPawn and the Colonial Shooting Academy. Inside, it looks like every nearly every other casual Vietnamese restaurant in the country: yellow lighting, wooden tables, pictures of friends and family hung from the walls. According to the regulars, little about the restaurant has changed in the last 20 years. But this single restaurant is responsible for Richmond's conversion from "Richmond: One of America's Murder Capitals" to "Richmond, One of America's Best Beer Cities," and rising contender for Coolest Place to Live.
The restaurant got its start in 1986, when An Bui and his siblings got into a homemade boat and spent seven days and nights sailing from Vietnam to Malaysia, where connections with the Catholic Church helped them get to Richmond. Five years later, when An's father Khoa Bui—who had been a political prisoner in Vietnam—and wife came to the States, they found their children working odd jobs all over the city. In an effort to bring the family back together, the Buis raised $70,000 and bought a Vietnamese restaurant. An, who was working while studying hotel management at community college, became the manager.
Initially, the restaurant paired Vietnamese food with an extensive wine list.
READ MORE: Why Great Pho Broth Starts at 4 AM
"It didn't work," said Bui. "Vietnamese food pairs well with lighter wines like riesling, and this town wasn't ready for that. People liked merlot, cabernet." It was An, now co-owner of Mekong, who finally tried pairing food with beer.
"We needed a different direction," said Bui. "I was a beer drinker, and I'd hang out with guys who traveled and brought beer back from around the world. I liked sweeter, maltier beer, and Belgian beer fit my profile."
As word spread that Mekong served Belgian beer, enthusiasts began to gather. For the next half decade, the restaurant made its name serving large format bottles, and the business expanded. In 2006, when the economy started to show signs of stress, Bui made the decision to serve draft beer, which had better margins than bottles. He bought a single tap kegerator and used it to pour a keg of Bell's Oberon.
A month later, Bui upgraded to six tap handles. Then 12 taps. Then 20.
"It's like the Asian Cheers," said Patrick Murtaugh, co-founder of Hardywood Park, Richmond's second brewery. "It's known as the beer geek hangout in Richmond."
Today, Mekong has over 55 taps. Through an online vote, it was elected Craftbeer.com's first-, second-, and third-ever Craft Beer Bar of the Year, beating out every other beer bar in the country. During the award's fourth year, it was separated into regions, so for its fourth and fifth years, Mekong won for its region.
Part of Mekong's success has to do with Bui's commitment to hospitality. At five-foot-seven, with slick black hair and a wide smile, he easily plays the part of consummate, humble host. But perhaps more importantly, Bui was in the right place at the right time.
When Bui started Mekong's beer program, there were 2,000-plus breweries spread across the country, but only one in Richmond, where state laws made it illegal for a brewery without a restaurant to serve its own beer on premise. With the nationwide proliferation of craft breweries, people in Richmond were thirsting for interesting beer, but didn't have a place to get it. Mekong became that place.
READ MORE: Hanoi's Best and Wildest Banh Mi, from Pork Floss to French Fries
The restaurant not only deserves credit for being the lynchpin of Richmond's craft beer scene, but also for revitalizing the city. In 2009, when Murtaugh's business partner Eric McKay came down to Richmond with his job, he visited Mekong. Not long after, he invited Murtaugh.
"Richmond was a smaller city, but that can be good for a brewery looking to get some recognition and have a meaningful impact," said McKay. "Coming out to Mekong, a place that is fairly humble but packed to the gills with diehard beer enthusiasts craving interesting beers, it felt like, 'Why on Earth wouldn't we consider Richmond?'"
Ultimately, McKay and Murtaugh made the decision to open Hardywood Park in Richmond instead of Charlotte, and a year later, they were instrumental in changing state beverage laws to create a favorable environment for craft breweries. In 2012, State Bill 604 made it possible for breweries without restaurants to open taprooms, and Richmond's ample warehouse space, attracted entrepreneurs from all over the country.
In the last half decade, more than 25 new breweries have opened across Richmond. Almost all of them got started at Mekong: The owners of Ardent and Strangeways planned their breweries while hanging around the restaurant; the owners of Lickinghole Creek came up with their brewery's name while sitting at the bar; Executives from Stone Brewery were inspired to open in Richmond after visiting Mekong. Recently, even Bui himself opened a brewery called The Answer, a hip-hop-inspired joint known across the country for its fresh IPAs and fruited sours.
---
WATCH: TRVE Brewery Makes Heavy Metal Beer in Colorado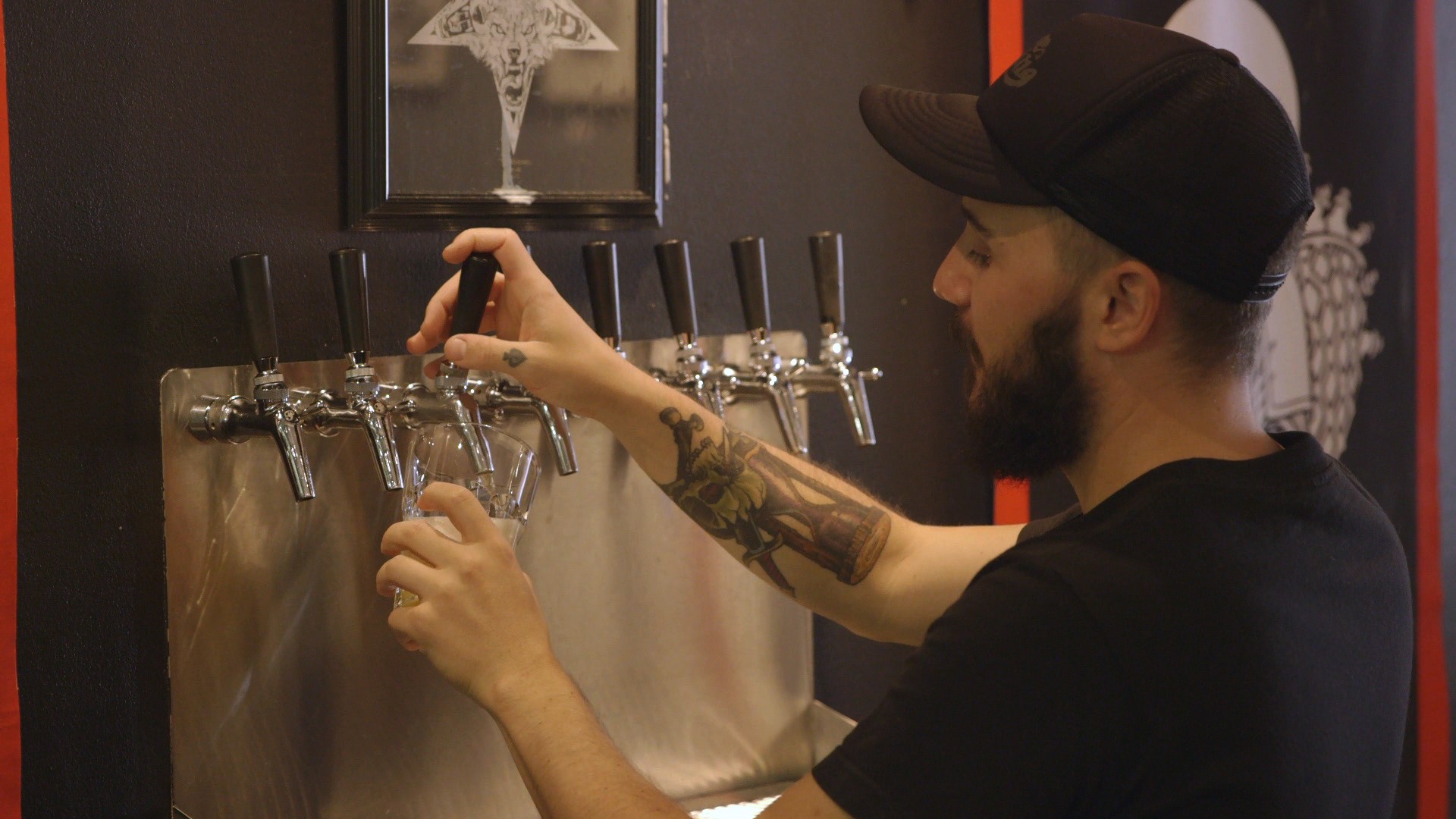 ---
Across America, breweries have become synonymous with economic growth, a sign that the young and hip want to invest in a city's future. Richmond isn't different. In the last few years, violent crime rates have dropped in neighborhoods like Scott's Addition, now home to the city's largest concentration of breweries—seven in all, plus two distilleries, two cideries, a meadery, a Bavarian-style biergarten, and a self-serve wine bar.
"Back in the 90s, Richmond was one of the homicide capitals of the US," said Bui. "Now we're known as one of the beer destinations on the East Coast."
And they have a little Vietnamese restaurant in a strip mall to thank for all of that.
---
Kenny Gould is a freelance writer and the Editor in Chief of Hop Culture, a free online magazine covering independent craft beer. Follow him on Instagram at @hopculturemag.