Dominique Crenn—she of the poetic tasting menu at Michelin-starred Atelier Crenn— has long been known as a chef that's as talented as she is tireless. But the chef's latest endeavor just might be the most impressive project she's worked on thus far.
It's Root Project, an aid project put together by Crenn and Zesa Raw co-founder Michelle Jean with the goal of helping farmers in Haiti replant coffee and cocoa plants after the complete devastation of local crops following Hurricane Matthew. The project's goal is to plant 1 million trees alongside Haitian farmers and chefs. We caught up with Crenn to see what this project could mean for the farmers of Haiti and to discuss chefs' social and environmental responsibilities.
MUNCHIES: How did you first become interested in aid work for Haiti?
Dominique Crenn: I've always been interested in what's going on in the world, and how we as humans can give back to the community, not just as a trendy thing. One of my very good friends is from Haiti and she really educated me about the country's history so I became very interested in going to the country and understanding what was going on there. They've been going through so many struggles for many years: earthquakes; hurricanes; corruption.
What gave you the idea to start the Root Project?
I said, "Well, let's start something. What do they need?" [Jean] was like, "Well, we've got to go and talk to them and ask them." We did, and they said they wanted trees. They wanted to go back to a place where they could create and produce cacao and coffee. Haitian blue coffee was pretty big a long time ago—Japan and Denmark used to buy it from them but after the earthquake and the hurricane in 2008, it was forgotten. And it's the best coffee I've ever tasted in my life.
Really? That's a big statement.
I'm a big coffee drinker, and yes. I was there when they were making coffee from scratch and the taste was just amazing—and it comes with love and passion and history. Their community has done this for so long but because of the hurricane, they don't have plants anymore, so they aren't able to produce. That's why the idea was not to raise money to just give them money; it's to raise money to buy trees so they can plant and produce. It costs 50 cents per tree—it's nothing to most of us.
How many trees do you need to make a significant difference?
Right now we want to get just over a million trees. That will definitely make a huge difference; with a million trees, we can shift the economy and society. They need to be able to produce things so they can make sure that the community has money for education and food.
How often do you go down there to plant?
We were there in February and we're planning to go there again in the next month or so. People said to us, "Don't just come here and talk to us about hope and doing things because most of you guys never come back." I looked at them and I was like, "We are coming back. We are here and this is the start of things." It's very important to continue the journey.
---
WATCH: The 120-Day President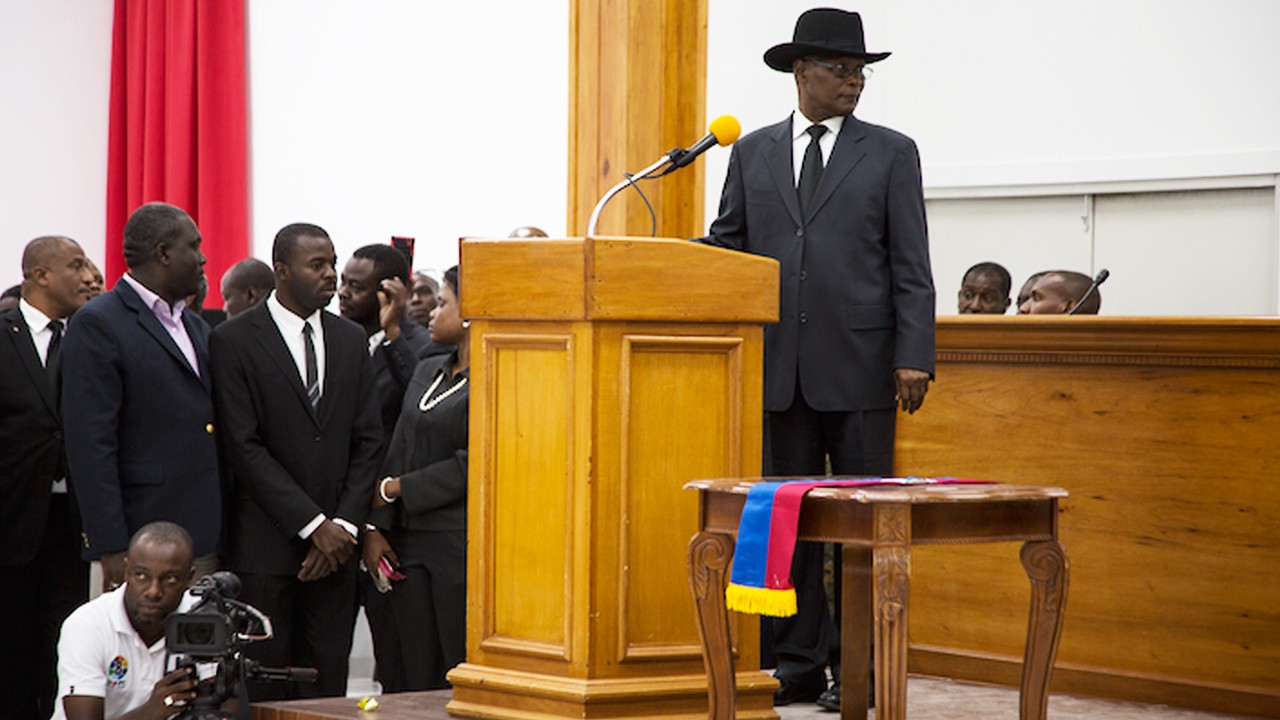 ---
What stuck with you most about the food and the way people eat there?
Oh my God. We just ate at local restaurants on the beach and the cooking was just delicious. They make this rice with these incredible black mushrooms that you only find in Haiti. I love the way they cook. It's fish, lobster, all of it—directly from the water. What I find is that food is the core of society— when people want to communicate something positive they will communicate it through food. And in Haiti, people don't want just any food. They want their food. They want the food of the island. They want the food of their culture and I love that. I think it's amazing.
READ MORE: José Andrés Wants the World to Cook with Sunlight and Biofuel
What do you think chefs' social and environmental responsibilities are?
Food is something that we need to celebrate, but also we have to understand that as chefs, anything that we do impacts the future of this planet. If a chef thinks: "Well, yeah, I'm a chef but I don't care if I waste food. It doesn't matter. I cook food and people come and eat and then I make money," then they're not a real chef to me. A real chef needs to think about how everything that you do in life is impactful, and if you can do good things for the planet, you should.