Photo via Twitter
If we're talking economics, avocado toast can be hideously expensive, with a price point large enough to rival that of a house. (I'm joking, of course!) But it's a sneaky thing, that dish of green fruit guts slathered onto a piece of singed bread, one with such a meteoric rise in popularity that it can hardly be explained.
Now, some conniving restaurants are trying to rob Millennials of the great privilege of home ownership through a thing called a "deconstructed avocado toast bowl." (Spoiler alert: It's a salad—and not even a particularly interesting one.)
"Ok now California trends are just fucking with me," Recode's Kara Swisher posted to Twitter on Sunday evening, her post geotagged Venice Beach. They're fucking with us all, to be fair.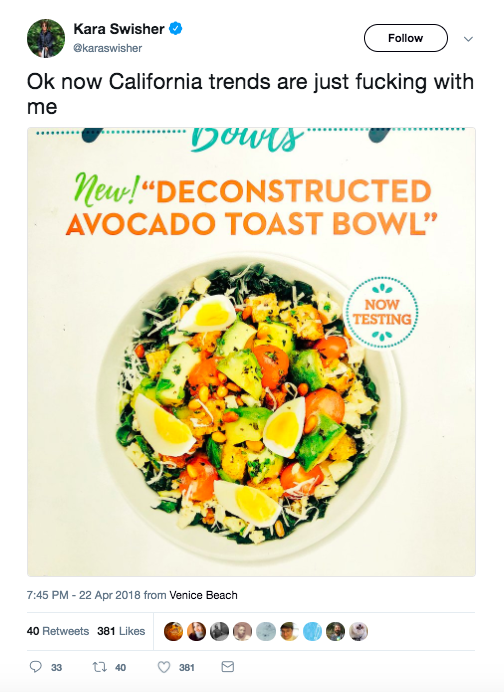 "NEW! "Deconstructed Avocado Toast Bowl,"" the sign in Swisher's photo reads, the name of the dish in quotation marks, as if the restaurant trying to signal to the world that it's fully aware of its own scam.
The poster features an overhead shot of a bowl that's got the whole damn kitchen sink, as the caption explains: Avocado and cherry tomatoes tossed in Honey Lime Vinaigrette with seven-grain croutons (must be the "toast" part of the calculus?) over a bed of farro, crisp apple, and kale, served with a hard boiled egg.
The photo went mildly viral—those numbers aren't anything to write home about—but also generated a flurry of responses that were bewildered and upset. I can count five different users in the replies to Swisher's tweet alone—we're not even talking quote tweets!—who point out that this little hodgepodge is what some of us may call a "salad." Agreed! What we've got here does, indeed, appear to be a damn salad.
Though Swisher did not name the restaurant in her tweet, nor did she respond to immediate request for comment via email from MUNCHIES on Monday regarding clarification on this point, some slapdash Postmates sleuthing has led me to gather that the item exists on the menu for Lemonade, a restaurant chain with locations spread high and low through California. (The site's design shares quite a few stylistic elements with the poster in Swisher's tweet.)
Lemonade's Deconstructed Avocado Toast Bowl, available on some menus for Lemonade in Los Angeles and up north in Palo Alto, has got the exact same ingredients as the dish on that poster. Its price varies depending on the city; on DoorDash in Palo Alto, it's $12.55, while, on Postmates in Los Angeles, it's $12.10.
Lemonade's team did not respond to immediate request for comment on Monday via email from MUNCHIES regarding when the restaurant introduced this item to its menu, and which location's menus it even lives on; notably, it isn't on the menu on the official website. MUNCHIES has also asked whether the Deconstructed Avocado Toast Bowl it is, indeed, in testing phase, if one is to believe that Swisher took a photograph of Lemonade's promotional material.
If it's in testing purgatory, though, maybe that's where it should stay. Before you ask—no, I haven't tried it, and I'm not sure I would if given the opportunity. To be frank, I'm afraid I'd like it!