We think the humble fried chicken sandwich is underrated. We give a lot of love to hamburgers and hotdogs, the occasional taco, and maybe your classic bodega-style bacon egg and cheese. But we're here to make the case that the chicken sandwich deserves more of your attention. To help make our point, we've rounded up our favorite fried chicken sandwiches. Get frying.
Original harbinger of the Tex-Mex craze Rick Bayless shared this torta recipe with us. It's got everything you could want in a good burrito—including black beans, shredded cheese, pickled jalapenos, and avocado—except on a toasty telera roll.
Your eyes do not deceive you. This is indeed a sandwich made out of fried chicken. As in the bun is fried chicken. As in the vehicle with which you bring the sandwich to your mouth is, in fact, fried chicken. This is either a treat-your-self sandwich, or something you eat when you're deeply ashamed of your drunk self. Up to you.
For the sandwich, boneless skinless chicken thighs are marinated in a sweet buttermilk mixture before frying. Keep some of this homemade garlic-jalapeño hot sauce on hand after you're done for just about anything.
This decadent faux-hot dog came to us from Copenhagen late-night eats spot Den Fede Kylling. Indulge with these super-flavorful fried chicken tenders slathered in fancy black truffle mayo and sweet, buttery caramelized onions.
Scotch bonnet peppers aren't the most spicy things in the world, but they certainly lend a nice kick to this Jamaican marinade. A little bit of smoking and a bright, vinegar-y vegetable slaw also helps to cut through the heat.
When Southern chef Kevin Gillespie came to visit The Untitled Action Bronson Show, he shared with us his riff on the classic Chick-fil-A sandwich, remoulade and all.
There's a lot more flavor going on in this sandwich than it appears. Fried chicken, bacon, and pickles start us off here, but the lemon-horseradish-cream cheese spread is what really puts it over the edge.
Yes, you read that correctly. Crispy, crunchy, nacho-fried chicken. And enjoy the kick to the sinuses with the horseradish-heavy white barbecue sauce.
When has Matty Matheson ever steered you wrong? Chicken fingers drenched in Frank's Red Hot sauce, blue cheese and provolone, and pickled hot peppers. The perfect convenient store sub.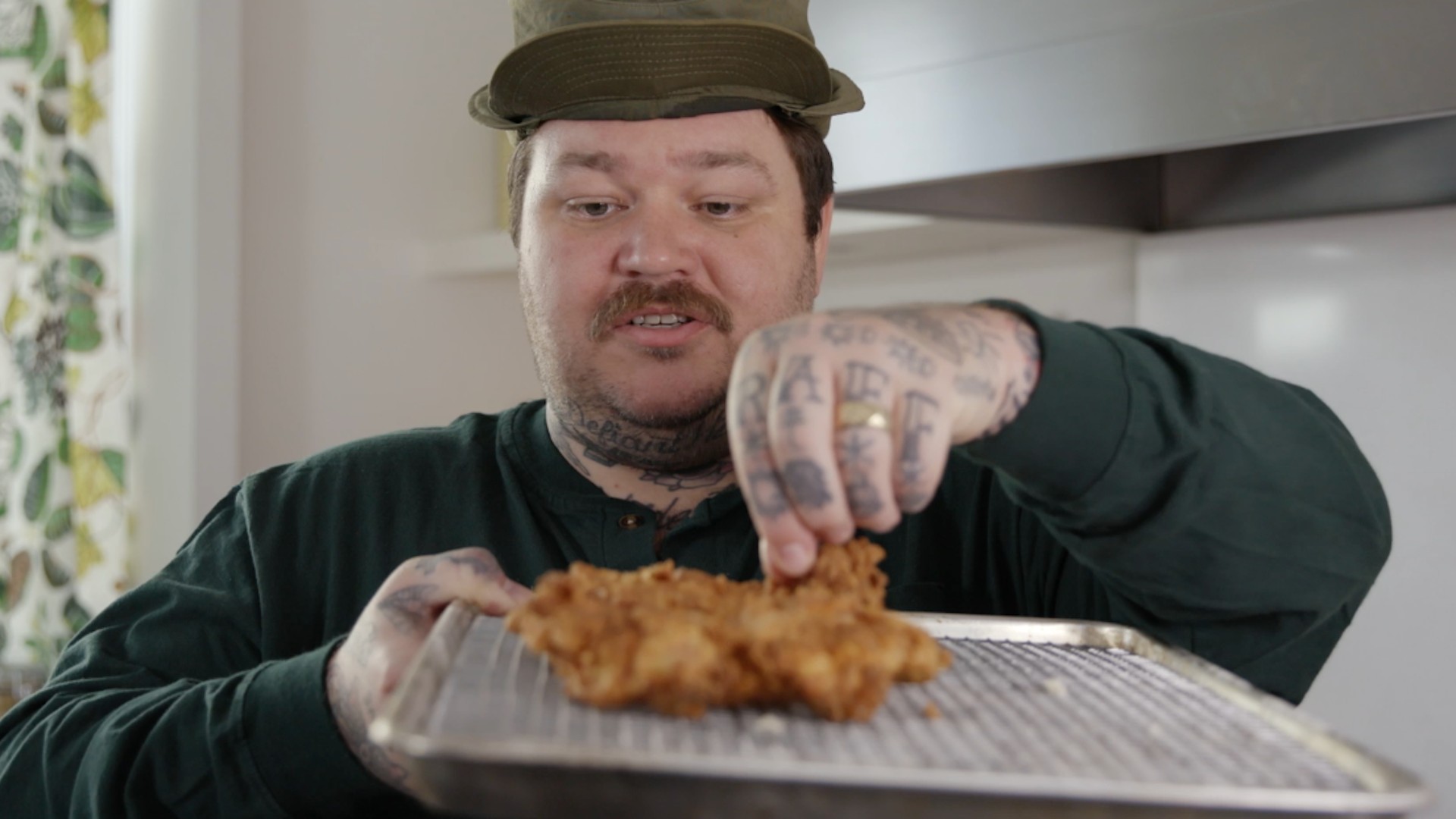 In this how-to video with Matty Matheson, he's just so excited about this Nashville-style hot chicken, he forgot about his inside voice. Just kidding, he doesn't have an inside voice. But this sandwich is still worth getting worked up over, we promise.