Donald Trump may be a world of chaos all by himself, but the world beyond Trump is changing in dramatic ways, often with little notice. We'd like to tell you about it and we're keeping track of these global changes, from the incremental to the monumental, so that you don't have to.
Sign up for our weekly newsletter of the biggest news in the world delivered to your inbox every Sunday.
Kenya — November 17, 2017
Kenya's opposition slams state "brutality" for protester deaths
The return of Kenya's leading opposition figure, Raila Odinga, from the U.S. was marred by violence Friday.
Police and throngs of Odinga's supporters clashed in the capital of Nairobi, days before a court rules on whether the country's historic do-over election in October will be allowed to stand.
At least five people were killed in the ensuing unrest after thousands of protesters took to the streets to welcome Odinga's return from a 10-day speaking tour in the United States.
The police said the men were killed by the crowd itself, which stoned them to death after they were caught looting. But an AFP reporter on the scene reported that the bodies of at least three men dead in the streets were riddled with bullet wounds.
Read more: Kenya's police forces are extrajudicially killing young men with impunity
Odinga blamed President Kenyatta personally for Thursday's violence, accusing police of "killing several and maiming many."
"We hold President Uhuru Kenyatta and his illegitimate regime responsible for this absurd and unfortunate turn of events," Odinga said in a statement posted on Twitter. "The President has the blood of innocent Kenyans on his hands."
Kenya's National Police Service admitted using water cannons and tear gas in an attempt to disperse the crowds, but disputed the claim of live fire.
"No live ammunition was used today by any officer," the police said in a Facebook post.
Odinga, who lost to sitting president Uhuru Kenyatta in the original Aug. 8 vote, boycotted the court-ordered rerun election in October, saying that a second attempt would be even more corrupt than the first one. But the do-over poll went ahead anyway with an incredibly low turnout, and Kenyatta was declared the winner.
Read more: Kenya has its own "resistance" after disputed election
Some supporters of the opposition are now openly calling for secession from Kenya, and Odinga himself warned the country could be "torn apart" during a speech in Washington, D.C., last week.
On Monday, the country's Supreme Court is expected to rule on whether to nullify the re-do election.
— Greg Walters
Yemen — November 17, 2017
An 8-year-old girl, a Saudi airstrike, and an American bomb
SANA'A, Yemen — Eight-year-old Sara is sitting on the floor next to her mother when she spreads her arms out and reenacts the moment when a Saudi-coalition airstrike, using an American-made bomb, left her pinned under the rubble of her family's home here in the Yemen capital.
On August 25, the Muthanya family of six awoke in the dead of night to the familiar sound of fighter jets roaring over rebel-held Sana'a. When one bomb landed a few hundred meters away, Ahmed Muthanya and his wife, Mesara, jumped out of bed and gathered their four children to take shelter in the windowless hallway of their apartment on the ground floor of a four-story building — the safest place to avoid flying shards of glass from the shock waves.
Three airstrikes hit nearby in Sana's Faj Attan district, the most heavily bombed area in the city where the target, a weapons storage facility used by the state for decades, is hidden deep inside the mountain. Then the fourth bomb struck, its blast throwing family members in different directions, and knocking them all unconscious except for Sara. Two siblings, the baby boy of the family, 2-year-old Naif, and older sister, 14-year-old Sharoug, were killed instantly.
Only Sara remembers what happened next.
— Iona Craig 
Read more: An 8-year-old girl, a Saudi airstrike, and an American bomb
Russia — November 16, 2017
Russia still hasn't fixed its doping problem, world agency says
Russia's prospects of competing in February's Winter Olympics just got slimmer after the World Anti-Doping Agency (WADA) said on Thursday that the country's anti-doping agency remains "non-compliant" with its code.
Russia's anti-doping agency RUSADA has been suspended by the world body since the publication of an independent 2016 report that found that Russian officials had conspired with more than 1,000 athletes from more than 30 sports in a huge state-sponsored doping program.
The World Anti-Doping Agency had outlined a 32-step roadmap for the Russian agency to regain its status and allow Russian athletes to compete on the world stage. But following a meeting in Seoul on Thursday, the agency said the Russians had failed to meet two of those criteria: acknowledging that state-sponsored doping took place and providing the agency with staff access to a Moscow laboratory.
Thursday's announcement will boost pressure on the International Olympic Committee (IOC), which will decide in December whether Russian athletes can compete in the 2018 Winter Games, in PyeongChang, South Korea, in February.
Russian officials reacted angrily to the news. Sports Minister Pavel Kolobkov said the decision had "a political character," and Deputy Prime Minister Vitaly Mutko called it a "road to nowhere."
Russian Olympic Committee president Alexander Zhukov, who said in September he expected his country to compete at the Winter Olympics, accused the World Anti-Doping Agency of "inventing reasons not to reinstate RUSADA [Russia's anti-doping agency]." "The accusations against RUSADA are simply a joke," he said.
"We accept the fact our national anti-doping system has failed [but] we absolutely deny a state-sponsored doping system," he said.
— Tim Hume
Paris — November 16, 2017
Lebanese PM "held hostage in Saudi Arabia" gets exit flight to Paris
Lebanon's prime minister, who unexpectedly quit during a televised address in Saudi Arabia earlier this month, has accepted an invitation to fly from Riyadh to Paris, France's Foreign Minister announced Thursday.
The Lebanese government had accused the Saudis of holding Saad Hariri hostage after he delivered his startling resignation on Nov. 4.
The move could signal the end to a bizarre political crisis in which Lebanon's President Michel Aoun accused Riyadh of holding the prime minister captive, in "an act of aggression against Lebanon, its independence and dignity."
French Foreign Minister Jean-Yves Le Drian made the announcement at a joint press conference with his Saudi counterpart Thursday, saying Saudi Arabia's Crown Prince Mohammed bin Salman had been informed of the situation. France, the former colonial power in Lebanon, has played a key role in trying to broker a solution to the crisis.
Aoun welcomed the news, saying that he "hoped that the crisis has ended and that a door to the solution has been opened."
Hariri is expected to leave the Persian Gulf in the next 48 hours, and will meet with French President Emmanuel Macron during his visit before returning to Lebanon.
Lebanese authorities have refused to accept Hariri's resignation until he accounts for his reasons in person, believing it was made under duress.
Both Hariri and Saudi officials have denied that the Lebanese prime minister was being held against his will or forced to resign. Analysts say Saudi Arabia has been frustrated by Hariri's failure to curb the influence of the Shiite militia Hezbollah, a proxy of their regional rival Iran, which is part of Lebanon's national unity government.
— Tim Hume
Denmark — November 15, 2017
Denmark just stripped an ISIS fighter of citizenship for the first time
A Danish ISIS supporter who went to fight in Syria has been stripped of his citizenship after being found guilty of belonging to the terror group.
It's the first time a Danish national has had their citizenship revoked, although the Supreme Court had previously stripped a Moroccan-born Islamist radical of his Danish citizenship.
Enes Ciftci, the 25-year-old former citizen who also holds Turkish citizenship, was also the first Dane to be convicted for joining ISIS after he was arrested in 2015 while attempting to travel to Syria for the second time.
Ciftci, who lived with his parents and worked in the family's pizzeria in suburban Copenhagen, had previously traveled to Syria in 2013, registered as a fighter under the alias "Abu Aya Dinimarki," and received weapons training. He also raised 20,000 kroner ($3,182) for ISIS.
Governments are increasingly looking at stripping jihadists of their citizenship as they face the threat of growing numbers of foreign fighters returning from the battlefield. Some countries, like Australia, Canada, and the Netherlands, have changed their laws to allow for citizenship to be revoked for dual nationals, although not in cases where the individual doesn't hold another nationality, and would therefore be rendered stateless.
Britain is aggressively stripping dual-national foreign fighters of their citizenship and have prevented more than 150 suspected jihadists from returning to the country, according to reports. France, however, abandoned plans to adopt a similar citizenship laws following a backlash against the proposal last year.
— Tim Hume
Australia — November 14, 2017
Australia just voted overwhelmingly in favor of marriage equality
By a wide margin, the Australian public voted in favor of marriage equality, the Australian Bureau of Statistics announced Wednesday morning local time.
The results follow a long and bitter campaign that ended with 61.6 percent of voters in support of legalizing same-sex marriage. More than 12 million eligible voters mailed in their postal ballots.
Costing taxpayers an estimated $122 million, the postal survey's result wasn't exactly a shock. Opinion polls over the past few years have shown growing support for marriage equality in Australia. And polling on the postal survey showed the "YES" vote consistently hovering around 60 percent.
On Wednesday, Liberal Senator Dean Smith will introduce a bill to the Senate to lay the groundwork for marriage equality to become law. Senator Smith has been able to secure broad support for his bill — unlike a rival proposal from fellow Liberal Senator James Paterson, which was roundly shouted down as homophobic and transphobic.
But despite enjoying strong support in both houses of Parliament, it will likely be a few weeks before the marriage equality bill is voted into law.
"Congratulations to the 'Yes' campaign, they have an overwhelming victory albeit lower than expected," prominent "No" campaigner and Liberal Senator Eric Abetz said, adding he expected marriage equality to be legislated "by Christmas."
Though not quite yet at the finish line, supporters of marriage equality celebrated the vote as a bold step forward for Australian politics and society.
"This marriage equality survey is not just good for marriage equality, I believe in this survey Australians have voted… for a modern Australia where diversity is accepted, supported, and accepted," Opposition leader Bill Shorten said. "Today we celebrate, tomorrow we legislate."
— Maddison Connaughton, Vice Australia
Zimbabwe — November 14, 2017
Tanks, "treacherous shenanigans," and chaos: No one is quite sure what is happening in Zimbabwe
Tanks were seen rolling towards Zimbabwe's capital on Tuesday as threats to President Robert Mugabe's decades-long grip on power seem to be intensifying.
A week after arresting a 25-year-old American woman for allegedly making a crack about his age on Twitter, the world's oldest head of state is now facing an unprecedented challenge from senior military veterans who helped him win power 37 years ago.
The head of Zimbabwe's armed forces threatened this week to "step in" to end the "treacherous shenanigans" that have engulfed the country's politics, including a purge of senior military veterans who participated in the revolution.
The crisis began last week after Mugabe fired one of his longest-serving aides, Vice President Emerson Mnangagwa, a man once seen as the president's heir-apparent.
Mugabe accused his former ally, among other things, of using witchcraft to determine when the 93-year-old president would finally drop dead.
"He started consulting traditional healers on when I was going to die," Mugabe said.
Mnangagwa fled the country, claiming threats against his life.
Mugabe's 53-year-old wife, Grace, now appears next in line to succeed her husband. But not if Mugabe's exiled vice president has anything to do with it. From an undisclosed location, Mnangagwa released a statement vowing to "return to Zimbabwe to lead you."
The head of Zimbabwe's armed forces followed up, signaling support for the former vice president from within the country's military elite.
"The current purging which is clearly targeting members of the party with a liberation background must stop forthwith," General Constantino Chiwenga, told a press conference, surrounded by some 90 senior army officers.
"We must remind those behind the current treacherous shenanigans that when it comes to matters of protecting our revolution, the military will not hesitate to step in."
Despite tank movements, the streets of the capital, Harare, remained calm, and it was far from certain whether a coup was actually underway. Witnesses told Reuters they saw four tanks rolling towards the capital Tuesday before turning toward the barracks that house the presidential guard.
Two other tanks were reportedly seen parked on the main road heading towards the capital. One of them had come off its tracks.
— Greg Walters
North Korea — November 13, 2017
North Korean defector survives absurdly dangerous sprint to South Korea
A North Korean soldier defected to the South on Monday by surviving an absurdly dangerous sprint across one of the most heavily militarized borders in the world.
He was shot twice by North Korean troops as he ran but survived and was taken to a South Korean hospital, according to South Korean officials.
The escape happened in the village of Panmunjom, the only place within the Demilitarized Zone where soldiers from both sides stare each other down over a distance of several yards.
On Monday, at 3:31 p.m. local time, the North Korean soldier abandoned his guard post and simply ran for it.
His former colleagues immediately opened fire on him as he bolted, hitting him in the shoulder and arm.
He made it about 160 feet south of the Military Demarcation Line, which officially separates the North from the South, before collapsing. South Korean troops, hearing gunshots, set off to investigate. They found him 25 minutes later, fallen, bleeding, unarmed and wearing a uniform indicating low rank.
"Since it was an area exposed to the North, we had to crawl toward there to get him out," a South Korean defense ministry official told the Reuters news agency.
There were no reports of clashes between the two countries over the incident. The soldier was airlifted to a hospital in South Korea.
Tens of thousands of North Koreans have defected to the south over recent decades, but most travel via China. Monday's escape was only the third defection across the so-called Joint Security Area in Panmunjom since the end of the Cold War, according to the BBC citing South Korean media.
— Greg Walters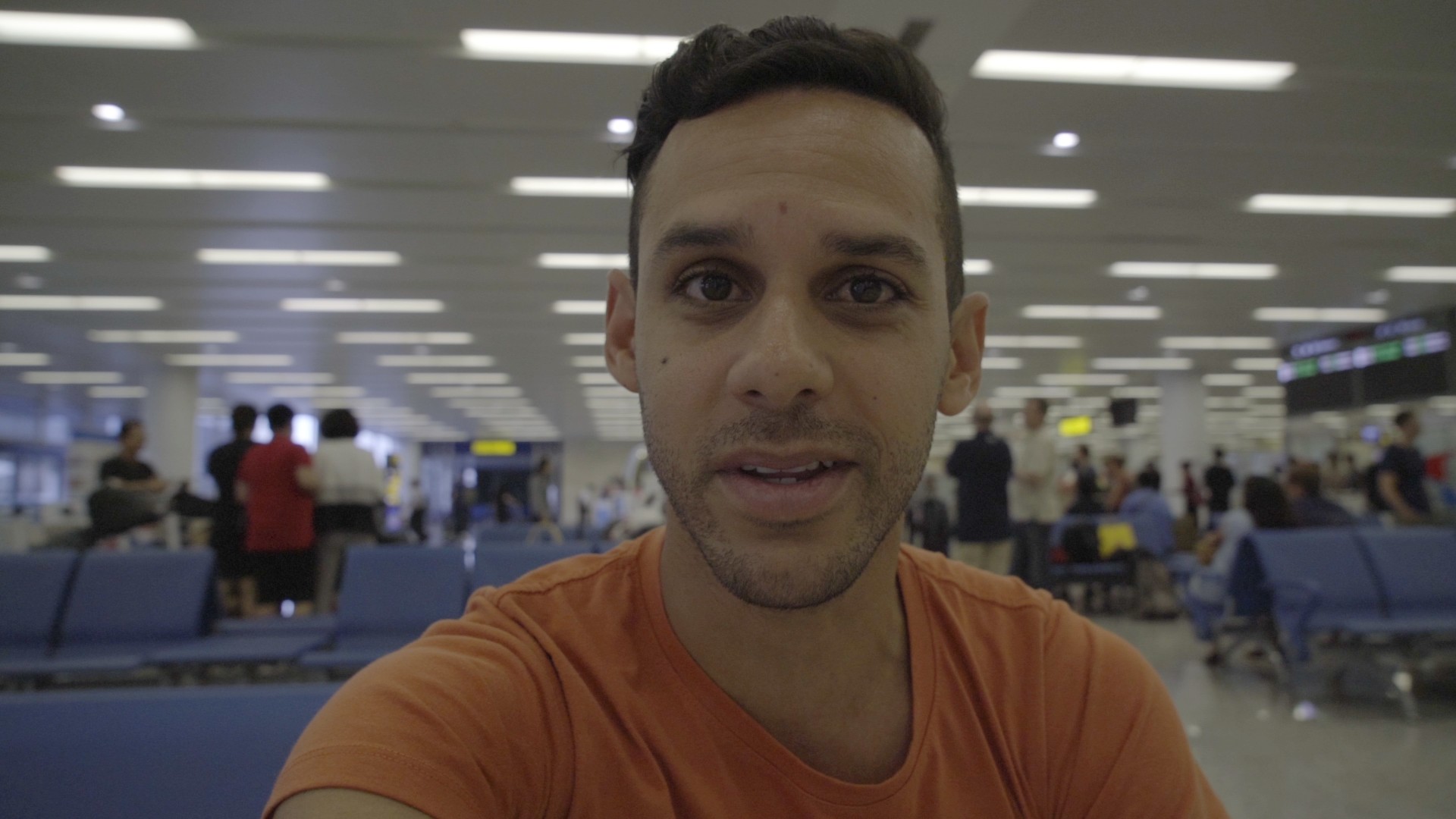 Massive earthquake on Iran-Iraq border kills at least 400
That's the number of people killed when a huge 7.3-magnitude earthquake jolted the border region of Iran and Iraq on Sunday, and the death toll is climbing as rescue workers comb through the wreckage of collapsed high rises and hospitals.
Iran's state-run Press TV said that more than 395 people had been confirmed dead and nearly 6,650 injured when the earthquake struck on the Iraqi side of the border, being felt as far away as Turkey and Lebanon. Seven people were killed in Iraq as well, with 535 injured, Iraq's Interior Ministry said.
The fast-rising death toll makes it the deadliest earthquake in the world this year, eclipsing the earthquake in Mexico in September, in which 369 people were killed. Iran has declared three days of mourning in response.
The U.S. Geological Survey said the quake was recorded at 9:18 p.m. local time (1:18 p.m. ET) Sunday.
Hardest hit was the Iranian province of Kermanshah. More than 236 people died in Sarpol-e Zahab, Kermanshah, about 15 km from the border with Iraq. Images from the area showed badly damaged houses and residents huddled under blankets in the street.
Many houses in the area are built with earthen bricks that are easily destroyed in a quake.
The quake also triggered landslides in 14 provinces, which are hampering rescue efforts, state television reported.
Iran's elite Revolutionary Guards and police forces have been mobilized to the worst-hit areas in the west of the country, and the death toll is expected to rise.
In Iraq, the district of Darbandikham in the Kurdish-controlled north of the country suffered the worst damage, with 10 houses and the local hospital destroyed. The quake caused tall buildings to sway in Baghdad, prompting residents to run out into the streets.
Iran is located on a number of major faultlines and is regularly affected by quakes. The most devastating recent earthquake in the country leveled the city of Bam, 1,000 km southeast of Tehran, in 2003, killing more than 26,000.
— Tim Hume