From left to right, Merrie Cherry, Horrorchata and Untitled Queen pose at Bushwig 2017. All photos by the author
"Let's give it up for these bitches, these gorgeous girls," Merrie Cherry says from a teeny square stage in the middle of Williamsburg gay bar Metropolitan. She's enveloped in a saffron parachute dress covered in seafoam green polka dots; a pool of yellow light catches the bejeweled hand she places on her hip, and she towers over the audience in red patent leather platform pumps. She's reintroducing contestants in the most recent cycle of DRAGnet, a drag competition she hosts where newer queens vie for a $200 prize and the opportunity to share her stage for three months. Tonight is the sixth cycle finale.
It's a competition Merrie founded a little under five and a half years ago. What she didn't know at the time was that she and other Brooklyn-based queens were at the beginning of new wave of Brooklyn drag. Alongside other key players in the burgeoning scene—queens like Horrorchata and Untitled Queen—she would help galvanize a community through which quirky, artistic drag could thrive, different than drag in the other boroughs.
Over the past five years, Brooklyn drag has become a synonym for avant-garde drag, the scrappy punk rock child of Leigh Bowery and Lady Bunny, of RuPaul and Keith Haring. Events like Bushwig—a Bushwick-based drag festival co-founded by Horrorchata and Babes Trust that has brought out droves of edgy queens for five years running—have given rise to a drag identity rife with genderfuck beards and blood-splattered looks.
"It was during this period, like 2013, 2014, 2015, and all these people lived in this enclave," said Untitled Queen, the winner of the first DRAGnet cycle in 2012. That enclave was Bushwick and greater Brooklyn, and through a proliferation of new faces in the drag scene and the rise of new parties, festivals, fundraisers and more, the area's scene came into its own. "I call it the Brooklyn Renaissance, the Drag Renaissance," she continued.
Queens from the scene they helped create have made waves for several seasons running on RuPaul's Drag Race, a cultural bellwether for drag nationally. Notably, last season's winner, Sasha Velour, launched her career in Brooklyn. It's been covered in countless publications and allowed countless performers—including queens like Elizabeth James, Amber Alert, Scarlet Envy, Severely Mame, Rify Royalty, Momo Shade, Aja and many more—to give voice to weird, wonderful, glamorous and challenging looks and performances that have changed the nature of drag nationally.
"I've always said this about [the Brooklyn scene,] it's much more inclusive, mixed, and diverse," New York City nightlife legend Murray Hill wrote me. "And they respect and honor those who came before them. There is an incredible rich drag history here. Drag encompasses so much more now. These folks have really set the tone for a queer creative gender explosion!"
Of course, drag had long been a part of Brooklyn before Merrie Cherry, Horrorchata and Untitled came along. The borough has always had a rich history of drag performance, sparked by queens like Krystal Something-Something and her performance troup BacKspace, or parties like Clump, a queer alternative performance event and dance party by the artist Colin Self. But it's within the last few years that regular drag events in Brooklyn have come to rival their Manhattan peers in prestige and pay, resulting in queens sticking with Brooklyn, rather than fleeing across the river.
---
Watch VICE go backstage with queens from RuPaul's Drag Race: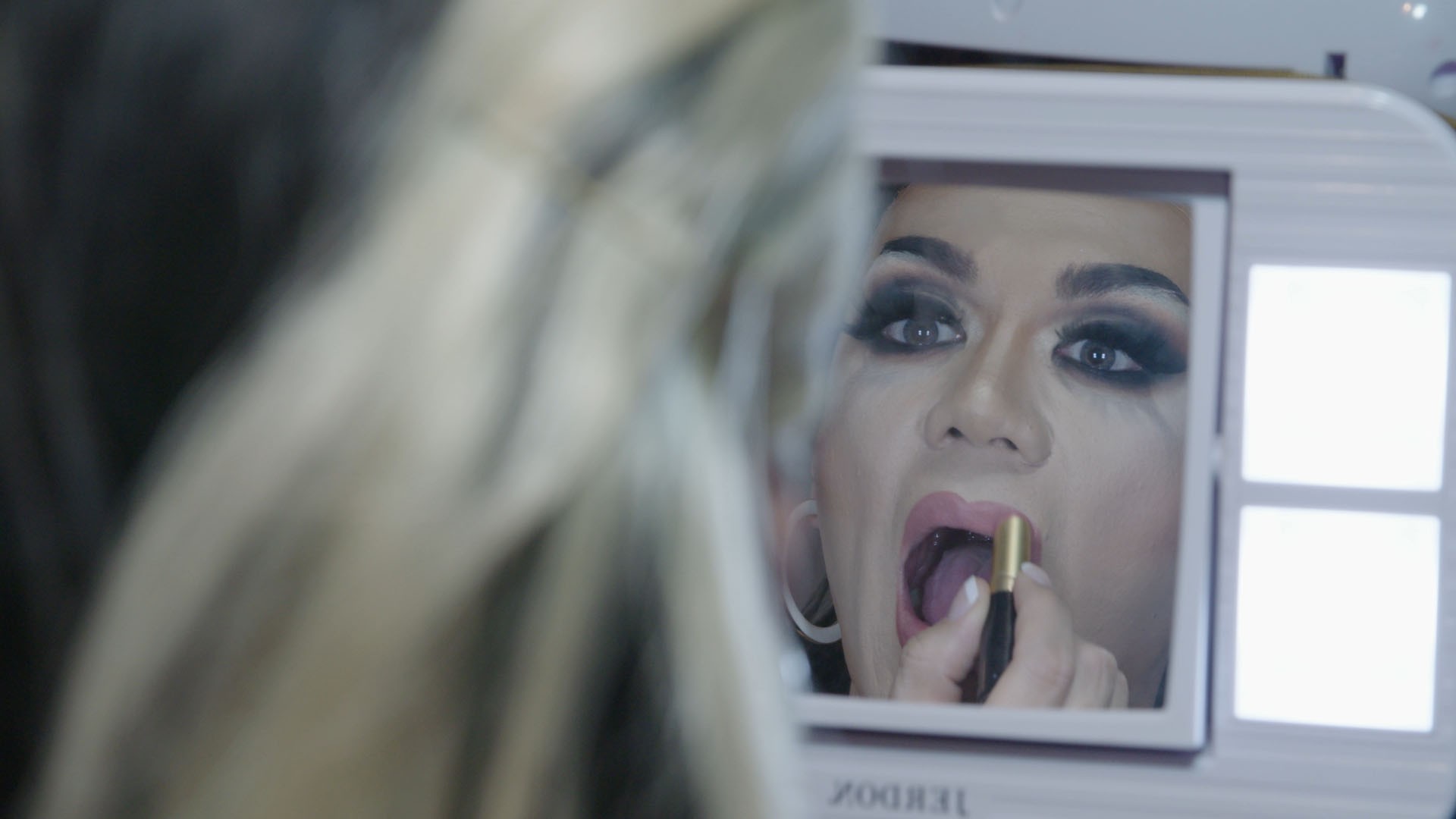 ---
"I just noticed there was an emptiness with creativity and performance art happening in Brooklyn," Merrie Cherry said of why she started DRAGnet. "Myself and Horrorchata, we were the second wave of Brooklyn drag. We weren't paid that well in the beginning. But we stayed and waited it out." And as Manhattan became more and more expensive, Brooklyn became where a vestige of the legendary East Village artist and club kid spirit moved when it could no longer afford to live there.
"It's drag evolution," Hill wrote. "The drag in Brooklyn, in my opinion, is more punk and gender-fucking than what I've seen before here."
"When I first started doing drag, I did shows in Bed-Stuy and no one would come to them," said Horrorchata, who started honing what she's called her Selena-meets-Morrissey persona a decade ago. After moving to New York in 2009, she began performing at night at events like Clump and parties she'd host throughout the borough.
It was through that first cycle of Dragnet, of which Horrorchata was a judge, that they met Untitled Queen, who came to drag after dabbling in performance art while getting her MFA in Fine Arts at Parsons. At the time, she was hesitant; "I was doing performance visual art stuff and doing costumes but not calling it drag," she said. But ultimately she decided to give it a shot; Merrie soon invited her to compete at DRAGnet, and she became the competition's first winner.
"It was so crazy back then. I had one friend who was in drag, but I didn't know anybody in the scene, I didn't have a [drag] mom," Untitled said. But she, Horrorchata and Merrie Cherry became fast friends, all learning from and supporting each other. "Everyone and their mom, their aunt, and goddaughter wanted to be a drag queen," Untitled said, when she won—and in the years that followed, more Brooklyn clubs began to host drag events.
"For me, it was just amazing because I could be creative every day," she said. "I treat it like my studio practice." And that practice—drag incorporating cues from all corners of the visual art world, from Japanese Noh masks to Yoshitomo Nara drawings—was met with open arms by the tight-knit Brooklyn community.
The creation of Bushwig became another key element in that expansion. The event, which features daylong stretches of back-to-back five to 15 minute drag, music and performance art shows, gives performers both new and seasoned a chance to celebrate their community. "I was just happy I could bring everyone together," said Horrorchata, who co-founded the event. "There were so many people involved with Bushwig and the door is always open. I'm here for the children, if you want to perform I will give you a platform… I just want to give back to people who are trying it out, because I know that feeling." The event has become a rousing success, having entirely sold out the 50,000 square foot Knockdown Center on one of its two days this past year.
Bushwig and DRAGnet just celebrated their fifth anniversaries, and the revived scene has given way to a larger alt-drag movement that's taken root in places like Miami (whose answer to Bushwig is Wigwood, named after the city's Wynwood neighborhood), Austin, Portland, Seattle, and San Francisco. Merrie Cherry, Horrorchata, and Untitled all continue to thrive, too. Merrie recently appeared in the Beach Fossils music video "Saint Ivy". Horrorchata will soon star in the upcoming camp horror film Killer Unicorn. Untitled Queen performed at Vienna's famed annual Life Ball this year, and next June, she'll produce her largest event to date—a costume charity ball inspired by her experience there to benefit Callen-Lorde Community Health Center as they open a new branch in Brooklyn.
"My philosophy from day one has been, 'If you don't see yourself represented, then go out and represent yourself,'" Hill wrote me. "I'm thrilled Brooklyn and these kids are cultivating such an incredible community."
Follow Elyssa Goodman on Twitter.