Sophie Fiennes' first encounter with pop culture icon and living legend Grace Jones was at a screening of Fiennes' film, Hoover Street Revival in the early 2000s. Jones applauded the documentary, which followed her brother Noel Jones's work as a minister in South Central LA. Fiennes says that Jones exclaimed that she loved the "smell" of the film.
Jones evidently meant what she said. A few years later, she entrusted Fiennes to film her over the course of five years as she recorded her 2008 album Hurricane and traveled to Jamaica. Fiennes switches between a captivating live performance and behind the scenes footage as Grace journeys across the globe singing her hits and meeting old friends and lovers.
"I always had the idea that the film would be like a musical or an opera where the songs would contain the narrative structure of the film," she says of the resulting film, Grace Jones: Bloodlight and Bami. "I searched through the material for the songs with the strongest themes, the ones that said the most or were related to each other. I actually created a rough outline of the film so I could make the right setlist selection so the songs would connect to the material."
Two versions of the disco banger "Slave to the Rhythm" are cut together to open the performance part of the film. One shows Grace roaring out the lyrics in a mask, and the other expertly swirling a hula-hoop round her waist. Fiennes specifically shot a concert at the Olympia Theatre in Dublin to show how Jones interacted with a live audience. "I was very clear after five years of filming that I needed a natural live performance. I couldn't do it unless the show was properly done. I really wanted to pull out all the stops. I wanted to make a document of that."
---
Watch: British Comedy's Rising Star Michaela Coel on Swapping God for Filthy Jokes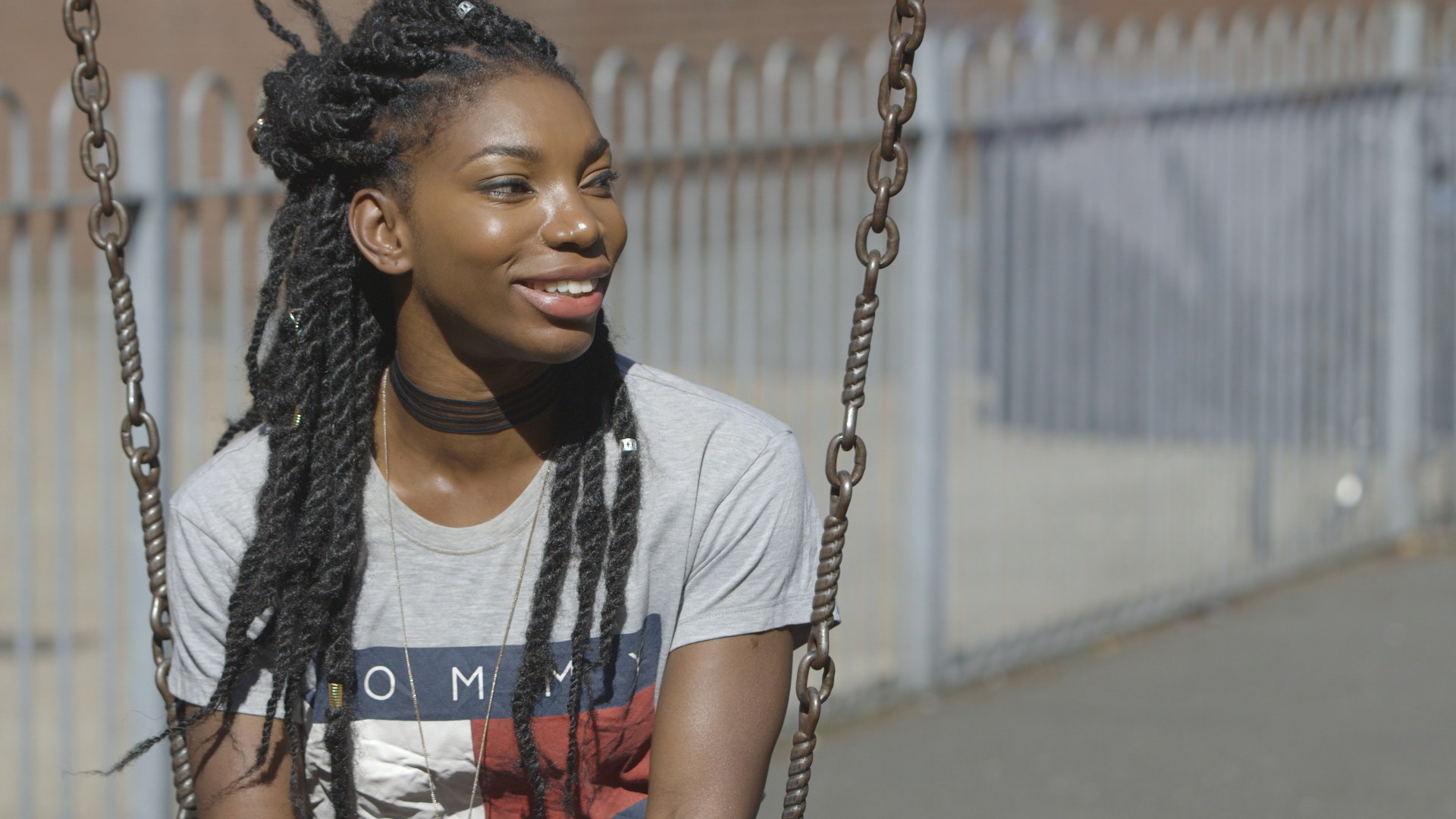 ---
"I had a particular reference in my head," Fiennes says of the way Grace is shown on camera, "which was Rita Hayworth in Gilda singing 'Amado Mio,' and to shoot [her] full body, giving Grace the space to move naturally into the crowd."
Before moving to New York to join her parents, Jones grew up with her strict step-grandfather in Jamaica. Fiennes spent time observing Jones and her family in Jamaica, capturing intimate moments of sorrow and joy. "Grace had a mission on that trip to Jamaica to confront things that she needed to work through to be able to be in Jamaica and to be free of those ghosts," Fiennes said. "The ghost of her grandfather haunted the film. They were all there for a Jones family reunion. In a way she wanted her parents to talk about it and through it. But her parents were of a generation where they didn't think it was necessary to talk about it."
In one of the most poignant scenes of the documentary, Jones reunites with photographer and graphic designer Jean-Paul Goude for a photo shoot. The pair were romantically involved for many years, famously collaborating on the many exaggerated and iconic images that Jones is now identified with—including the album cover to Island Life. Jones is so open about her feelings for Goude—explaining how much she adored him—that he is clearly taken aback. Fiennes included the moment with the intention of creating a portrait of Jones as human, rather than the beguiling and indestructible being she is often touted as.
Read more: Facing Death Threats, Afghanistan's First Female Conductor Plays On
"It's so powerful to be vulnerable," Fiennes says. "Being vulnerable is sometimes more powerful than being angry because you're asking something of another person. There's a piece by Borges—a short essay called 'Everything and Nothing'—he imagines Shakespeare before God who has played all these parts and explored all these different aspects. He says, 'I've been all these people and now I want to be nothing. I want to be myself.' When I started to assess the footage, it was clear that it reflects the truth about humans and that we have so many contradictory personalities. Grace just lives those aspects of herself. I think that's probably the truth of human subjectivity; but because we see so much fiction, that creates much neater parcels of people."
Fiennes' cinéma vérité approach avoids the talking heads and conjecture usually seen in music documentaries, allowing the viewer to get a real whiff of Jones's personality. Over the years of filming, the women struck up a beautiful friendship and Jones has been very complimentary about the final product. "It made me a stronger person," Jones said in a Q&A session after a film screening at Toronto Film Festival.
"She means a lot to so many people and she knows who she is," Fiennes says. "When you make a documentary, you're dealing with real people and there's a certain amount of anxiety that's necessary. It's a relief to me that I've made a film where she feels like she recognizes herself in it. Friendships formed through creativity are just the best for me. Doing something with someone creatively is the biggest pleasure for me, and I think for her too."
Grace Jones: Bloodlight and Bami is released in the UK on October 27 with a special one-night-only event on October 25 that will broadcast live to cinemas across the country.