Photos via Getty Images
Wednesday, November 8th, marks one year since the presidential election of 2016. Since then, there have been relentless, almost daily attacks on policy affecting women, like the scrapping of Obama-era guidelines on how universities should handle sexual assault or last month's passage of a bill banning abortions after 20-weeks nationwide.
But it's also been clear since 45's inauguration that the fight against the Trump administration would be led by women.
Since the devastation of last year's presidential and congressional elections, female lawmakers of the Democratic Party have found themselves with little power in Congress, blocking anti-women legislation in an attempt to simply preserve the pre-Trump status quo.
"We have seen progressive and Democratic women trying to hold the line in policy that affects women's' lives in a concerted way," Debbie Walsh, director of Rutgers University's Center for American Women and Politics, told Broadly. "Right now it's nearly impossible to pass [progressive] legislation, so their job has become trying to prevent bad things from happening." This has been a grueling and ongoing effort, like the one against Trump's Muslim Ban that barred people from seven majority-Muslim countries from entering the United States.
Prominent female Democratic leaders were quick to act against Trump's executive order: Massachusetts Senator Elizabeth Warren rallied protesters at Boston's Logan International Airport while New York Senator Kirsten Gillibrand did the same at New York City's Battery Park.
California Senator Kamala Harris—the second black woman elected to the US senate—became a rising star after entering congressional office in January and vocally opposing the Trump administration. The first piece of legislation she introduced in the senate was the Access to Counsel Act, which ensured that those held or detained because of the Muslim Ban would have guaranteed access to legal counsel.
---
Watch: Senator Gillibrand Is an Unstoppable Advocate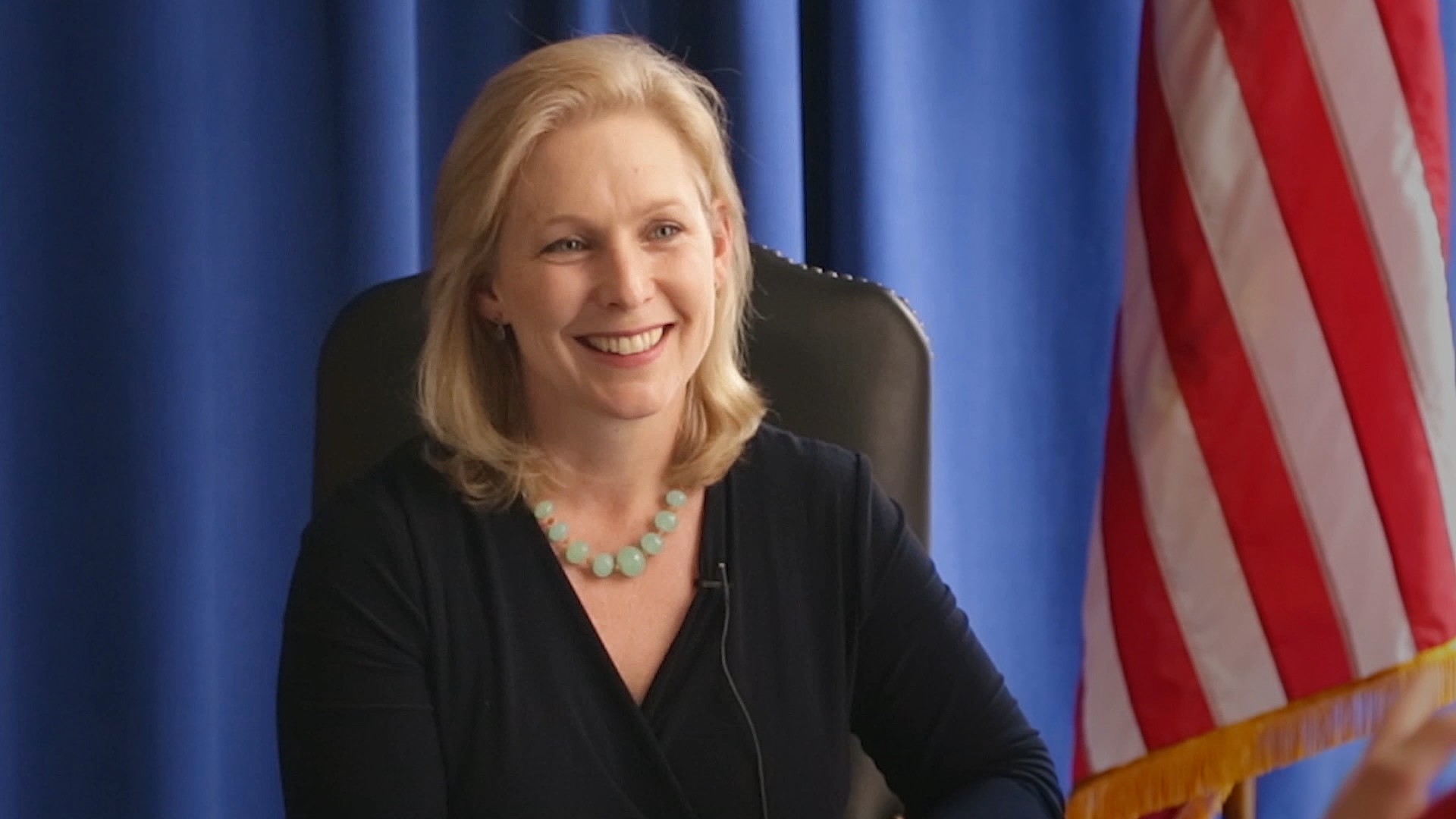 ---
When women politicians are only able to prevent legislation from being passed, "they're more on the defense than the offense," Walsh explained—a position highlighted by the introduction of the Title IX Protection Act, a bill seeking to keep Obama-era protections for campus sexual assault victims.
Walsh pointed out that over the past year, we've also seen Republican representatives "standing up against their party and particularity this president on issues [that affect women]." For example, in the senate this summer, Republican senators Lisa Murkowski of Alaska and Susan Collins of Maine voted against the GOP's attempted healthcare repeal. "Women are taking on this role, and figuring out how to advocate for the things they care about," Walsh explained.
Since the election, women representatives haven't just protected crucial policies; many have also become increasingly vocal in rejecting the influx of anti-women sentiment. After Trump was elected, California Democratic representative Maxine Waters told Broadly, "[Trump] is everything that this country should not be about, and when the inauguration took place, I made it very public and very clear that I would not attend [it]." She also promised: "I will not participate in any way in welcoming him into this position as president." Since then, Waters has kept this promise and became an icon of the resistance—especially on Twitter—after labeling the Trump administration the "Kremlin Klan," and coining the "reclaiming my time" declaration that took the internet by storm.
Other women lawmakers have followed Waters's public opposition. In September, when Alaskan Democratic representative Pramila Jayapal was called a "young lady" by representative Don Young, who added that she "doesn't know a damn thing about what she's talking about," Jayapal refused to be belittled. The 51-year-old representative interjected and demanded Young's comments removed from record of the legislative debate. In an interview with Broadly, Jayapal said, "We do not have to accept that that's the way it is just because it has always been that way."
While Waters and Jayapal have spoken out forcefully, founder of American University's Women & Politics Institute Karen O'Connor believes there could still be more pushback from the Democrats. "There hasn't been as much of what I would call momentum of the Women's March," said O'Connor. "I don't see Democratic women in the house trying to build on that sense of outrage, sadness, disgust, whatever word you would use. There need to be women who are taking on that role and given the number of women Democrats, it doesn't seem that they are making a concerted effort to phase in healthcare or ensure that women's access to contraception is included."
Though she finds the Democratic response lacking, O'Connor finds hope in the surge of women who are now entering politics. "The one takeaway is the unbelievable increase in the number of women running at the state and local level this year. Women are running at every level and they are running as being angry against Trump," said O'Connor. "They seem a lot angrier at the state and local level than they are doing at the national level. That's where women need to get in, to start running at the lower level, and then have more women to stand up as a cohesive block to make women's rights human rights."
Walsh sees this anger, too, explaining that for his political opponents, Donald Trump "is a gift that keeps on giving." She explained, "Every day there is something that he says or does that ignites passion among the people opposing him." Since Trump's election, Emily's List, an organization aiming to help elect pro-choice female Democratic candidates, has been contacted by more than 16,000 women hoping to run for office. In comparison, from 2015 to 2016, the organization only heard from 920 women.
This increase in women candidates isn't hypothetical, either: In Virginia's state legislative election yesterday, 51 women competed as major party general election candidates—a 60 percent increase compared to the last two election cycles. In New Jersey, 53 women competed yesterday, with 25 running as major party general election candidates for senate. An analysis of these two state elections conducted by the Center for American Women and Politics found that these women are "overwhelmingly running on the Democratic side."
Walsh says it's not enough to see more women running—we've also got to see them win. "It's important that we remember this change is not going to be done overnight. There is the tired phrase it's a marathon not a race but we will not see immediate change in one election cycle," she explains. Moving forward, "We need to be strategic and make sure women are running in winnable districts in winnable races. We need to make sure that every time there is an open seat, we see women running. Then we'll be at the place where we can start to make change."