In The Festival Harm Reduction Project series , we examine drug use at music festivals and clubs across the globe, and explore what artists, organizers, harm reduction groups, and concert-goers are doing to make nightlife safer.
When we put out a survey this spring asking people across Canada to anonymously share their experiences with drugs at music festivals, over 4,500 voluntarily responded to our questions. Ninety-two percent of those people said they'd used drugs at a festival before. As a testament to the times we're living in with overdoses surging across North America, over 66 percent said they were concerned about their drugs being tainted with unwanted and/or harmful substances.
What we know from the news cycle every festival season is that overdoses—sometimes fatal—happen too. So do other preventable medical emergencies, such as dehydration. And yet, there are still festivals and promotion companies who haven't openly embraced harm reduction. This is a problem.
Donald MacPherson, executive director of the Canadian Drug Policy Coalition, said that "There's no excuse for a government permitting a festival in their jurisdiction without robust harm reduction services at the festival."
"Promoters should be mandated to embrace those services, and governments should be supporting and funding those services," MacPherson told VICE. "There should be no festival that happens this summer without [harm reduction]—it's irresponsible given what's going on in the drug market."
Partying in the Age of the Opioid Crisis
It's an especially urgent problem now in particular because of the opioid crisis. The official death toll in Canada from opioids last year was 2,458—a number that experts say is lower than the reality.
The deadly drug fentanyl has reportedly found its way into other substances in Canada, including cocaine. And, according to our survey, that drug happens to be one of the most popular amongst festival-goers in Canada: Behind alcohol and cannabis, MDMA (which is rarely found in pure form despite its popularity) and cocaine were the top substances used at festivals.
"Everybody is hype about the overdose crisis, and rightfully so… We're trying to be over-prepared," Stacey Lock, Shambhala harm reduction director, told VICE.
The iconic Nelson, British Columbia festival will have 286 volunteers as part of its six-prong harm reduction team: ANKORS (which conducts testing on drugs), sanctuary, options for sexual health, outreach, women's safe space, and Camp Clean Beats (for sober ravers). They'll have 800 people using radios trained in responding to overdoses, including naloxone; CPR training is also "super important," Lock said. There will be posters around festival grounds instructing people what to do if they see an OD, and the fest has its own 24-hour emergency line and medical team since the farm it's on is located 45 minutes from the nearest hospital. Response to emergencies called in happens within four minutes. Shambhala—which is alcohol-free—hosts over 10,000 people annually.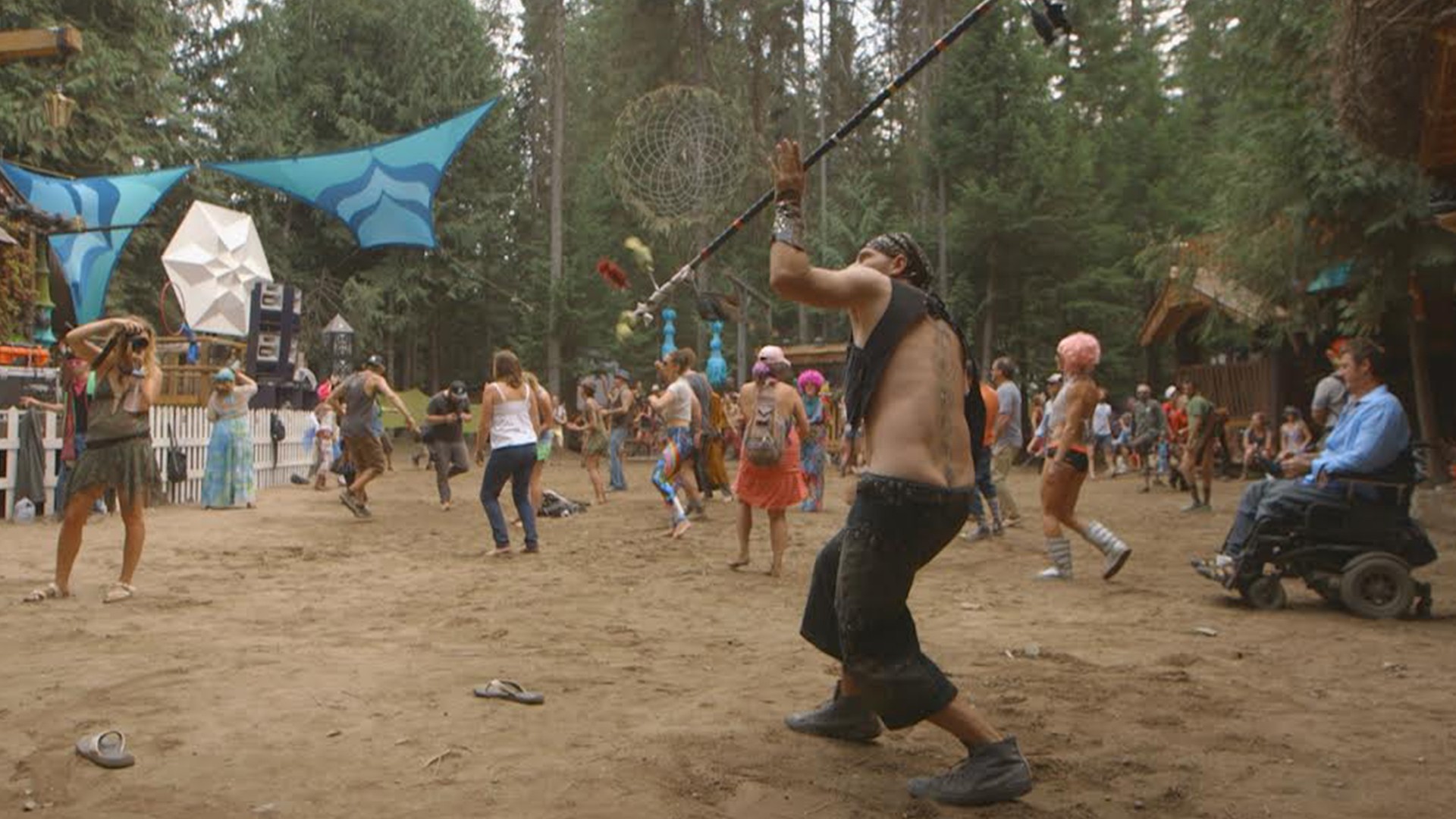 BC, where Shambhala happens, declared a public health emergency from drug overdoses in 2016. Fentanyl-laced coke reportedly caused nine ODs in 20 minutes in a BC town that year; to date, cocaine is detected in nearly half of fentanyl overdoses in the province. Vancouver, the largest city in BC, has felt much of the brunt of the opioid crisis in its Downtown Eastside neighbourhood where people die every day from drug overdoses.
All of this is to say that testing drugs for adulterants right now is as critical as ever. According to our survey, those using drugs think so too: About 82 percent of respondents said they'd get their substances tested if they could at a festival.
The Deal with Testing Your Drugs
Attendees at Shambhala will have access to just that service—a rarity for festivals in North America due to the murky legality and limitations surrounding it.
Run by the group ANKORS, substance testing has been available on-site at Shambhala for over a decade; it started with reagent testing but has evolved. "It's not just fentanyl that's the problem here, there's other things that people are overdosing on too, such as new psychoactive substances," Chloe Sage of ANKORS told VICE.
This year festival-goers at Shambhala will have access to more advanced, multi-tier testing—including reagent testing, a RAMAN laser spectrometer, and test strips for fentanyl. They've started a GoFundMe to further their efforts in the hopes of securing expensive high-tech equipment that can more accurately analyze drugs.
Shambhala Music Festival is a leader in Canada for its advanced harm reduction approach—and in North America overall. But it's not the only festival in Canada prepping to prevent ODs in the face of the opioid crisis.
"This year with fentanyl killing people in Canada, we wanted to make sure we were more prepared"
Evolve Festival in New Brunswick expects 4,000-5,000 people this year and has amped up its approach.
"We have doubled paramedic staff… This year with fentanyl killing people in Canada, we wanted to make sure we were more prepared," Jonas Colter, executive producer of Evolve, told VICE.
Though the festival is not able to offer substance-testing services like Shambhala is—it had insurance pulled previously for doing so—Colter said he'd encourage people to test their own drugs. He also stressed that dehydration can become an issue, which is why they've ensured there will be free water and areas with shade.
As part of its response to the fentanyl crisis, Evolve will have members trained with naloxone and will have peer-based education to spread awareness to attendees. They'll employ a "bad drug" notification whiteboard in sanctuary spaces, a model used at Shambhala.
The fest also had its security trained in how to respond to sexual harassment and sexual assault—a move sparked by an incident at Osheaga last year when a festival-goer reported being drugged. Reportedly, she alerted security and said she was brushed off.
Evenko, the company that puts on Osheaga and over 1,000 shows annually, replied to VICE in the form of an email statement when asked for their harm reduction measures going into festival season.
"We strongly encourage everyone who notices that someone around them needs help, to alert security officers. They are professionals who are trained to react to all kinds of crisis situations," Evenko's statement read.
Part of their plan this year includes integration of GRIP Montreal, a harm reduction group, that provides educational material, safer sex options, and "specialized counsellors." As well, Evenko said they have a sanctuary space with water and snacks and will have signage throughout events with "preventative messages."
However, part of the company's response included a criminalized approach to drug use: "We take actions to curb drug use to the best of our abilities during our events. For instance, systematic searches take place at the entrances and allow us to seize the illicit drugs that may be in circulation."
As we know from our survey results, drugs will get in and be snorted, swallowed, or smoked by patrons anyway at big music events anyway. But testing of substances is still controversial—as seen with Evolve, it can mean putting a festival's existence into jeopardy.
GRIP Montreal, which has a presence at Evenko events, is pushing for the service to be allowed in Quebec. "With the fentanyl crisis we're having right now, there is a great risk to recreational drug users, and we might have many overdoses and even deaths if the situation is not handled," founder Jean-Sébastien Fallu told CBC.
Republic Live, the company responsible for Wayhome in Ontario, said in an emailed statement to VICE that it won't be doing substance testing, calling it "controversial" in the province. "The services and options will likely expand over time as experience with these services and the positive results become evident," Republic Live said. It does, however, have an embedded harm reduction program via its medical team and stresses naloxone as being integrated into primary response—there's a roving team and fixed sites equipped with the opioid overdose antidote.
Others responsible for putting on festivals we reached out to ignored repeated requests for comment about harm reduction measures they're taking this year: the festival Chasing Summer in Calgary, Alberta (where ten people were taken to hospital last August and ODs sent 17 people to hospital the year before) and prominent Toronto promotion company Embrace (which throws Electric Island).
"Lineups are crazy, there are thousands of people getting their pills tested [at Shambhala]… It's awesome to see that people are that interested and that they don't feel stigma around it," Lock said. "We're kind of preparing for worst, but we're definitely going to be able to manage whatever goes down."
Follow Allison Tierney on Twitter .