This article originally appeared on MUNCHIES Denmark.
---
There are rules for what a real burger looks like, and if you don't abide by them, burger zealots will roast you over a slow fire: The cheese shouldn't be fancy, you need to be able to eat the burger while holding it in one hand, eating a slider is the equivalent to worshipping a false god, and pagans must have the same treatment that Moses gave them in the Bible (Book of Genesis, chapter 32—you know, the one with the golden calf).
At Burger Anarchy in Odense, Denmark, they don't follow the rules. Here, they stack the burgers so high that you can't stuff them into your mouth. One burger is served with bone-marrow-and-caramelized-onion jam, and from time to time, the burgers are served with seasonal ingredients like strawberries and asparagus.
Burger Anarchy recently opened its second restaurant in Næstved, a city on the lower central Danish island of Zealand. You can meet the head of the new branch behind the counter: 24-year-old Ahmad Haj Abdulkader. He escaped from Syria nearly four years ago.
Abdulkader went into hiding in his home country because he was an opponent of Assad's government. He participated in some of the first demonstrations and was later drafted for military service. He deserted. The police paid visits to his parents at odd times, so Abdulkader never slept at home.
It all became too much in 2013, when Abdulkader and his family agreed that he'd have a better chance of a real future if he lived with his aunt in Sweden. He didn't get that far. After a stay in the Sandholm camp for asylum seekers, he was sent to a new center outside Odense. He didn't want to waste time and started working as a dishwasher at Burger Anarchy. He couldn't speak Danish or English at the time, but his go-getter personality worked to his benefit, and he quickly rose through the ranks of the company. MUNCHIES recently sat down to speak to him about burgers, his journey to Denmark, Syrian food, and integration.
MUNCHIES: Hi, Ahmad! Did you want to cook when you first came to Denmark?
Ahmad Haj Abdulkader: I've always cooked, but I'd never thought I'd be working in a kitchen. Nowadays, I feel like it could be my job forever. It's great when you have a customer who says "Thank you for the food." It gives you a great feeling of making people happy.
The burgers you make are pretty hefty and unconventional…
That's also why we sometimes get customers who say, "Uh, don't you have any normal burgers?" To which we always reply that you shouldn't be afraid to try something new. In the beginning, we were always worried whenever we had to change the menu, because we didn't want to change too much in relation to our customers. But we recently took our only normal burger—you know, with mayo, tomatoes, and pickles—off the menu and said people were going to have to learn to try something new.
So how did you learn to cook?
I started two-and-a-half years ago as a dishwasher for Burger Anarchy in Odense. I was good at asking the others questions about how they made the food, and my boss was really good at explaining it to me. One day, he asked me if I wanted to start working in the kitchen, and I accepted.
So why do you think it was you who was promoted from dishwasher to manager?
I showed my bosses that I deserved it. They could see that I dropped by to say hello when I had time off. I couldn't help it, and they were also really nice to me. In the beginning, I could neither speak Danish or English, but nobody said, "You can't speak Danish or English, so we can't communicate with you." I was actually also the first… what should we call it… refugee or immigrant or whatever to work at Burger Anarchy. They didn't have any prejudices towards hiring a Muslim person, for example.
Have more refugees been employed now?
Right now, there's many, mostly from Syria and Eritrea. I think seven of us are immigrants or refugees.
What kinds of food did you make back home in Syria?
I cooked for myself, but never for customers. In fact, the food culture in Syria is very different—and fast food is completely different there. In Syria, we don't have burgers the same way. We eat more rice and meat and not a lot of vegetables. In our kitchen at Burger Anarchy, we look at what season it is. Last month, we needed to make a lot of things with asparagus, and next month it'll be with strawberries and raspberries. It's really not something you think much about in Syria.
Where did you eat your first burger?
The first burger in my life? It was certainly not in in Syria. I've actually never eaten a burger in Syria. While we do have Burger King, we prefer to cook ourselves. My mom said that that stuff was unhealthy.
What did you eat when you fled the country?
It wasn't the best food. I ate sandwiches and burgers; anything. There was rarely time to cook. You could say that it was on the way to Europe that I learned how to eat fast food.
Did anything else happen when you were traveling?
In 2013, the airports in Greece were starting to attract a lot of police, and I wanted to go to Sweden. Then I met someone who said he could get us onto a truck, and it'd be totally luxurious. It would cost 6,000€, but we'd be able to sit next to the driver and there would only be three of us. And we said, "Great, that sounds fantastic!" He totally swindled us. We weren't allowed to know where we were going, and we left Athens at 4 AM. There were 14 of us. We had to sit in the back with the cargo, next to large pallets that could kill us if they tipped over. We were given bread, bananas, and dates, but we weren't allowed to eat very much, because we couldn't go to the bathroom.
That sounds wild…
I also didn't want to eat because you're afraid all the time. When you're sitting on less than one square meter, you don't want to eat. I think he drove us to a southern part of Italy. He dropped us off, pointed, and said: "You go that way, and take the train to Milan." I think we walked for almost six hours.
---
WATCH: How-To: Make the Perfect Cheeseburger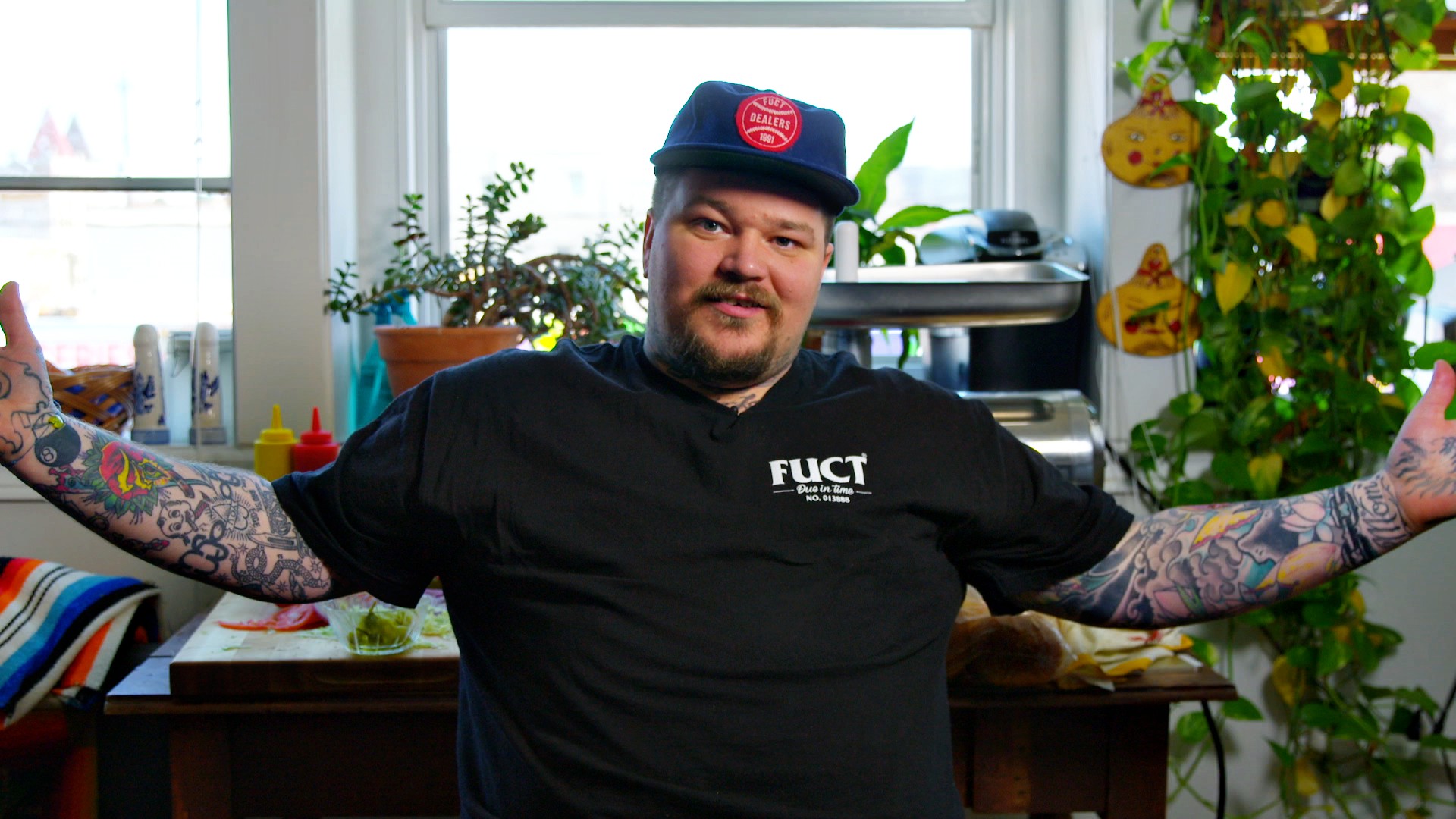 ---
And then how did you get to Denmark?
When we got to Milan, there were no more planes going to Sweden, and I wanted to leave right away. Then they said that there was a plane to Copenhagen, and Malmo wasn't far from there. So I took the first flight. I was told that since I'd arrived in Europe, there wouldn't be anyone checking me. But when I got to Copenhagen, I could see there were police there. So then I got nervous. We had to stand in a long line, and they told me my passport was forged. I told them it was real, but I didn't want to be in Denmark because I didn't know anyone. I have an aunt in Sweden, but the police said that I wouldn't be able to go any further without a valid passport. We talked for many hours and, in the end, I got tired. So I said OK, I gave them my fingerprints, and started the process of applying for asylum.
There were two really nice cops who explained to me that I'd be able to read and work in Denmark, just like I would have in Sweden. And then I stayed in Denmark.
READ MORE: This Former Prison Is Cooking Meals for Syrian Refugees
If fate had taken a different course and there hadn't been a civil war in Syria, do you think you would have worked in a restaurant there?
No, I don't think so. I was supposed to study to become a veterinarian so I could get a job at my father's company.
What about your residence permit?
I actually only have two years left, and I hope that it gets extended. Otherwise I'll obviously have to leave Denmark, and I don't want to do that just yet. When they can see that I've been the co-owner of a restaurant, they won't say that I'm a bad man. I certainly hope not. When you're in Denmark, you have to be twice as nice as a Dane, because you're a guest. It's about showing that you're polite. There are a lot of people who come here who are scared because of those restrictions, and then they think, "Oh, we'll be thrown out of here in two or three years anyway." Then they don't bother to work, and it's dangerous to think like that and it's a waste of time. We shouldn't be afraid of Danish society or the Danes. We need to learn the language and integrate.
Thanks for taking the time to speak with me.